VACHERON CONSTANTIN
RETAIL STOREFRONT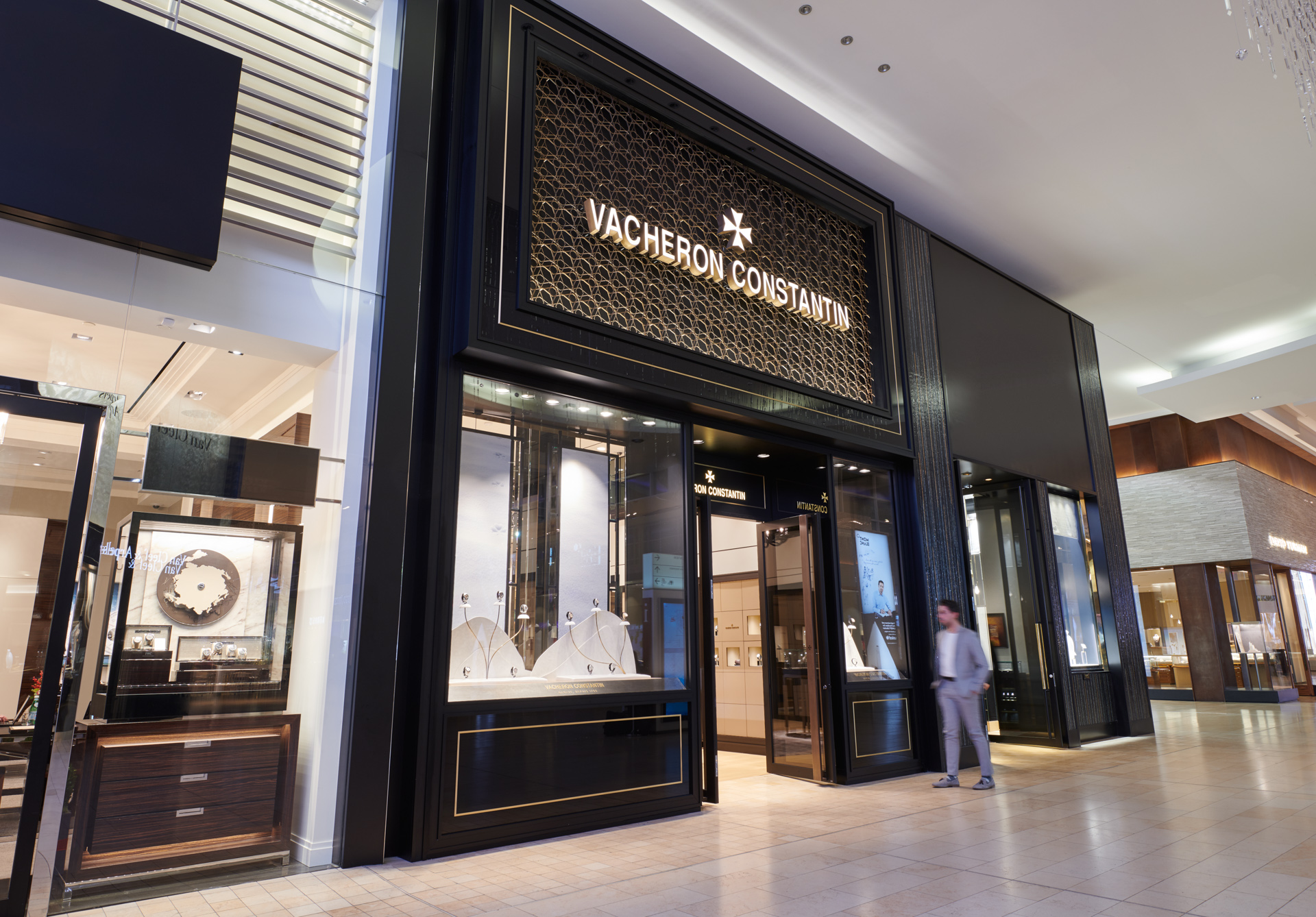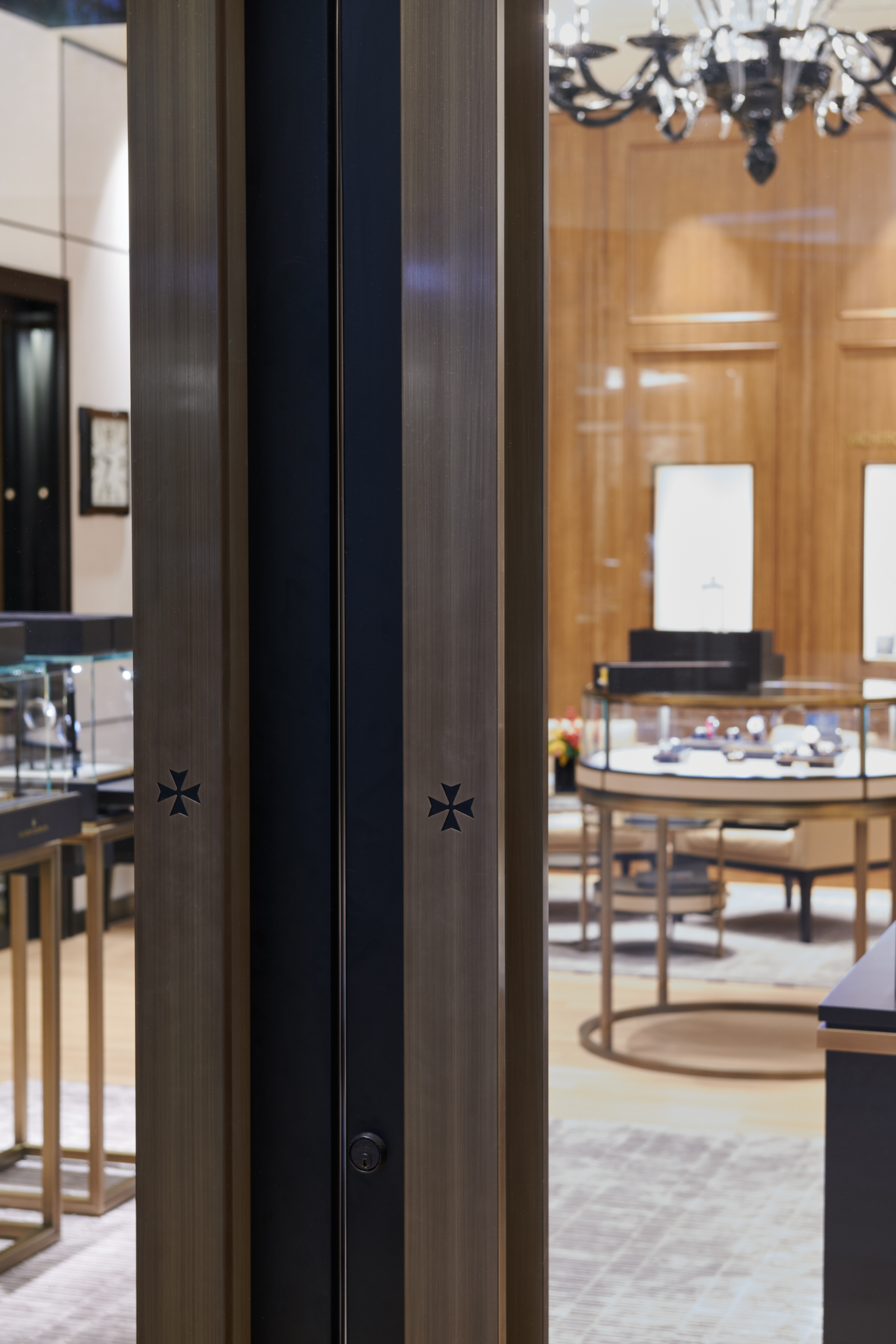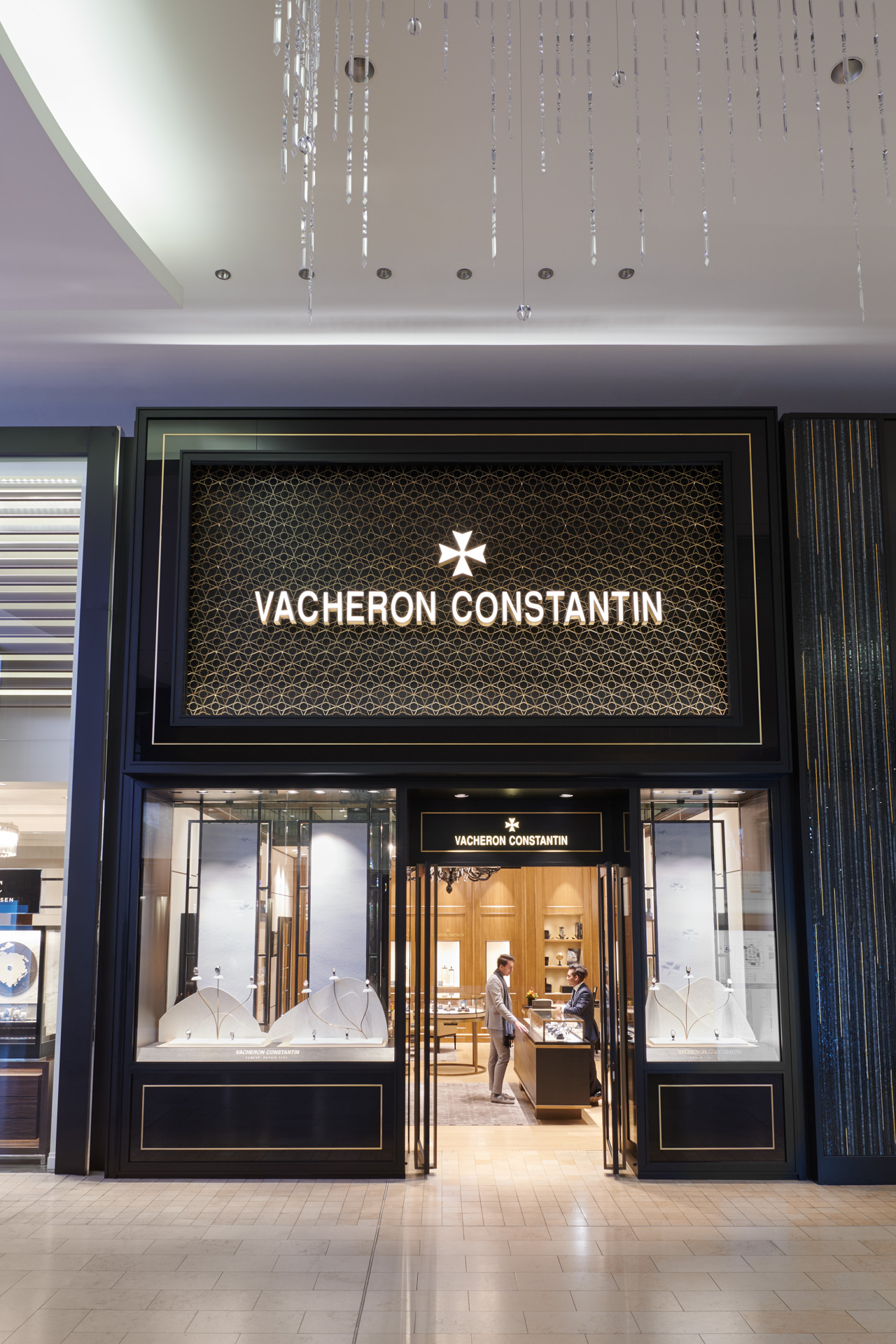 PROJECT VACHERON CONSTANTIN, YORKDALE SHOPPING CENTRE, TORONTO, ON
DESIGN DKSTUDIO ARCHITECTS INC.
GENERAL CONTRACTOR STRUCTURE CORP.
PHOTOGRAPHY STEVE TSAI
BUILT BY EVENTSCAPE, JUNE 2017
Age meets beauty in the first boutique in Canada of Vacheron Constantin, the oldest manufacturer of fine quality watches (since 1755). Designed by dkstudio, it opened on the same tight timeline as three other Richemont stores located on the same corner in Toronto's Yorkdale Shopping Centre. Eventscape was tasked with engineering, fabricating and installing the complete storefront facade consisting of glass display windows with black powder-coated aluminum frames, two pivoting glass doors with custom door handles and metal screens. The upper decorative metal screens were fabricated from two layers of 3/8-inch steel sheet with a CNC laser-cut filigree pattern to create a moiré effect complete with a patina brass plated finish and integrated lighting.
Unique Characteristics & Project Challenges:
Eventscape fabricated several prototypes of the filigree pattern in different materials to find the best solution for weight, finish and thickness. After trying high-density foam, as well as different gauges of steel and aluminum the final chosen steel was tested with plating. The Eventscape team designed an overlapping machined connection detail to achieve a seamless integration between each panel. The panels were framed with black back-painted glass, bright brass trim and a custom aluminum extrusion detail for an efficient and cost-effective trim.
A full-sized mockup of a portion of the upper panel was built, complete with a portion of the signage. This allowed dkstudio to determine the optimum lighting placement for showcasing the filigree pattern but not overpowering the signage. The LED logo signage was attached with custom standoffs secured back to the base building wall; positioned so that they wouldn't interfere with the delicate filigree panel design.
The custom-designed transom was built of powder-coated steel with brass details and frosted acrylic faced trim lighting. The three-inch tall CNC-cut letters used LED back panels to match the top logo with a consistent color temperature and no hot spots. Tempered glass display windows were framed with powder-coated metal frames. Black back-painted glass panels with brass details completed the lower portion of the storefront. The custom fabricated pivoting tempered glass entrance doors were fitted with steel door handles. These were finished to match the brushed patina antique brass of the filigree panels and incorporated a small black Vacheron logo.
The facade was pre-assembled and staged in Eventscape's facility which facilitated an expedited, efficient delivery and installation behind the narrow hoarding area.