INTERSECT BY LEXUS
COMPLETE VIP GALLERY SPACE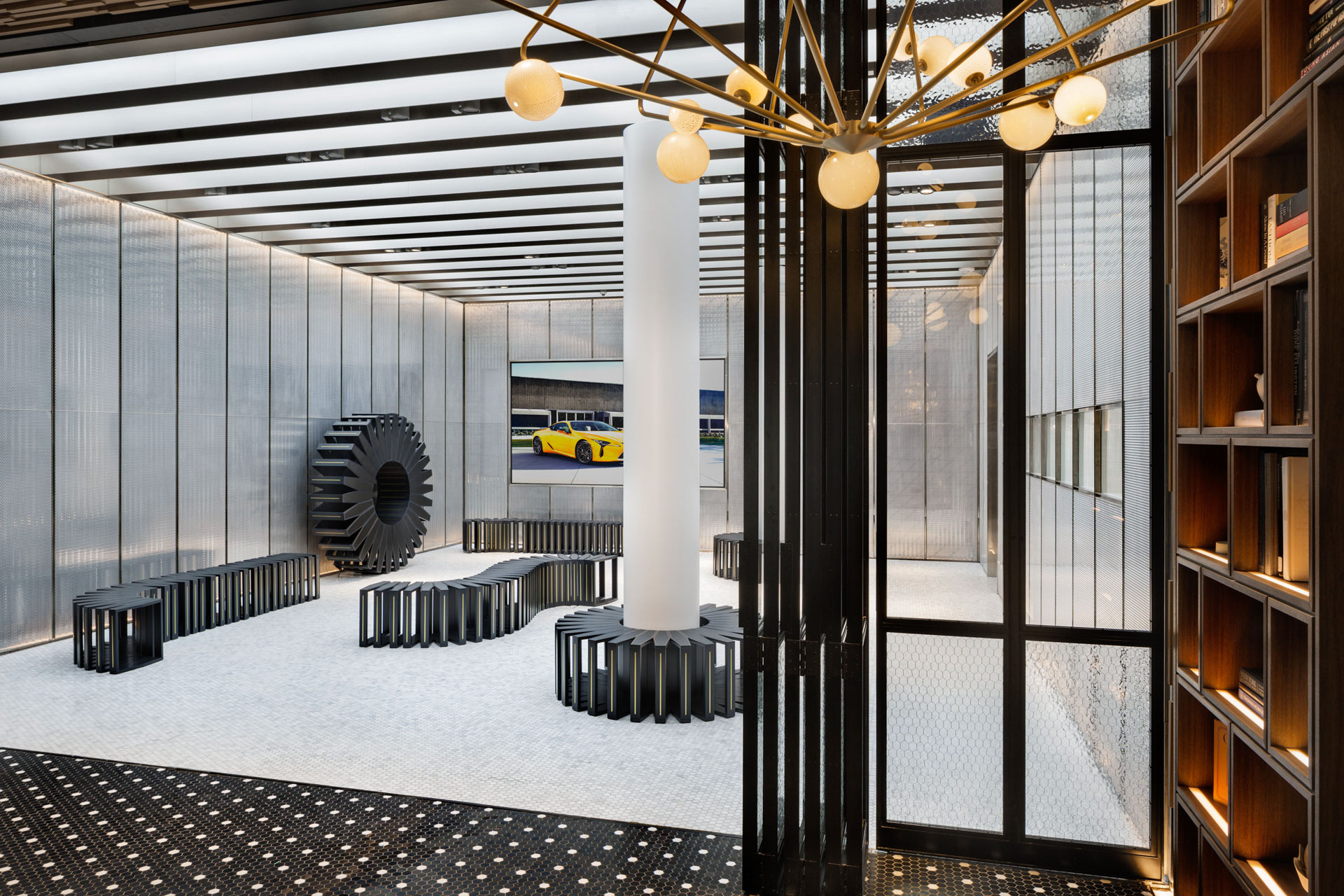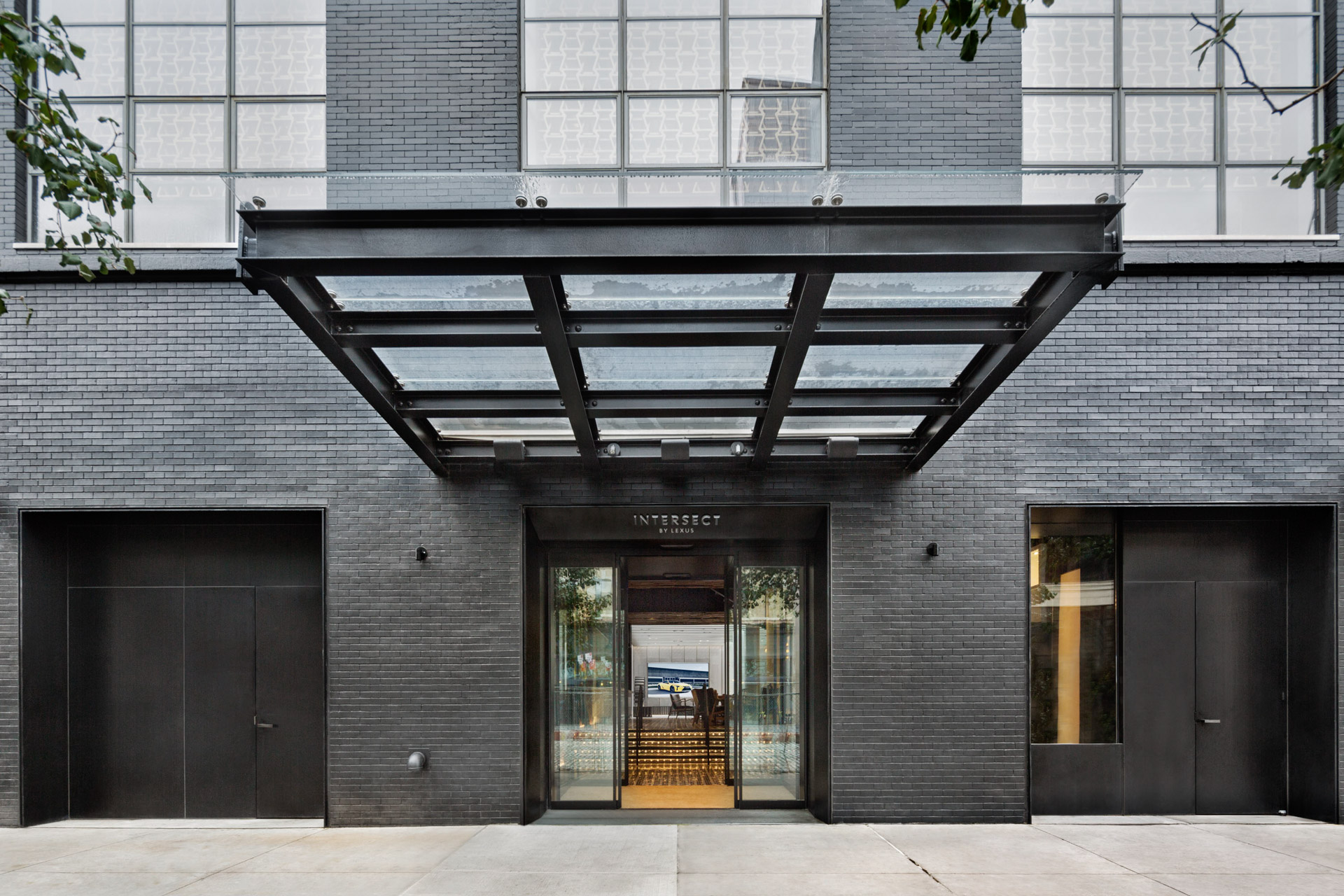 PROJECT  INTERSECT BY LEXUS
DESIGN  WONDERWALL
ARCHITECT OF RECORD  GENSLER
GENERAL CONTRACTOR AMERICONHITT
PHOTOGRAPHY INTERSECT BY LEXUS – NYC
BUILT BY EVENTSCAPE SEPTEMBER, 2017
The third of its kind, New York now has a unique permanent "experience center" by Lexus. A place where guests can be "entertained, inspired and educated"; previous versions have been installed in Dubai and Tokyo. Spread over three floors, it contains a café, restaurant, lounge and gallery space, all promoting and supporting innovation. Guests are given the opportunity to experience the philosophy/brand/culture of the Lexus lifestyle, without going to a dealership.
Wonderwall, based in Japan, designed this project as well as the previous locations. Eventscape was contracted for the entire gallery space, a multi-purpose room that will act as an extension of the café as well as housing art displays, film screenings and VIP event space. It consists of three components: a Bi-fold wall built of aluminum and glass, a double-skinned wall system built of perforated anodized aluminum and mirrored stainless steel with cove lighting, and a backlit textile and stainless steel baffle ceiling. A custom graphic motif printed on the interior of the perforated aluminum wall panels is visible in the reflection of the mirror stainless steel layer. This project required machine precision with very tight tolerances on a large scale. Eventscape's technique of pre-fabrication, rigorous QC standards and project staging prior to shipping and installation was ideal for this critical requirement.
Unique Characteristics & Project Challenges:
At the start of the project, the Eventscape team built a one-foot by one-foot prototype of the wall section to verify all materials, lighting effects and finishes. Once these were approved Eventscape built a full height corner of the room with ceiling and walls at approximately six feet wide for client review and approval prior to full fabrication.
One of the more challenging areas was fabricating the bi-fold wall. Each section needed to be light enough to work with the desired hardware but strong enough to not buckle or bend under use. It was fabricated with aluminum trim and tempered, wired glass panels. The track system was concealed in an extremely thin profile at the top.
The wall system was built with multiple sections, consisting of stainless steel, perforated metal, aluminum and steel trim and lighting. The perforated panel required five separate steps to create the final mirror-polished finish which had to be completed in a specific sequence. Custom tooling was created and the process was refined to a very high level of quality as this was the most visible and important part of the project. The subtle Lexus logo printed on the back of the perforated panels is used throughout the experience center. The custom inset display cabinets with glass front incorporate a rear access door for an easily changed showcase.
As this is a 100-year-old heritage building, the base building structural beams were built of massive 16" x 24" timber. Eventscape engineered the ceiling fabrication and installation to accommodate the backlit light boxes plus all HVAC, sprinklers, speakers and additional lighting and still maintain a clearance of over 11 feet in height. There was a restriction on the ceiling load as well so materials were chosen that were lightweight but appear to be solid metal.
At the outset of a project the Eventscape team took onsite measurements to ensure a precise fit and allow for any changes (or inconsistencies) during construction. From these measurement, they built and installed a CNC template to ensure exact installation location and allow for the positioning and coordination of sprinklers, lighting and trenching. A detailed sequencing installation plan was also created by Eventscape with a series of diagrams creating a step-by-step visual storyboard.  This installation plan was an important asset for the general contractor and helped to stage the installation and save time by allowing trades to rough in their services in advance before final project modifications and finishes were completed by Eventscape.