HOLT RENFREW
FEATURE WALLS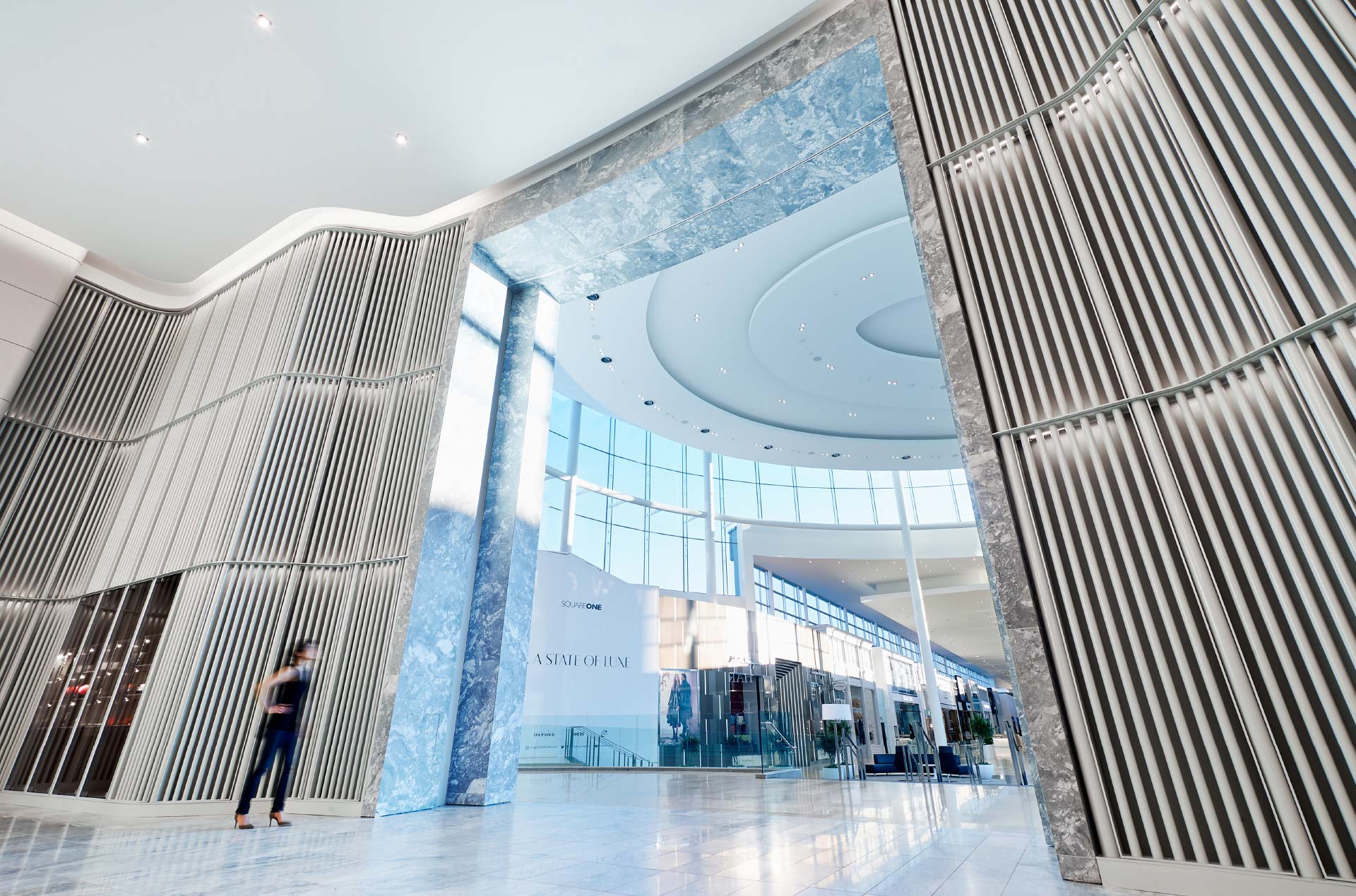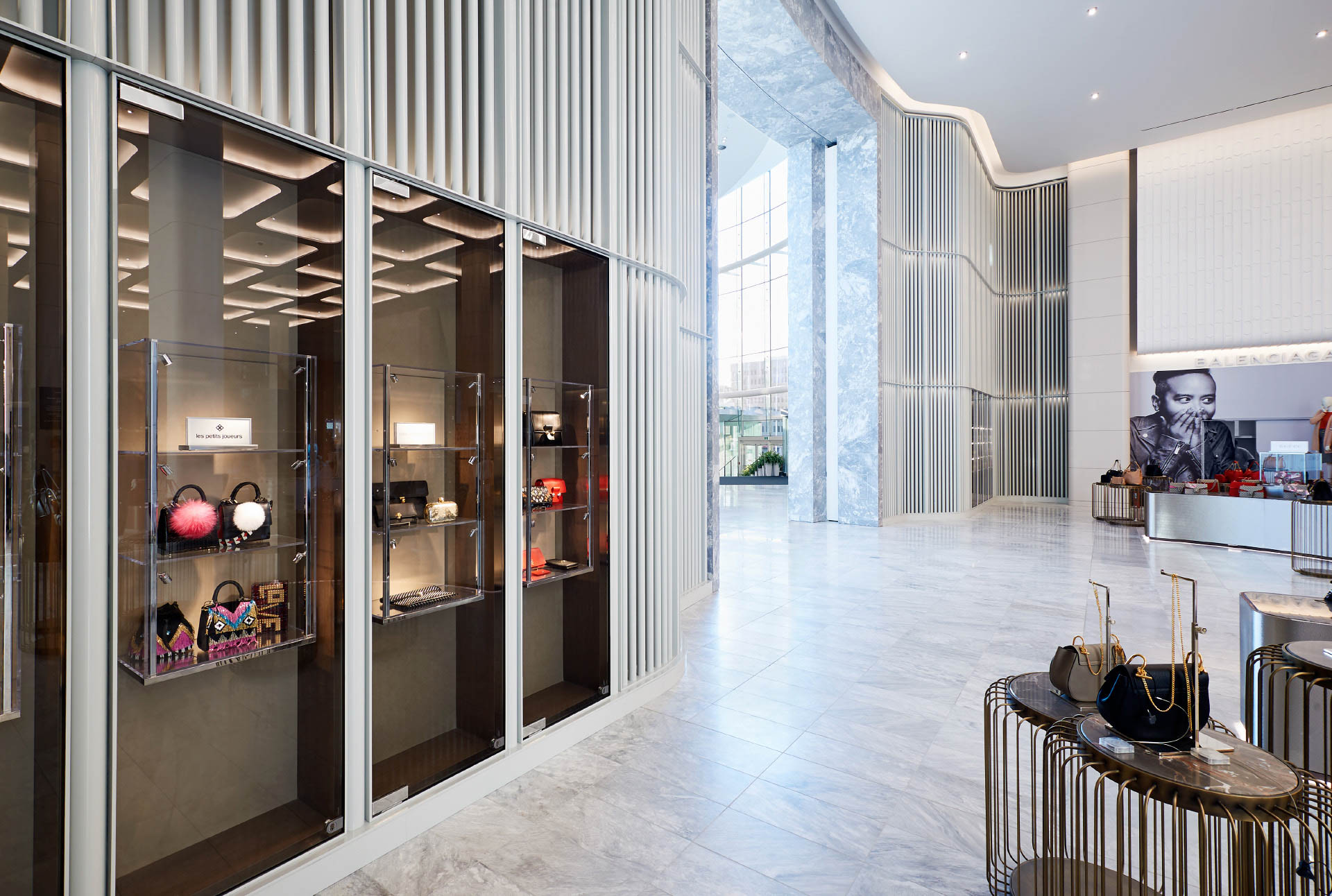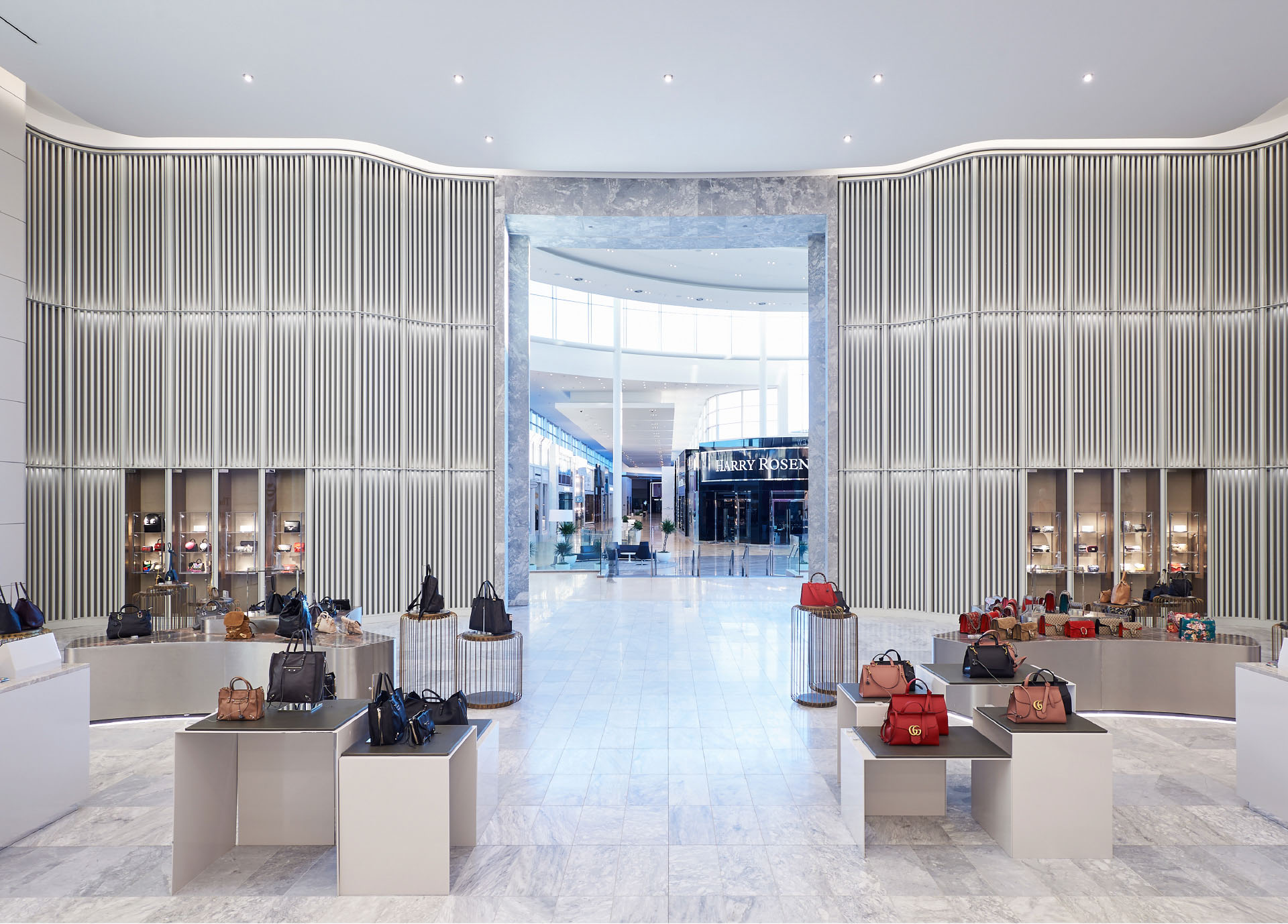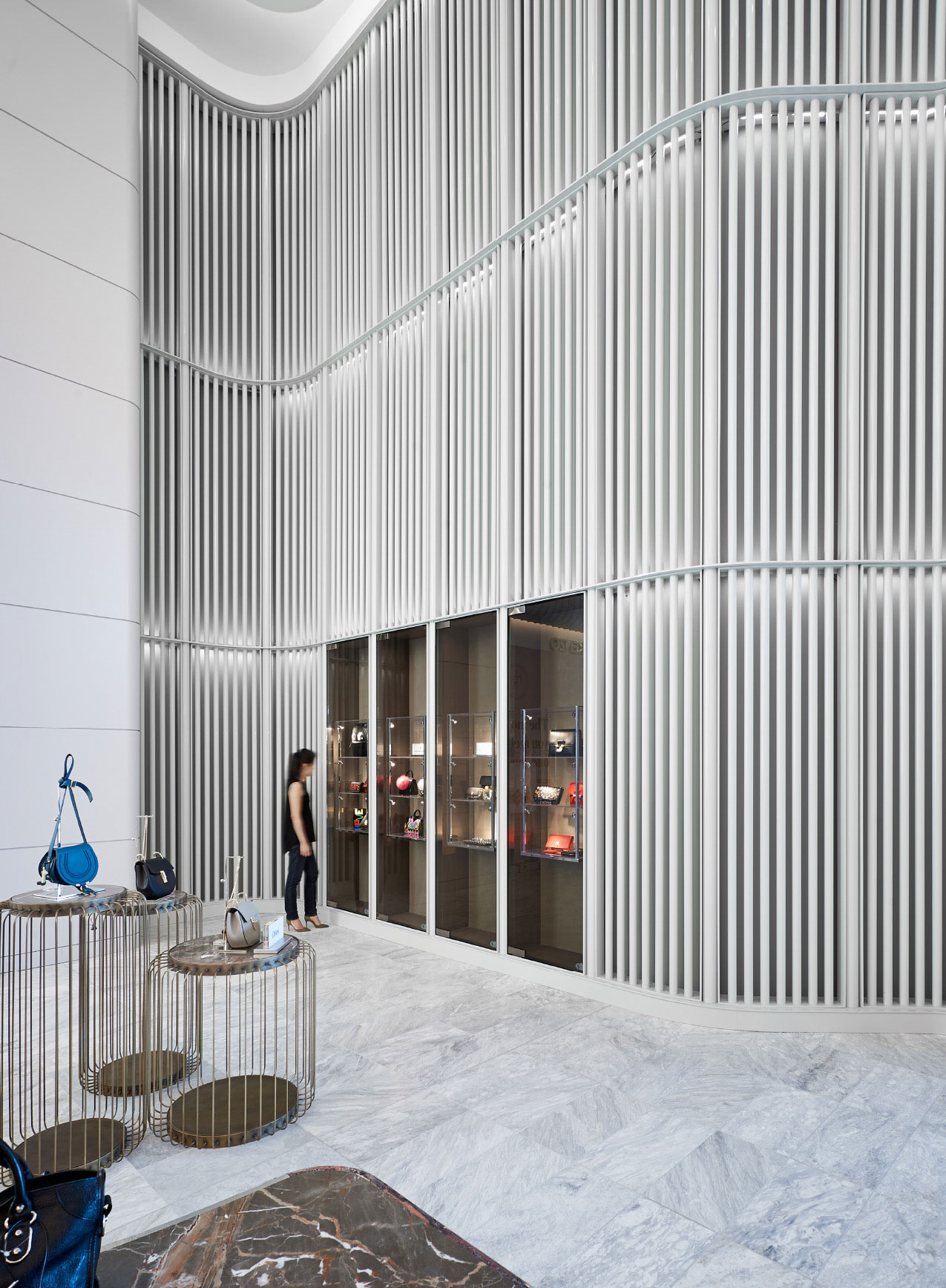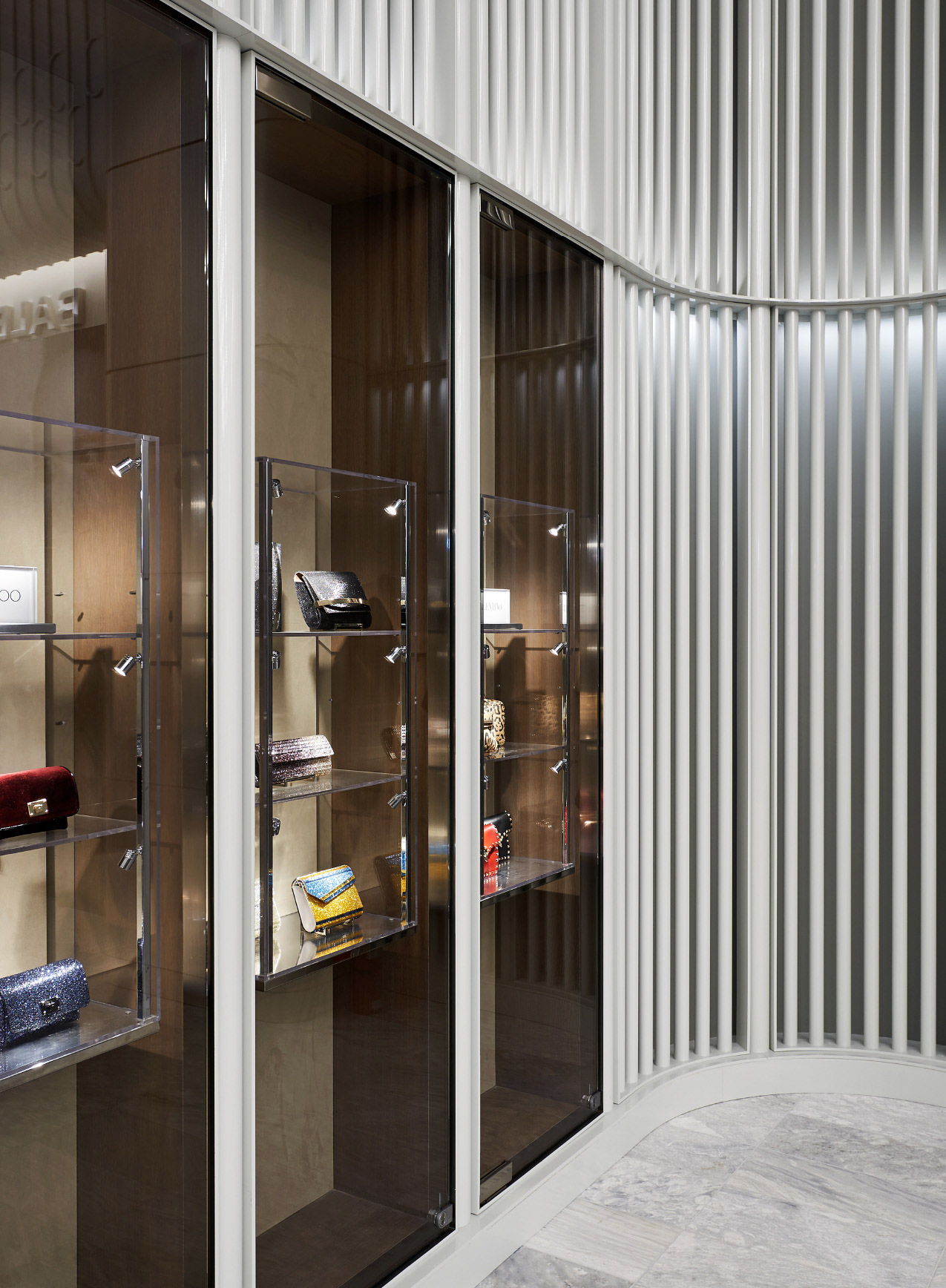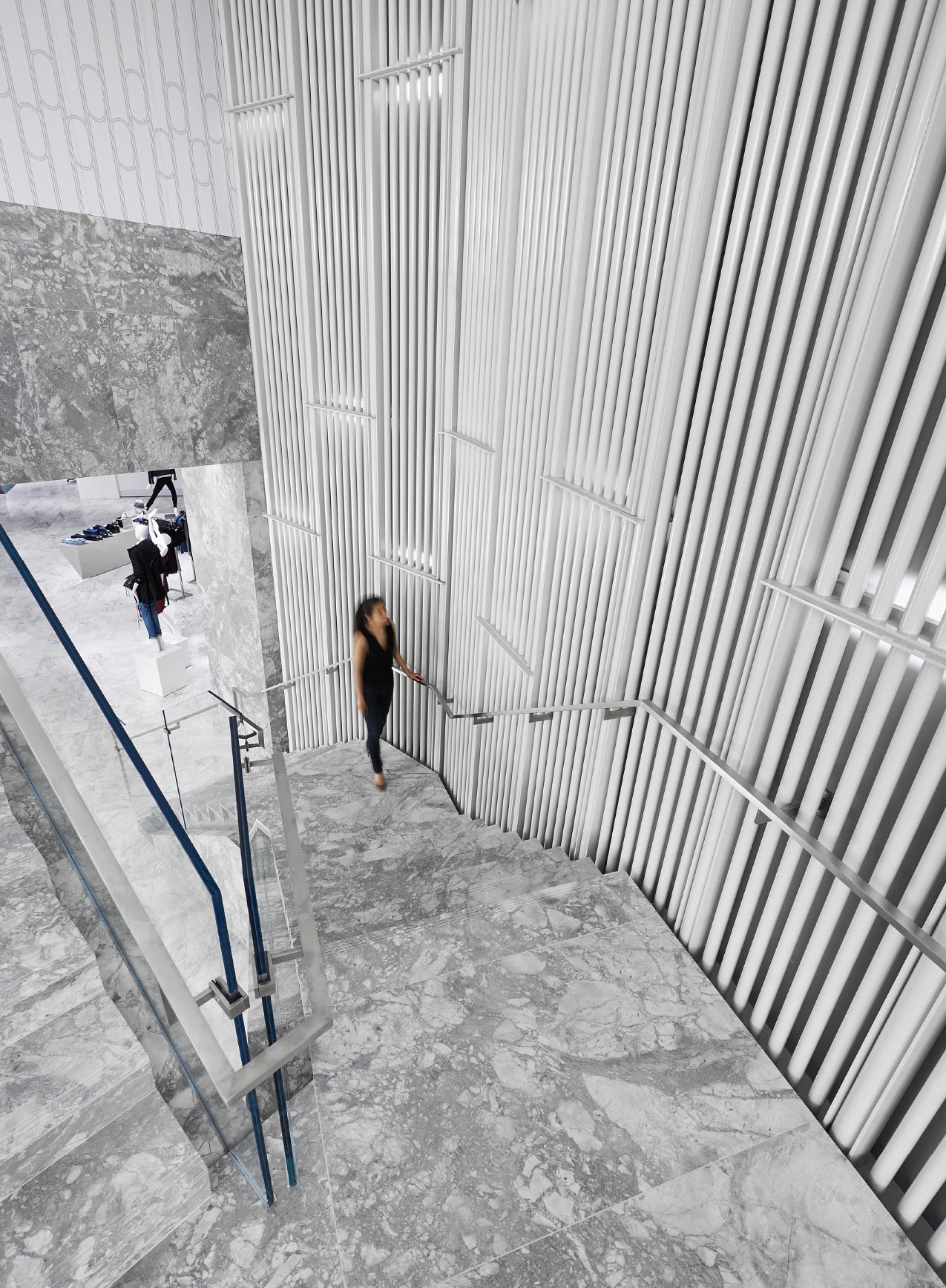 PROJECT HOLT RENFREW, SQUARE ONE SHOPPING CENTRE, MISSISSAUGA, ON
DESIGN JANSON GOLDSTEIN LLP
GENERAL CONTRACTOR GOVAN BROWN
PHOTOGRAPHY STEVE TSAI
BUILT BY EVENTSCAPE, JULY 2016
Eventscape was contracted to engineer, fabricate and install two feature wall treatments in the new Holt Renfrew store at Square One in Mississauga. Located in the second largest shopping centre in Canada, Holt Renfrew is Canada's leading luxury shopping retailer and is currently celebrating a 179- year heritage.
At the main store entrance, the feature wall spans 49 feet wide by 27 feet tall and consists of two mirrored sections on either side of the leather goods entrance opening. At the stairs leading to the VIP lounge, a similar feature wall was built at 29 feet tall by 28 feet long for a total area of 2,500 square feet. Both walls were built of sections of two -inch diameter aluminum tubes with aluminum plate frames, structurally supported by three  1/2 inch diameter tubes, which carried the load down to the ground and tied back into the base building. These were fabricated, pre-assembled in sections and powder coated.  The sections were engineered to allow for ease of install and removal for maintenance of the interior lighting. Eight display cases at eight  feet high by 30 inches wide were incorporated in the main entrance wall, with tempered glass fronts, floating, cantilevered acrylic shelves, mirror polished chrome plates light poles. Their interiors were lined with faux suede and a custom stained white oak veneer.
Unique Characteristics & Project Challenges:
Eventscape worked with New York-based architecture and design firm Janson Goldstein LLP early on in the project to provide value engineered solutions for their walls while maintaining the aesthetic and integrity of the design. The challenge was to maintain the perfect alignment of the hundreds of vertical tubes and to build a feature that maintained the design aesthetic and flow. Site measurements were crucial to translate the site conditions to our digital fabrication team for the custom CNC-cut parts.
To help coordinate with the various trades Eventscape built a CNC cut six -inch tall curb base for the entrance wall. This was used as a template for the drywall installers to ensure Eventscape's metal wall sections fit with ease. This also created a level surface to allow each of the nearly 200 vertical tubes was perfectly plumb in this large engineered structural wall. Eventscape also coordinated with the stair railing manufacturers to verify positioning and installation points of the standoffs between the tube sections.
Eventscape provided a custom clip for the lighting and engineered a custom baffle for diffusion on each of the framed sections for both walls. For the display cases/vitrines, Eventscape engineered and built a custom steel light post to hang the designer's specified small pixel light, with mirror chrome finish to match the lights.
Engineering and building the tubular elements in manageable, CNC-cut sections allowed for a smooth and successful installation. The custom paint finish of the feature walls maintained the clean aesthetic of the elegant, neutral color palette providing the retailer focus on the luxury products.