CAPITAL ONE CORPORATE OFFICE
MULTIPLE CUSTOM FEATURES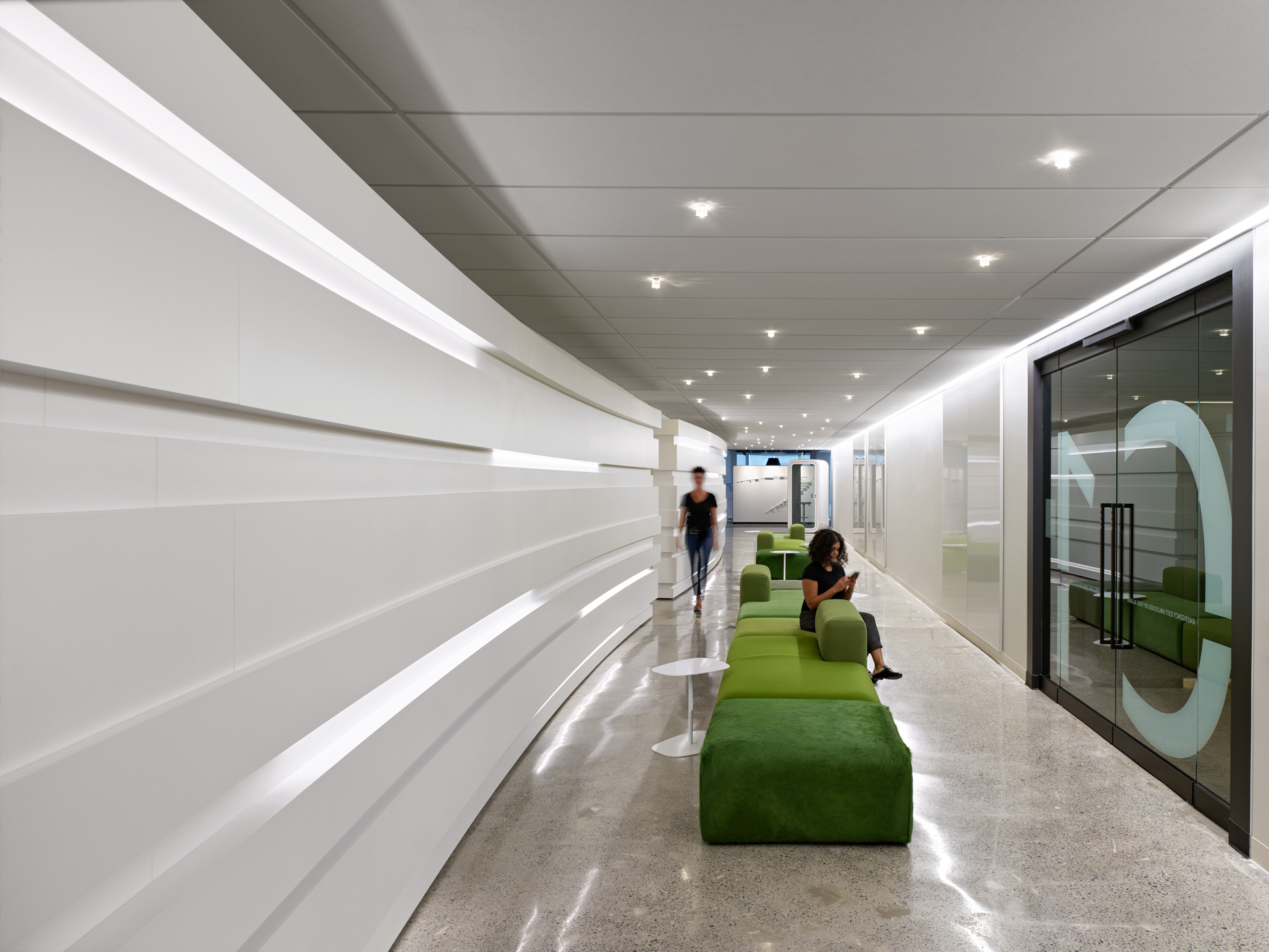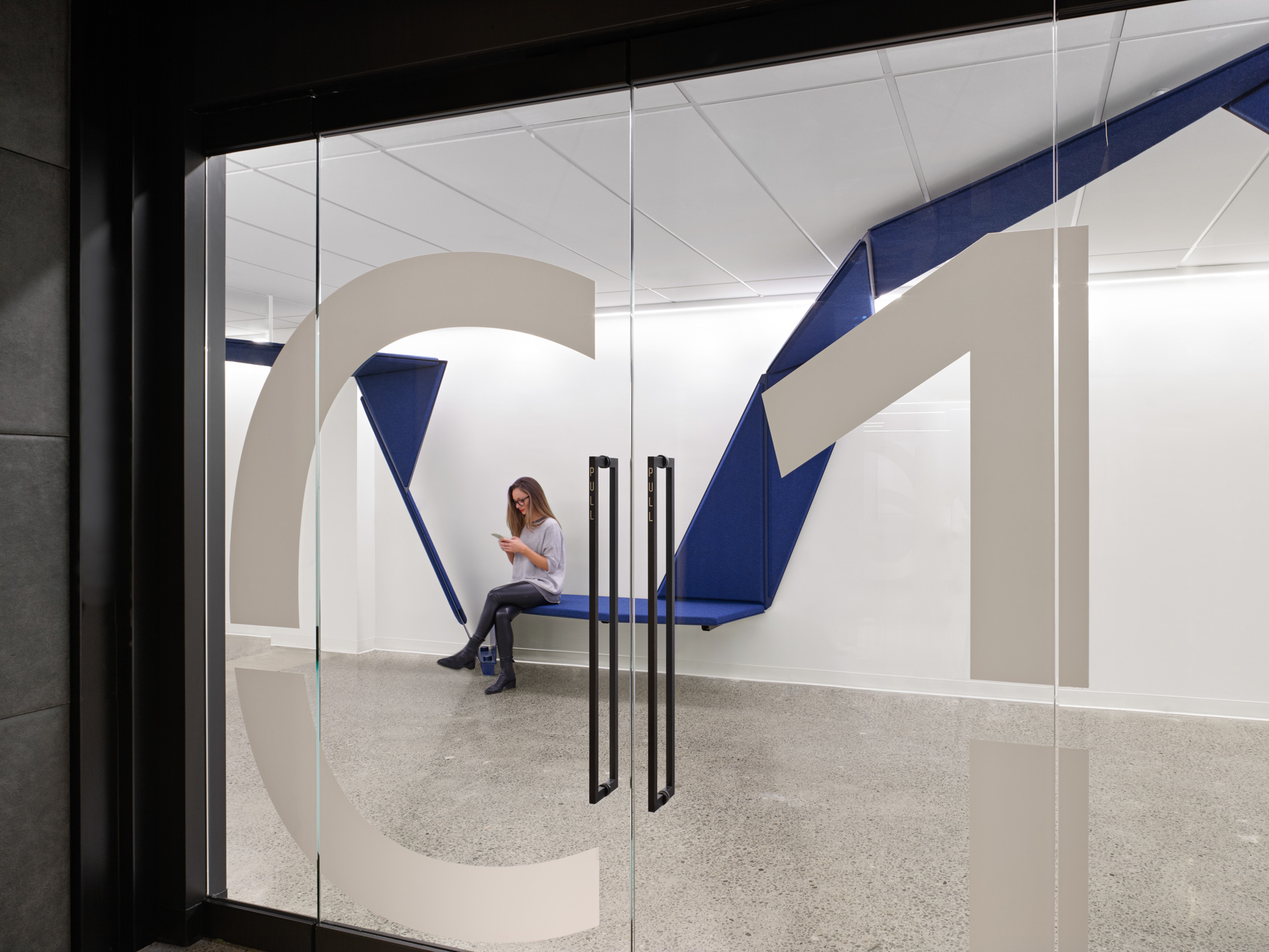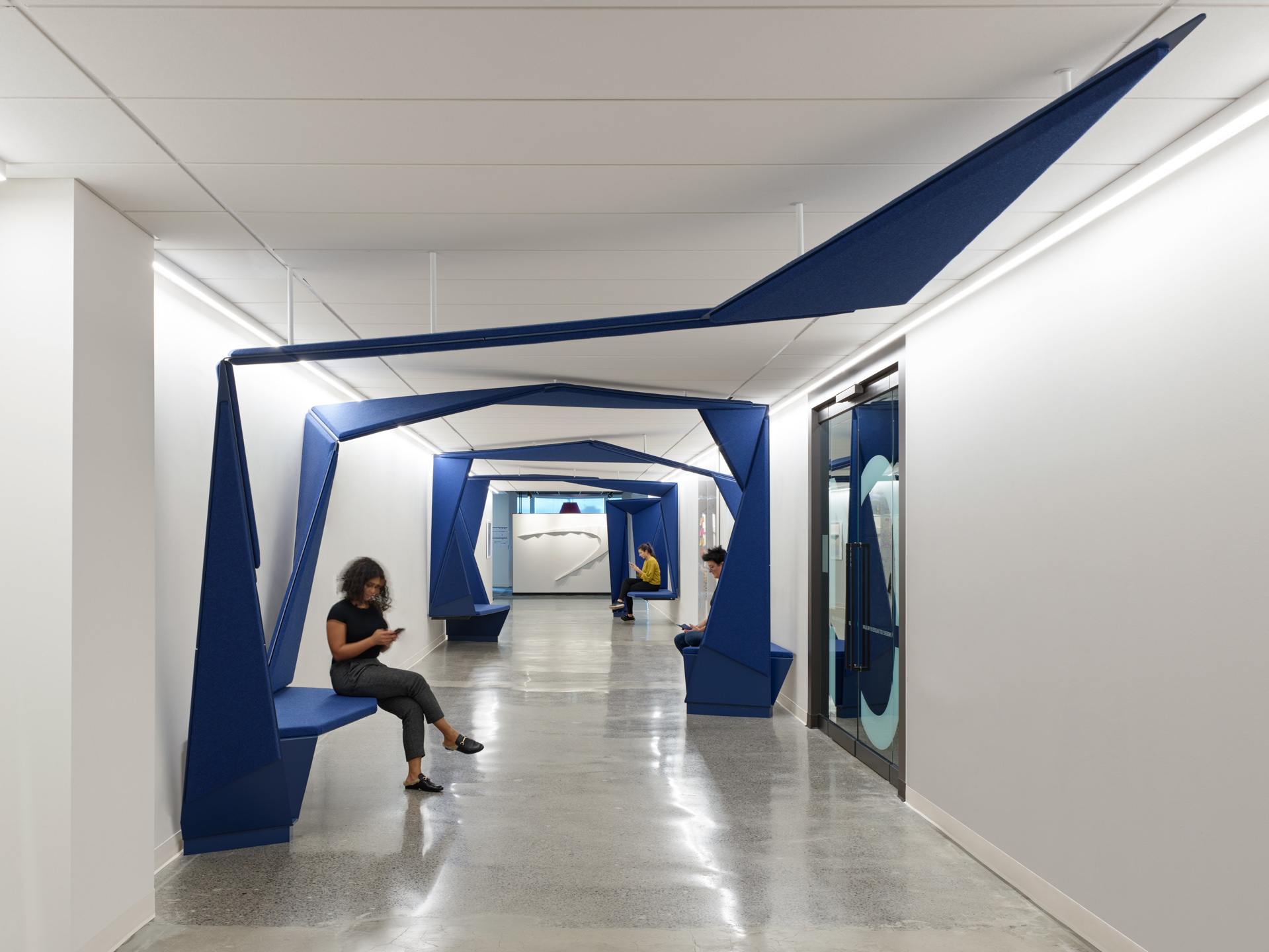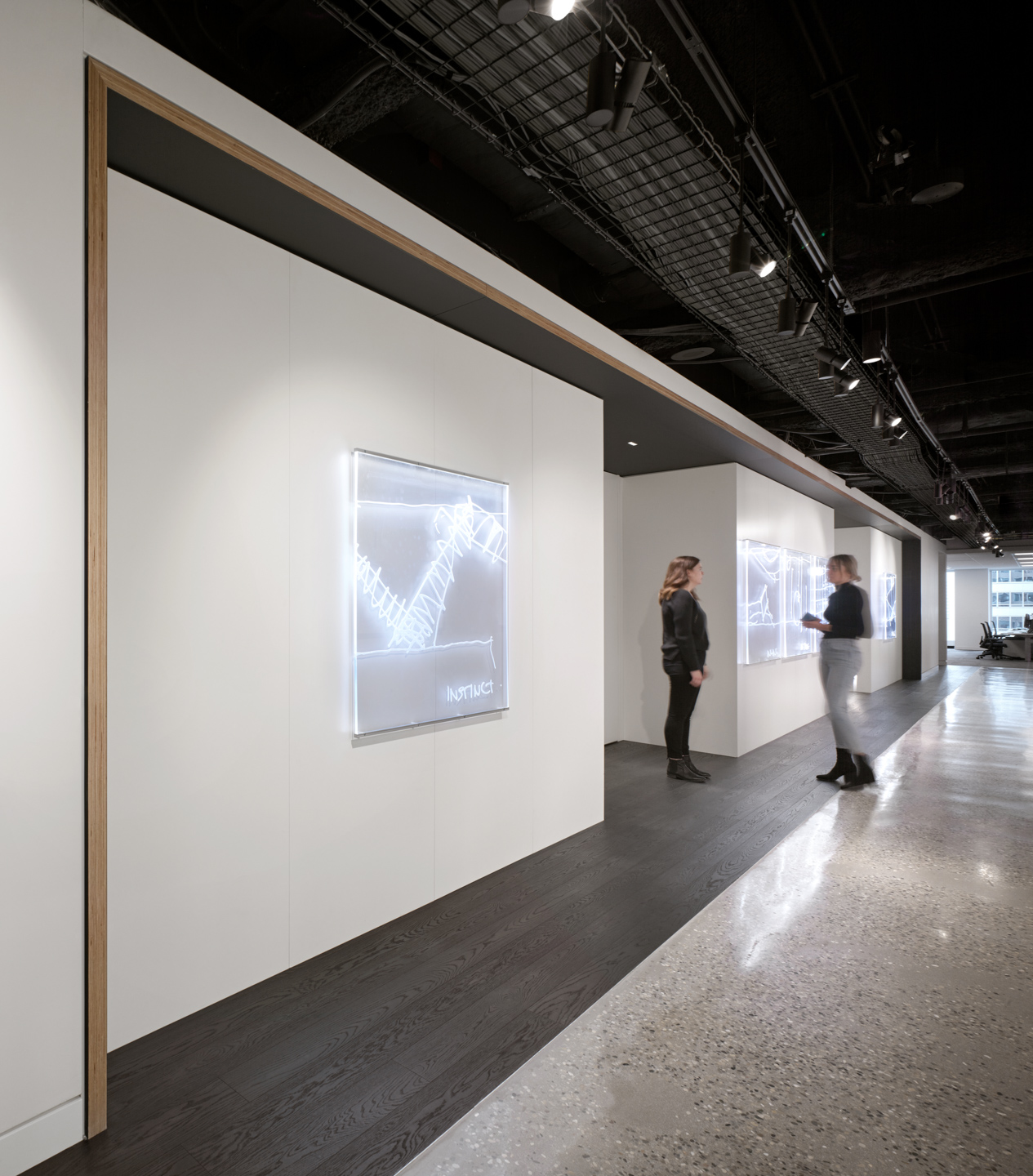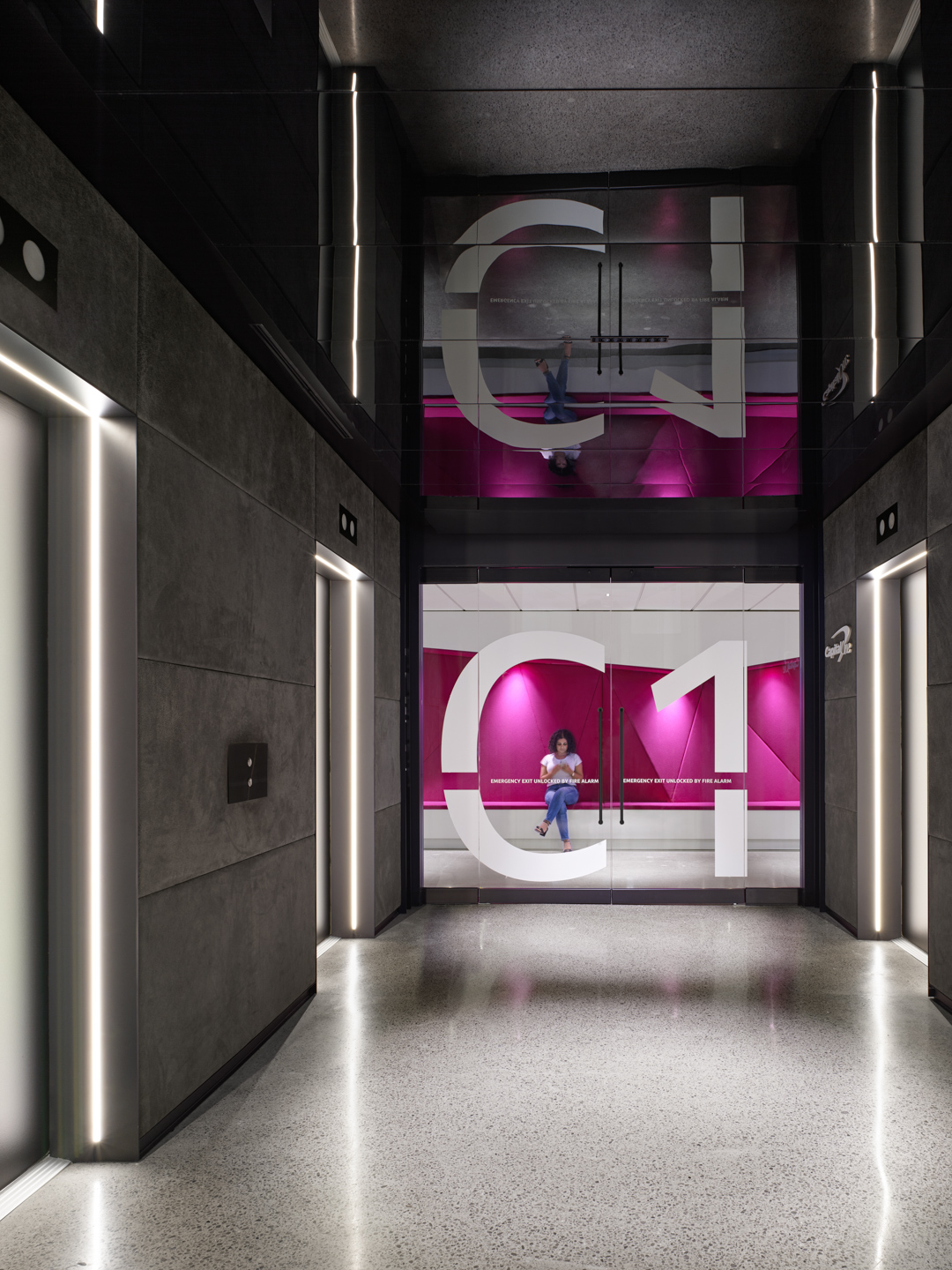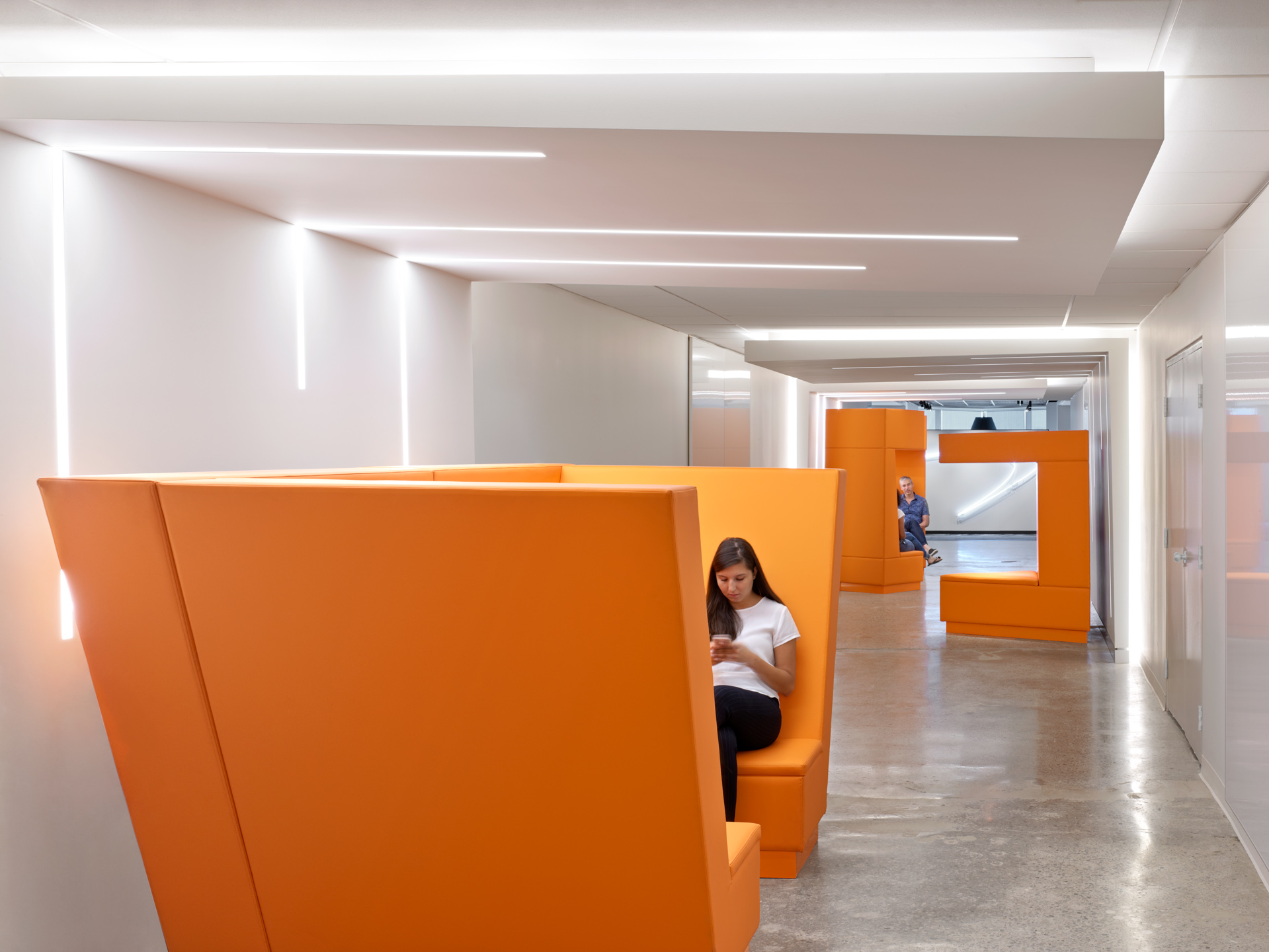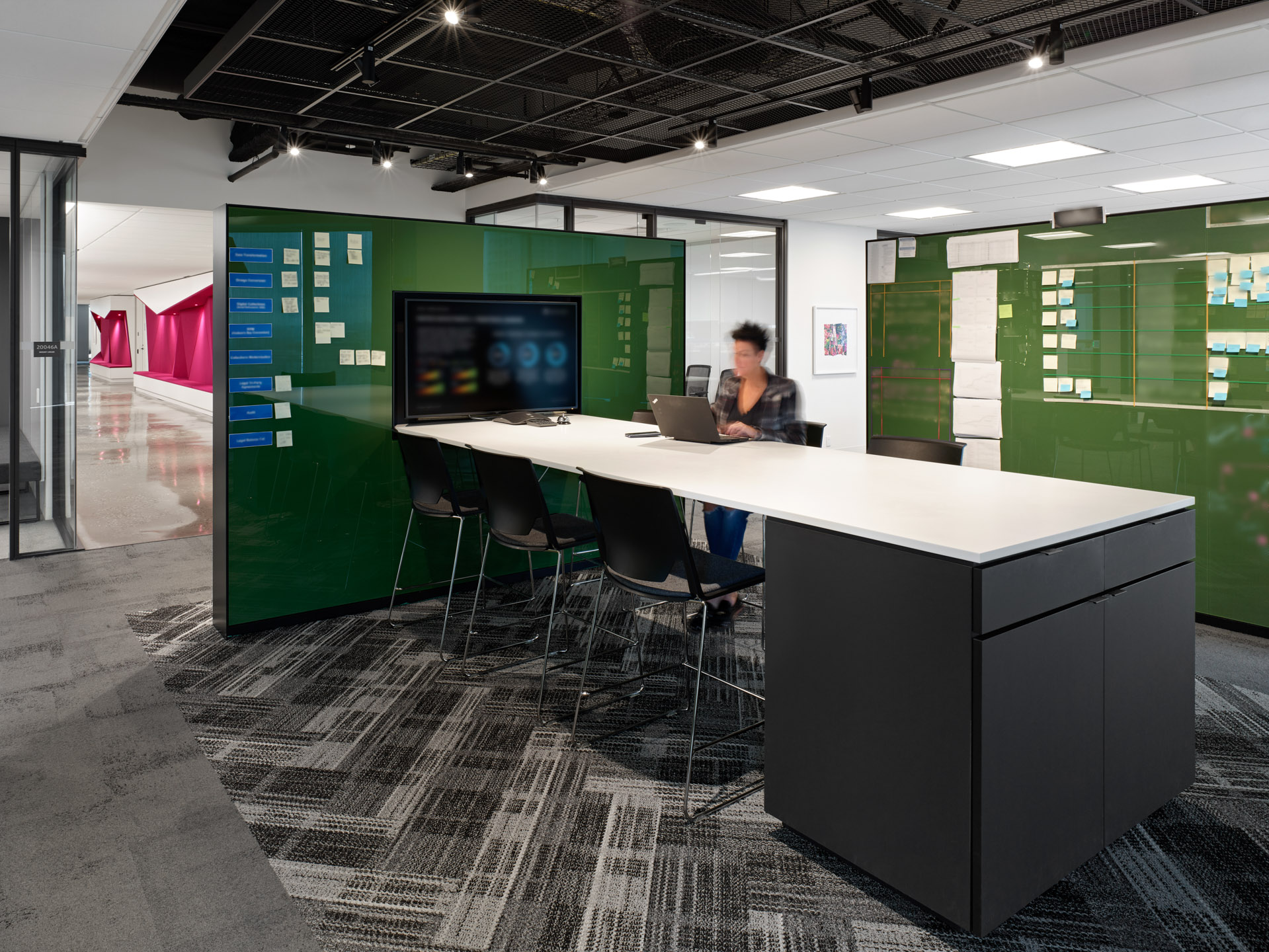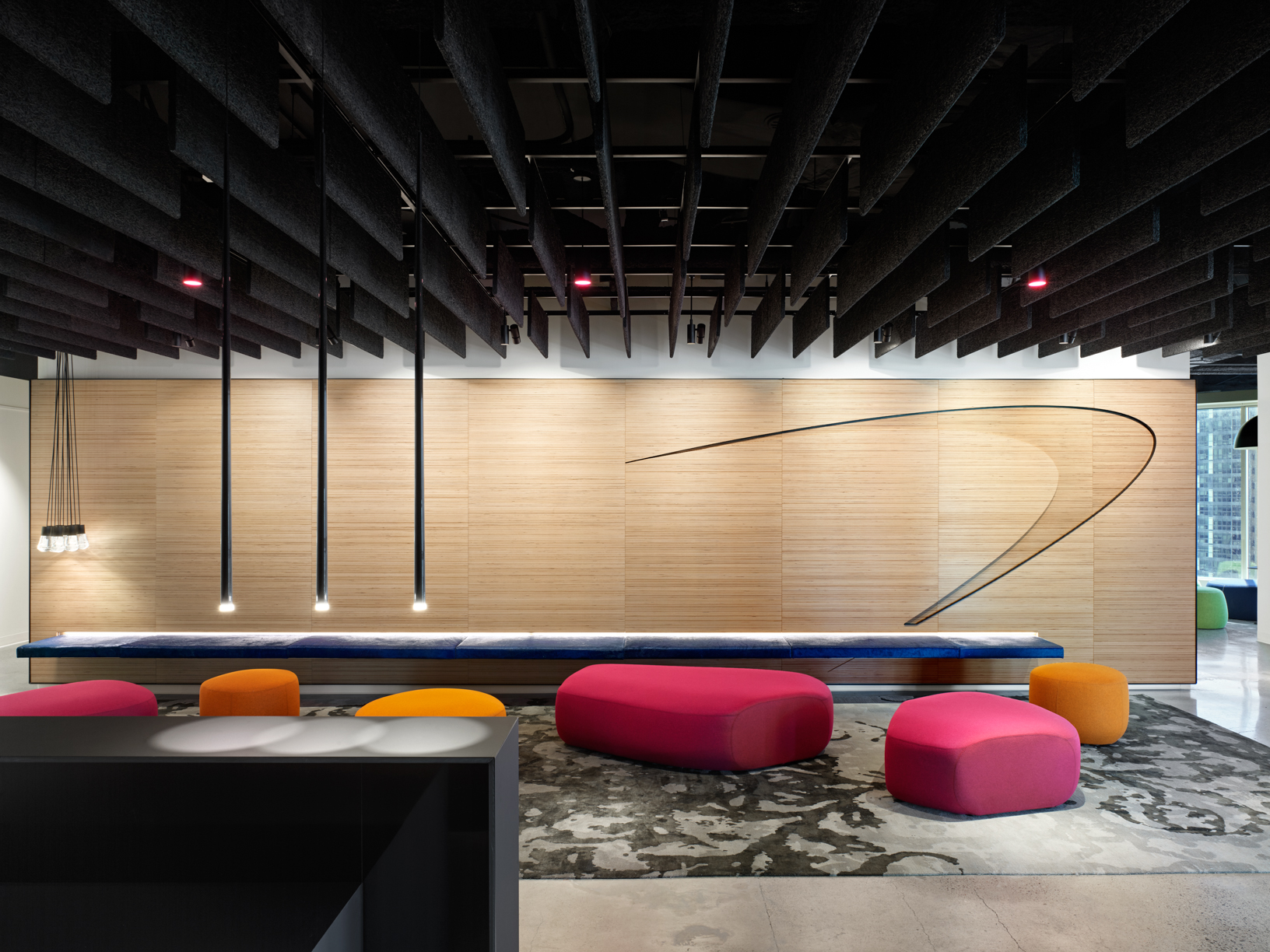 PROJECT CAPITAL ONE CORPORATE OFFICE, TORONTO, ON
DESIGN IBI GROUP
GENERAL CONTRACTOR GOVAN BROWN
PHOTOGRAPHY BEN RAHN/A-FRAME INC.
BUILT BY EVENTSCAPE JUNE, 2018
Located in downtown Toronto and spread over 5 floors, the new Capital One Corporate Office was designed by IBI Group. Eventscape was contracted to engineer, fabricate and install vibrant feature elements in the collaboration corridors on each floor. Incorporating wood, metal, plastic, solid surface, upholstery, lighting and branding, each floor is unique and provides multiple areas for both informal meetings and secluded work areas with comfortable seating. As there were multiple elements and all installs happening concurrently, Eventscape provided 3 separate installation crews to meet the completion deadline.
Unique Characteristics & Project Challenges:
IN-TIME CORRIDORS
Reception feature Logo Wall & Bench:
A 33-foot long x 8-foot high wall feature built of stacked plywood end grain face with a carved Capital One logo greets visitors at the reception. The "boomerang" logo was carved into the front face and edged with black powder-coated metal. The plywood was glued up in layers, then milled down to a smooth face and finished with a FR clear coat. The wall was finished with a 25-foot long leather upholstered bench with floating wall mounts and a glowing inset LED light strip that runs along the top edge.
Elevator Lobby Walls & Ceiling (on 5 floors)
The elevator lobby walls on all five floors were finished with leather wrapped rectangular panels spanning 30 feet around the six elevator doors. On the ceilings, Eventscape built and installed black mirrored acrylic finished panels. Each floor had fourteen 8-foot by 2-foot panels with integrated lighting. A strip of inset LED lighting on the metal framing outlines each elevator door opening.
Seating Booths
Several custom seating booths were fabricated by Eventscape that create small breakout zones and private areas for work. The millwork features were built with an upholstered faux leather finish in 4 different shapes: 1 triangular, 1 cylinder, 2 square and 1 trapezium and ranged from five foot diameter to 10 feet wide with integrated lighting.
Art Panels
Five very unique works of art grace these walls. IBI provided original sketches of their inspiration and concepts for each floor, which captured the brainstorming between IBI and Capital One. These were CNC-milled on clear acrylic, wall-mounted and edge-lit for a glowing panel.
IN-SIGHT CORRIDORS
Fractal Wall
Two fractal walls with niche seating with and upholstered faceted panels in a vibrant fuchsia fabric are the highlight feature on this floor. These were built with a plywood skeletal waffle frame substructure and triangular upholstered sections.
IN-LINE CORRIDOR
Curved Wall Feature
Two sections of wall – one at 33-feet and the second at 41-feet long – are the main features on this floor. One section is a convex curve and the other concave. Both were built from stepped MDF, finished with white laminate and inset strip lighting. The LED lights are housed in an aluminum extrusion and finished with a translucent white lens, which accentuates the step backs. This laminate millwork wall was built and installed layer by layer – finishing at 8-feet tall.
IN-STINCT CORRIDOR
Spiral Feature
A triangular faceted spiral design element is the main feature on this floor, built of brake-formed and powder-coated metal with an upholstered panel attached to each facet face. At 83-feet long x 12-feet wide and 9-feet tall, IBI provided an initial model built of the 29 individual facets that made up the 3 types: benches, canopies and walls. This was analyzed by all parties to determine the optimum placement for the spiral effect required. A second model was built by Eventscape with acrylic sides and top to view in human scale with models to assure ADA compliance. A ladder frame was hidden inside the ceiling directly above to support the ribbon as it spiralled through the hallway with additional anchors on the wall and floor where it transitions into a bench. Once all the panels were arranged, the panels achieved a continuous ribbon effect.
All Floors
Breakout areas and signage
On all five floors Eventscape also provided a total of 33 millwork features to provide partitions and breakout/meeting areas within the open office floor plan. There were 4 different types of freestanding metal and glass framed walls — some with glass on both sides (adhered to the FR MDF substrate), others with a media screen and white laminate on the back. The rest have media screens on both sides and 8 of these have integrated 10-foot-long solid surface counter tops as well as open shelf laminate cabinets with doors.
Eventscape provided an MDF template to coordinate with glass installation and maintain a consistent 1/4" reveal between the glass and the frame. The floor was X-rayed to determine the best electrical and VX cable coring site at each wall location. Each element was fabricated in sections to expedite installation and were installed on all five floors, each matching the 5 different color schemes of white, pink, orange, blue and green.
Eventscape also provided a laminated logo on each floor mounted on the elevator walls and custom floor number metal signage that floated on a metal C-channel.