DELOITTE CANADIAN HEADQUARTERS
MULTIPLE FEATURES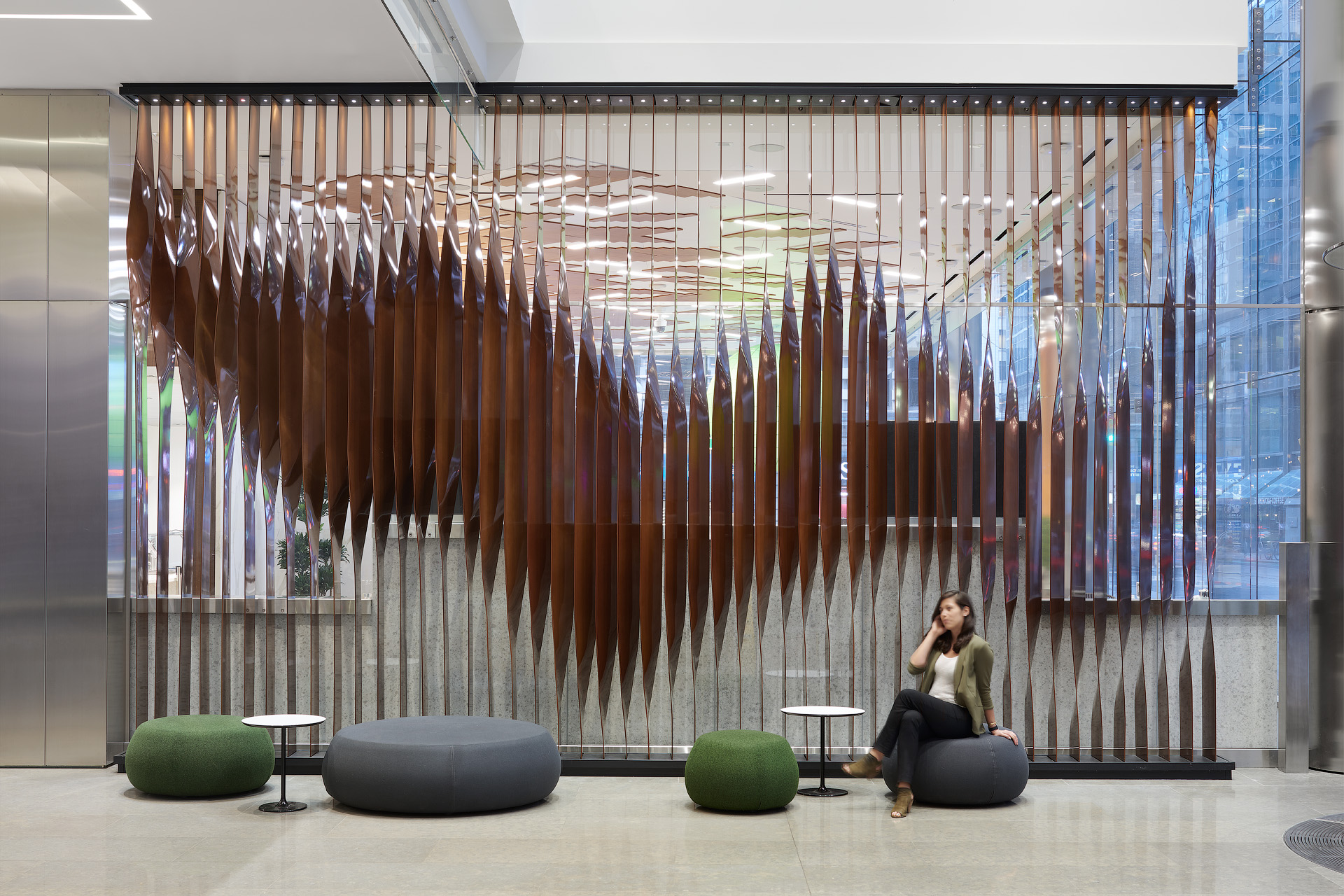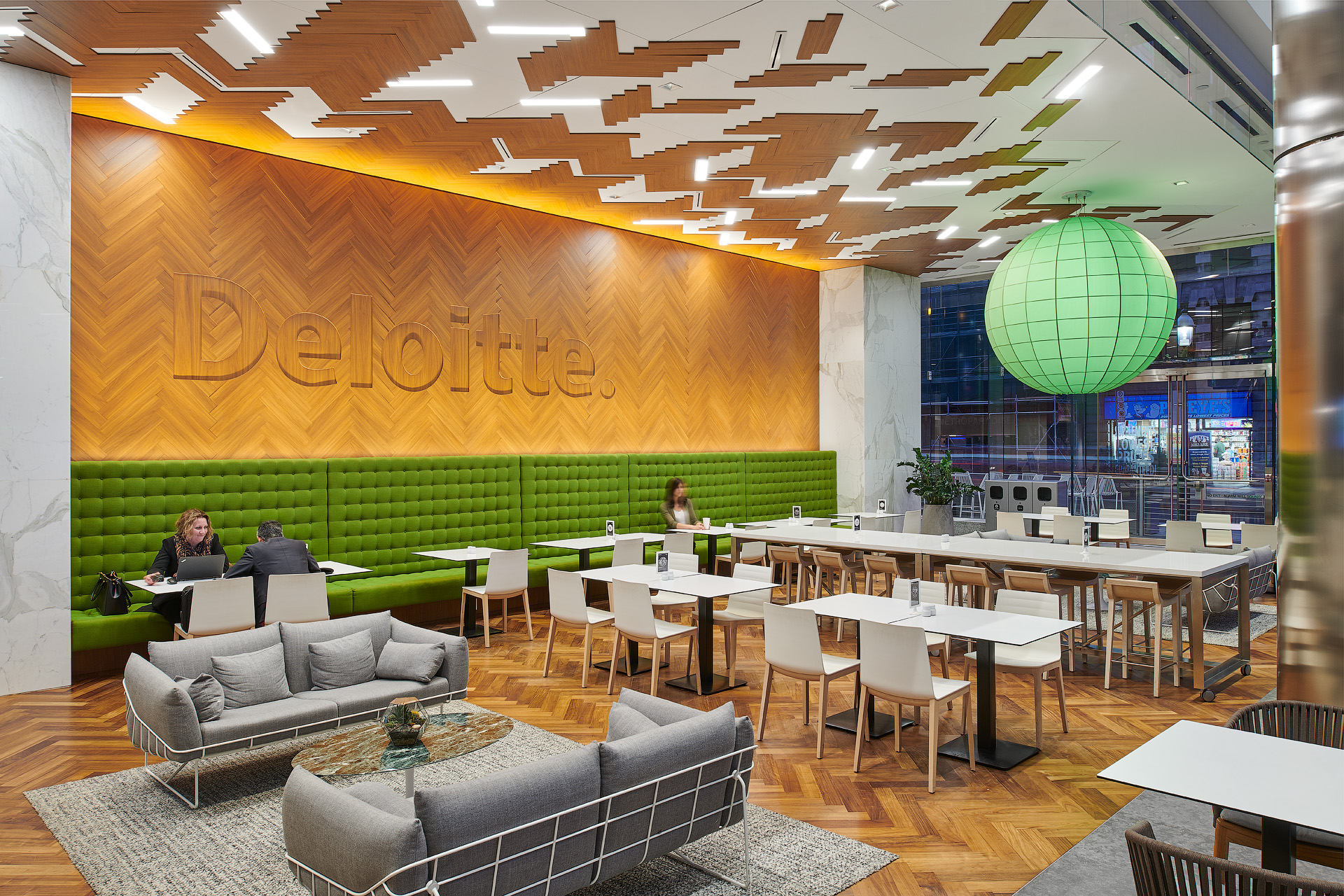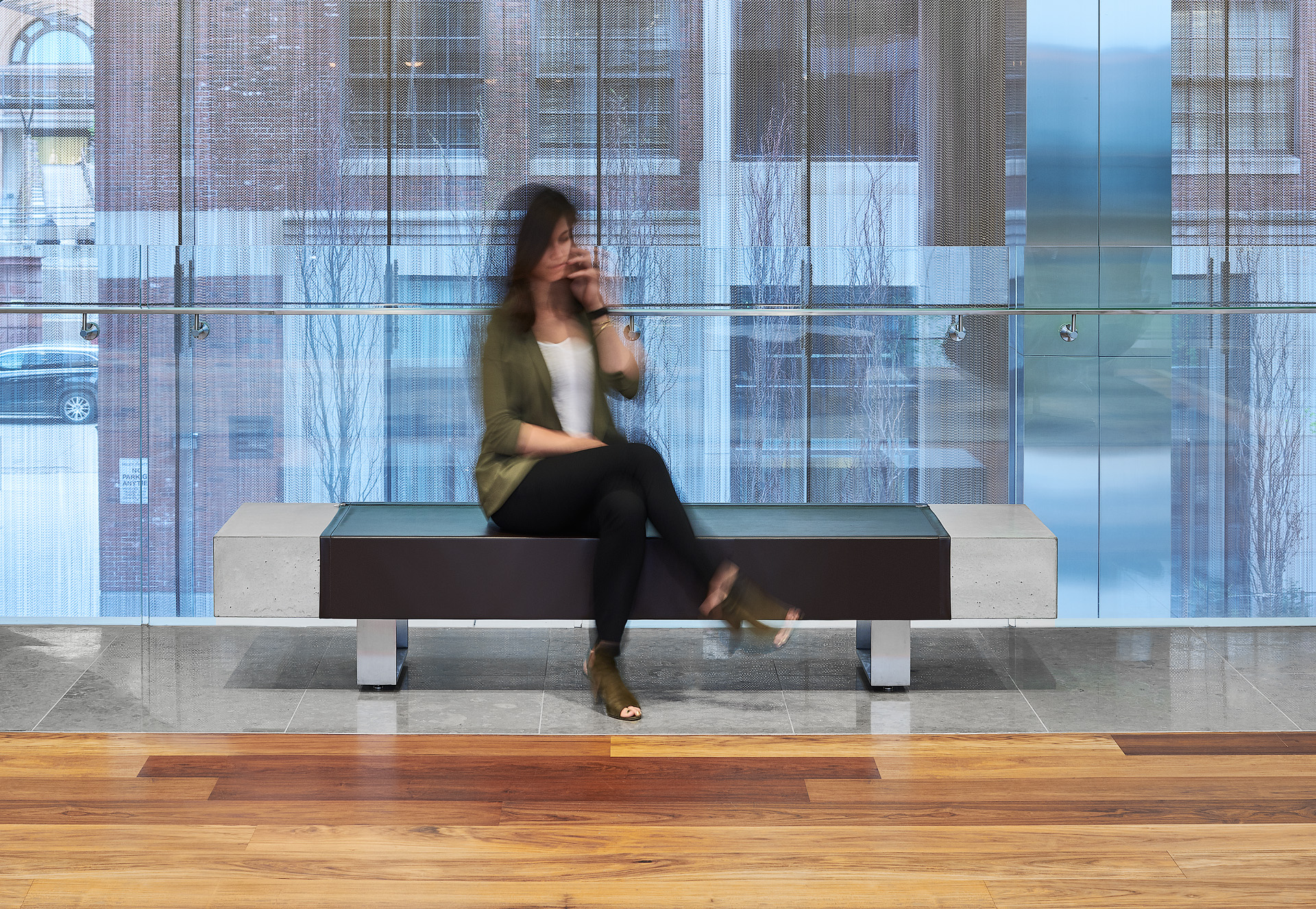 PROJECT DELOITTE CANADIAN HEADQUARTERS,TORONTO, ON
INTERIOR DESIGN FKA ARCHITECTURE + INTERIORS
ARCHITECT & DESIGN OF BENCHES & FIN WALL KEARNS MANCINI ARCHITECT
PHOTOGRAPHY STEVE TSAI
BUILT BY EVENTSCAPE JULY, 2016
Deloitte gathered seven divisions scattered across Toronto into one beautiful national headquarters building filled with 4,000 employees. Interior design firm Arney Fender Katsalidis from London, UK in collaboration with Kearns Mancini Architects Inc. worked closely with Deloitte staff to design a space that would meet all their goals. Eventscape was brought in to engineer, fabricate and install a number of features in the space. At the entrance to the company owned ground floor bistro, a twisted metal fin wall feature with integrated lighting creates a privacy wall. Inside the bistro, a large globe lamp feature built of metal frame and textile covering is emblematic of the Deloitte green dot. This brand symbol becomes a focal point that is visible to the street. At the second and third floor atrium stair openings, Eventscape fabricated 7 custom benches built of concrete and solid reclaimed wood with stainless steel legs and leather seat coverings.
Unique Characteristics & Project Challenges:
The 14-foot tall x 23-foot wide twisted fin wall was built of 1/4" x 10" aluminum flat bar with a custom copper powder coat finish. Each of the fins had two 30 degree twists in prescribed locations to create an overall undulating pattern. The Eventscape metal fabrication team devised a custom jig to create each twist by hand. The fins were mounted to steel brake-formed shoes at the top and bottom, with adjustable internal threaded connection complete with a heavy-duty spring to ensure adequate tension in fins. A custom glossy copper powder coat was used to finish the element and lighting was integrated between each fin. 
Two types of benches were fabricated for the common areas in the central atrium space. On the second floor two custom cast concrete benches were fabricated; the base was welded steel with concealed structural members and visible legs made with 1/2″ x 4″ stainless steel flat bar. The legs were finished with a directional brush with all hardware hidden within the concrete bench. Leather with a foam padding and decorative zipper was used to cover the center portion of the bench for a warmer more comfortable seat. 
On the third floor, Eventscape fabricated 5 custom wood benches. Reclaimed solid 10-inch wide wood timber planks were glued and clamped together to create a bench 20-inch wide by 90-inches long. The wood was milled, sanded and finished with several coats of gloss resin and a welded steel base and stainless steel legs identical to the concrete bench.