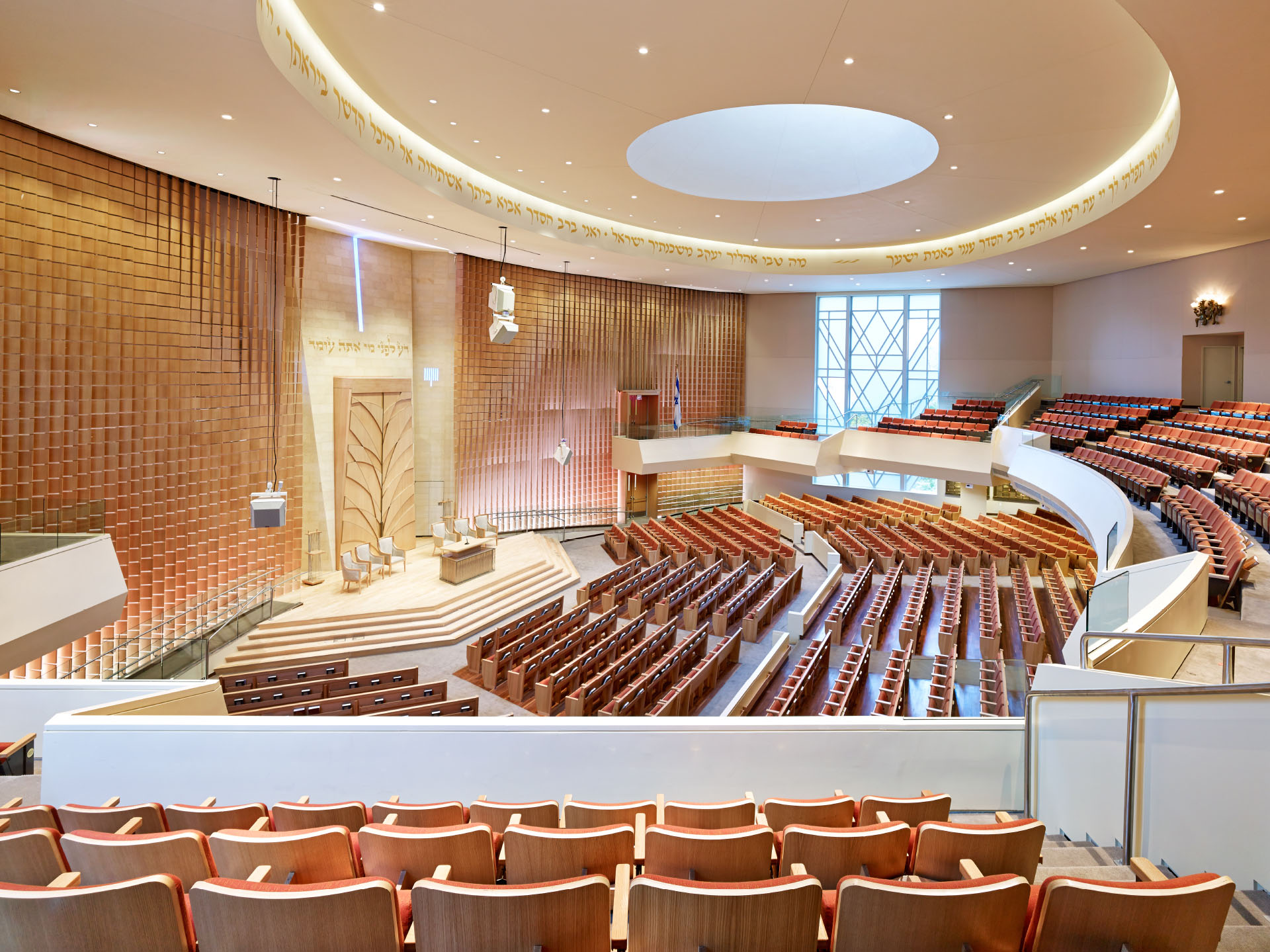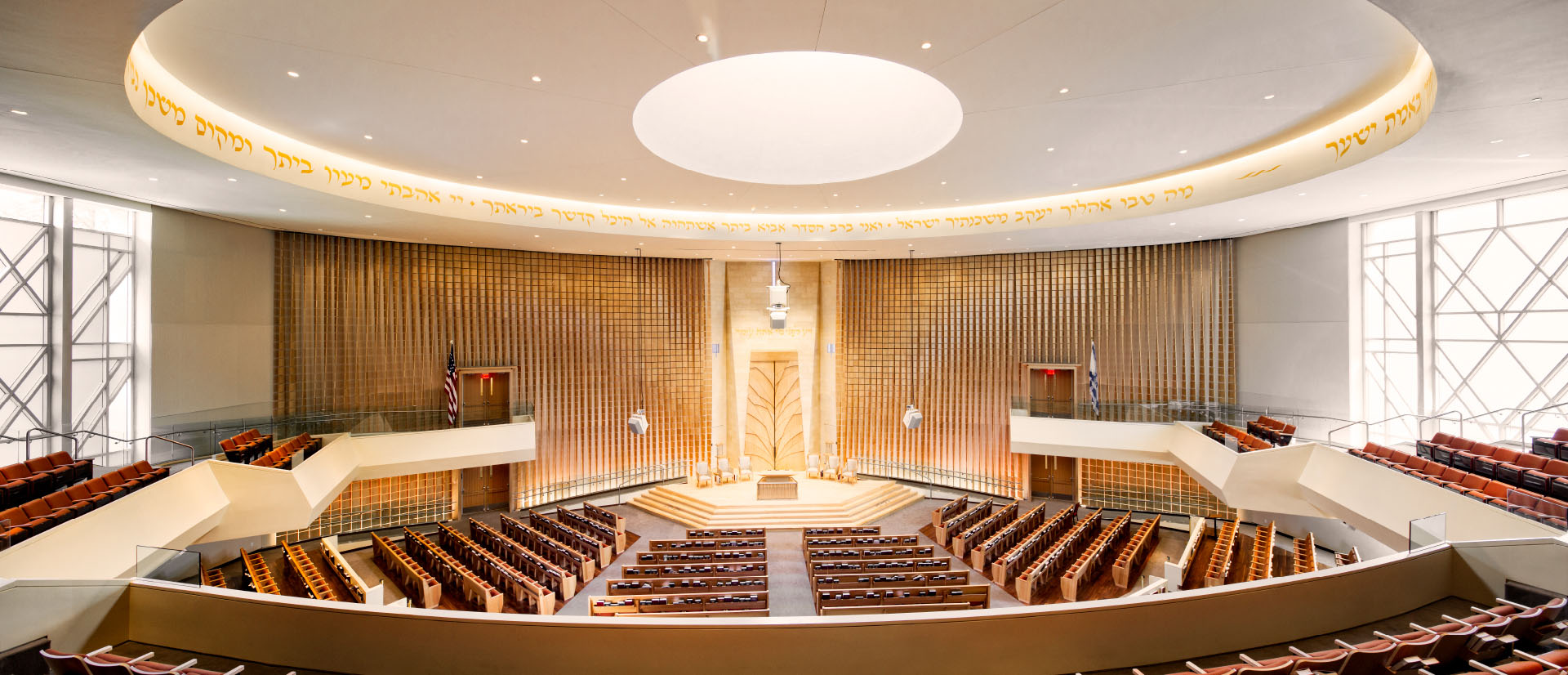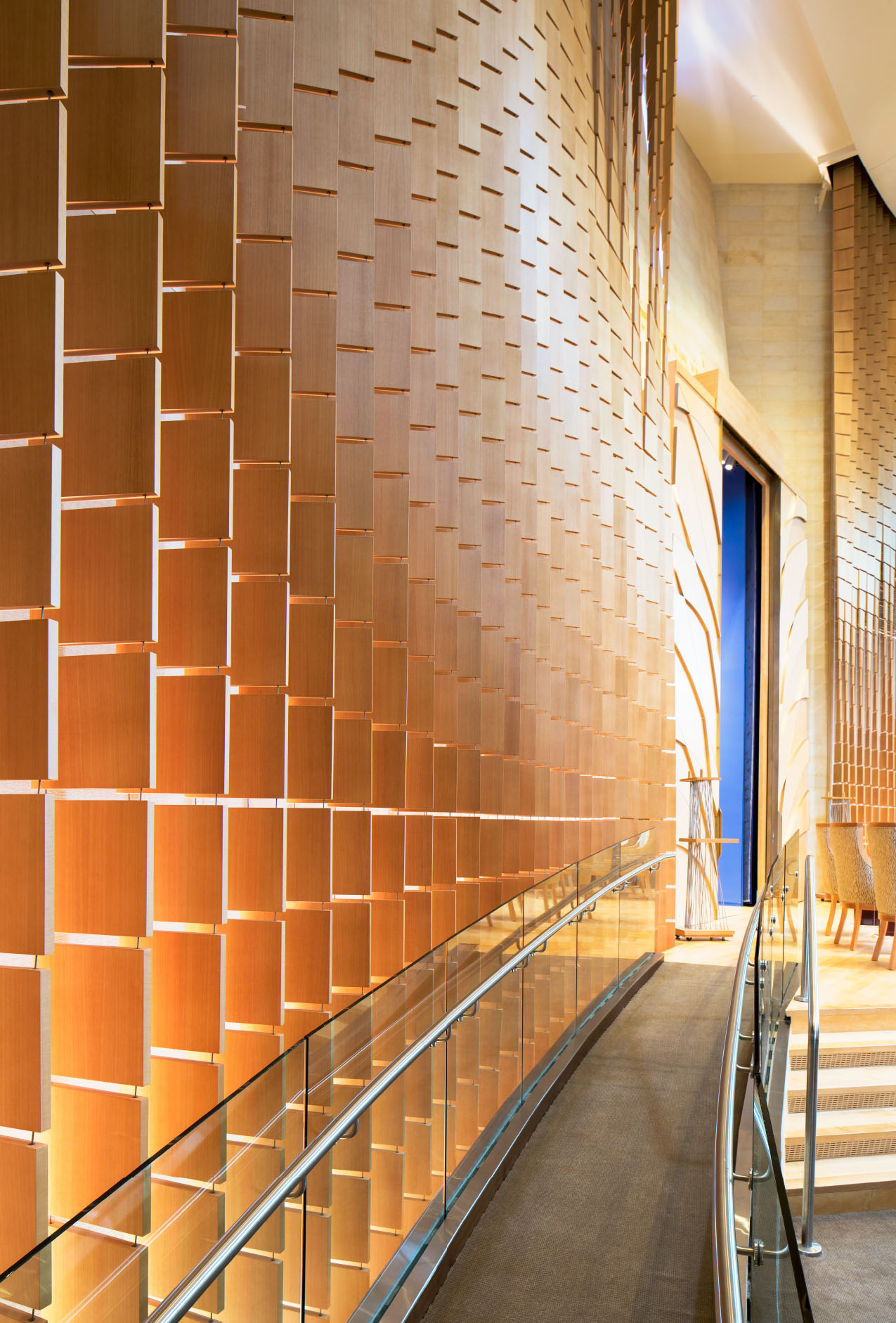 PROJECT ADAS ISRAEL CONGREGATION, WASHINGTON, DC
ARCHITECT H3 HARDY COLLABORATION ARCHITECTURE
GENERAL CONTRACTOR FORRESTER CONSTRUCTION COMPANY
SUB-CONTRACTOR ALLEGHENY MILLWORK
PHOTOGRAPHY ©ALAN KARCHMER, ABOUD DWECK
BUILT BY EVENTSCAPE, OCTOBER, 2013
For this large synagogue renovation, Eventscape was brought in to engineer, fabricate and install a large custom wood feature wall. The wall was made up of over 100 hanging columns of 4200 wood panels, that were engineered to create a undulating wave pattern. The 40 ft. high wood panel feature wall extends 134 feet across the front of the sanctuary, and consists of 112 pivoting vertical columns. Each column is constructed of 37 – 11" x 11" wood tiles; held in tension on two stainless steel aircraft cables. These vertical columns were secured to laser-cut mounting plates at the ceiling and floor to allow consistent tension and a gradual rotational pattern across the full length of the wall.
Unique Characteristics & Project Challenges:
Each of the 4200 tiles were made of two halves of FR MDF core with a clear, lacquered finished quarter-cut Anigre veneer. The two halves were laminated together with two routered vertical channels for cable placement. The cables were inserted using a jig and locked into place with a custom stainless steel machined insert.
Eventscape coordinated with the structural engineer to verify that the significant weight of the paneled wall could be supported by the existing building. I-Beams were installed in small straight sections in order to create the smooth arc of the wall. A template on site was used for placement of threaded holes in the floor and ceiling to position the steel mounting plates using threaded rods. Laser cut holes in the ceiling and floor plates transcribed the precise attachment location to create the gradual 5 degree rotation of each wood column desired by the architect.
Detailed co-ordination with the general contractor and other trades, and minimal packaging of the columns facilitated a smooth installation process. The accordion-style folding of the panels in stacks on the shipping palettes allowed the installer to hoist each section, attach to the top, and after orienting the column's rotation, secure to the bottom plate with stainless steel threaded swages. All cabling was pre-tensioned to prevent any movement after installation.