STANTEC HEAD OFFICE
OFFICE POD ENCLOSURES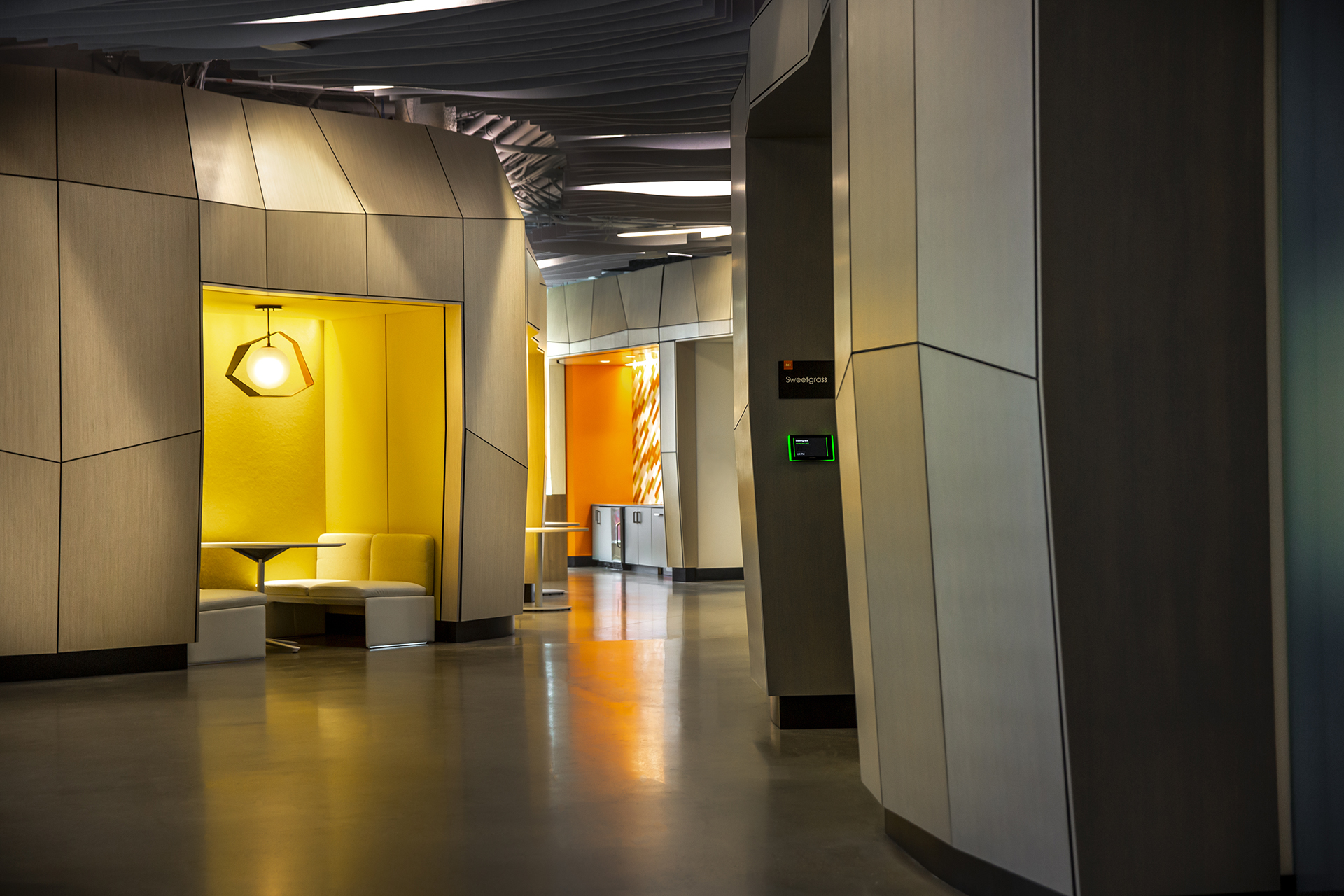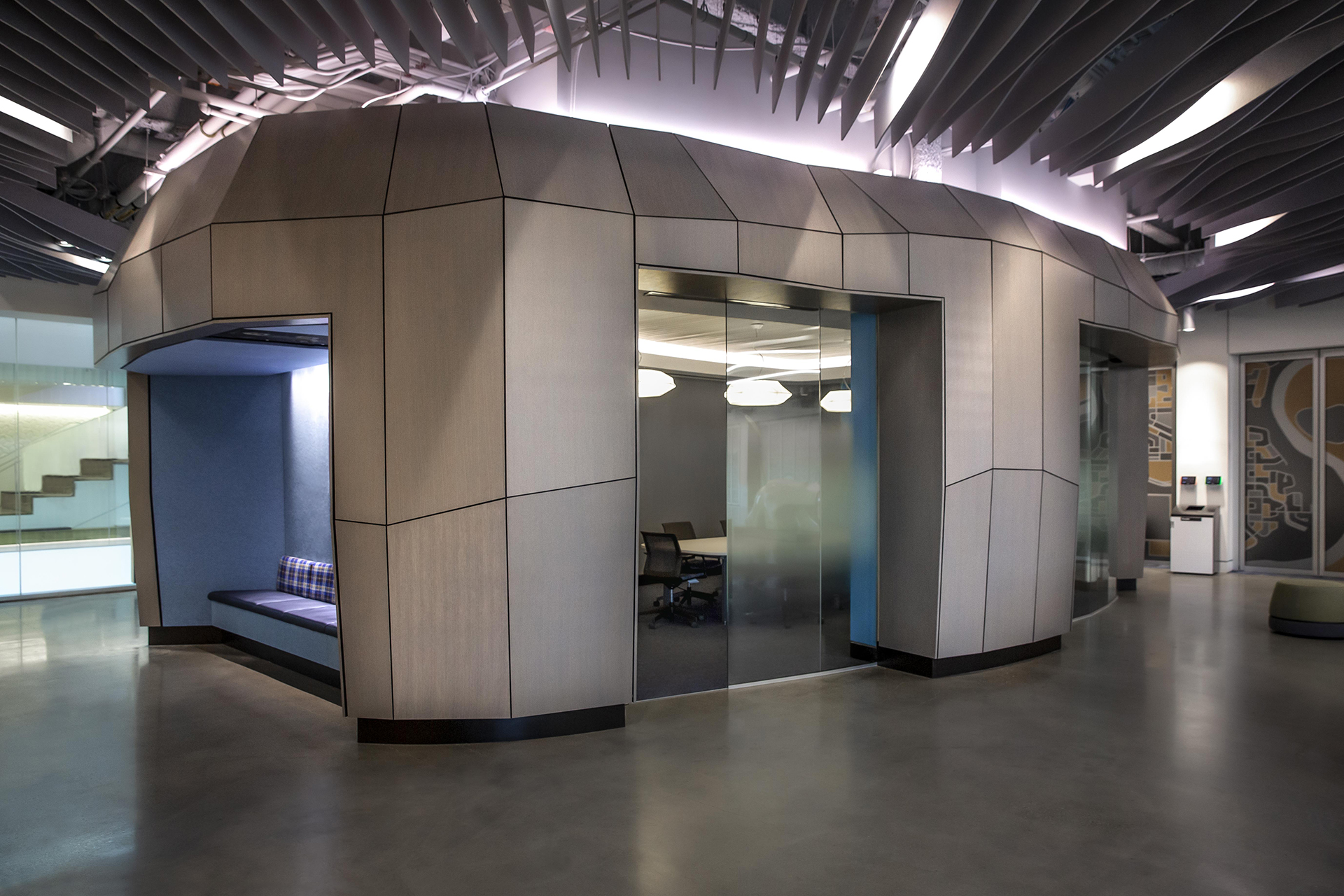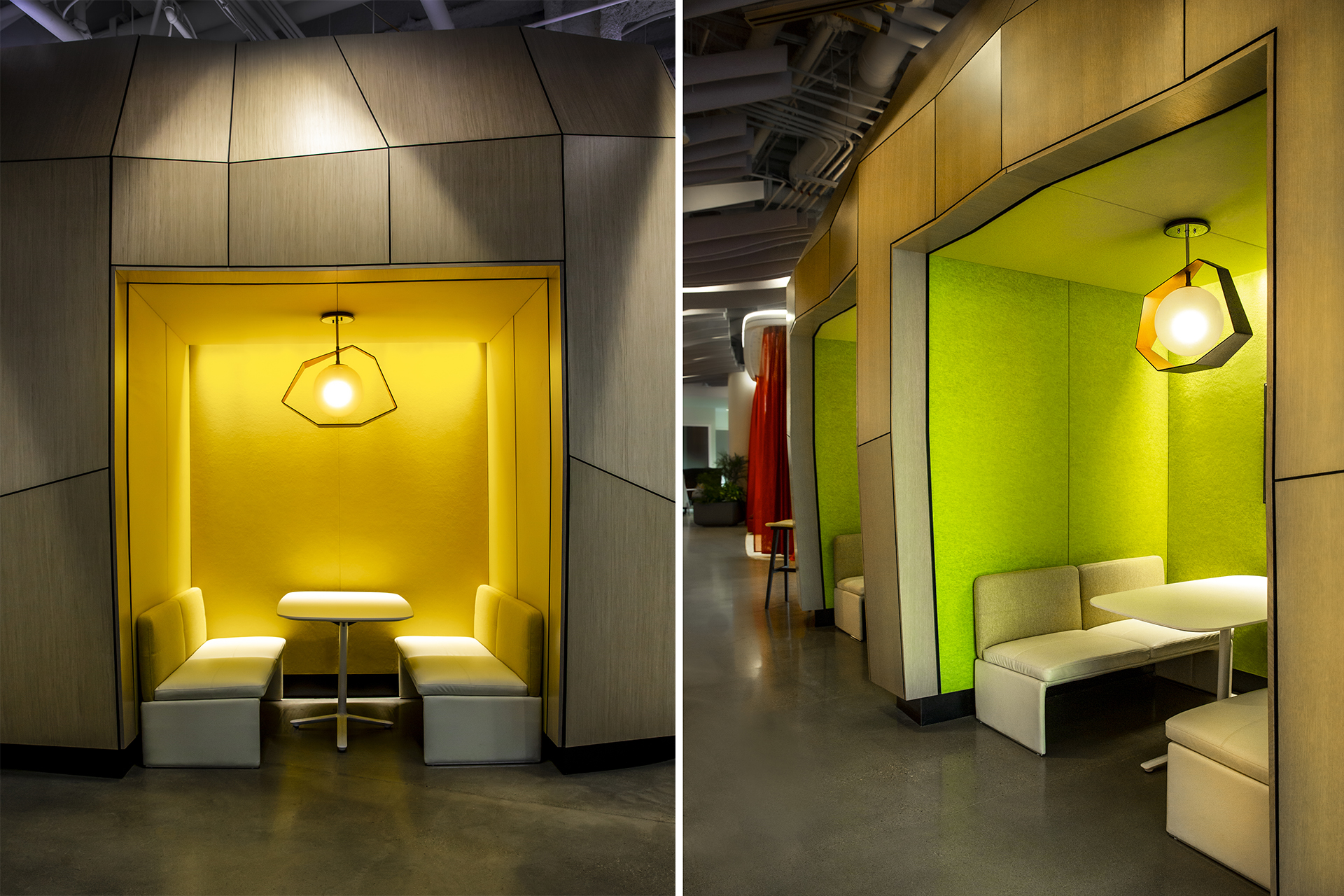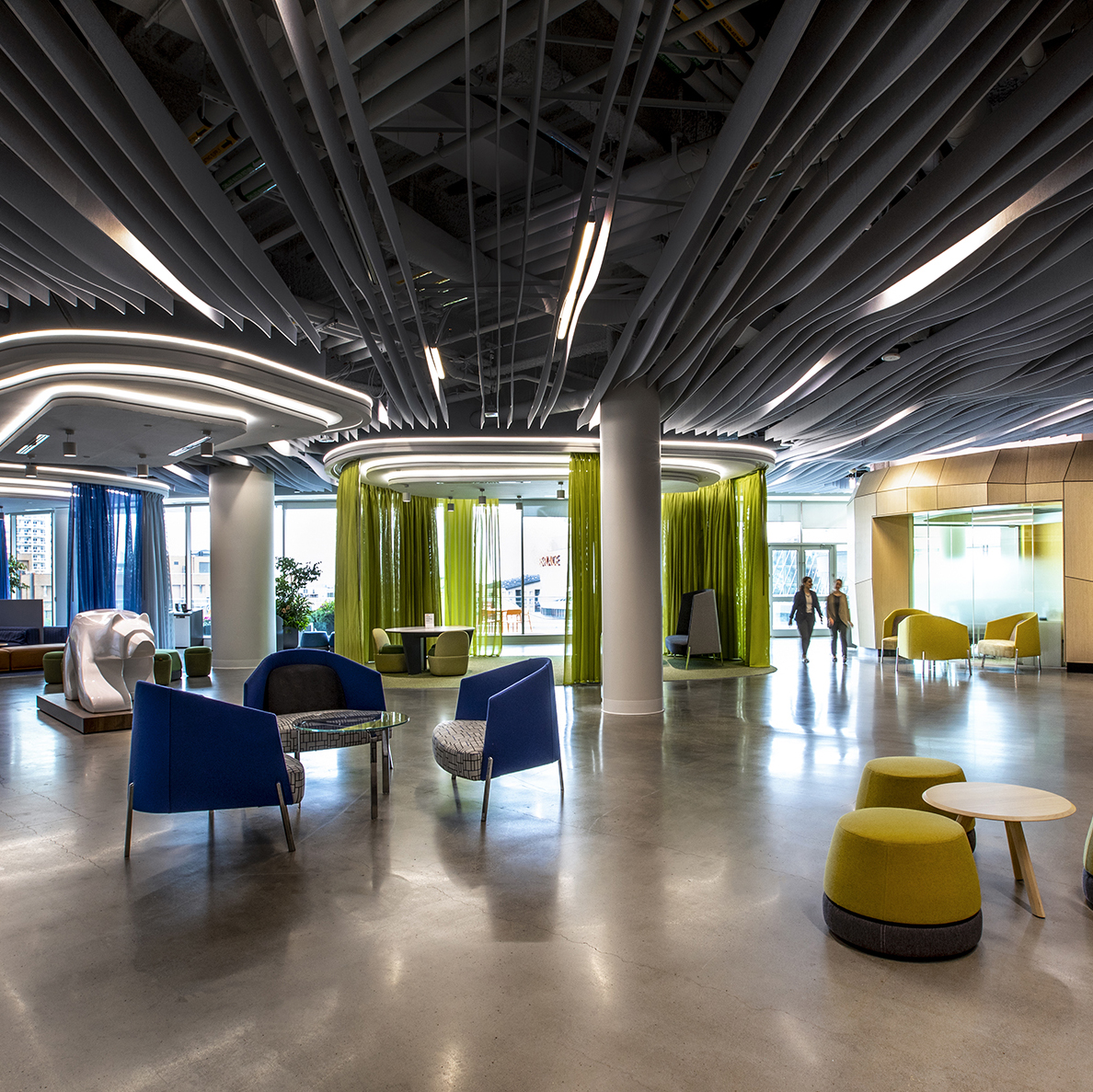 PROJECT STANTEC HEAD OFFICE, EDMONTON, AB
DESIGN STANTEC ARCHITECTURE, BOSTON
GENERAL CONTRACTOR PCL CONSTRUCTORS CANADA
PHOTOGRAPHY LAUGHING DOG PHOTOGRAPHY
BUILT BY EVENTSCAPE, SEPTEMBER, 2018
In Stantec's new 66-storey home in Edmonton, custom "pod" enclosures were designed to create private meeting areas in the middle of the open office layout on the third floor. Three of the pods are custom boardrooms with 12-foot high FR millwork walls, finished with wood veneer. Originally dubbed "pebbles" these faceted rooms were all given code names from the famous cartoon series "The Flintstones" – Wilma, Fred and Bam Bam and range between 650 – 820 square feet. The fourth pod encircles the base building fire stair and integrates a café with built-in seating, counters and cabinetry. All the pods share common elements of structure; structural steel sub-frame, waffle frame millwork, wood veneer finish, upholstery, wall coverings in felt, and glass windows and doors. 
 Unique Characteristics & Project Challenges
Prior to fabrication, Eventscape created a very valuable VR experience for the Stantec team to see the design in 3 dimensions in the space and fine-tune all details. Then, Eventscape constructed a finished portion of one of the pods in full scale mockup for review. Designers and fabrication teams at Eventscape co-operated seamlessly to verify structural steel and millwork components as both were being fabricated simultaneously. Structural steel was required for support in the cantilevered sections and large span areas as the rest of the structure consisted of all wood. Each of the free-standing pods has a sub-frame base secured to the floor in order to support the rest of the structure above.
All finished pods were pre-assembled at Eventscape's staging facility to ensure a perfect fit. Mortise and tenon joins between the panels aligned each element. For shipping, pre-assembled sections were kept as large as possible to permit an expedient install with better quality control. The pods were also shipped in crates that would survive multiple forms of transportation. The crates were loaded into sea cans which travelled by train to Edmonton. Here they were offloaded to flat-bed trucks to site where the building cranes lifted them onto the large balcony of the 3rd floor where they were installed.
Tight coordination with associates trades was critical to the success of this scope. To assist, Eventscape engineered, fabricated and installed plywood templates for each of the 4 pod areas. These helped protect the exact location of the pods on site, while also prescribing locations of work by others. A building expansion joint was incorporated into the café pod and concealed to appear as a solid finished millwork piece.
In traditional construction, fabrication of a complex element such as these pods would have involved several trades. Eventscape was able to provide a Turnkey solution utilizing their in-house metal, millwork and upholstery capabilities in addition to their project management, structural engineering and detailing teams. Utilizing a single source provided efficiencies and increased precision and quality.
The parametric design and algorithms created by Stantec were crucial to for the design of these complex forms. Eventscape easily translated these designs into their 3D fabrication programs to build the pods exactly as envisioned. Both Stantec and the GC PCL were extremely pleased with the end result and we look forward to working with them again.