2187 ATLANTIC ST.
CUSTOM EXTERIOR & INTERIOR FINS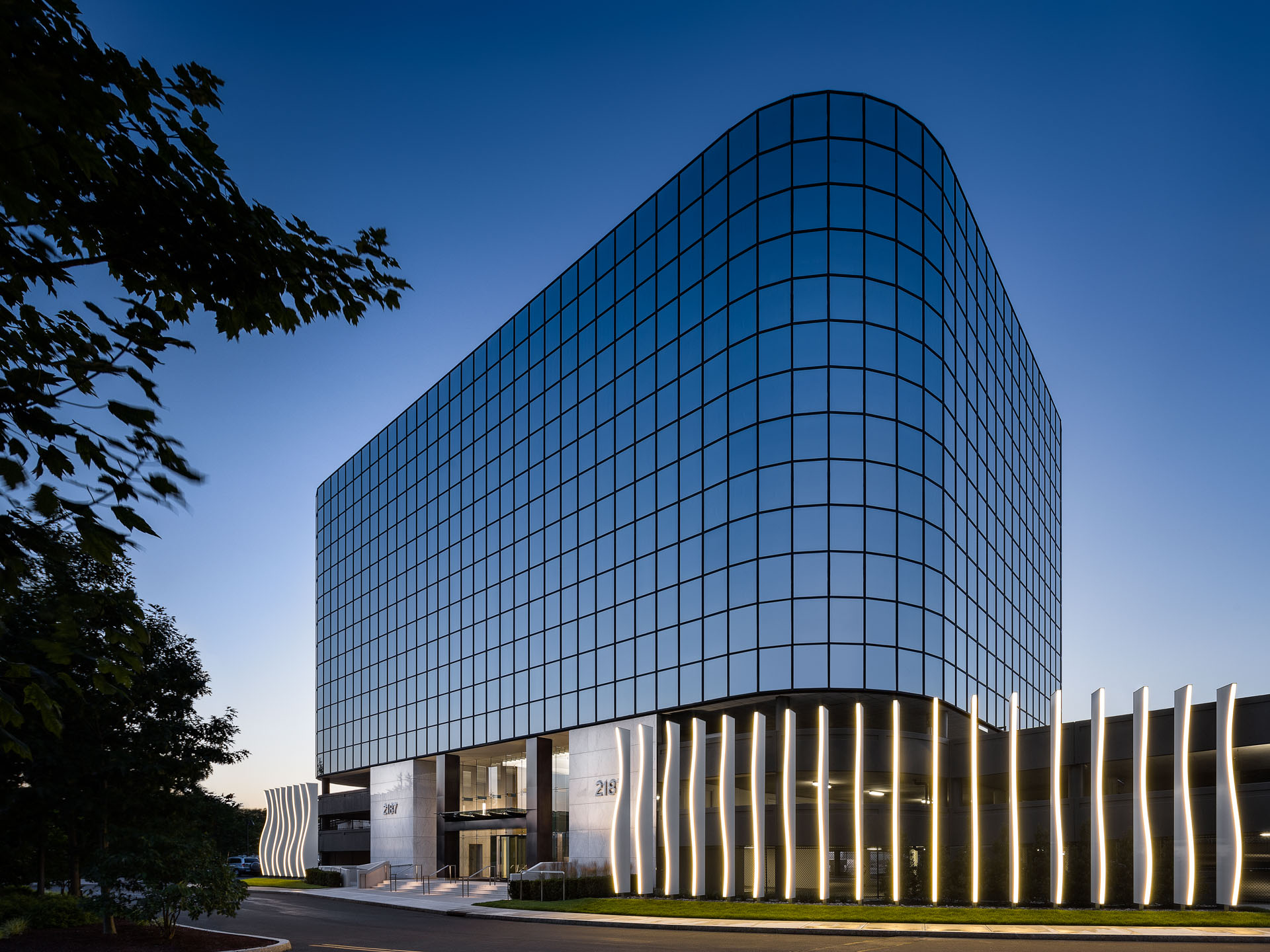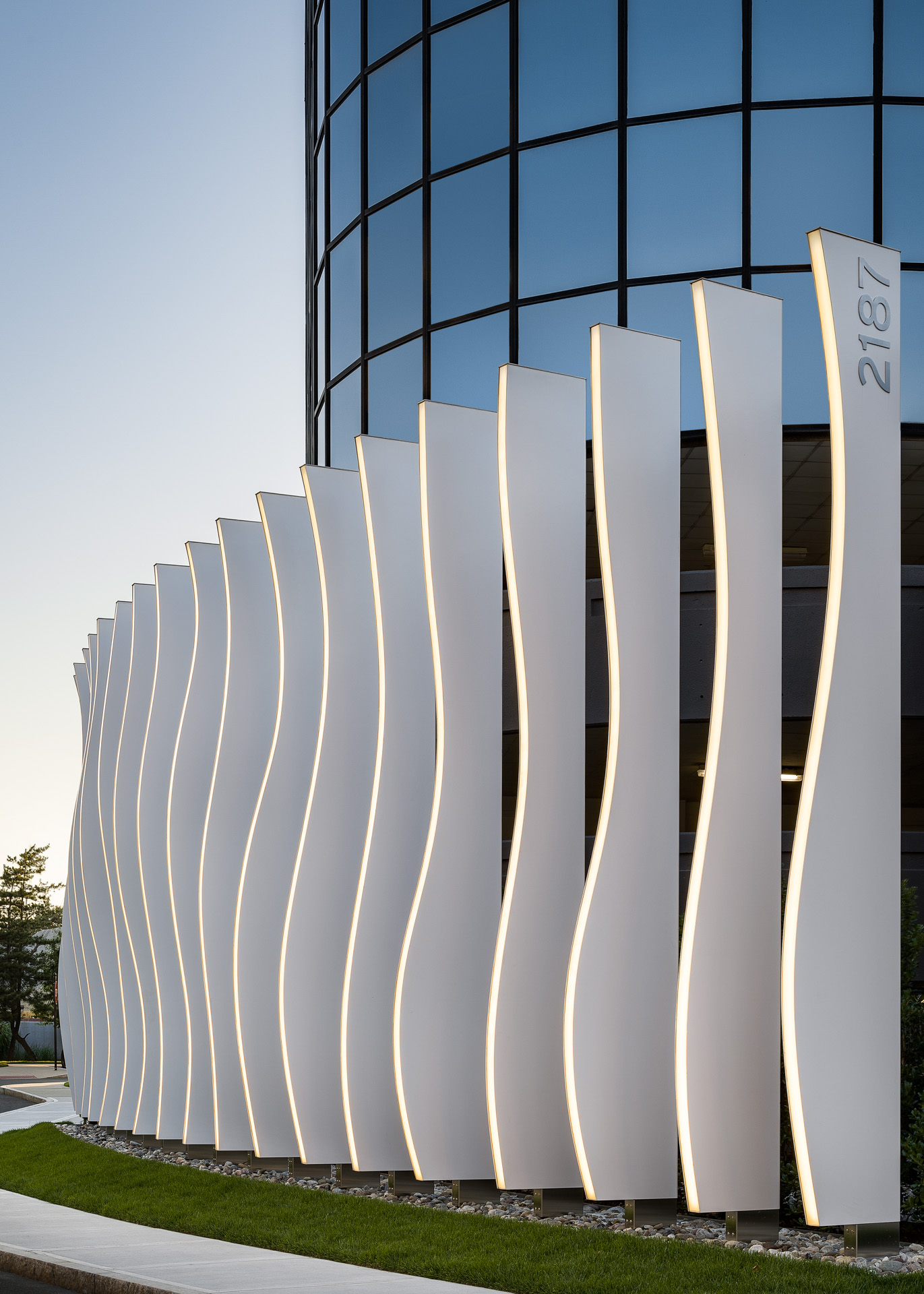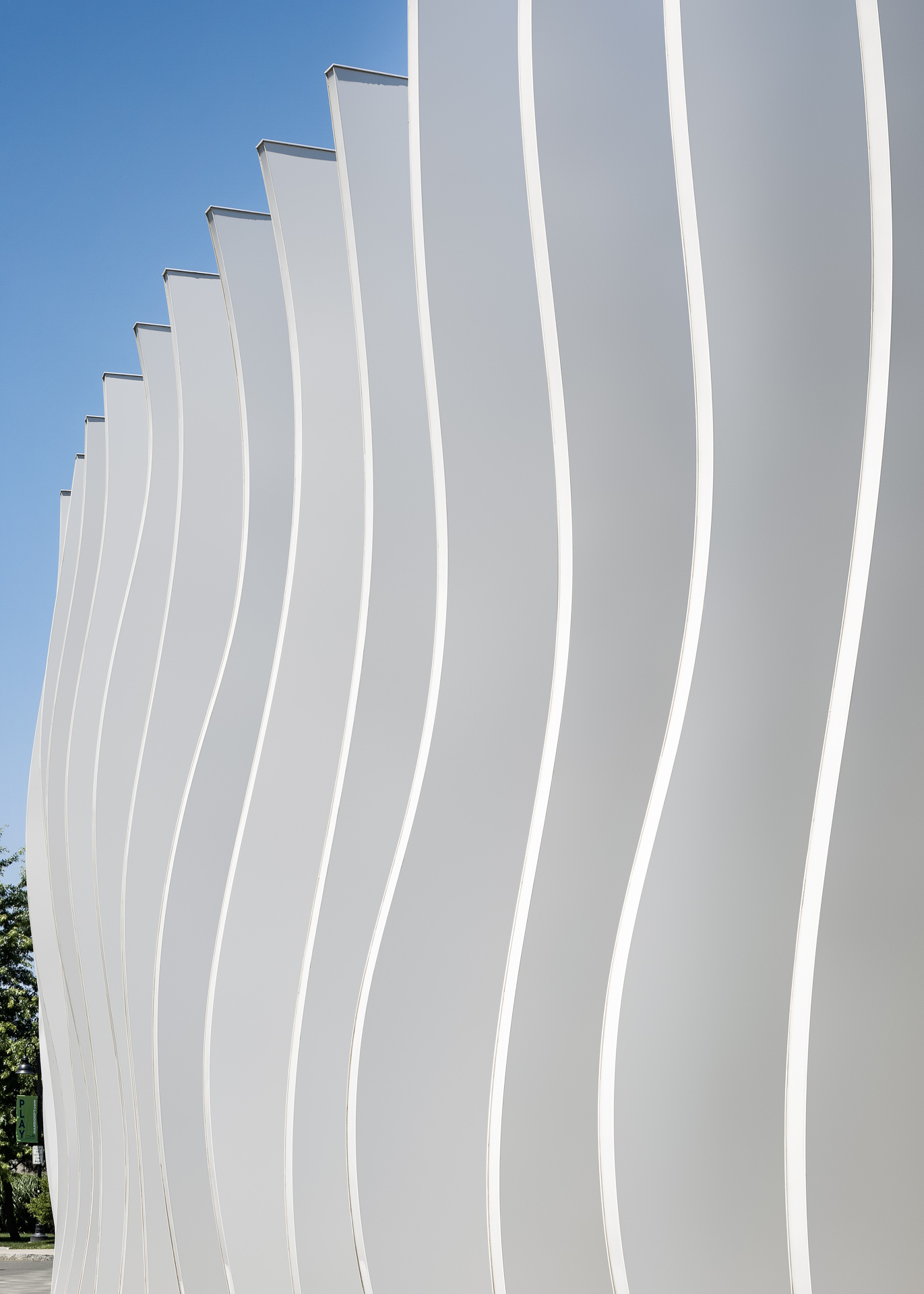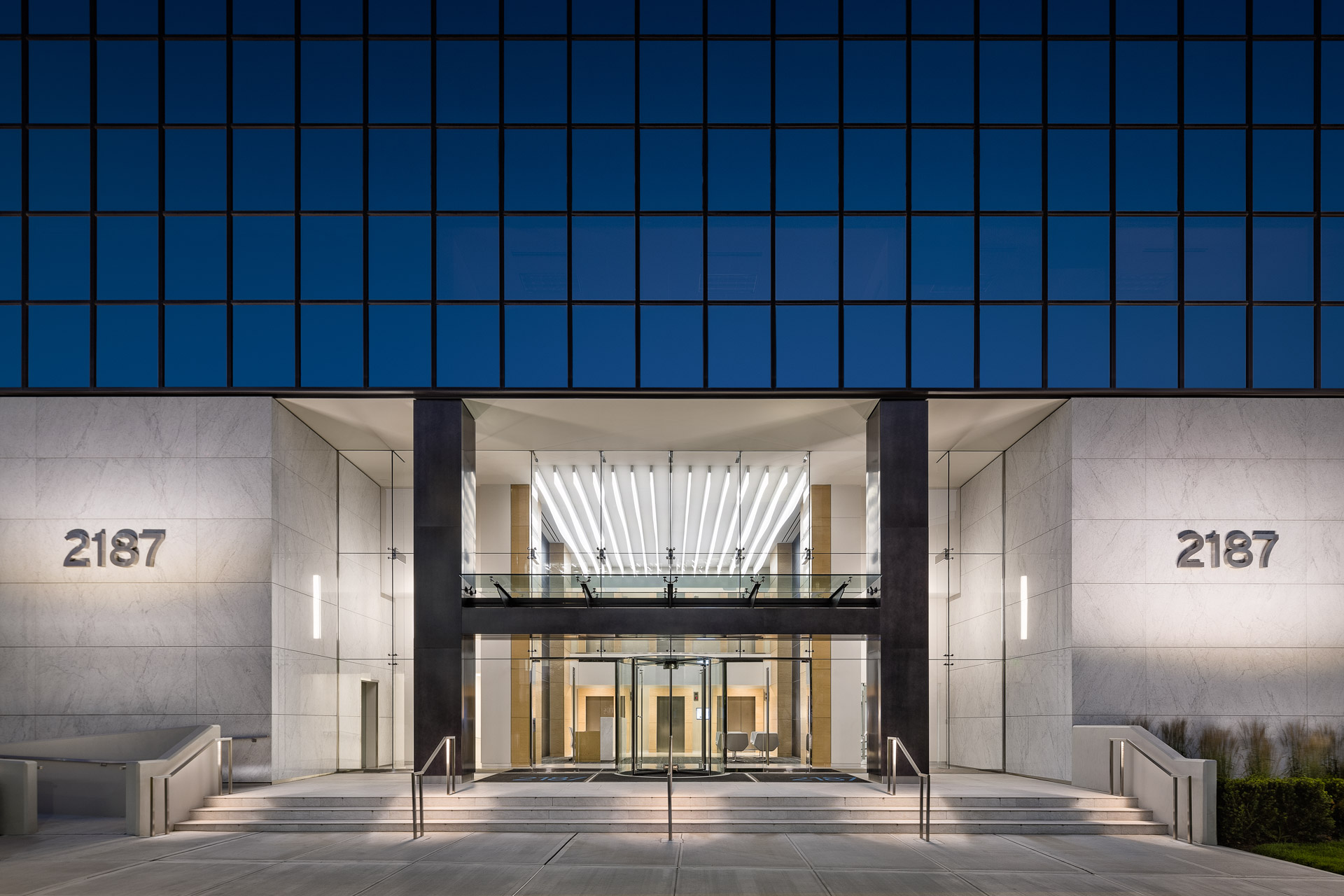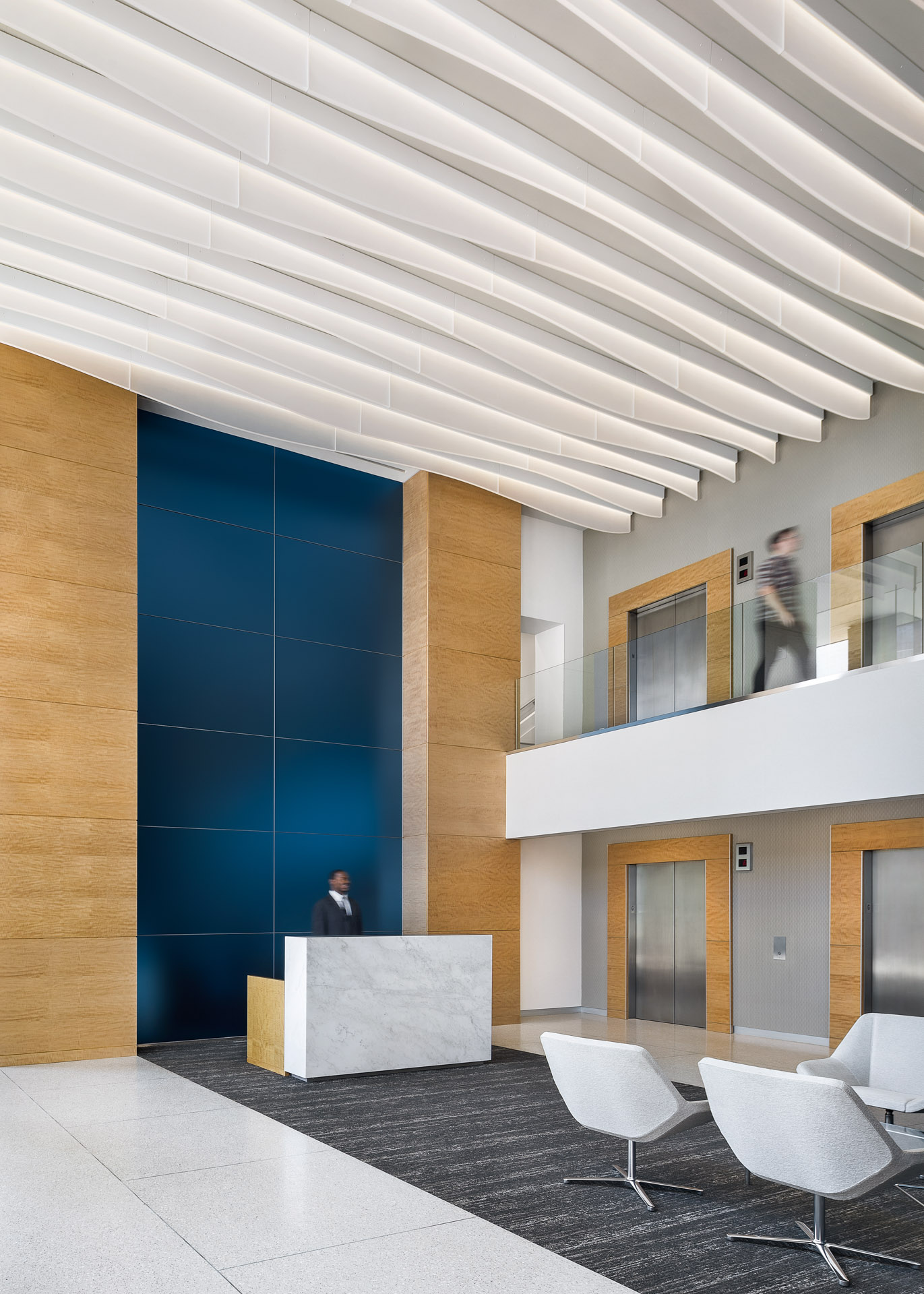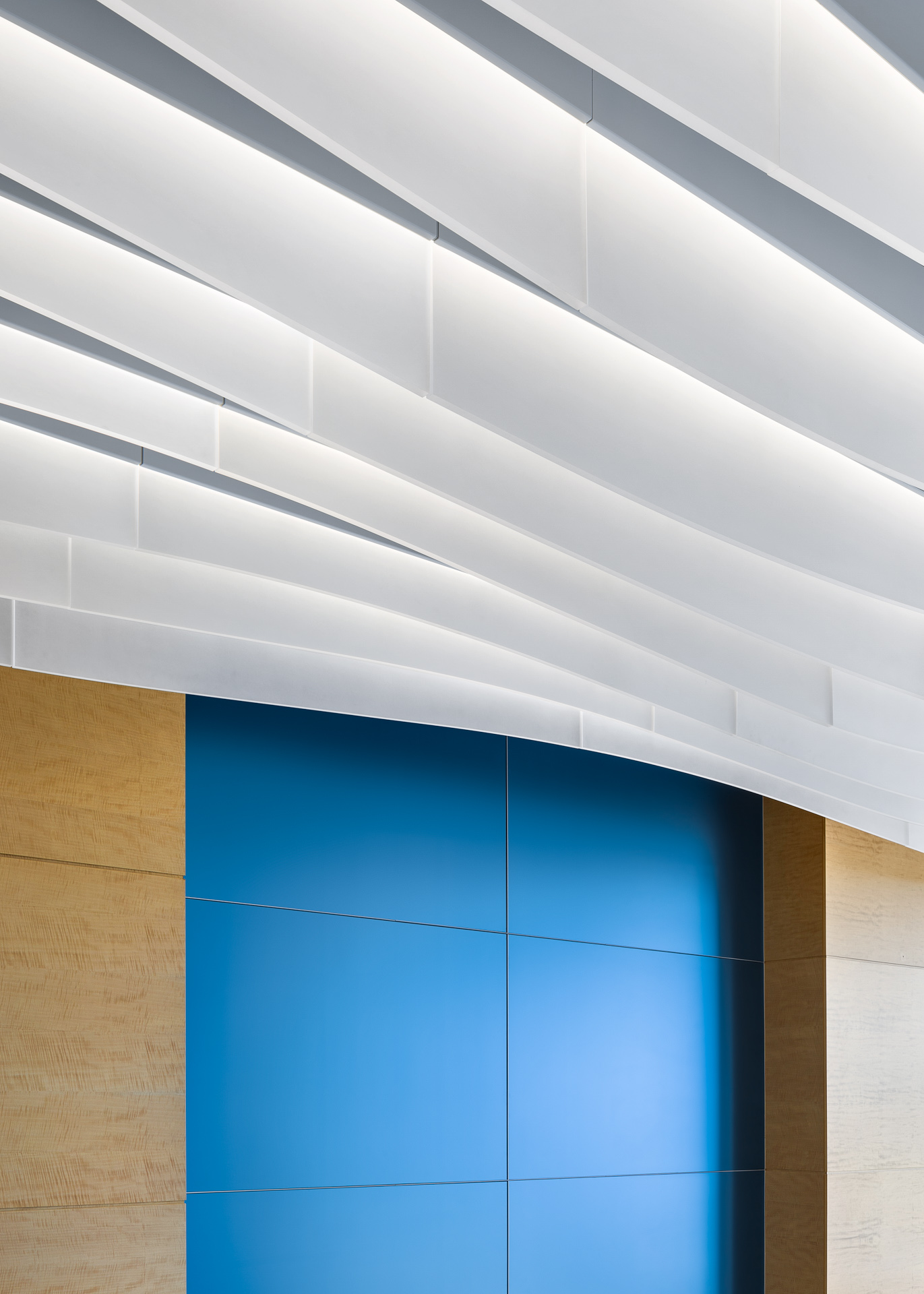 PROJECT 2187 ATLANTIC ST.STAMFORD, CT.
DESIGN MKDA LLC.
GENERAL CONTRACTOR  MAGNA CONSTRUCTION LTD.
PHOTOGRAPHY ALEXANDER SEVERIN
BUILT BY EVENTSCAPE JANUARY, 2018
Project Description:
Eventscape was contracted to engineer, fabricate and install the interior and exterior curved vertical fin elements for the renovation of a ten story building that houses a number of high profile companies. Reflecting the building's proximity to the ocean at Stamford Harbor are the 60 wave-like acrylic ceiling fins with LED edge lights inside the lobby. The wave pattern, also repeated on the exterior, makes a dramatic impact upon arrival. Situated on either side of the main entrance are thirty-four, 20-foot tall steel fins with integrated lighting, which create a sinuous wave of light.
Unique Characteristics & Project Challenges:
Interior Fins
During the initial development with MKDA, glass and acrylic options were both reviewed. After the architects chose acrylic, Eventscape provided several mockups to determine the optimum finish for the acrylic and to verify LED light placement. Clear one-inch thick acrylic was sanded on the sides and edges were polished for a soft frosted finish. The depth of the panels were reduced slightly to provide clearance for the overhead sprinklers. A total of fifteen rows, comprised of 4 panels each, were secured in the custom metal ceiling extrusion. This also provided a cavity for the LED lights with a sheet metal cap to hide all hardware. The geometry of the undulating curves created a soft wave pattern that runs across the entire lobby ceiling.
Exterior Fins
The two story high edge-lit exterior fins are a prominent feature of this building's landscape. Grouped on either side of the main entrance and parking garage entrance the thirty-four 20-foot tall features also help obscure the parking garage structure. Ten different wave patterns are repeated across the panels.
A full-sized prototype was built for the architects to confirm the LED lighting and verify finish details prior to starting fabrication. In order to replace standard street lights, they chose the brightest LED possible with a warm color that could also be dimmed.
The most challenging aspect of the fins was the sheer size and weight of each one. Built with a structural HSS spine, baseplate and 3/16" skins, each fin weighed a total of 1800 lbs. Moving and handling each individual section in the metal fabrication and powder coating facility was facilitated with custom made "cradles." All steel was galvanized, sandblasted, then primed and powder-coated for a long-lasting finish. All hardware was stainless steel.
Installation of the fins was done in sequence, scheduled as the site became ready. A crane was used to lift each fin from the custom wood cradles used for shipping onto the concrete grade beam provided by the general contractor. Once each fin was secured and plumb, the electrical was checked. The final light with diffuser lens was then inserted in the custom welded u-channel.