Society Hill Hotel Courtyard
MULTIPLE CUSTOM FEATURES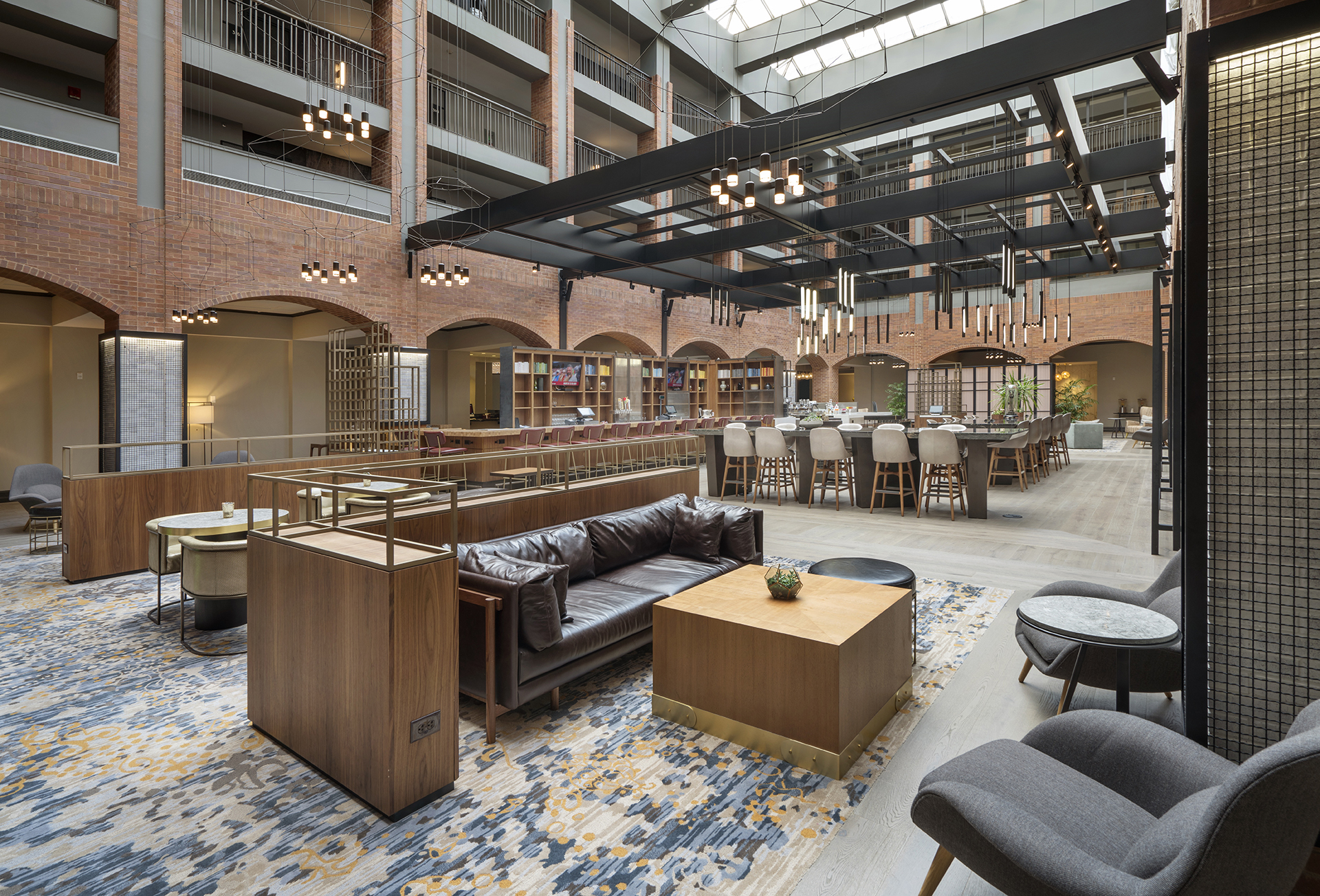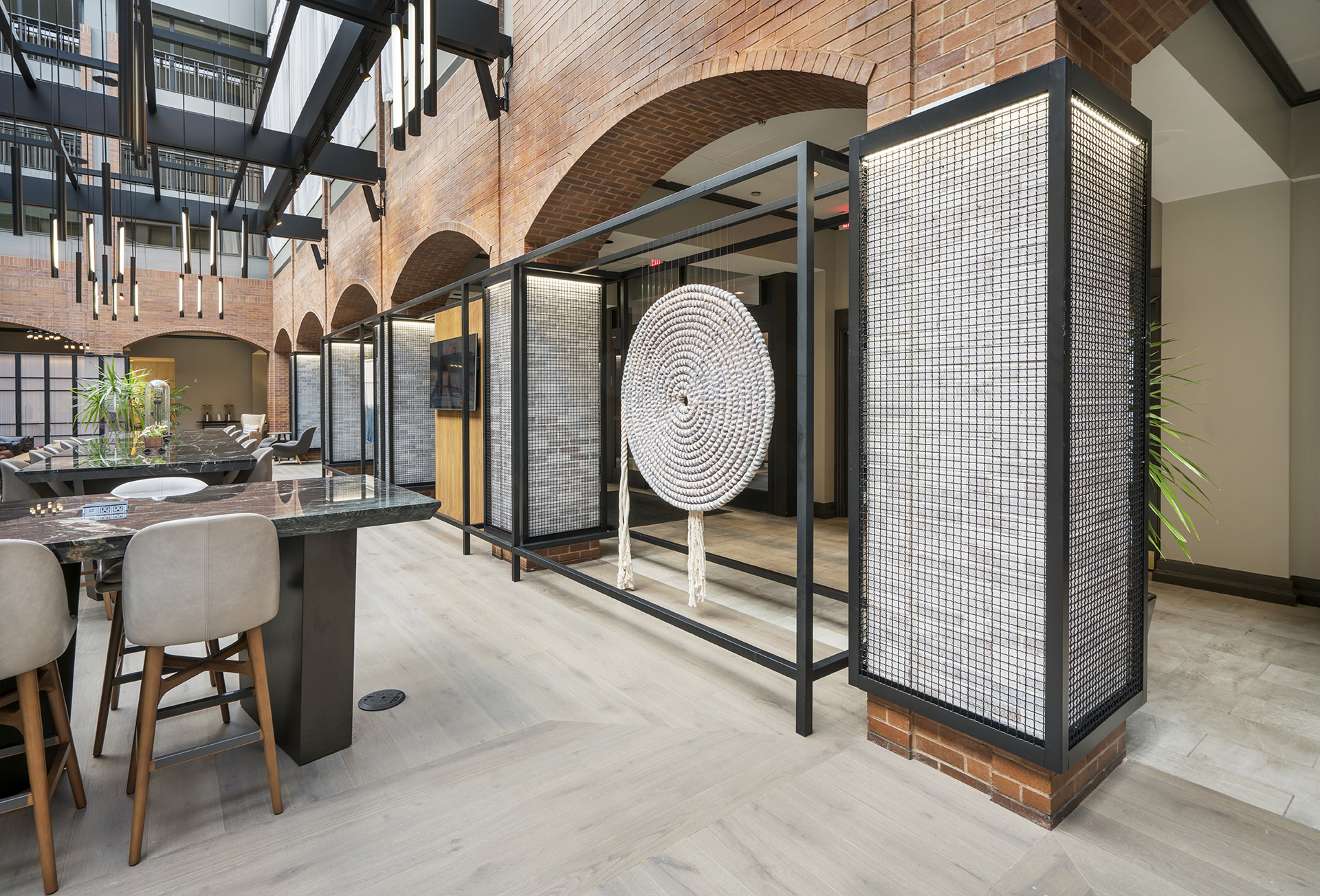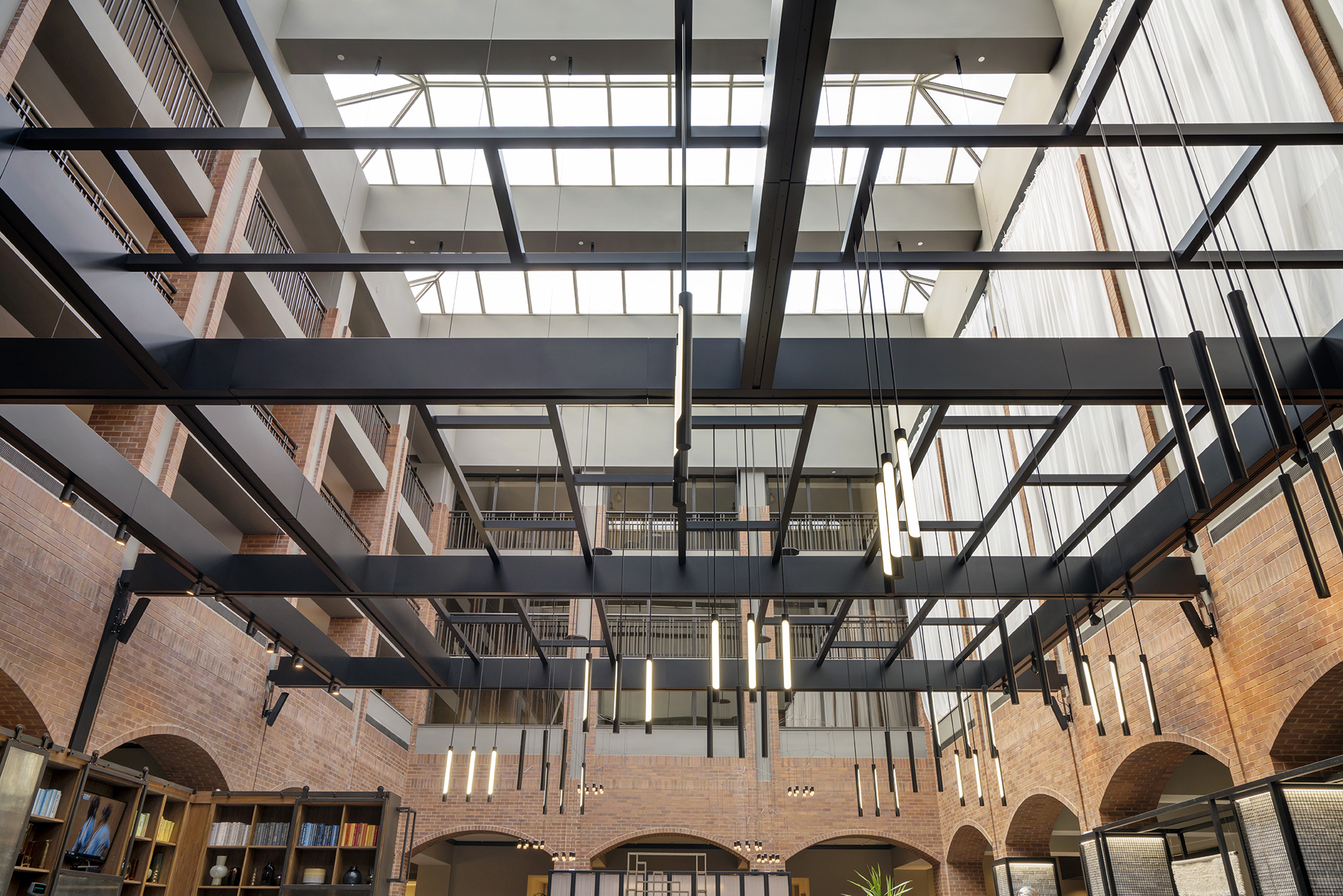 PROJECT SOCIETY HILL HOTEL COURTYARD, PHILADELPHIA, PA
ARCHITECT BLT ARCHITECTS
INTERIOR DESIGN KRAUSE SAWYER
GENERAL CONTRACTOR  BPGS
BUILT BY EVENTSCAPE AUGUST, 2019
For the renovation of an existing hotel, Eventscape was contracted to engineer, fabricate and install several custom features in the interior courtyard. Phase One involved a decorative and functional 35-foot x 40-foot custom trellis feature suspended 25ft below the courtyard ceiling. Phase Two involved several custom millwork elements built of steel, wood, with metallic textile. The ceiling feature and screens had integrated lighting and the entire design aesthetic embodies the modern industrial Philadelphia vibe.
Unique Characteristics & Project Challenges:
The ceiling trellis was designed as a metal sculptural feature that would create a striking visual effect but still allow the natural light from the glass ceiling above. The grid was made of rectangular steel beams powder coated matte black and assembled with mechanical connections. The challenge on this very heavy ceiling was to maintain a precise level as it was assembled, piece by piece and suspended by a cable. It was anchored to structural horizontal concrete beams above with additional bracing on the columns for stability.
Two kinds of lighting were integrated into the frame; track lighting and custom pendants. Fifty-one custom linear pendants were built by Eventscape as designed by Krause Sawyer. At 2-feet long and only 2 inches in diameter they were used as decorative lighting. Each had a specified rotational direction for the light output suspended within the grid frame.
For Phase Two Eventscape built three point-of-sale systems of a walnut veneer millwork base and stone counter crowned with a sculptural steel lattice screen. Welding and polishing was meticulously done by hand and finished with a bronze powder-coat. The existing red brick columns were painted white by the GC. Eventscape built and installed cladding for the columns of inter-crimp steel wire mesh to continue the industrial design aesthetic.
At either end of the courtyard, Eventscape built free-standing steel framed walls which house a French made woven architectural metal mesh. These served as decorative but functional partitions, with integrated up-lighting. The challenge in fabricating this element was the fact that the metal textile was extremely fragile. The Eventscape team developed a custom jig assembly system so that the textile remained secure until unrolling into the steel housing. It was then secured at the top and bottom.