RBC CONVENTION CENTRE
METAL CEILING CRYSTALS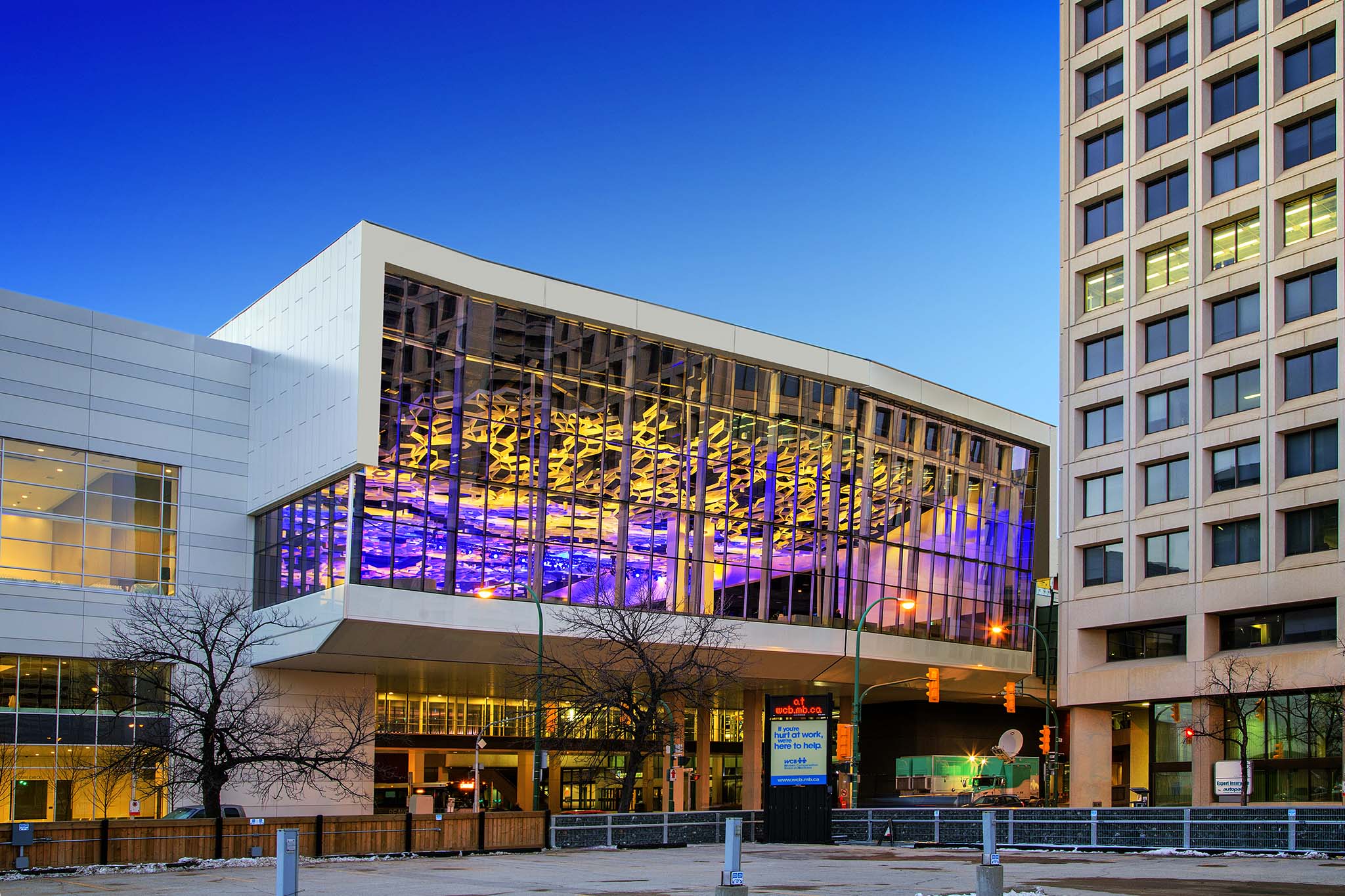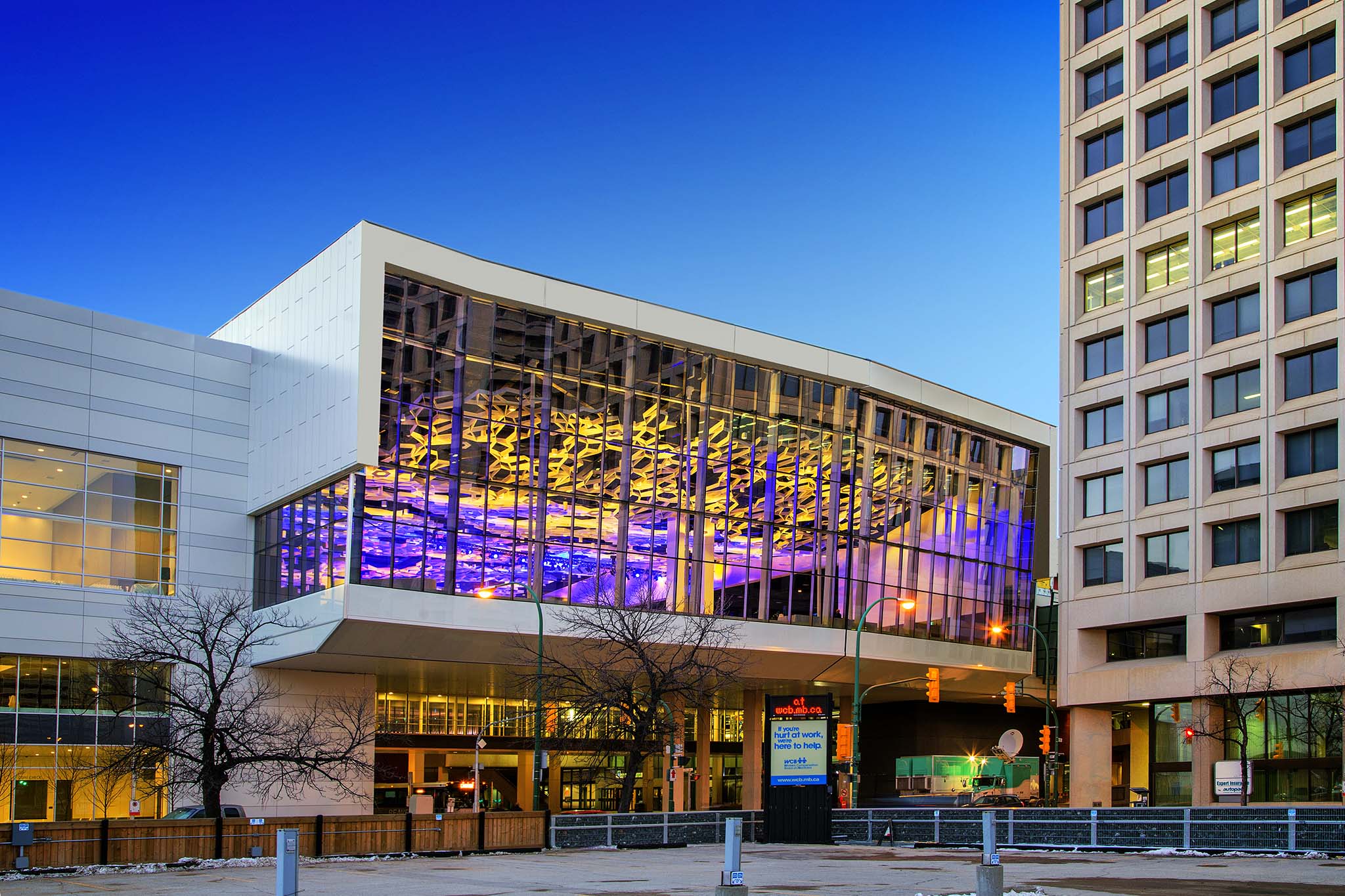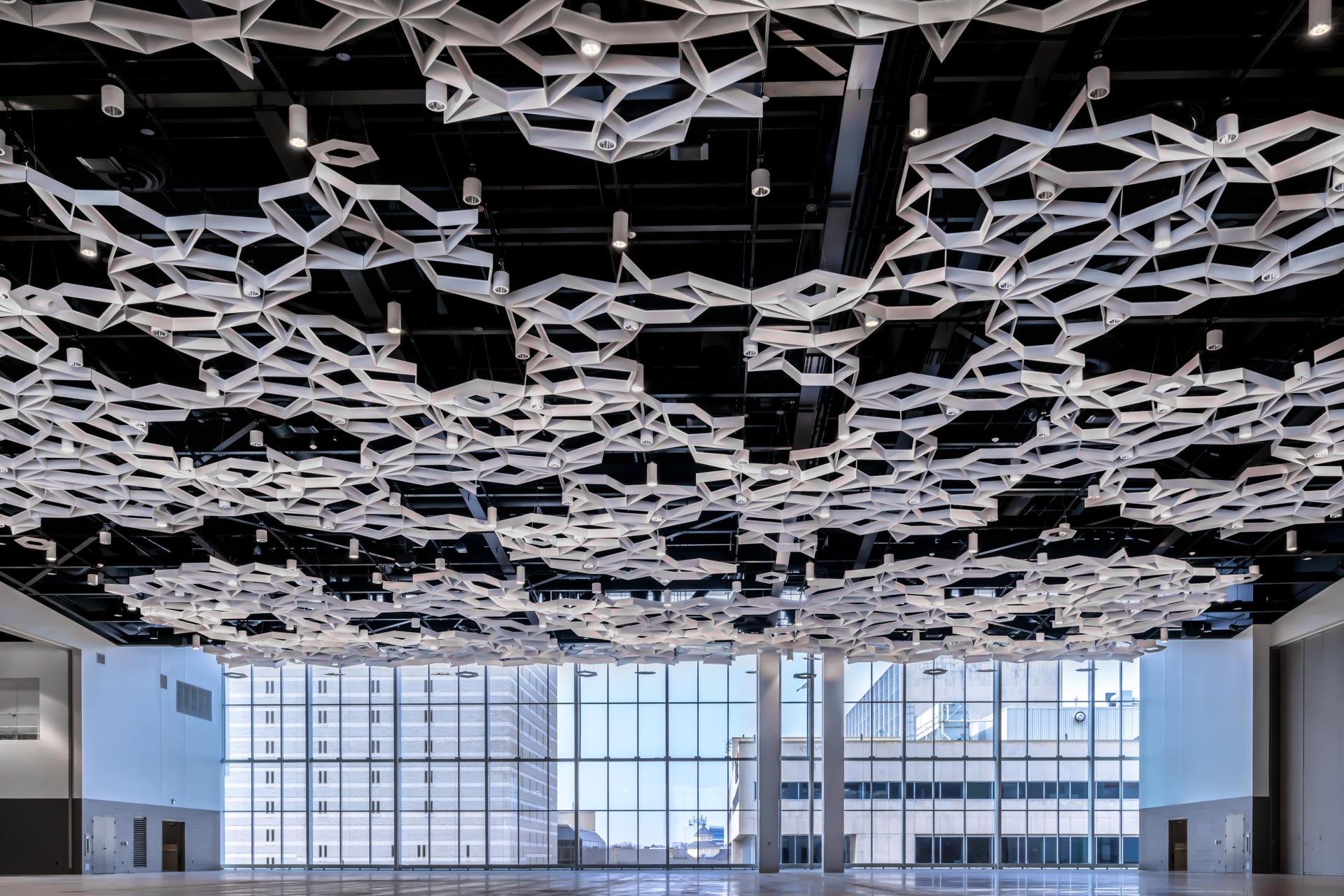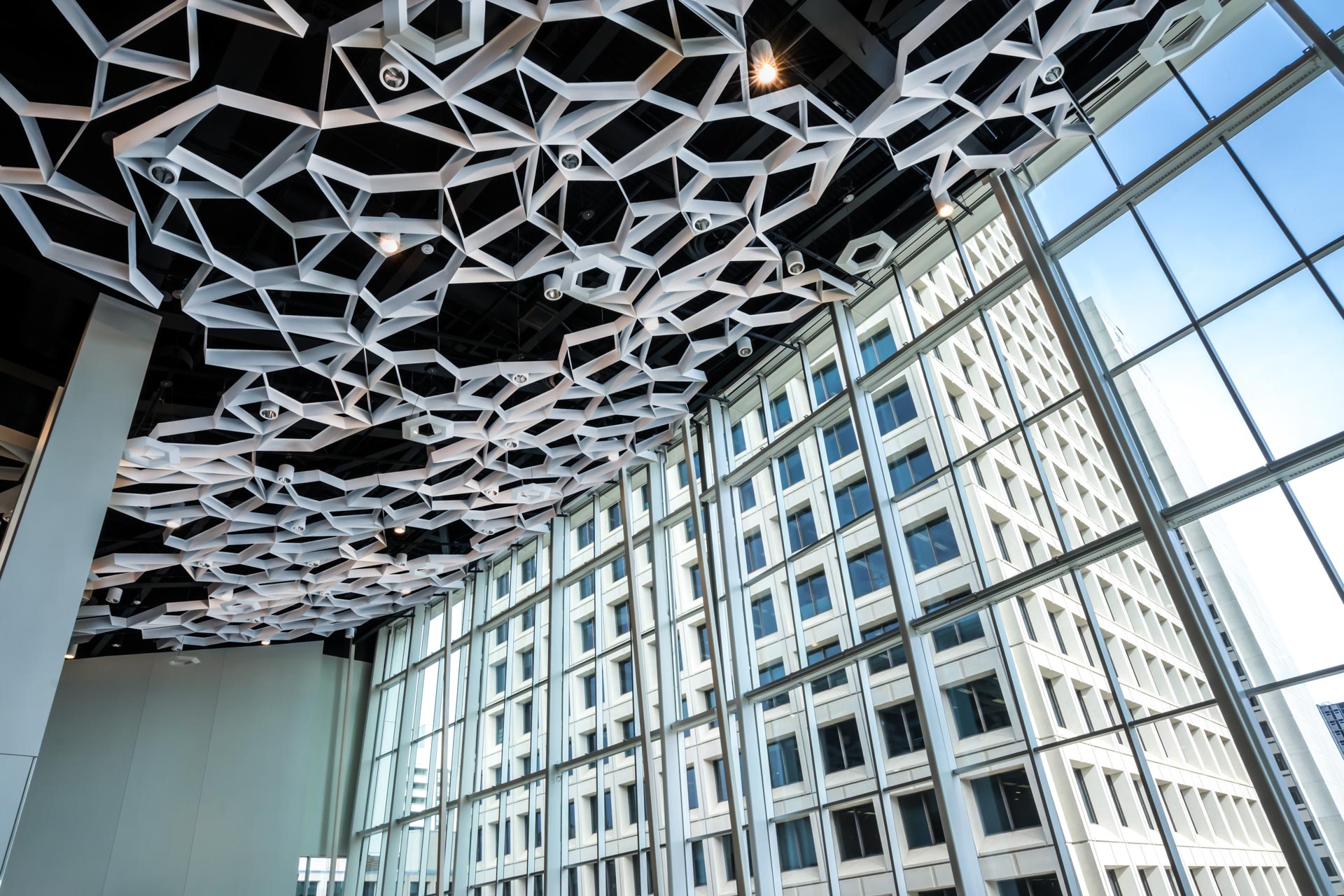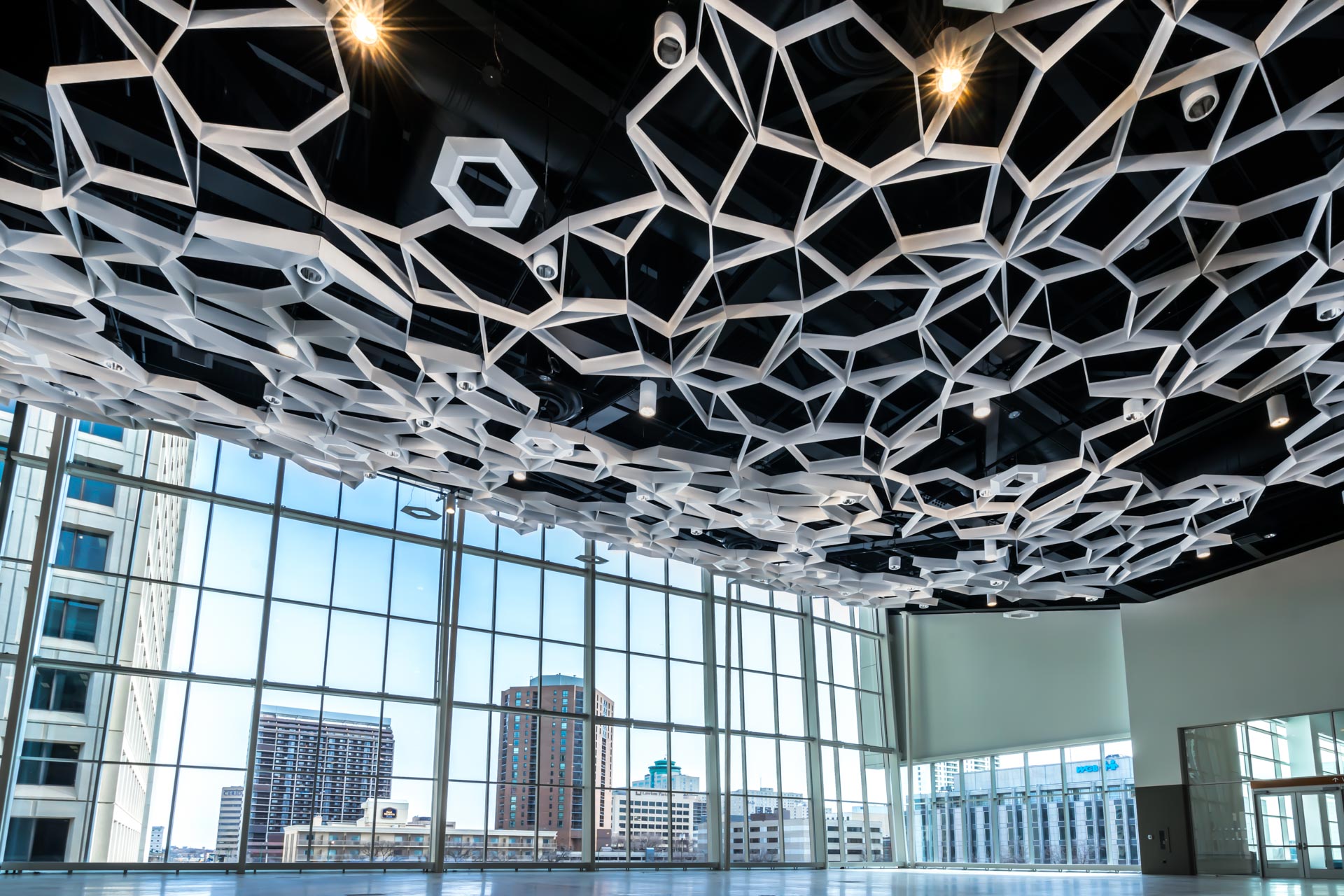 PROJECT RBC CONVENTION CENTRE, WINNIPEG, MB
DESIGN CONSULTANT LMN ARCHITECTS
ARCHITECTS LM + NUMBER TEN ARCHITECTS IN JOINT VENTURE
GENERAL CONTRACTOR STUART OLSON INC.
AWARDS 2016 GRAND PRIZE, COMMERCE DESIGN WINNIPEG, STOREFRONT MB
PHOTOGRAPHY MIKE PRATT, GERRY KOPELOW
BUILT BY EVENTSCAPE, NOVEMBER 2015
This innovative suspended ceiling is an incredible representation of art in architecture. LMN was the design consultant with prime consultant architects LM and number TEN Architects in joint venture for the 100,000 square foot addition to Winnipeg's RBC Convention Centre. The 30,000 square foot custom metal ceiling was engineered, fabricated and installed by Eventscape for the main conference room. Made up of 324 identical suspended modules, they joined together to form a geometric pattern which was inspired by ice crystals and floe patterns. With 81 custom fabricated light shrouds incorporated into this system and floor to ceiling windows on the east and west sides, together they provide beautiful views both inside and out.
Each of the individual modules were 15 ft. x 8 ft. with 10" high fins with 1" returns, welded together and powder coated. Together the suspended metal armatures formed an intricate, tessellated monohedral pattern.The custom light shrouds were fabricated to work with the ceiling system.  Manufactured in six identical sections and 40" in diameter, these hexagonal light reflectors, were manually bolted together to form a unique suspended light tray and suspended in a grid layout by 3 wire connections.
Unique Characteristics & Project Challenges:
Initial prototyping had each module made up of four sections of detachable fins. Through thorough research and development the initial prototype was modified so that all connection points could be welded to form one monolithic module.
While the module became much stronger by welding connections, the acute points on the modules posed challenges for welding. Eventscape used a complex custom jig to position each module for welding to maintain consistent and identical angles for all units.
To ensure steady production at our metal shop, once the modules were complete, trucks were loaded with 28 modules a piece and stored. As each truck contained identical, quality checked material, they were ready to go to site as soon as installation commenced.
Due to the unique shape of each module, creating a seamless tessellated pattern at this scale required complex engineering. The architects provided Eventscape with detailed drawings highlighting each occurrence of how the modules would connect over the four different elevation slopes. Eventscape was able to engineer and fabricate a single custom mounting plate that could accommodate all 16 mounting conditions. The innovative index system between the mounting plate and crystal modules enabled a flawless and efficient install.
During installation, a surveyor was brought in to locate hang points. Once layout was determined, pre-cut channel strut was installed along with the custom mounting plates. Both channel strut and mounting plates were installed by Eventscape.
To install each module a telehandler was used. A custom "cage" was engineered by Eventscape to aid installation, adding 4 ft. in height to the telehandler's capabilities while extending the fork lengths to fully support each module. Each module weighed about 150 lbs. and due to its unique shape, each required 3-4 people in boom lifts to raise the modules off the cage. The telehandler operator on the floor used a live camera feed to precisely position each module, allowing the installers above to easily attach them to the mounting plates. Once all modules were installed and in place, lighting and shrouds were installed.
Finishing with zero deficiencies on-site and a rewarding visual to take-away, Eventscape was proud to be involved in this expansion of The Winnipeg's RBC Convention Centre, now the largest tier-two publicly-owned Convention Centre in Canada. Visitors will enjoy the view.