SEAPORT WEST
LOBBY FEATURE WALL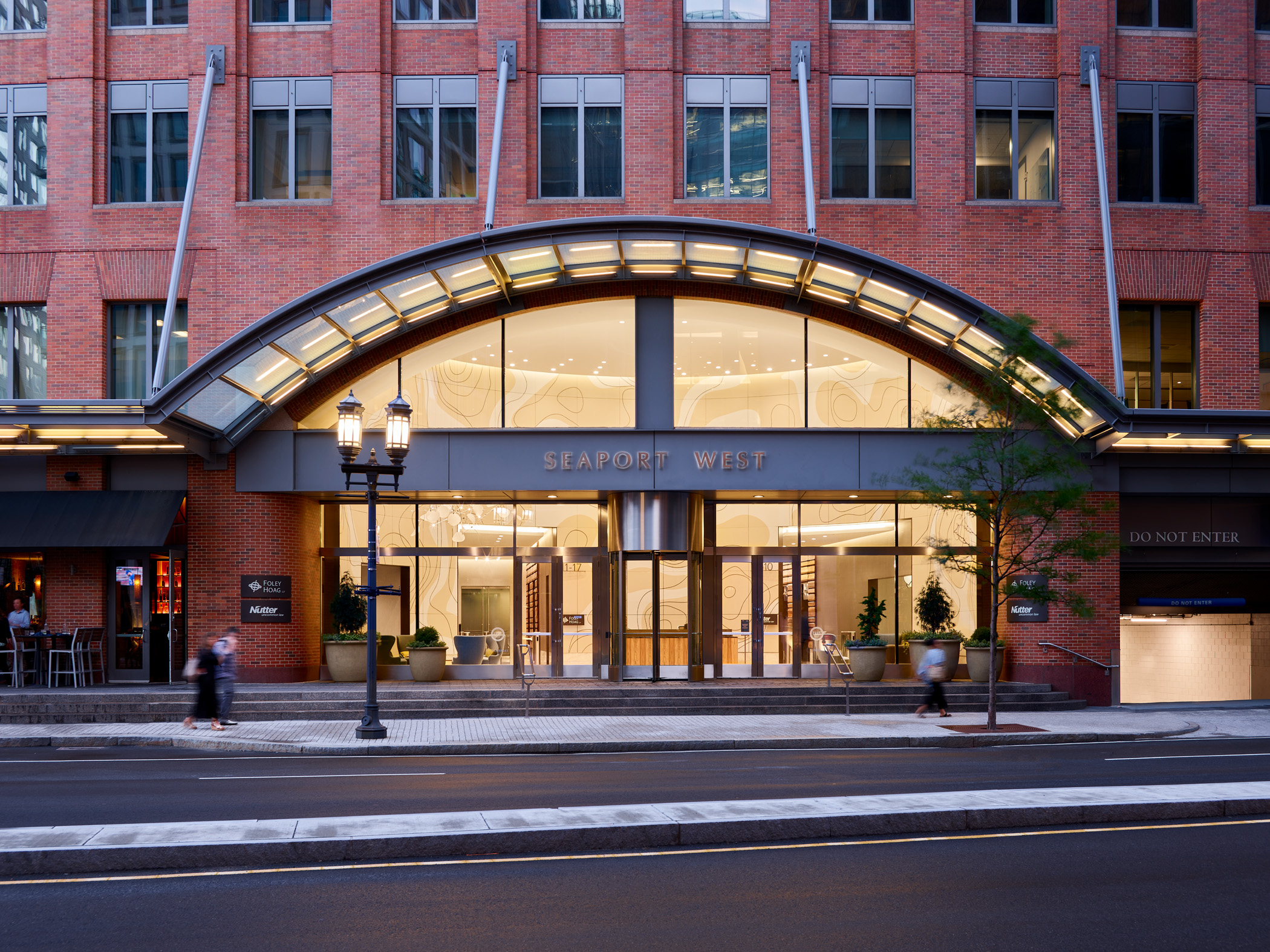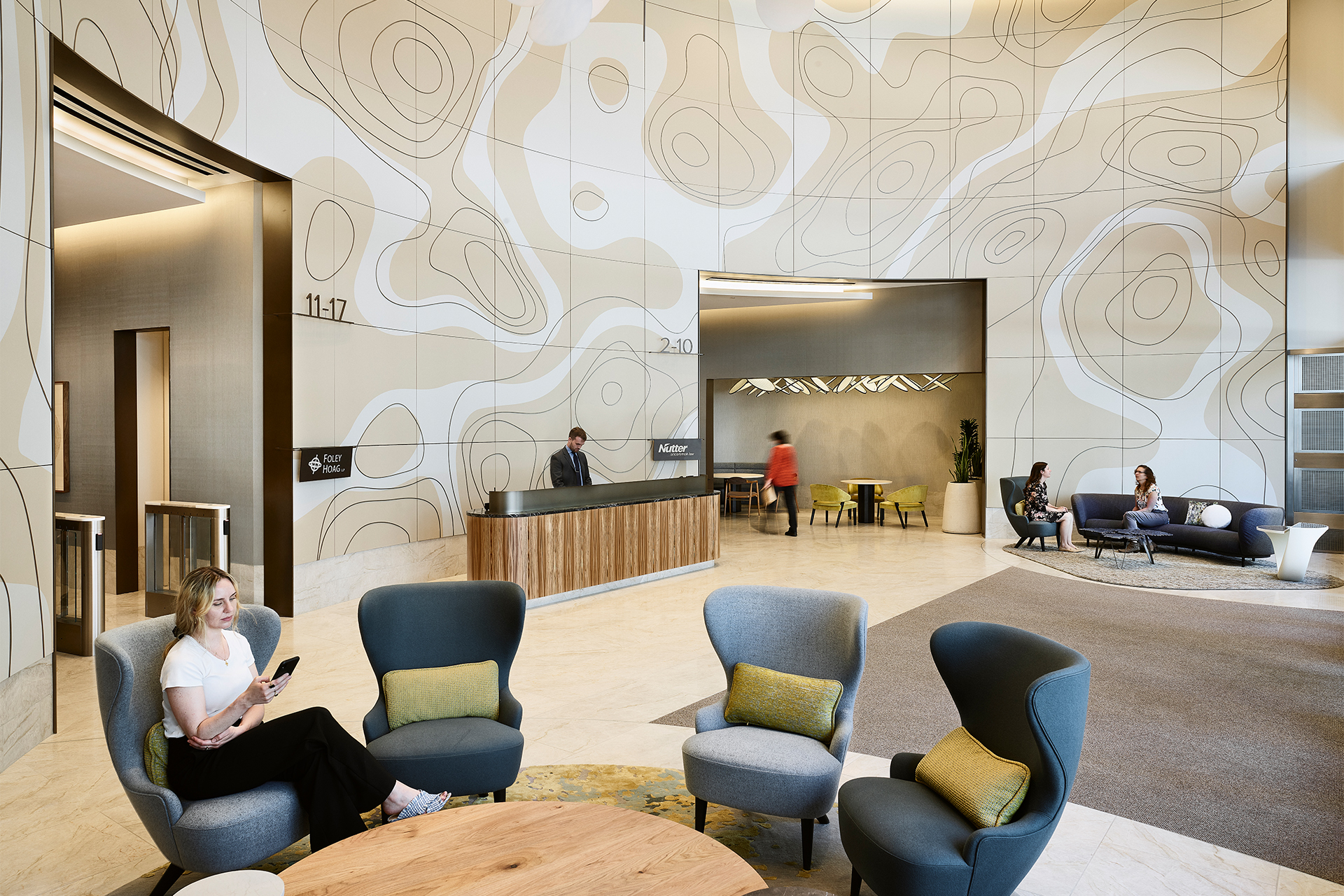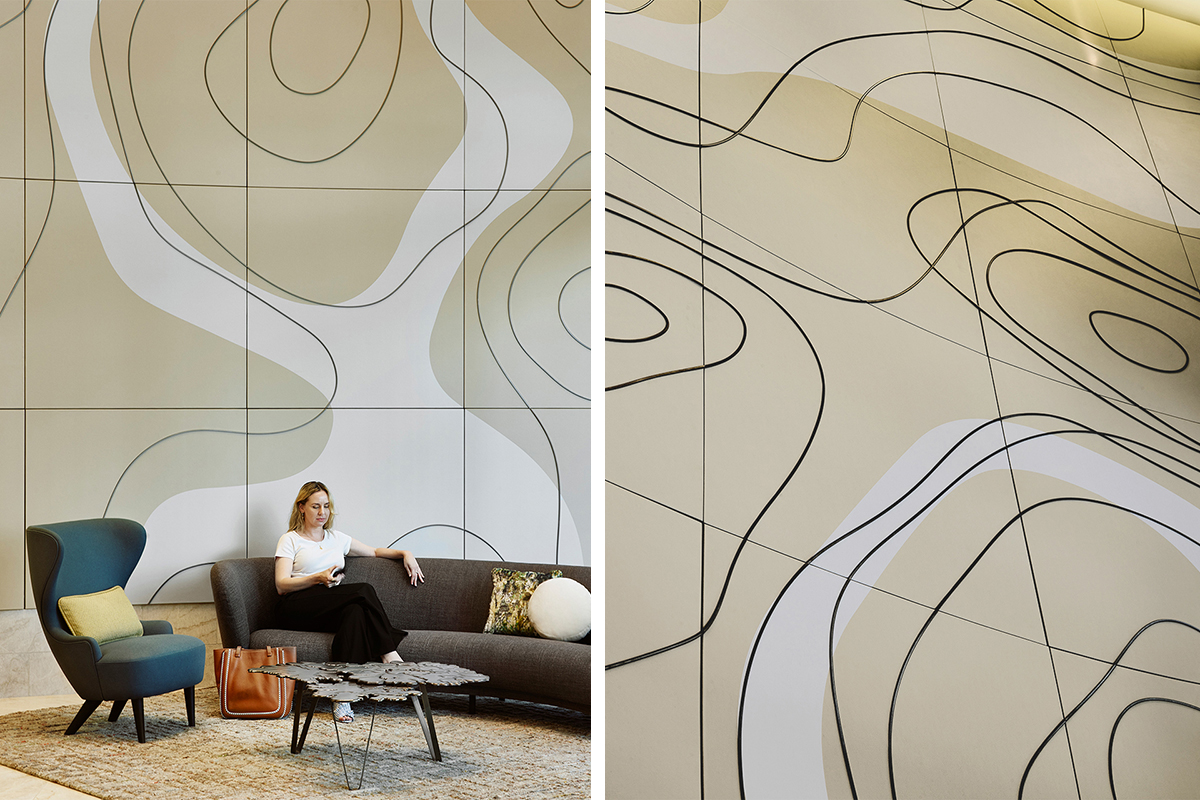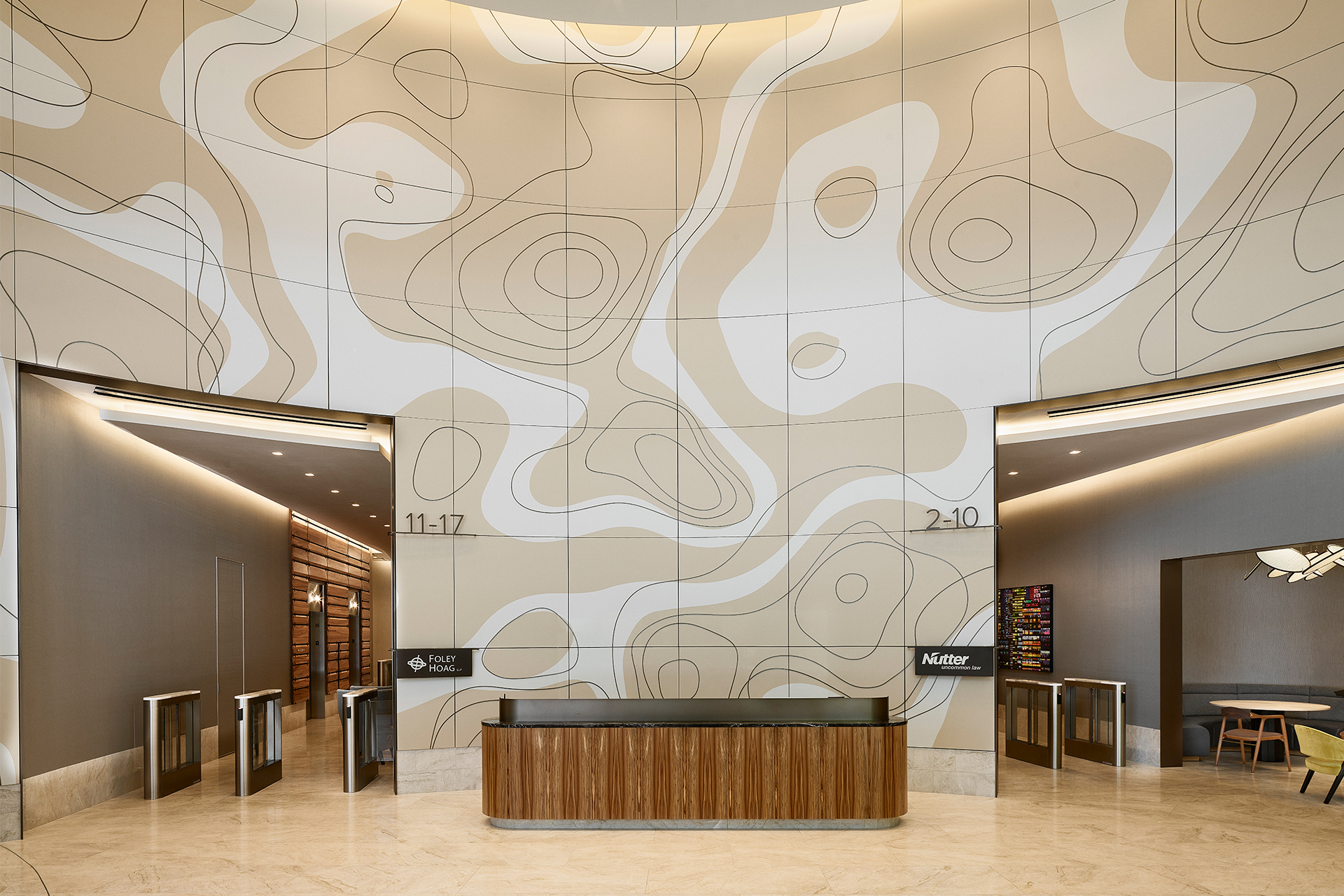 PROJECT SEAPORT WEST LOBBY FEATURE WALL, BOSTON, MA
ARCHITECT STANTEC ARCHITECTURE, BOSTON
GENERAL CONTRACTOR STRUCTURE TONE
DEVELOPER PEMBROKE
PHOTOGRAPHY JARED KUZIA PHOTOGRAPHY
BUILT BY EVENTSCAPE, MARCH 2021
Project Description:

This 2,150 square-foot curved feature wall, part of the lobby renovation at Seaport West, consists of a structural steel sub-frame, 123 CNC milled panels covered with printed faux leather, and laser-cut 3/8" powder-coated steel inlays.
"Increasing lobby presence on the street, the feature wall becomes a seamless visual representation of an oceanographic map. New lighting fixtures that recall swirling wind and sunlight on water from beneath and elevator indicator lights that resemble ship deck lights brighten and open up a previously hidden interior.  Additionally, new millwork panels with custom fixings and nautical brandings provide subtle maritime references, paying homage to the building's location in the bustling Seaport of Boston." Steve Basque, Senior Principal of Interiors, Stantec
Unique Characteristics & Project Challenges:
Overview: Eventscape, an elite custom architectural fabricator, was contracted by Stantec Boston to engineer, fabricate and install a curved lobby wall in the renovated commercial office at 155 Seaport Blvd, Boston MA. This was a unique project as It touched many of the departments at Eventscape, including System Development, R&D and Prototyping, Design and Detailing, Structural Engineering, Project Management, Digital Programming, Structural Metalwork, Millwork, Laser-cutting, Powder-coating, Graphic Design, Direct Printing , Upholstery, Site Coordination and Installation. 
Mockups: Various metal finishes were researched for the metal inlay strips, including powder coat, anodizing, and patina. Textile covering options were reviewed to best achieve the printed pattern. In keeping with Eventscape's commitment to a positive customer experience that minimizes risk, these 1:1 scale mockups were created following submittals and in advance of fabrication. This gave the project team the chance to analyze and dive into the details at full scale prior to production. In this case the process proved very helpful and many subtle changes were made as a result of this exercise.
Fabrication: The first step for this exciting project was to 3D scan the lobby to obtain accurate dimensions on the overall size, doorway locations and the radius of the existing wall. The 28-foot tall by 77-foot wide curved wall required a main steel substructure that tied back to the base building. A custom fabricated curved steel box beam was provided as the main support at the top of the wall, built in eight sections and installed in between nine vertical HSS columns. Secondary vertical and horizontal ribs established the grid geometry and provided additional support. Each horizontal rib incorporated a bed-hook type bracket for alignment and panel attachment. Panels were installed in sequence from the floor to the ceiling.
Although the majority of the 123 panels were 4-foot squares, 30 percent of the panels were unique sizes to accommodate the three separate door openings. All the panels had the same construction – a 2 1/2" thick CNC plywood waffle frame and fire-rated MDF face with CNC milled channels. Stantec provided a graphic image of an oceanographic map which was used to create the graphic files and line work. The faux leather provided the ideal base color and a lighter color pattern was applied using a dye sublimation process. The graphic file for each panel was carefully designed to ensure the continuity of the pattern from panel to panel while still having sufficient excess material to wrap the around the MDF face. During the fabrication process, each panel was QC'd and double checked for alignment against all adjacent panels provided by Eventscape.
The laser-cut curved 1/4" metal strips were cut from full sheets and nested for minimum waste. After cutting and polishing they were powder-coated with a two-step process to achieve a metallic bronze finish. The metal strips were inset into the milled channels on each fabric wrapped panel and secured with concealed connectors. The same finish was used for the Eventscape-provided 1/2" thick x 13" wide aluminum door jambs and wall end caps.
Installation: Installation had its own challenges as there was no loading dock and minimal storage space. All materials had to be unloaded off-site and then transported to site as needed, coordinated by the Project Manager and the Installers. Everything was packed sequentially but easily accessible for the installers if the sequence had to be adjusted. The installation required precise and safe measures to erect the heavy steel substructure (heaviest parts weighing almost 500 lbs.) while careful and delicate hands were required to install the elegant finished panels. The wall is highlighted with a drywall light cove at the ceiling, giving a beautiful focus that is visible from the exterior glass entrance doors. 
Success: From the prototyping stage to the final installation, the undeniable success of this project was achieved by having all fabrication departments in-house with one partner allowing detailed quality control and seamless coordination across all materials and processes.
"Having worked with Eventscape on our Stantec Tower project in Edmonton Alberta, we knew that they would be the best to complete the Seaport West Lobby monumental wall. We shared with them our early design sketches and inspiration images and the collaborative process began. Their expertise in material selection and fabrication is amazing. They produced several large mock-ups showing how different textiles could be printed and layered with bronze tracery that were invaluable to secure our clients approval and confidence that this was the right solution. Their attention to detail throughout from design, fabrication and ultimately the installation was incredible and flawless. Perhaps most importantly they shared our enthusiasm with design and were a pleasure to work with from start to finish." Steve Basque, Senior Principal, Stantec Architecture, Boston