HUDSON YARDS "JOURNEY TO EDGE"
FEATURE EXHIBITS & PERFORATED CEILING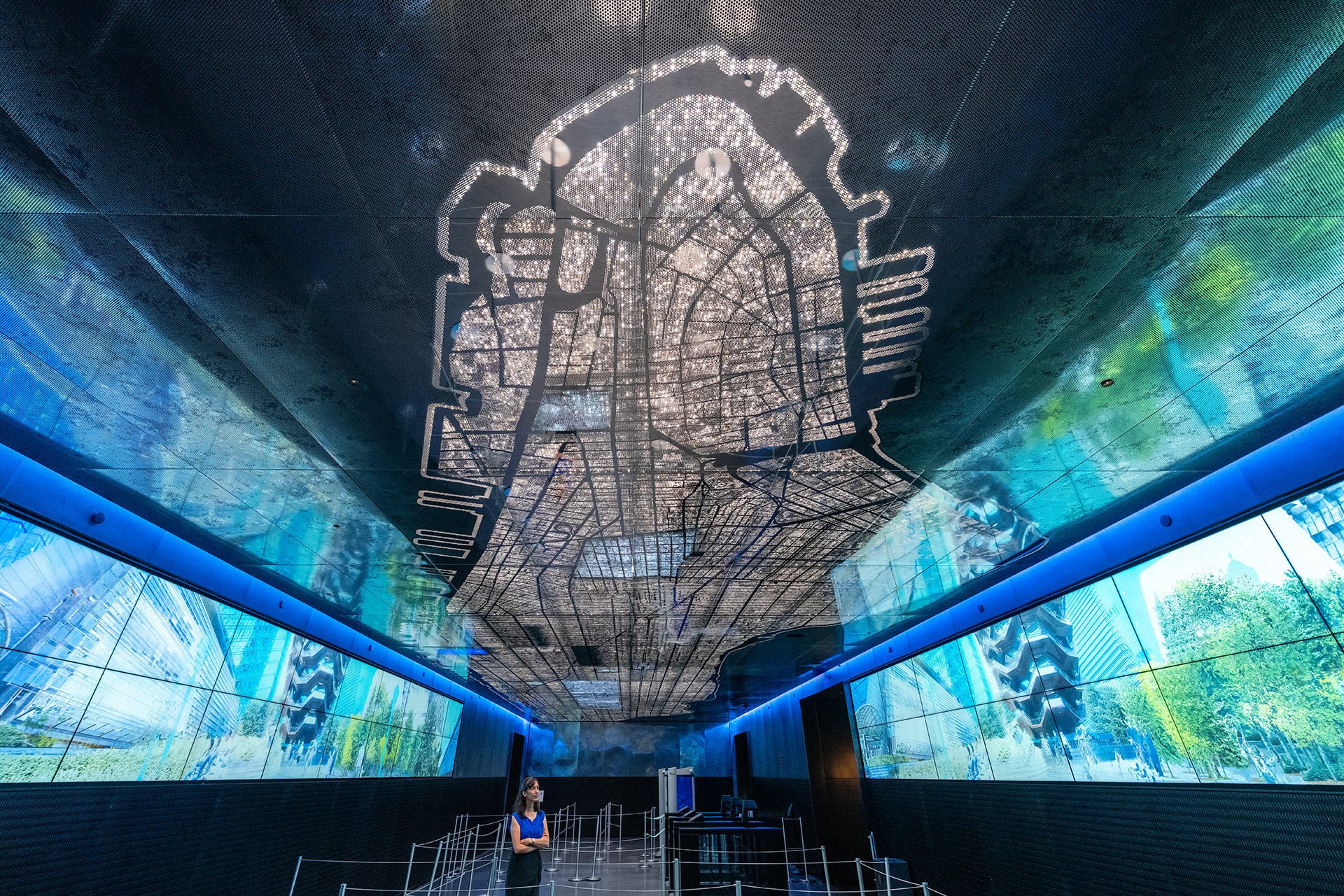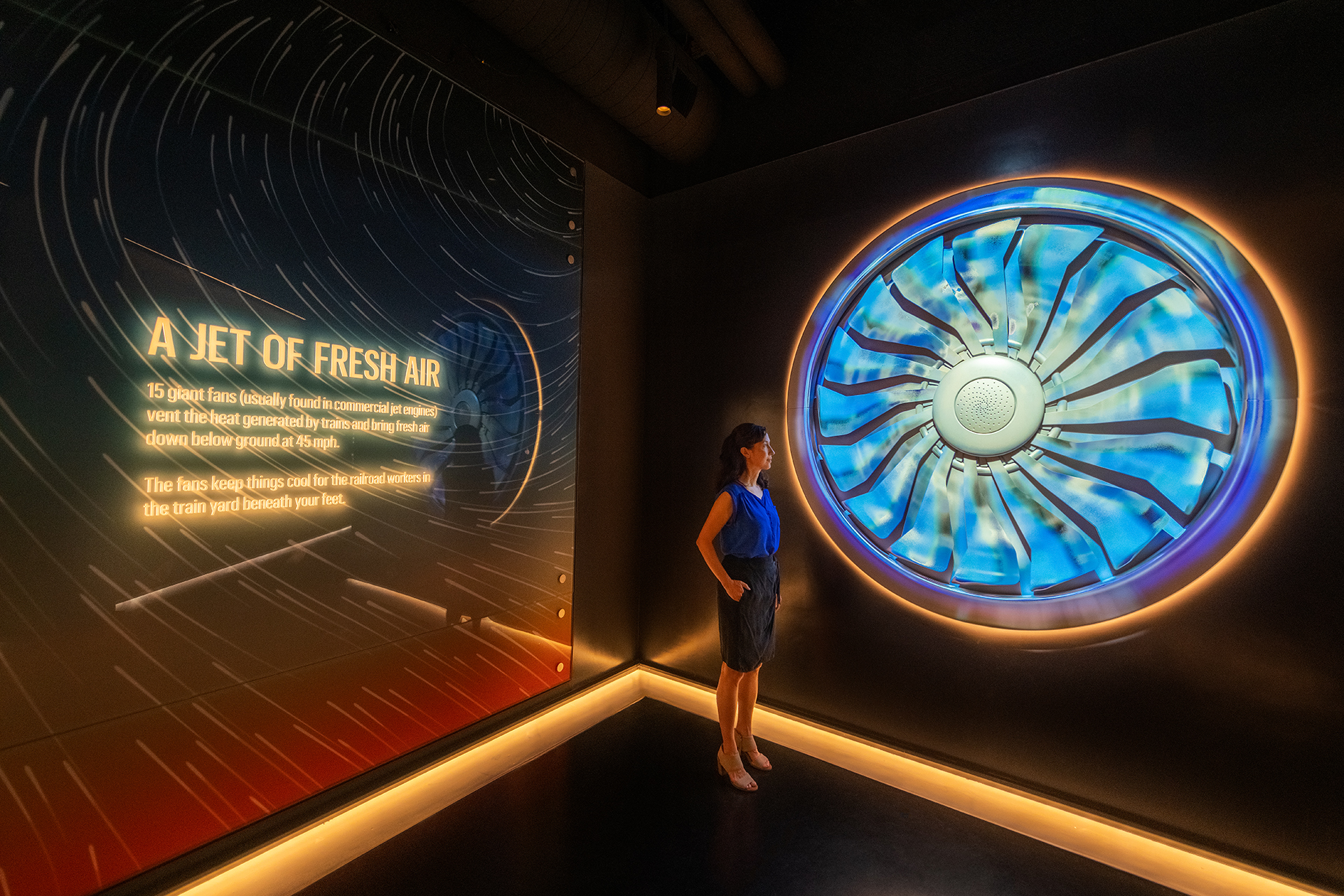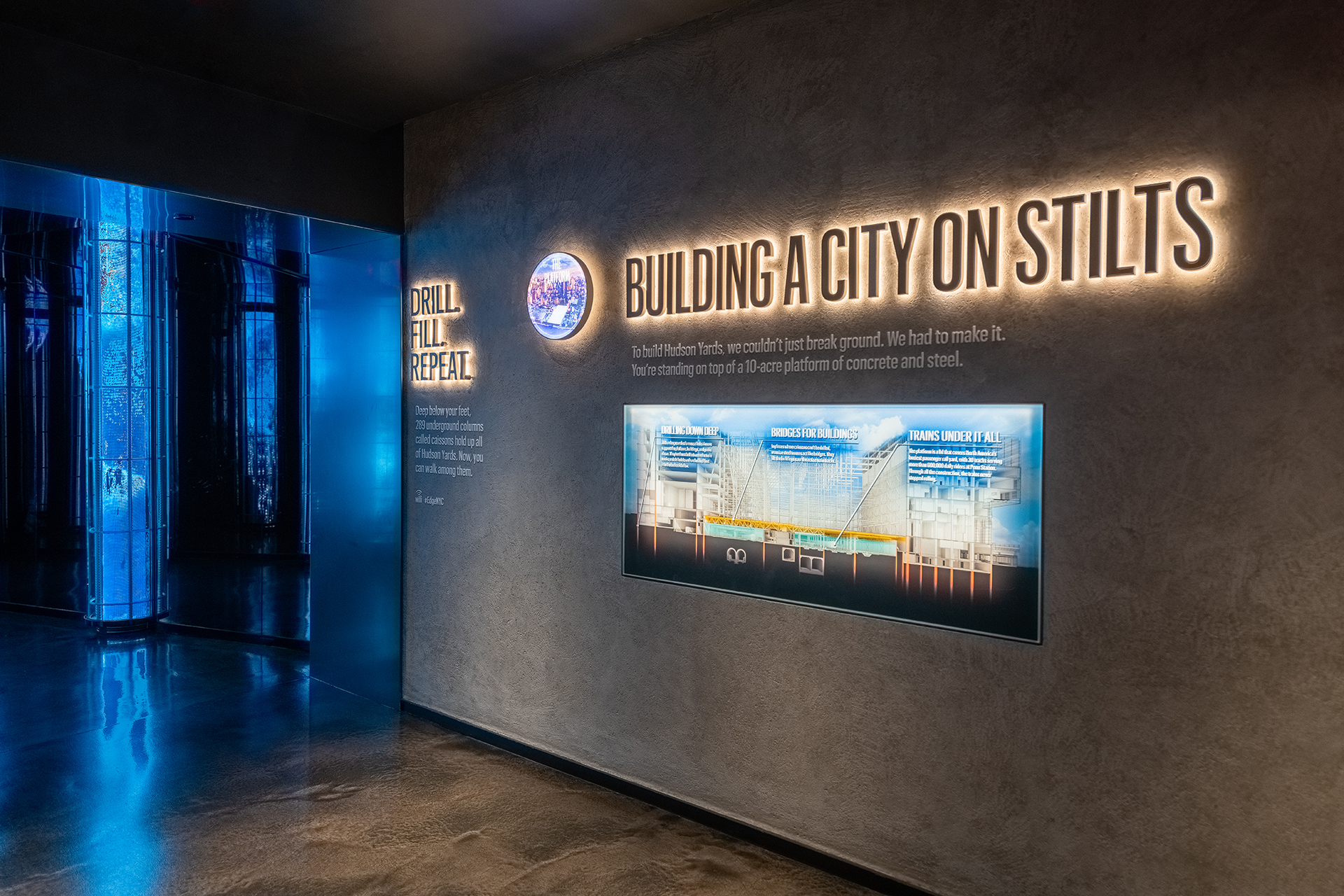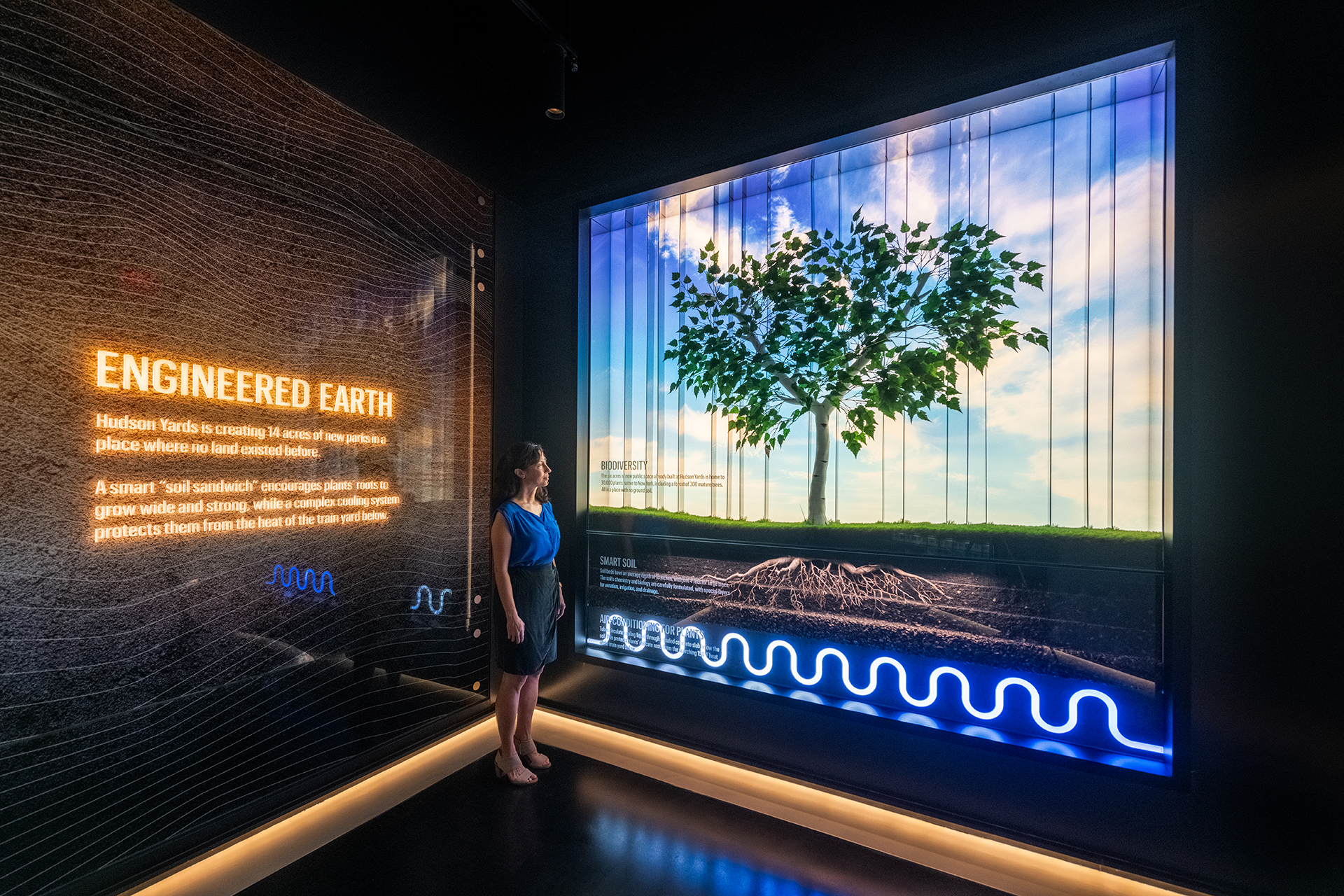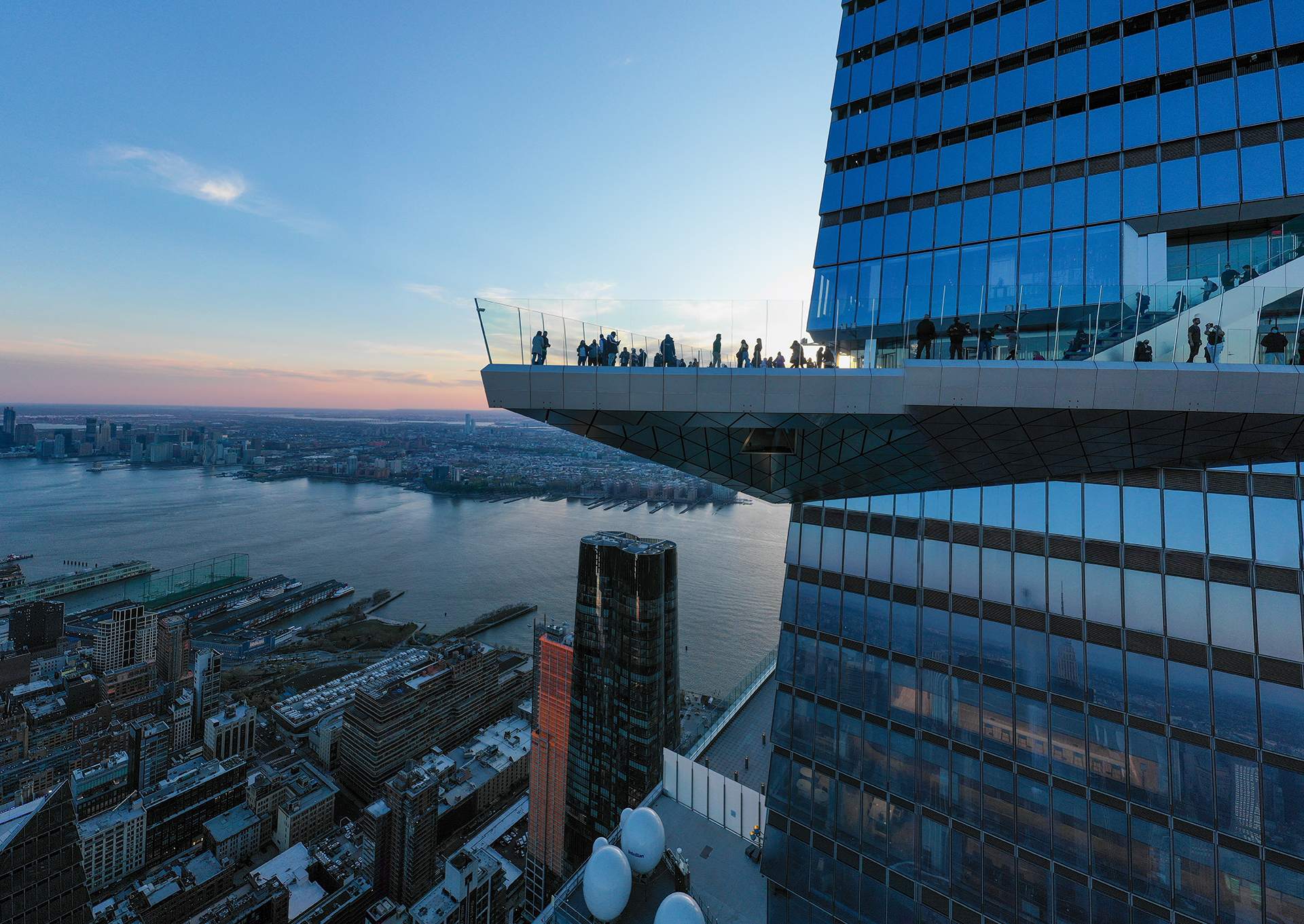 PROJECT HUDSON YARDS "JOURNEY TO EDGE"
DESIGN LAB AT ROCKWELL GROUP
ARCHITECT KOHN PEDERSON FOX
GENERAL CONTRACTOR GILBANE DEVELOPMENT COMPANY
DEVELOPER THE RELATED COMPANY
PHOTOGRAPHY AARON FEDOR, COURTESY OF RELATED COMPANY
BUILT BY EVENTSCAPE, MARCH 2020
Feature Elements engineered, fabricated and installed by Eventscape:
Two floors of detailed sculptural exhibits, graphics and feature ceiling.
Project Description:
The 1,131-foot-high cantilevered open-air observation deck at 30 Hudson Yards called "The Edge" is the highest outdoor sky deck in the western hemisphere. This mixed-use building is part of the Hudson Yards Redevelopment project and features a 7,500-square-foot view of Manhattan's skyline, surrounded by a 9-foot-tall frameless glass wall and a windowed floor. Jutting out 80 feet from the side of the building on the 100th floor, it gives you the feeling of floating in the sky. With 360-degree views, New York has never been experienced like this before. At the entrance to the elevator access, is a two-floor museum-style client experience centre, with detailed three-dimensional exhibits describing how this transformation of building over top of the old rail yards took place. Eventscape was contracted to engineer, fabricate and install these features with accompanying graphic panels as well as a perforated backlit metal ceiling of the map of Manhattan in the 4th floor ticketing area. Multiple materials used in these features include: metal, glass, acrylic, polycarbonate, wood, lighting and ceramic printing. All features were staged in the Eventscape facility prior to assembly on site.
Unique Characteristics & Project Challenges:
The three-dimensional displays are positioned throughout the space, with the graphic text display panels adjacent to the sculptural exhibits. To better accommodate the expected large crowds, and manage crowd flow, Rockwell duplicated the design for two separate floors. Exhibit walls were approximately 9 to 10 feet wide each. Both floors also include zone"Intro" graphics (three per floor). These were built of backlit graphic water-jet-cut tempered glass and digital ceramic ink and metal trim with plaster finished MDF to match the adjacent wall. Custom fabricated lettering on the walls were water-jet cut and machined from 1-inch-thick solid aluminum with integrated LED's for a glowing effect as required.
SMART SOIL EXHIBIT
One of the first steps in building the Hudson Yards project was to create an initial 10-acre platform of concrete and steel that was then filled with soil. This "smart soil exhibit" is a 9-foot by 9-foot multi-layer feature illustrating the various base layers, from neon illuminated "concrete" to soil, grass and a miniature birch tree growing from the soil. After researching and mocking up various non-organic FR materials and creating a small prototype for approval, the Eventscape fabrication team fabricated the final exhibit. The team hand-painted the leaves, 3D printed the full tree and created urethane encapsulated cross-sectioned roots for a more realistic appearance. Mirrored stainless steel, custom trim extrusion with concealed / integrated glowing LEDs , backlit glass and a glass face with an interlayer of paint for text graphics complete the exhibit.
COOLING FAN EXHIBIT
Representing the jet turbines that circulate the air and keep the platform ventilated, this exhibit is a three-dimensional sculpture of the fan blades, with a projection mapping of animated circulating fins. Originally conceived as a static exhibit, the client requested an additional feature of air blowing out from the fins, which the Eventscape development team was able to incorporate. The blades were built of laser-cut, brake-formed, powder coated aluminum attached to the central axis boss cap with concealed custom fabricated fasteners with an anodized finish aluminum back drop.
BAS-RELIEF EXHIBITS
The two different bas-relief exhibits are essentially platforms used for projection mapping; wall-mounted within niche walls provided on site. Both were built with a custom concrete finished 2-inch-thick 40 lb. density sculpting foam on a plywood substrate. Both of the reliefs feature milled motifs and patterns representative of Hudson Yards' underground infrastructure with one of them also receiving building silhouettes above. An A/V projection mapping is projected onto these motifs, an animation showing the various phases of development.
GRAPHICS PACKAGE
The exhibit graphic package is comprises eight various printed graphics on metal, glass and acrylic with backlit elements. Each corresponds to the exhibit, with digital ceramic ink print on glass of simulated etched typography and soil, air and watercolor graphic textures. These are full floor to ceiling features.
PERFORATED CEILING FEATURE
LAB at Rockwell Group designed a Manhattan model map comprising sectional upside-down 27-foot-wide by 76-foot-long perforated metal to form the backlit ceiling feature. The perforations are a custom .27 inch staggered dot matrix with varying dot diameters across the entire surface. Built from laser-cut and CNC punched, brake-formed, mirror-finished, thin gauge aluminum over a custom-fitted insulation layer and secured to a custom fabricated hanging grid, this feature provides the visitors an overview of the view they will see from the observation deck. It includes intelligent lighting, programmed to highlight areas as the visitors view the custom feature. All the exhibits incorporated lighting and many also had A/V projection mapped onto the three-dimensional forms, which provided movement and helped to illustrate the story. Eventscape coordinated with the lighting designers, providing detailed drawings of each exhibit. 
"Collaborating with Eventscape on Journey to Edge made a complicated project fun and exciting. Eventscape always brought their expertise to the table while letting the design-intent lead. Careful mock-ups and samples were a critical part of the conversation and really allowed us to fine-tune the final builds, which involved high-end and artistic finishes, 3-D and printed exhibit graphics, integrated programmed lighting, projection mapping, and in one case, a wind machine! There were no short-cuts taken, and the final results look effortless. Everyone on the team was a pleasure to work with from management to design and engineering, and we look forward to having the opportunity to work on another first-class project with Eventscape again soon!"
— Stephanie Gitto, AIA, Project Architect, Rockwell Group, Studio LAB