NOKIA CORPORATE LOBBY
FACETED FEATURE WALL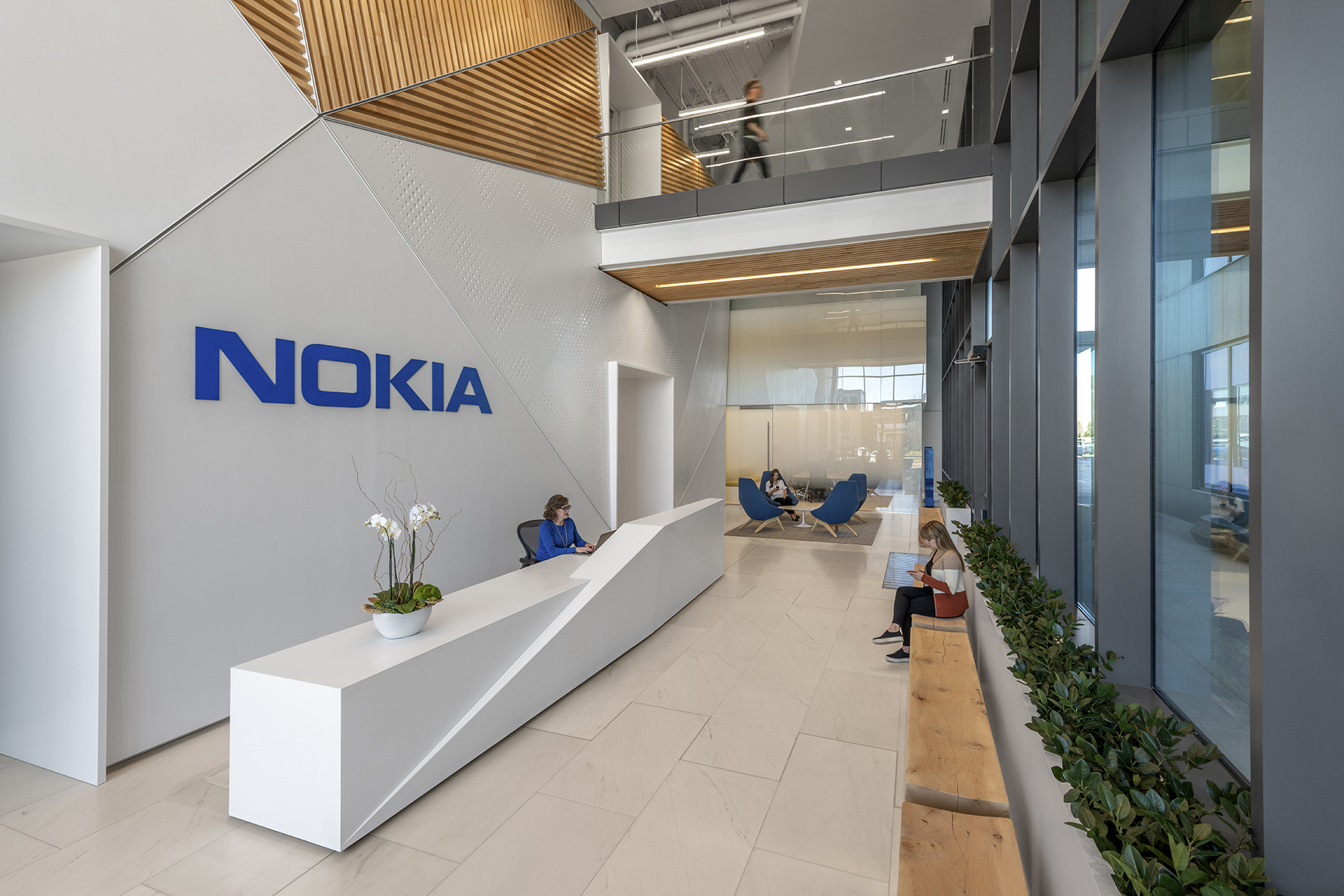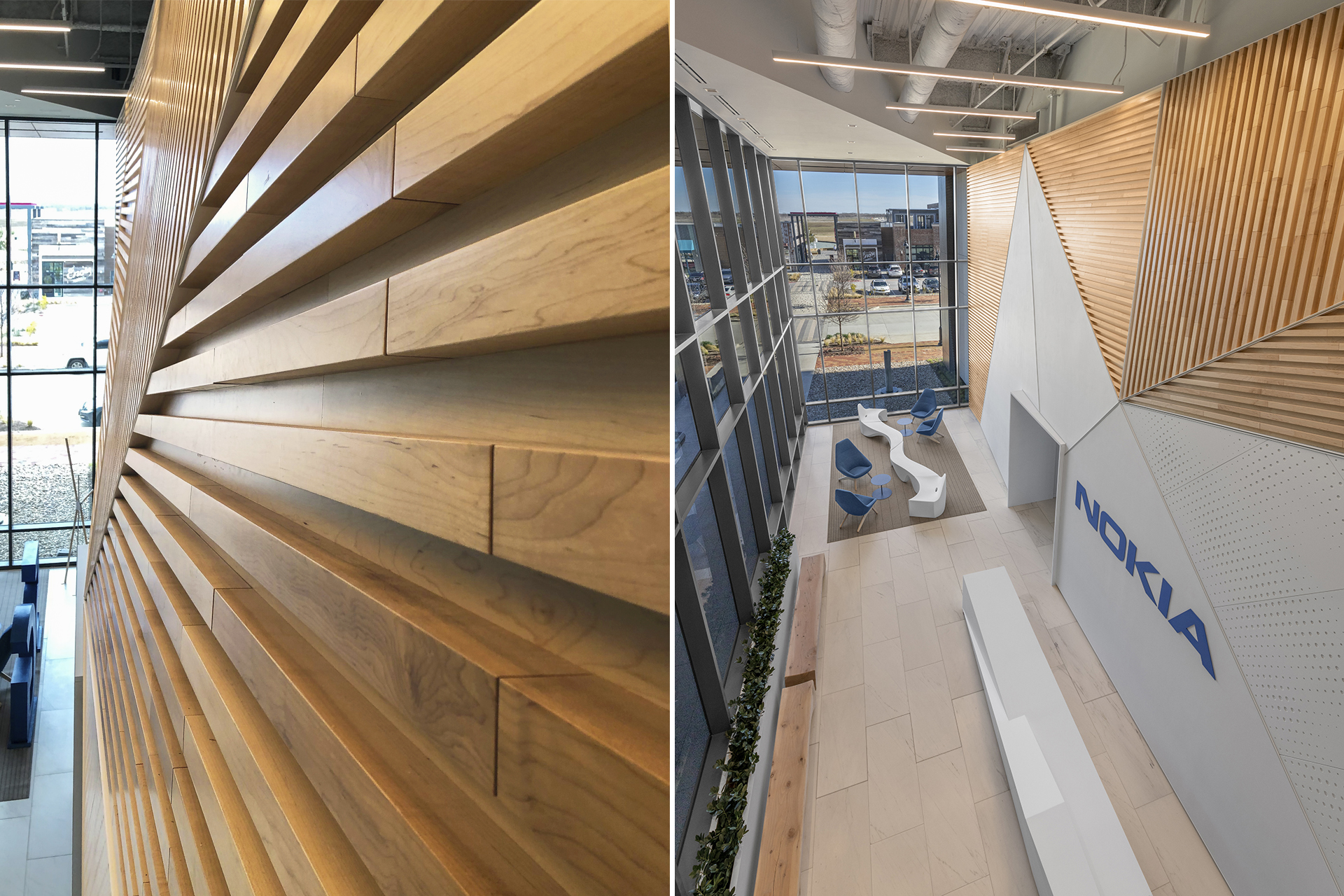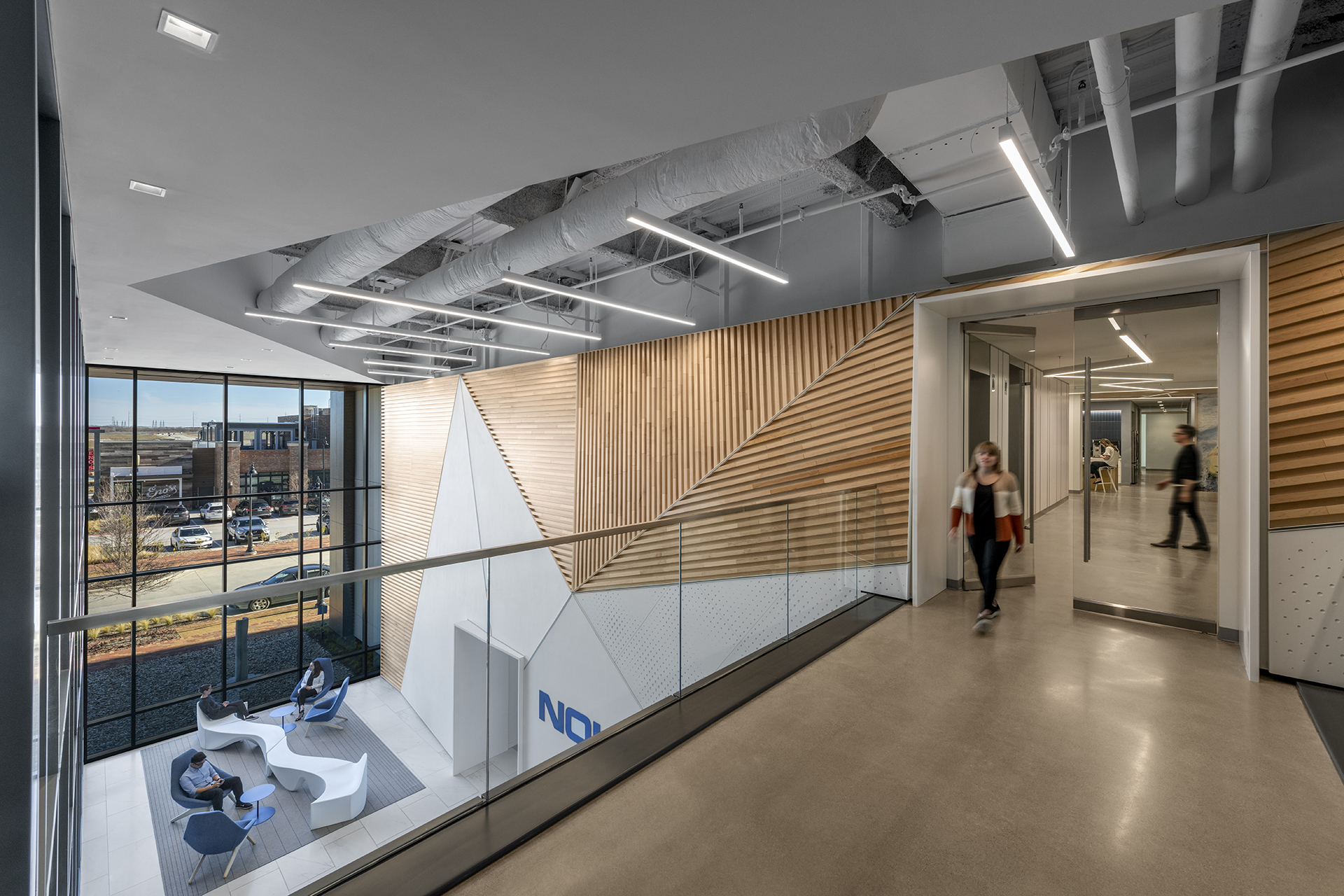 PROJECT NOKIA CORPORATE LOBBY, DALLAS, TX
DESIGN CALLISONRTKL
GENERAL CONTRACTOR STRUCTURE TONE SW
PHOTOGRAPHY WADE GRIFFITH PHOTOGRAPHY, COURTESY OF CALLISONRTKL INC.
BUILT BY EVENTSCAPE, FEBRUARY 2020
A 3,400 square-foot faceted feature wall is a focal point in this new corporate office lobby for Nokia. Designed by CallisonRTKL and engineered, fabricated and installed by Eventscape, it features solid wood, perforated aluminum and level-5 painted drywall cladding in triangular facets across the face of the 75- foot long wall. The palette and finishes used in the feature wall design is a continuation from Nokia's first office space in this large corporate complex. 
 Unique Characteristics & Project Challenges
To create the geometry for the faceted materials, a sub-structure was created with a HSS grid. Eventscape's first step included site verifications and a complete scan of the space. With this detailed scan, Eventscape designers could work remotely to develop a sub-frame that tied into the base building structure and sat behind the finished surfaces. A total of 13 different vertices were laser plotted on the wall face, for all three areas. Custom outriggers were then used to create the angles starting at 16" off the base building wall up to 36". Templates of 1/8" PVC panels were installed first on the sub-structure to confirm that all angles were correct. The finished metal panels were then installed on top. Each metal panel was perfectly flush with the next, while incorporating a total of 3 plane changes over this section.
Eventscape's standard turnkey process involves a series of small finish sample prototypes and 1:1 scale mockups. Both of these helped the CallisonRTKL design team finalize the desired finishes and set expectations for the final fit-out.
A third of the total wall consisted of solid 2" x 1-3/4" maple wood ribs spaced 4" o/c on flat-sawn maple wood veneer. Built and shipped in individual 5' x 8' sections panels because of standard material yields, the rib ends were staggered on each panel so that the final ribs between panels would cover the wall attachments. Using this method, the seams of the 5' x 8' panels were hidden and each faceted wood area appeared continuous. The final finish on the maple was a fire-rated clear coat. Wood rib panels were also used on the under side of the mezzanine level bridge.
Each of the 3 panel areas were finished with a white custom trim installed on site and the portal areas finished with a similar powder-coated trim detail. Standard lifts could not be used on site as the marble floor finish was too delicate for the heavy machinery. This made installation slightly more challenging as it could only be accomplished by using scaffolding.
The subtle angles of the overall wall, precise panel connections, lack of exposed hardware and a fresh palette created an elegant front face for this lobby. Working with one specialized vendor ( Eventscape ) for the entire wall, provided several benefits to the project team and ultimately yielded the best possible results. We enjoyed working with the project team and look forward to collaborating again! 
"When we needed a partner to manufacturer the lobby wall for Nokia, we turned to Eventscape as they were able to turn key the project working with the multiple materials and still meet the project budget and timeline. Working with Eventscape was a natural extension of our design team, they were very collaborative and evolved the concept into reality without compromising the design."Brian Fox, Senior Associate Vice President, CallisonRTKL