ROCKET MORTGAGE FIELDHOUSE
CUSTOM METAL CURTAIN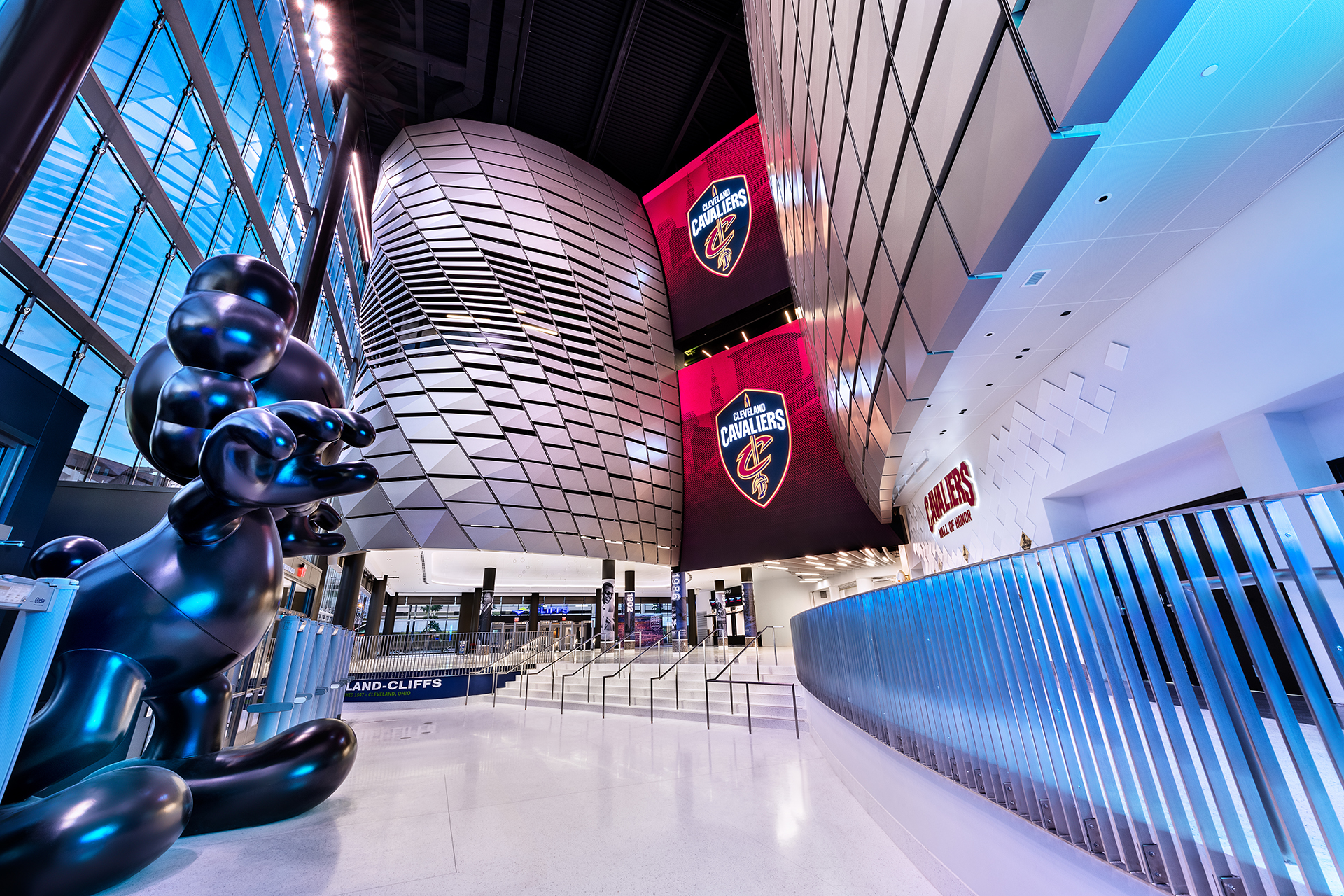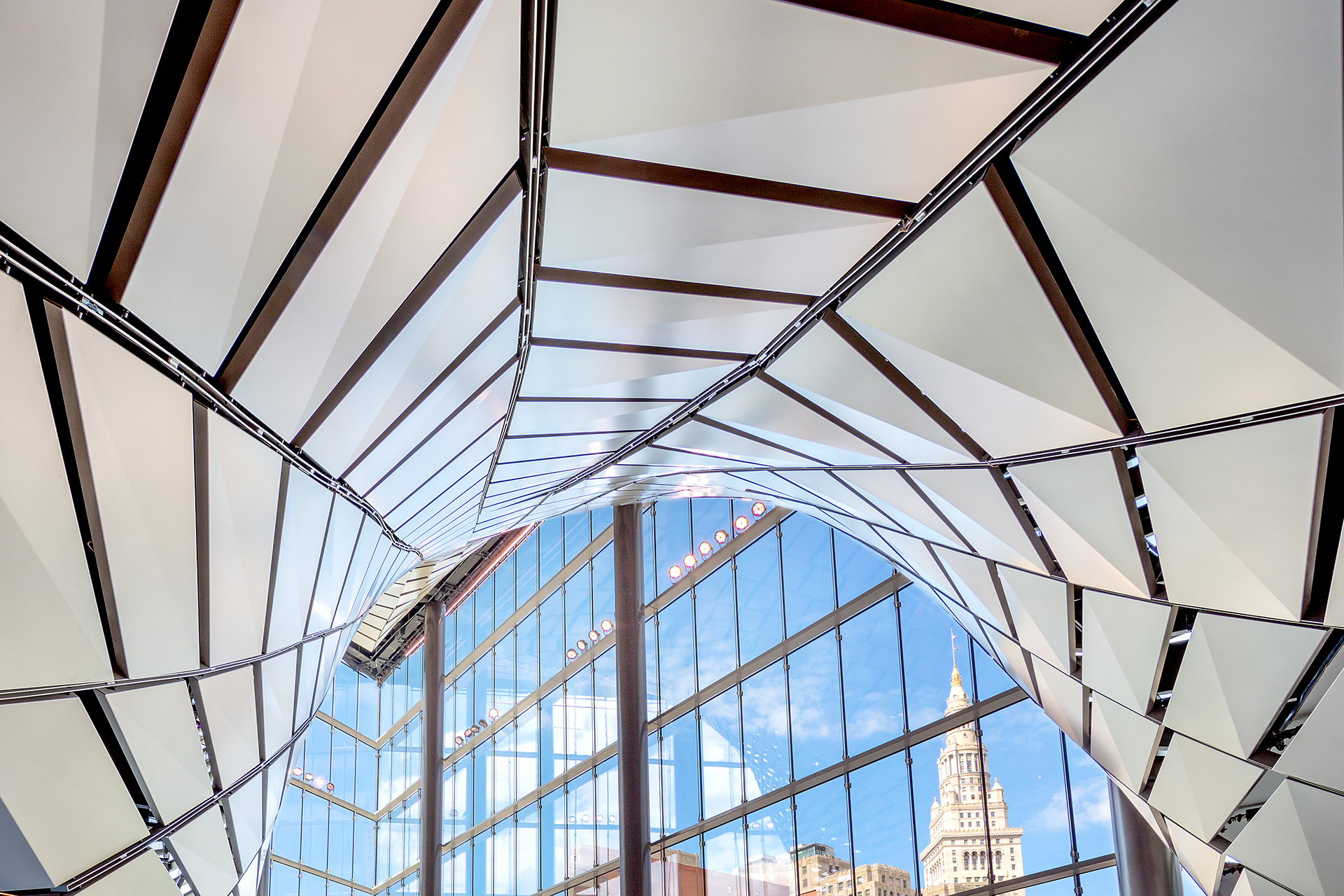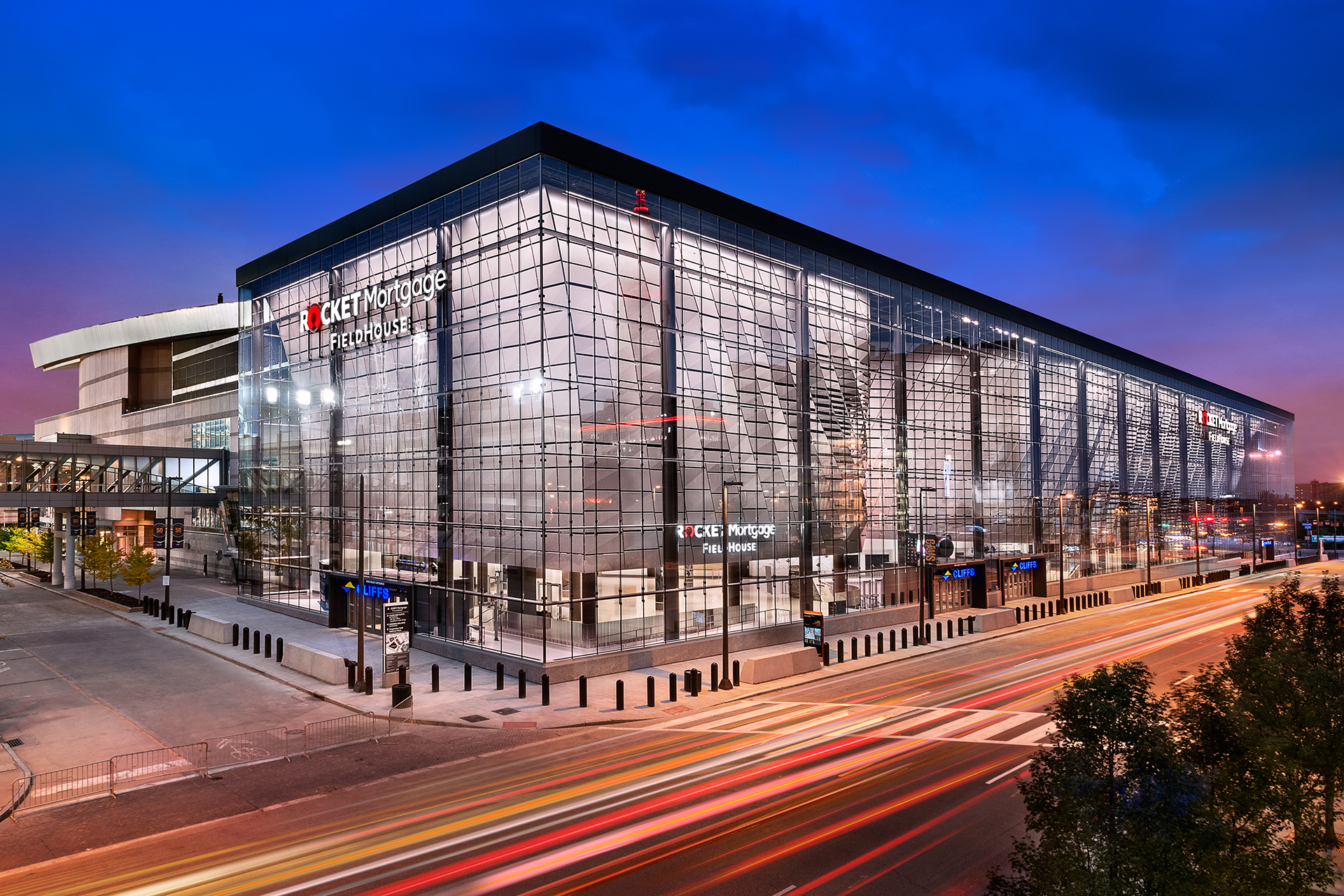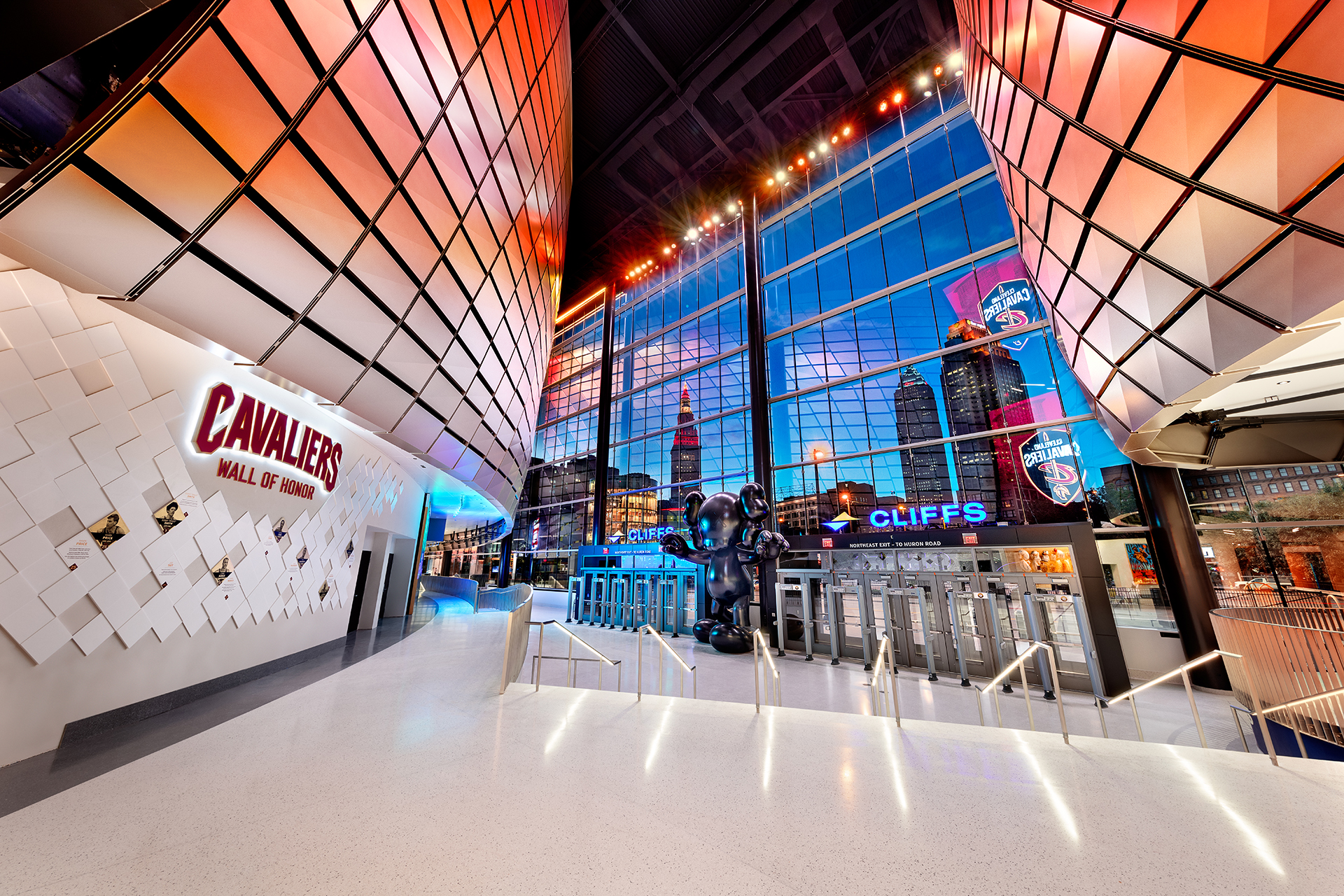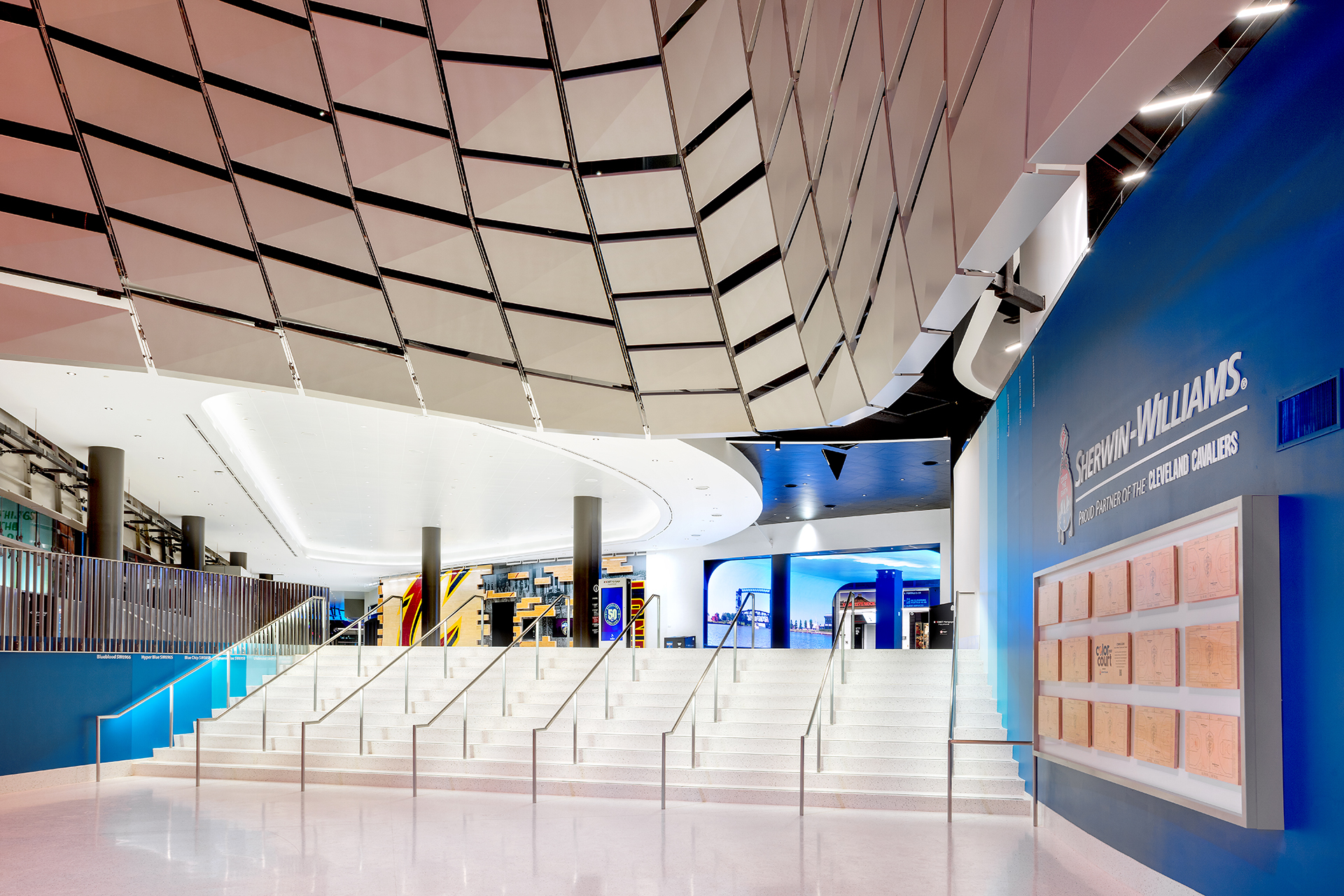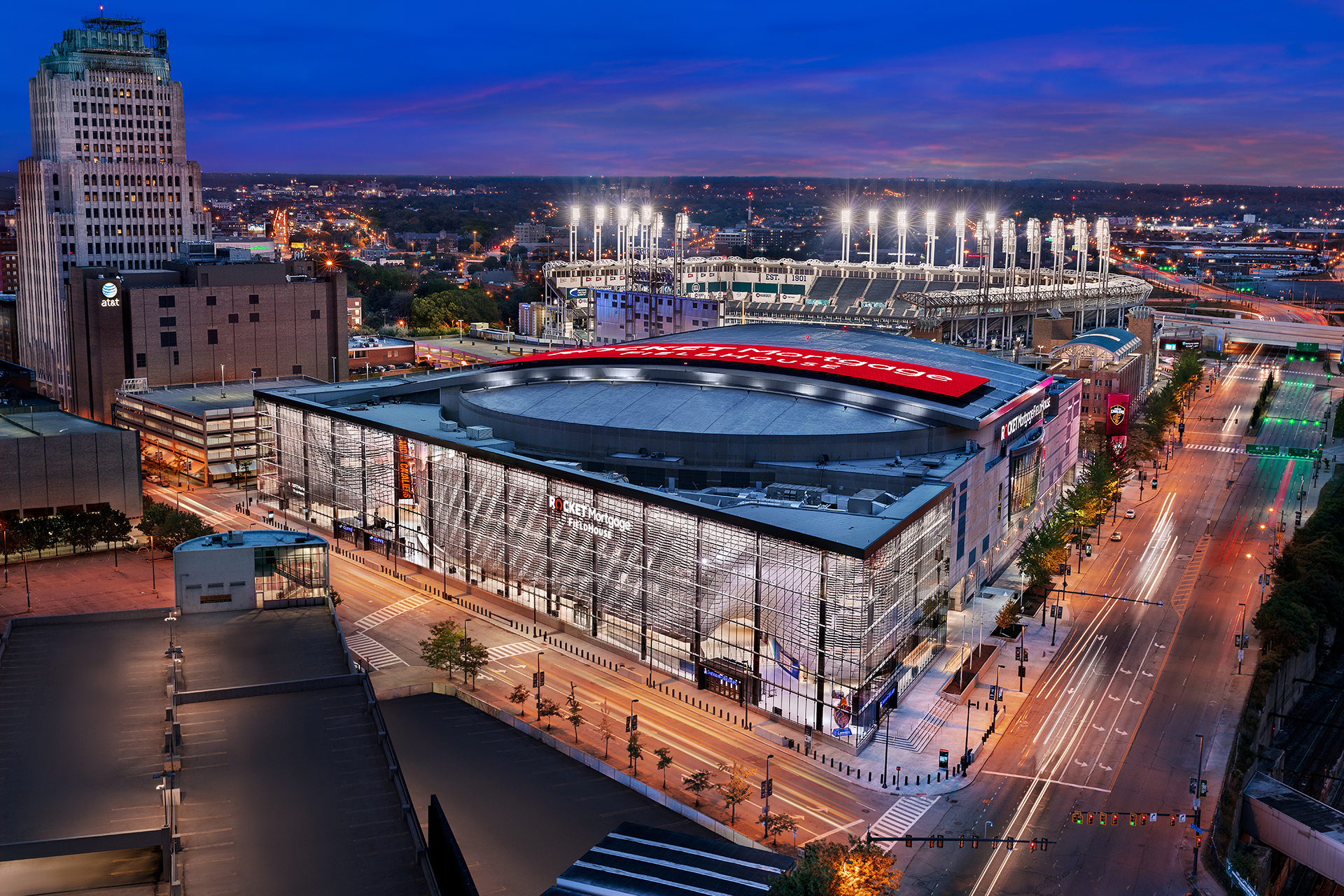 PROJECT ROCKET MORTGAGE FIELDHOUSE ARENA, CLEVELAND, OH
DESIGN/ARCHITECTS GENSLER/ROSSETTI/SHoP ARCHITECTS
GENERAL CONTRACTOR WHITING TURNER
PHOTOGRAPHY TREPAL PHOTOGRAPHY/CLEVELAND CAVALIERS
INSTALLATION PHOTOGRAPHY JAN SHERGALIS
BUILT BY EVENTSCAPE, SEPTEMBER 2019
Eventscape was contracted to engineer, fabricate and install an amazing custom aluminum and steel interior metal "curtain" wall for the renovation of the Cleveland Cavaliers Arena which covers a surface area of 65,000 square feet. This extremely complex, 80-foot tall feature wall was made up of approximately 4000 brake-formed panel sections, each one unique. Each of the panels were secured by edge fins which tie back to outriggers on a ring beam. The ring beam ties back to the building structure and provides the overall faceted and reticulated form of the curtain geometry. This stunning project was completed ahead of time, on budget with the attention to detail, high level of craftsmanship and precision that Eventscape applies to all its projects.

Main Points – COMPLEX, LARGE SCALE, ADAPTIVE AND ACCURATE


LARGE SCALE:
65,000 square-foot curtain wall feature that curves around three sides of the arena behind the glass façade.

80 feet tall

840 feet long

Eventscape created a full-size mockup for review prior to full fabrication 17-feet tall and 20-feet wide which represented less than 1% of the total wall.

COMPLEX:
Custom system made up of 12,000 unique custom fabricated parts including brake-formed metal panels, edge fins, splices, outriggers and end panels

Engineered design solution facilitated HVAC, electrical and digital wall installations, allowing for fixed elements that were not yet installed.

2 shipments a week of parts – all organized, labeled and tracked for just-in-time installation sequencing

ADAPTIVE:
A solution-driven project that used extensive value engineering to achieve the design within a palatable budget

Complex geometry of the design architect's original model was rationalized by converting the twisting curves in the ribs (edge fins) into controlled arches, with rotational facets.

Fabrication of the parts needed to begin before the existing concrete cladding was removed to meet critical time schedule

Fabrication began two months into the project

The ring beam sub-structure was locked down to establish geometry and positioning with adaptability incorporated into each layer. This tied back to the base building attaching to new 

and old steel on site.

Critical to install steel sub-structure before the glass façade was installed since the curtain was so close to glass façade – worked with local Cleveland Iron Workers Union to complete the on-site welding required.

The Eventscape design team studied the form and imported all three main models (design architects, structural steel fabricators and survey data model) into their engineering drawings to ensure the curtain feature was clear of all obstructions.

An algorithm was created in both Grasshopper (known for scripting capabilities) and SolidWorks (known for precise manufacturing) generating the design of each part and rules for compatibility, orientation and sizes. This gave agility to the designers to react and quickly change parts in response to site or client design changes

ACCURATE:
The project management team received just-in-time field generated data to facilitate precise fabrication on an accelerated production schedule

Each part was individually laser etched with a part number and digitally stored in our database for precise tracking

Project was completed in sixteen months from concept to opening

Eventscape was able to adapt to design and installation schedule changes but still stayed on schedule.

0 change orders

0 deficiencies