ROCKET MORTGAGE FIELDHOUSE
CUSTOM METAL CURTAIN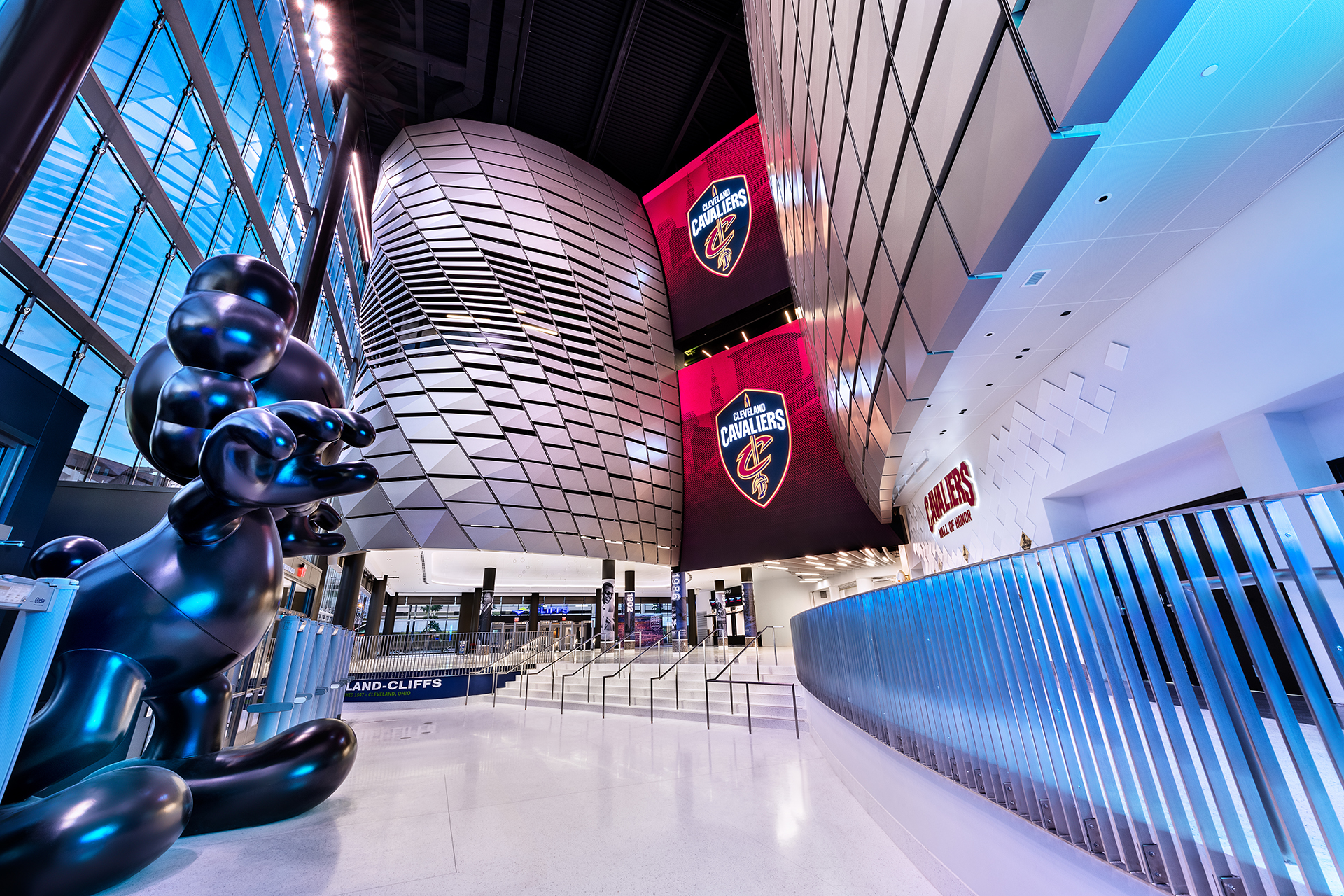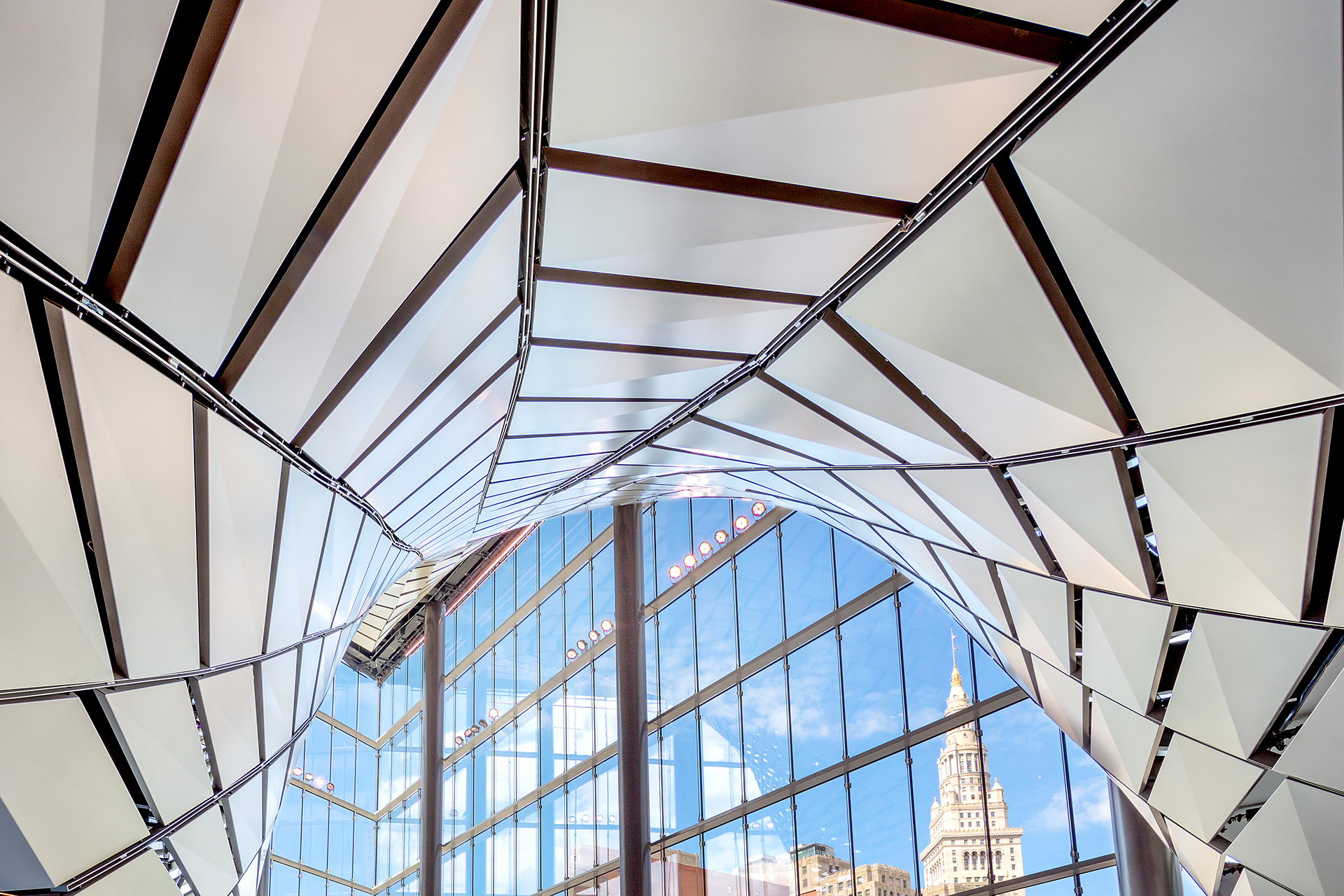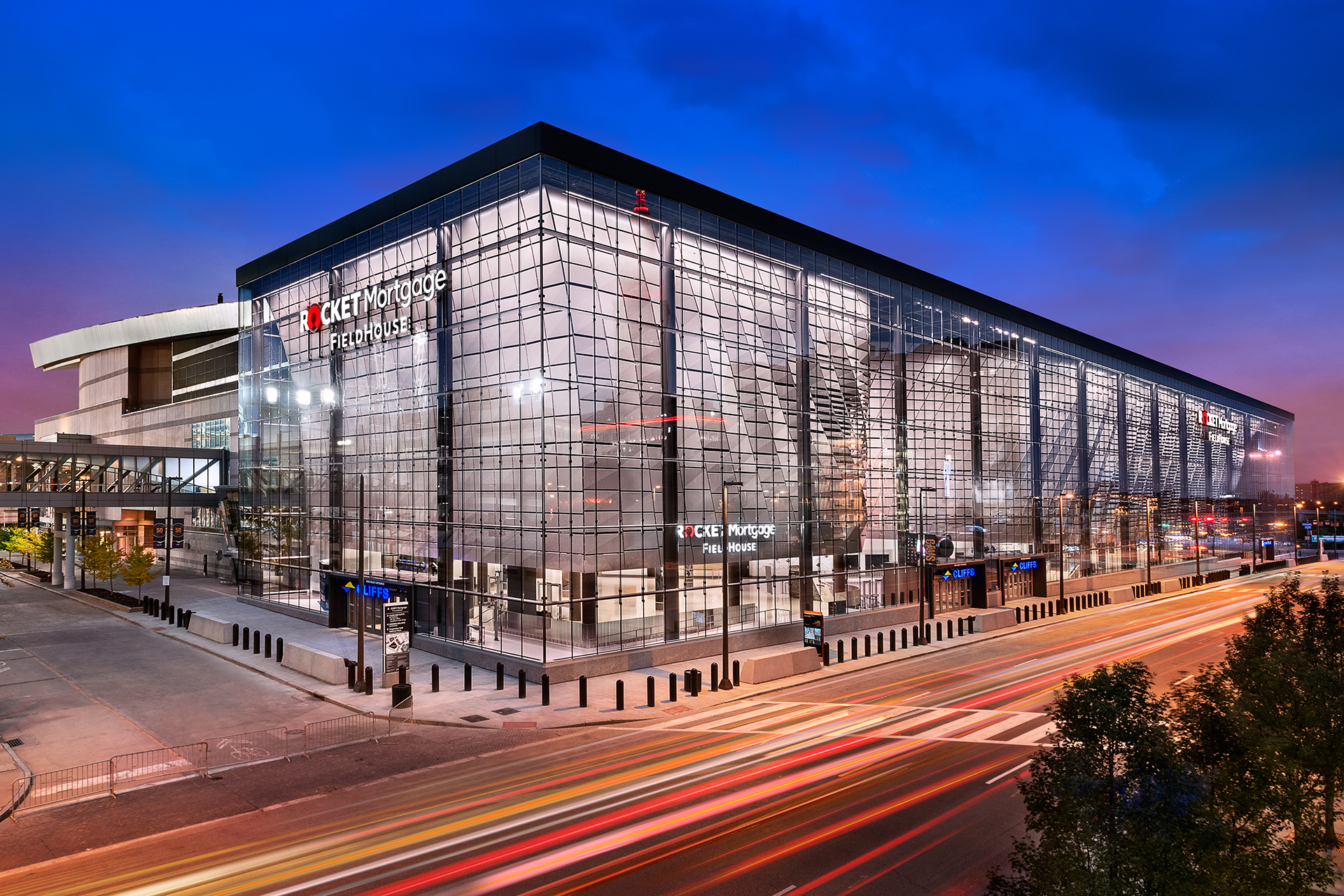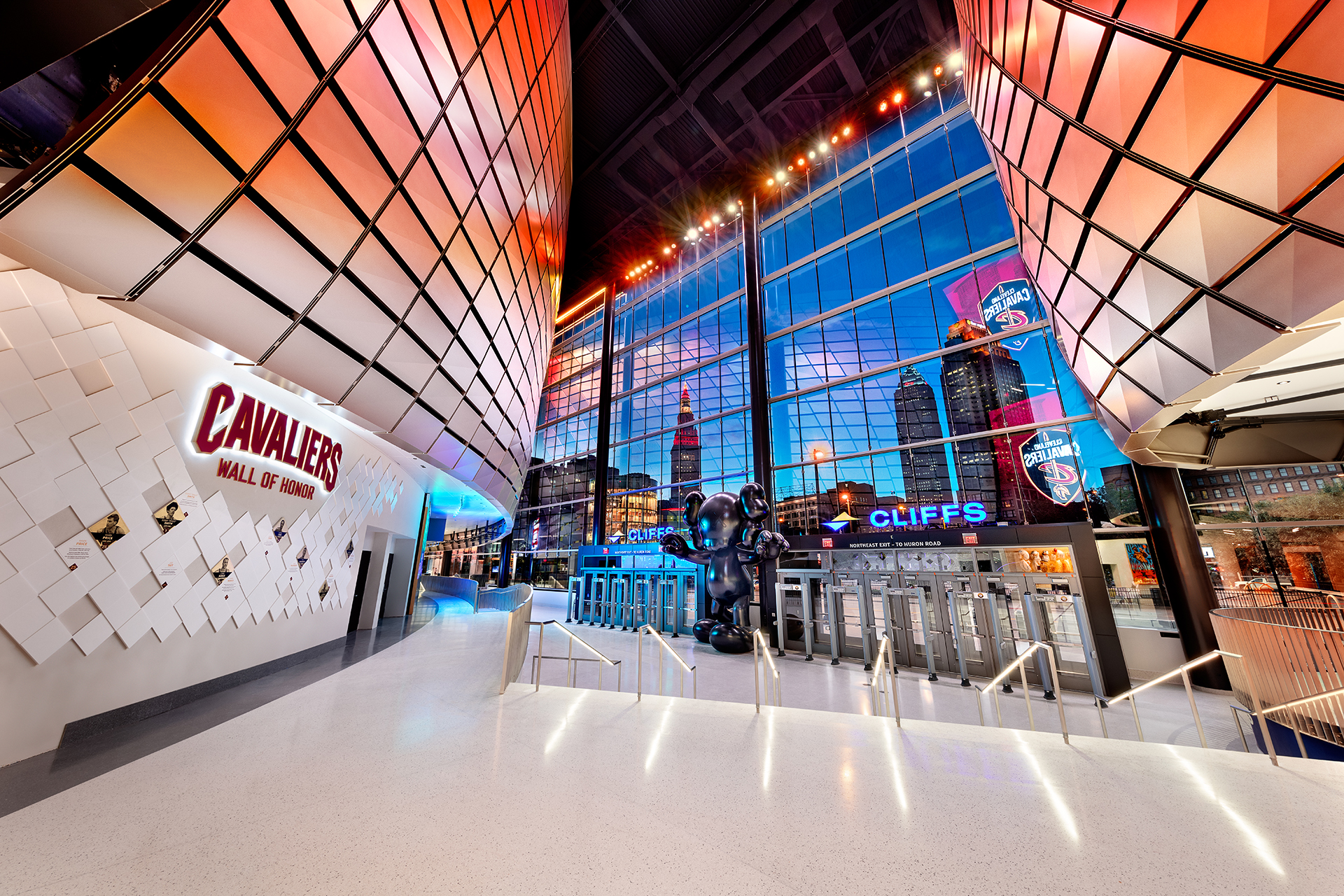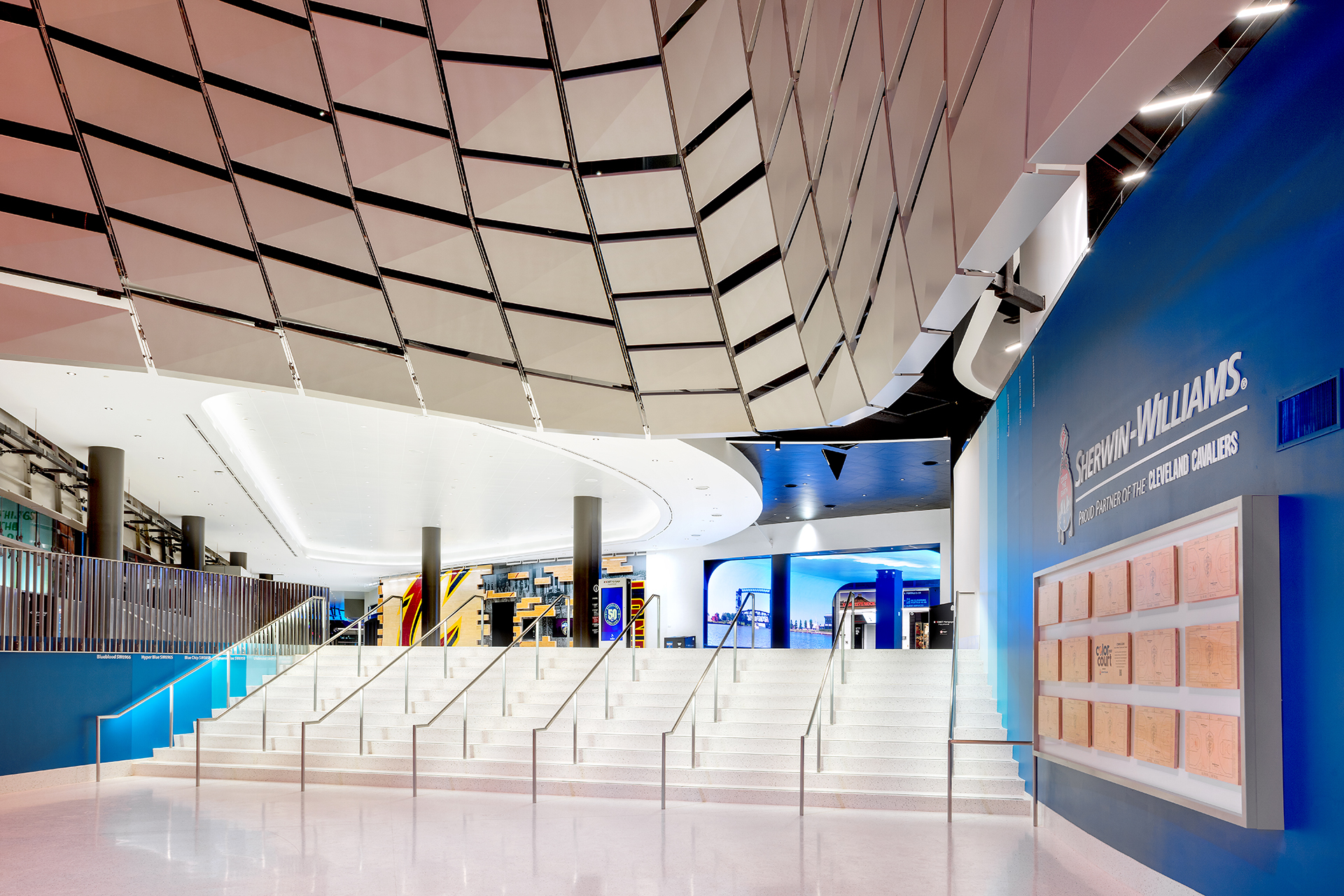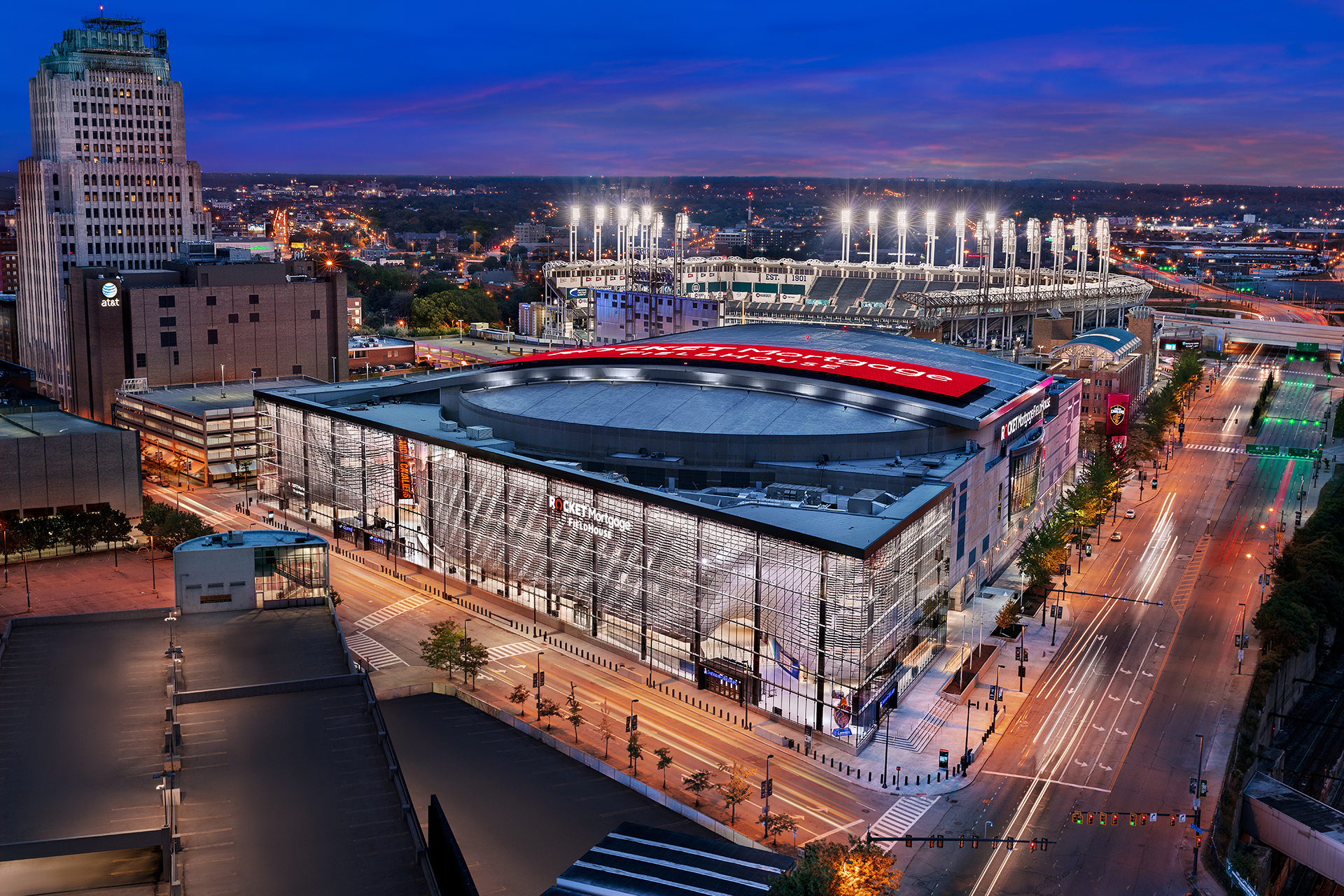 PROJECT ROCKET MORTGAGE FIELDHOUSE ARENA, CLEVELAND, OH
DESIGN/ARCHITECTS GENSLER/ROSSETTI/SHoP ARCHITECTS
GENERAL CONTRACTOR WHITING TURNER
PHOTOGRAPHY TREPAL PHOTOGRAPHY/CLEVELAND CAVALIERS
INSTALLATION PHOTOGRAPHY JAN SHERGALIS
BUILT BY EVENTSCAPE, SEPTEMBER 2019
Eventscape was contracted to engineer, fabricate and install an amazing custom aluminum and steel interior metal "curtain" wall for the renovation of the Cleveland Cavaliers Arena which covers a surface area of 65,000 square feet. This extremely complex, 80-foot tall feature wall was made up of approximately 4000 brake-formed panel sections, each one unique. Each of the panels were secured by edge fins which tie back to outriggers on a ring beam. The ring beam ties back to the building structure and provides the overall faceted and reticulated form of the curtain geometry. This stunning project was completed ahead of time, on budget with the attention to detail, high level of craftsmanship and precision that Eventscape applies to all its projects.

MAIN POINTS


Large Scale:
65,000 square-foot curtain wall feature that curves around three sides of the arena just inside the building's glass façade.
80 feet tall
840 feet long
Eventscape created a full-size mockup for review prior to full fabrication. While significant in scale at 17-feet tall and 20-feet wide, it nonetheless represented less than 1% of the total wall.

Complex:
Custom system made up of 12,000 unique custom fabricated parts including brake-formed metal panels, edge fins, splices, outriggers and end panels
Engineered design solution facilitated coordination with HVAC, electrical and digital wall installations, allowing for easy integration with fixed elements that were not yet installed.
2 weekly material and assembly shipments – all organized, labeled and tracked for just-intime installation sequencing

Adaptive:
A solution-driven project that employed extensive value engineering to achieve the design within a palatable budget
Complex geometry of the design architect's original model was rationalized by converting the twisting and curved ribs (edge fins) into controlled arches, with rotational facets.
Fabrication needed to begin prior to the removal of the original building's existing concrete cladding to meet critical time schedule
Fabrication began only two months after being awarded the project
The ring beam sub-structure was finalized early to establish geometry and positioning with adaptability incorporated into each layer. This anchored back to the base building attaching to a combination of new and old steel on site.
It was critical to install the heavy steel sub-structure before the glass façade was installed since the curtain would have been too close to the oversized glass panels to risk welding. Eventscape worked closely with local Cleveland union Iron Workers to complete the on-site welding required.
The Eventscape design team studied the form and integrated 3D modelling data from 3 different sources (design architects, structural steel fabricators and survey data model) into their production model to ensure the curtain feature was clear of all obstructions.
A computational workflow was developed in Grasshopper, Python, and SolidWorks to help automate the design of each part, responding to rules for compatibility, orientation, and material optimization. This gave necessary agility to efficiently adapt parts in reaction to updated site conditions being fed into the model via iterative digital surveys.

Accurate:
The project management team received just-in-time field generated data to facilitate precise fabrication on an accelerated production schedule.
Each part was individually laser etched with a part number and digitally stored in our database for precise tracking
The project was completed in sixteen months from concept to opening
Eventscape was able to adapt to design and installation schedule changes but still stayed on schedule.
0 change orders
0 deficiencies
TESTIMONIALS
"We worked with so many different people on this project, let me just tell you this; working with Eventscape was an absolute pleasure. Their solutions-based mentality with what we were doing with something that was so complex and something that was unprecedented – certainly for us…to be able to have the ease and actual exchange of ideas, and coming up with solutions and ultimately the end part of the product, I would just say this, that if all our partners throughout the process were as easy to work with as Eventscape our life would have been a little bit easier."
—Leo Komoroski, CEO of Cleveland Cavaliers / Rocket Mortgage Fieldhouse
"We have seen the first class work of Eventscape through our collaboration on the Kirkland & Ellis Office in Washington, DC and the Rocket Mortgage FieldHouse in Cleveland, as well as multiple projects in design around the country and in Canada. The value that Eventscape is able to bring to the design and construction process is without question. One of the things we love about how they work is that they're material agnostic—most fabricators prefer particular materials and will push their use regardless of the desired performance or aesthetic for the project. Everyone at Eventscape is interested in getting the best product. Touring their facilities was also a designer's dream as the fabrication spaces are all meticulous, showing the care everyone at Eventscape takes with their work. The entire Eventscape crew, from sales and marketing to design delegation and engineering to fabrication and installation are incredible to work with."
—Andrew Daley AIA, Senior Associate, SHoP Architects