LOUIS VUITTON
CEILING + WALL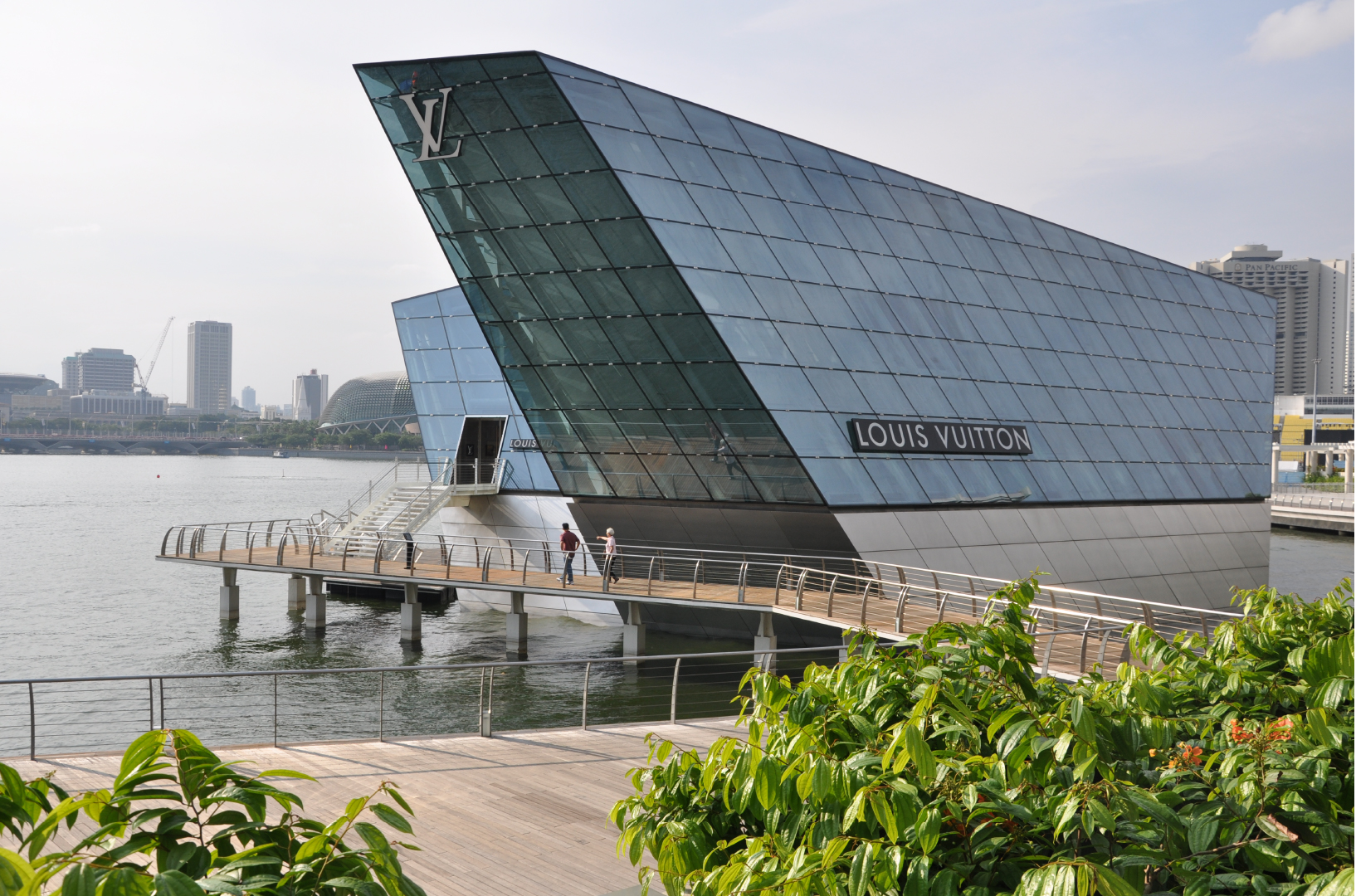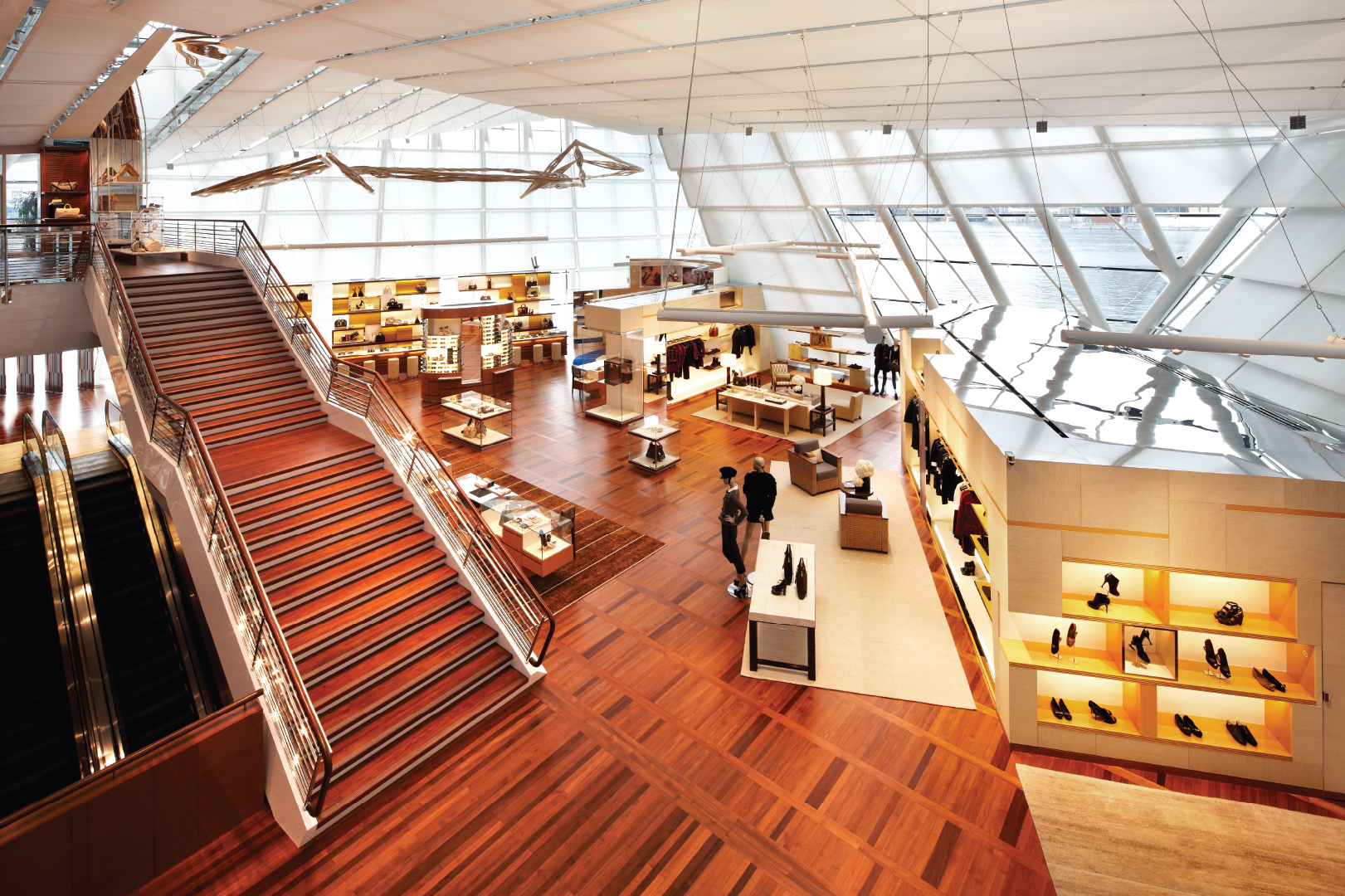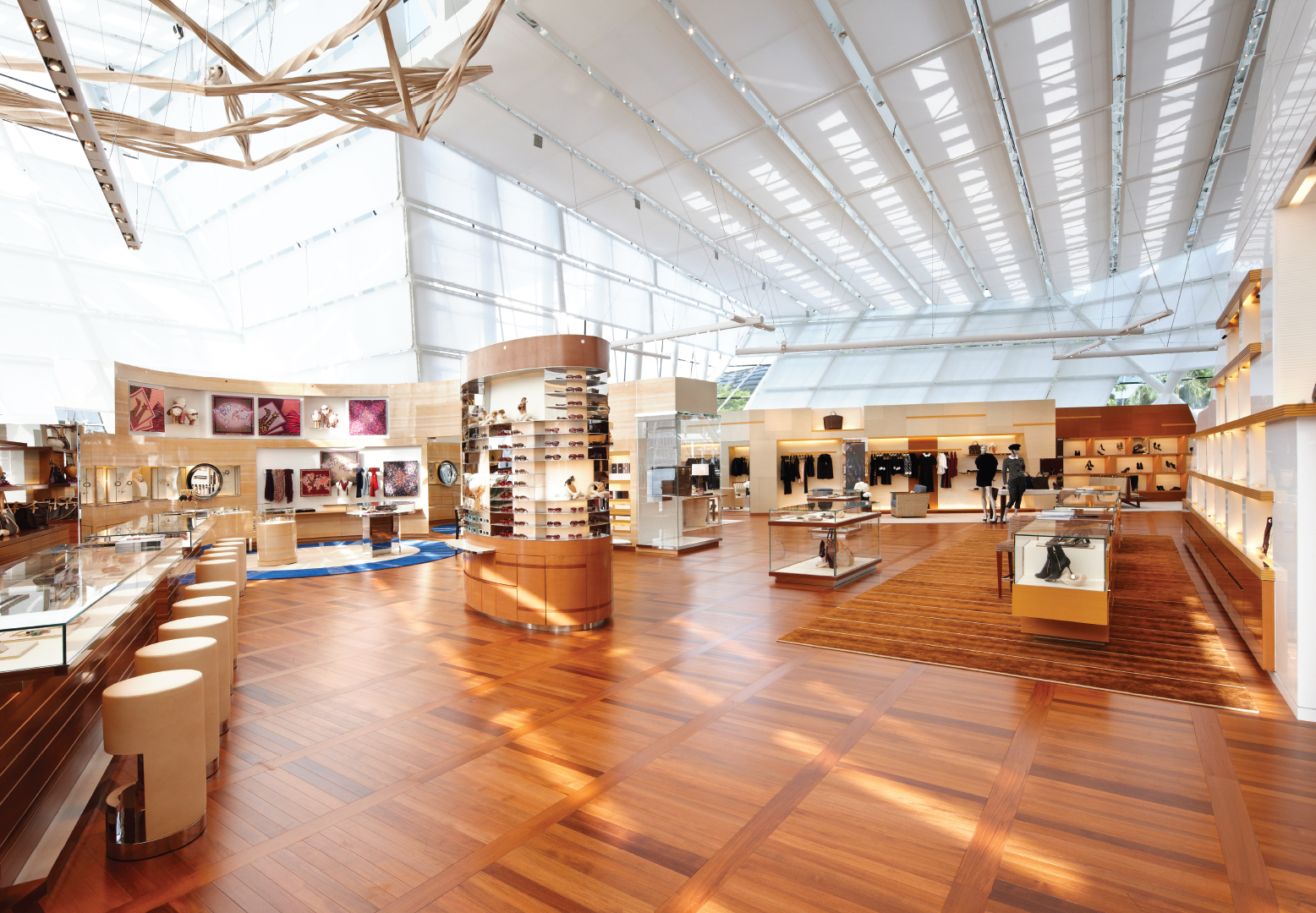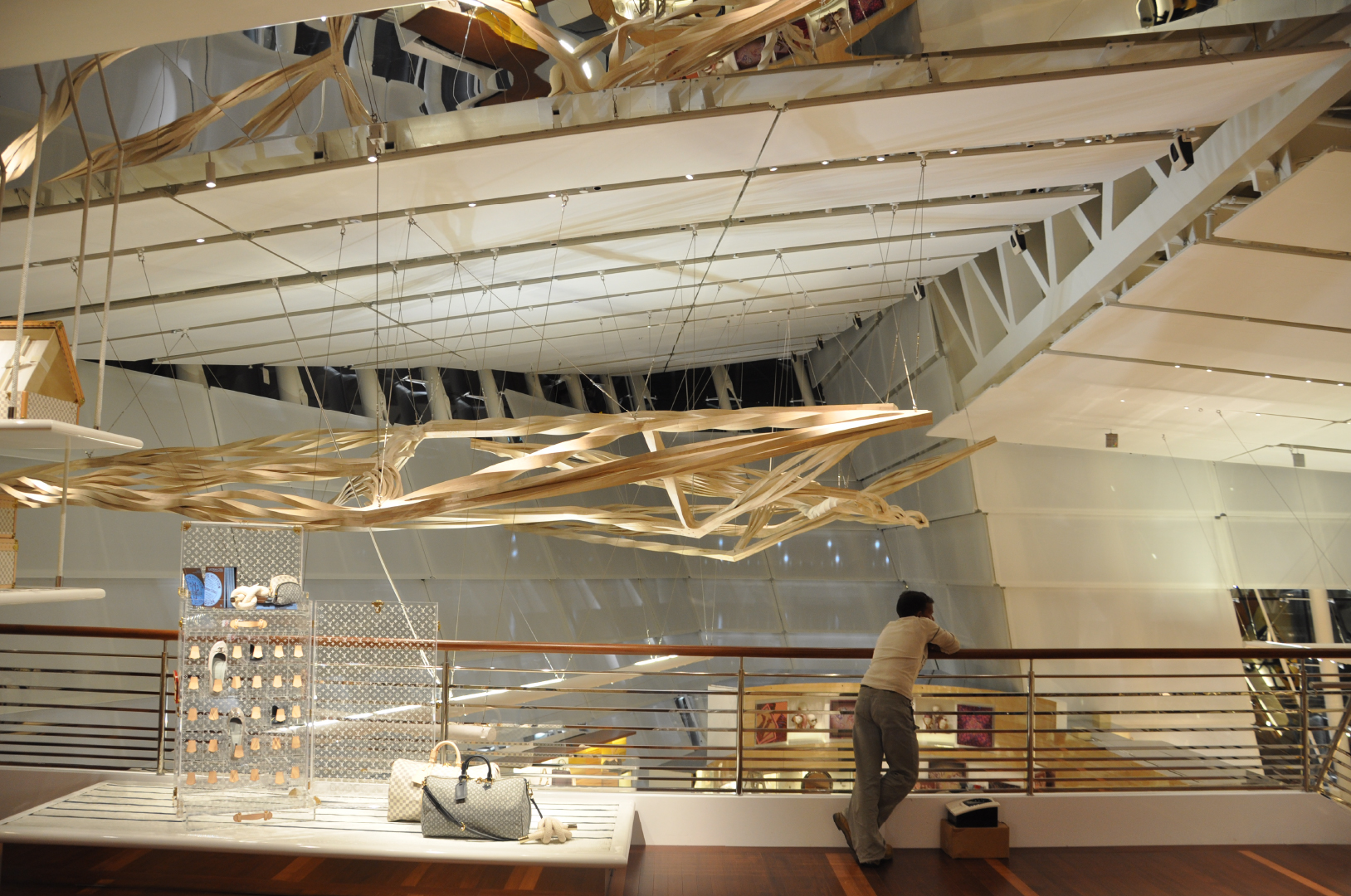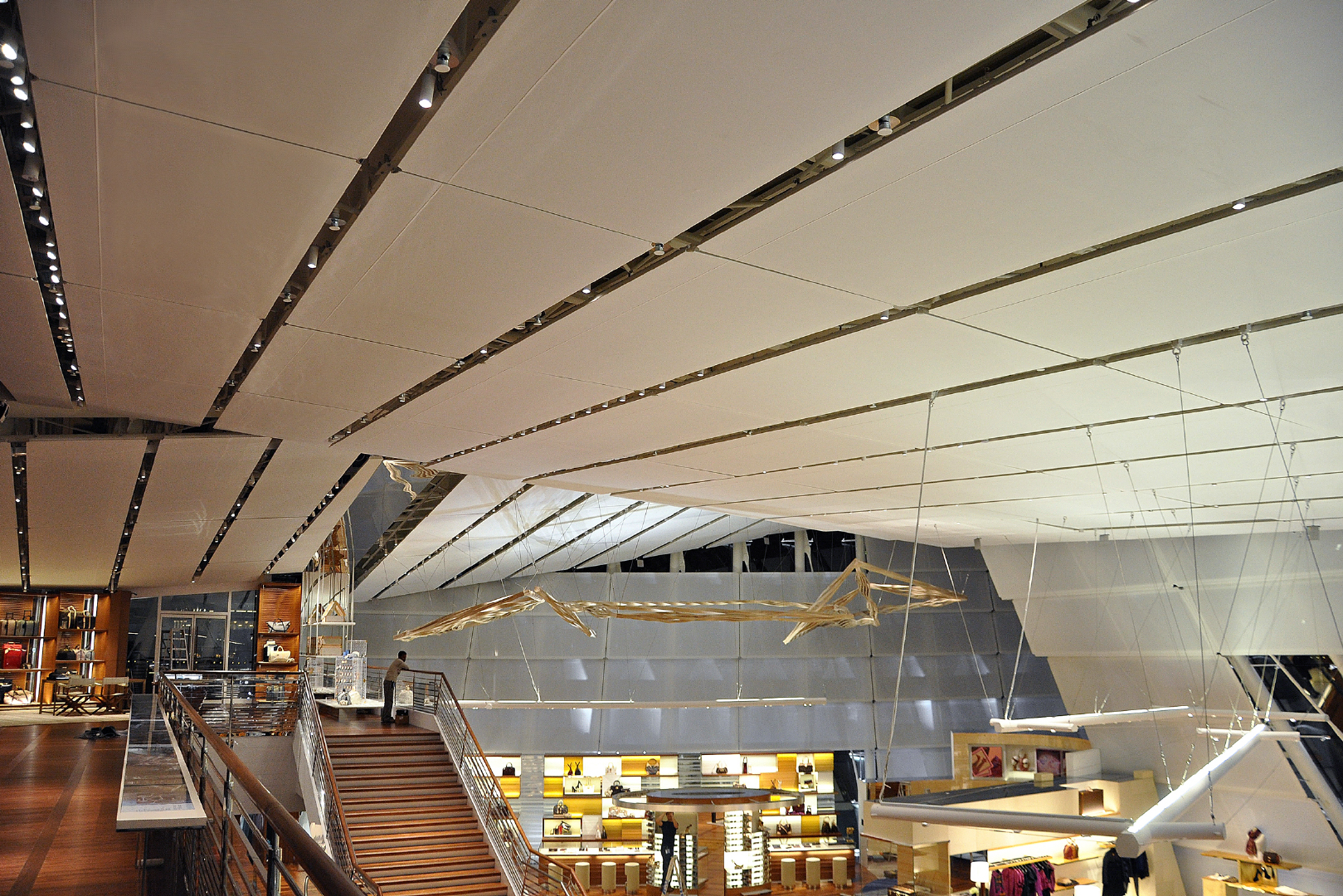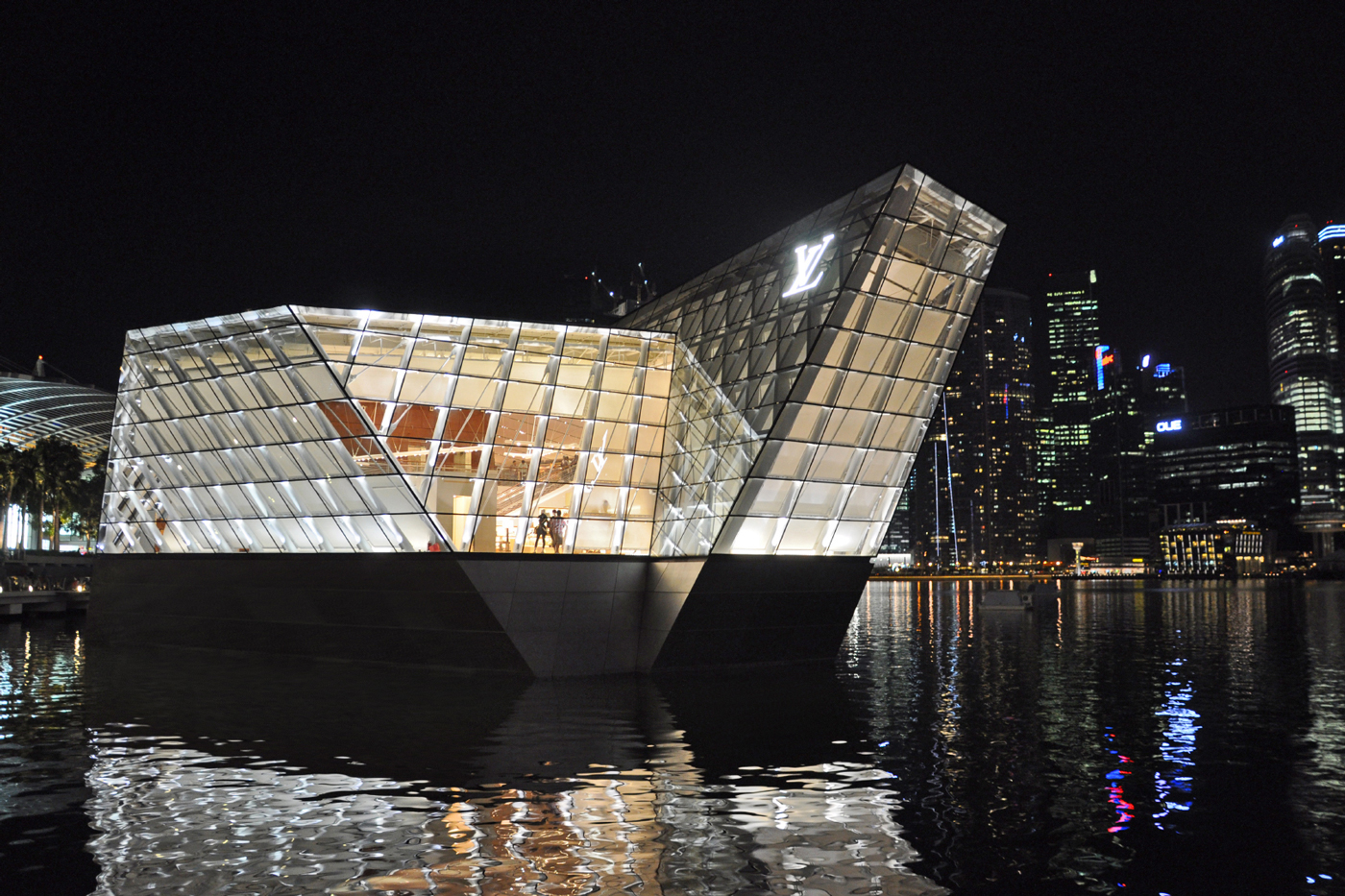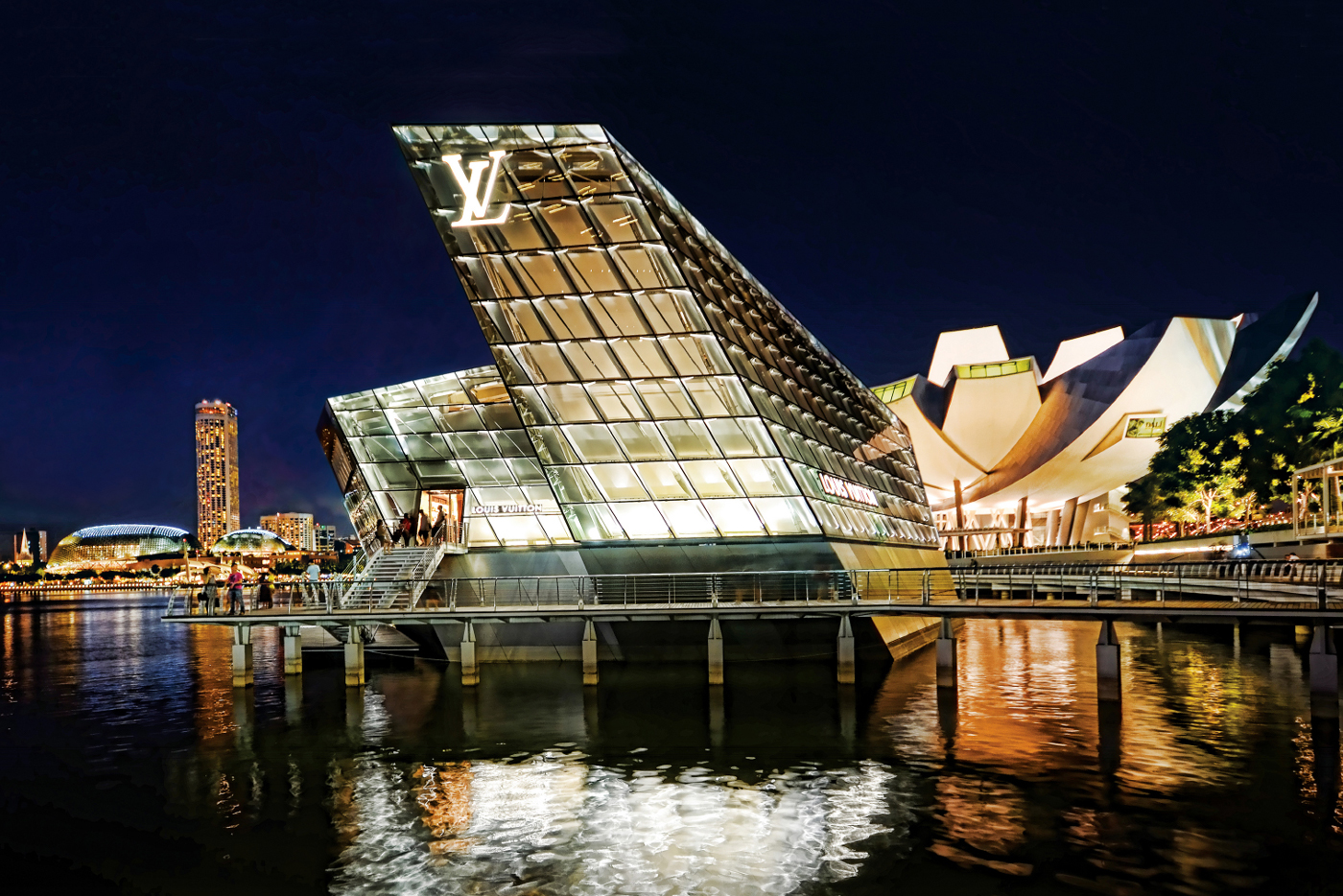 PROJECT LOUIS VUITTON
LOCATION MARINA BAY SANDS, SINGAPORE
DESIGN PETER MARINO ARCHITECT
SHADING SKIN CONSULTANT FTL DESIGN ENGINEERING STUDIO
GENERAL CONTRACTOR ISG ASIA
AWARDS 2013 EUROSHOP RETAIL DESIGN AWARDS, BEST STORE CONCEPT WORLDWIDE; 2012 IFAI INTERNATIONAL ACHIEVEMENT AWARDS, AWARD OF EXCELLENCE, COMMERCIAL INTERIORS; 2012 ARE DESIGN AWARDS, STORE OF THE YEAR; 2012 ARE DESIGN AWARDS, GRAND PRIZE, SPECIALTY STORE OVER 25,000 SQ. FT
BUILT BY EVENTSCAPE, SEPTEMBER 2011
This extraordinary island crystal pavilion is luxury giant Louis Vuitton's newest store in Singapore. Located in the beautiful Marina Bay Sands development designed by Moshe Safdie, and built of glass and steel, it is the first island maison in Southeast Asia. Louis Vuitton brought in internationally acclaimed architect Peter Marino to design the store interior from the ground up. The interior design reflects a nautical theme, consistent with both the location and the brand's historical association with travel.
The main challenge for the design team of Peter Marino and FTL was to manage the light levels within the all-glass pavilion and to protect the luxury goods from harmful UV damage.The solution was a series of over 300 unique framed panels with a UV resistant membrane skin. Covering a total area of 25,000 square feet, each custom sun shade is almost 20 feet long. Two different architectural textiles, one made of PTFE and the other glass fiber with polymer coatings were used to achieve the specific translucencies required on the walls and ceilings. Extremely durable and easily cleaned, the panels allow consistent diffused light and are positioned so that visitors are still able to access spectacular views of the surrounding Marina Bay. Tensile architecture specialists, FTL Design Engineering Studio from New York, were contracted to develop the design of the shading system and Eventscape worked with all parties to make the shades a reality.
Prototype and project development: 
FTL designed an innovative edge detail for the panels – the first of its kind – that would provide proper tensioning and maximum light penetration on the frame edges and corners. A full prototype phase allowed for a complete assessment of the panel design by all project team members prior to fabrication. Through the course of this fast track project, a highly collaborative design process with FTL allowed Eventscape to accelerate production and complete the project ahead of schedule.
Digital Site Measurements
Due to the complex geometry of the building, Eventscape conducted a digital site survey in order to create a detailed 3D model. This was used to design both the panels and the mounting system, to ensure accuracy and ease of installation. Eventscape's model information was also used by all partners as a tool for design development and to coordinate the installation of many different elements.
Custom Hardware
Working directly with FTL, Eventscape's engineering team designed a custom machined, site specific mounting system able to address the dimensional variations unique to that building type. This system allowed for repeating panel types, while still retaining tight, even tolerances throughout by permitting movement in all axes.The ceiling panels were hinged, with a cable mechanism to allow controlled access during maintenance of the skylights above.
Dedicated Fabrication Teams
Eventscape mobilized a fully customized and scalable pod based manufacturing process for this project, utilizing two shifts to maximize productivity. A CNC dual head miter saw was used to ensure accuracy and control checks were conducted after each stage to ensure a consistent high quality was maintained. Custom tables were used during fabrication to fully support the sensitive textile. This system allowed the textile to remain on one plane in a single orientation as it moved through all stages of fabrication.
International Logistics
Precise coordination of the fabrication, shipping and installation teams facilitated a staged schedule based on just-in-time delivery. Each week, 50 panels were air shipped in wood enclosed custom steel crates wrapped in polyethylene. Each panel was skinned and pre-tensioned with a film covering to prevent any marking prior to shipping. Custom waterproof protective shipping bags were designed to remain on during installation. This allowed the panels to be mounted at an earlier stage of construction, thus shortening the overall production schedule. Upon reaching this island site via boat, each panel was off loaded and installed within minutes by the contractor. On site supervision was by Eventscape.The final stage was to remove the coverings.
Successful Result
Celebrities and VIPs from all over the globe attended Louis Vuitton's grand opening of this new luxury island maison, a prestigious international gem.
"…we definitely understand that the end quality of a completed project rests on everyone on the team and as such we are careful to work with proven contractors who exhibit quality in their execution. Your team lived up to your reputation and we look forward to recommending your firm again in the future."
Nicholas Goldsmith, Senior Principal FTL Design Engineering Studio
"I greatly enjoyed working with your team. I don't believe that it could have gone any smoother…will certainly recommend you for future work and will keep communication open for future collaborations. I hope to do work with Eventscape again, your studio is truly top notch."
Matthew Hilyard, Senior Designer, FTL Design Engineering Studio