OVO Athletic Centre
CUSTOM OFFICE SPACE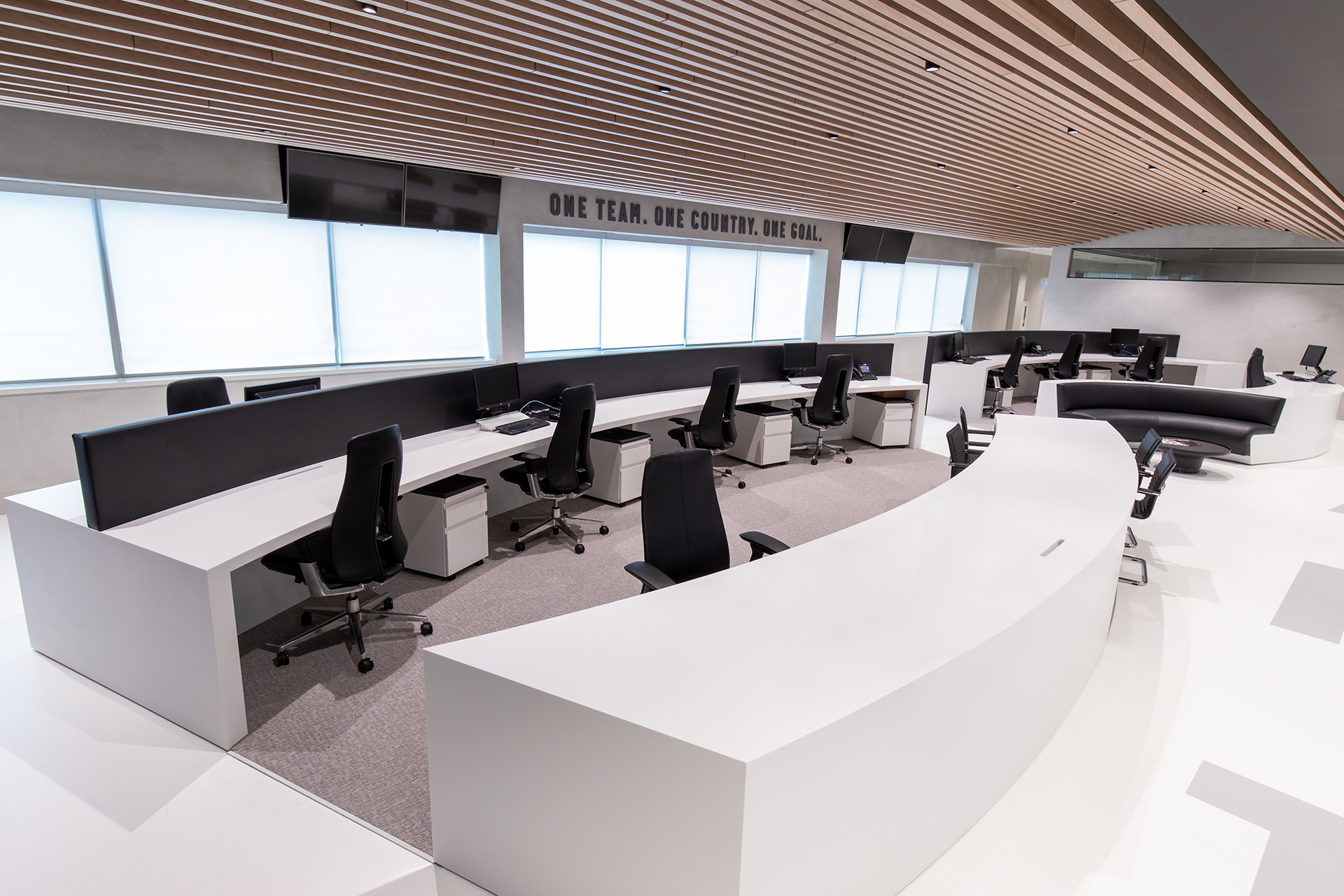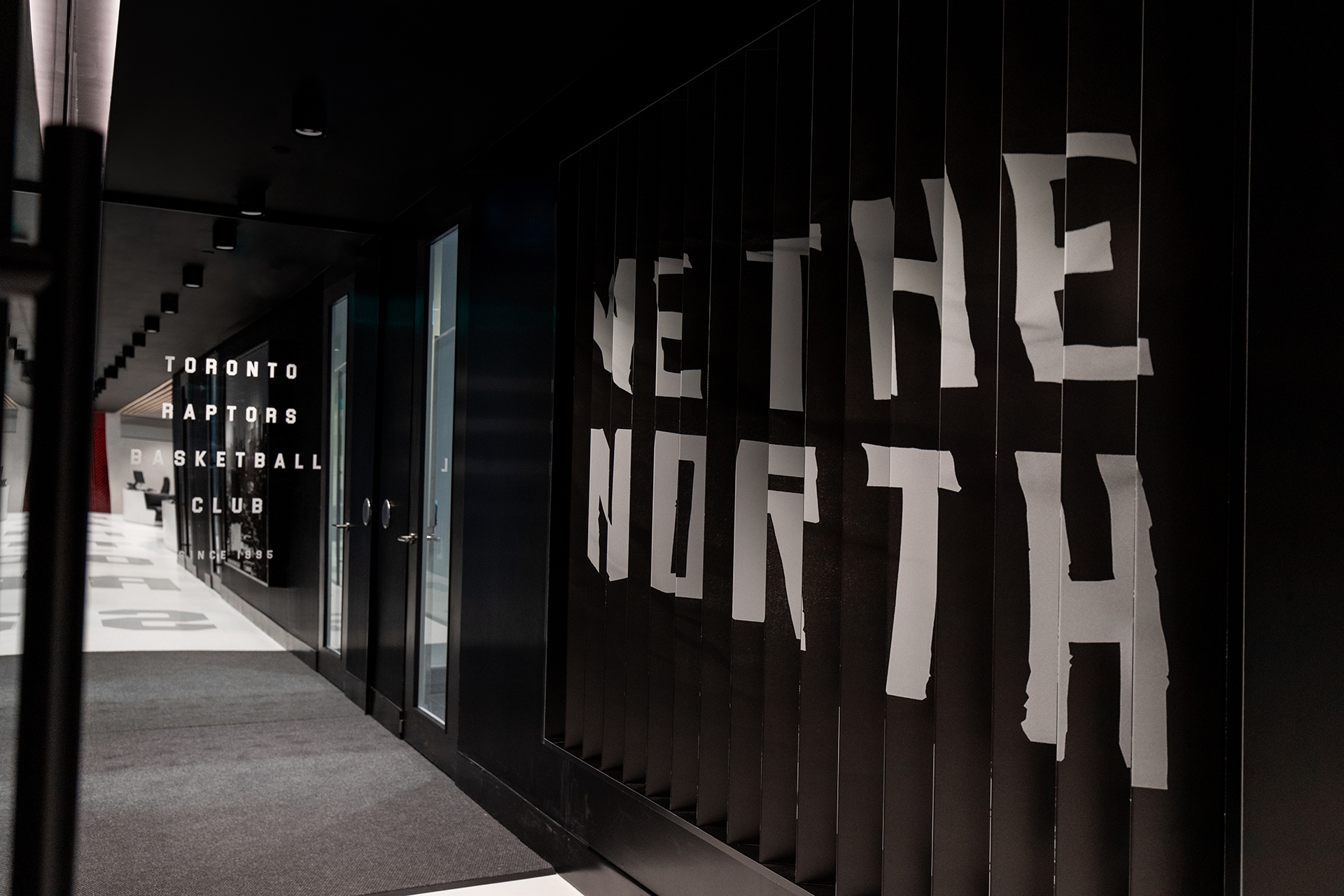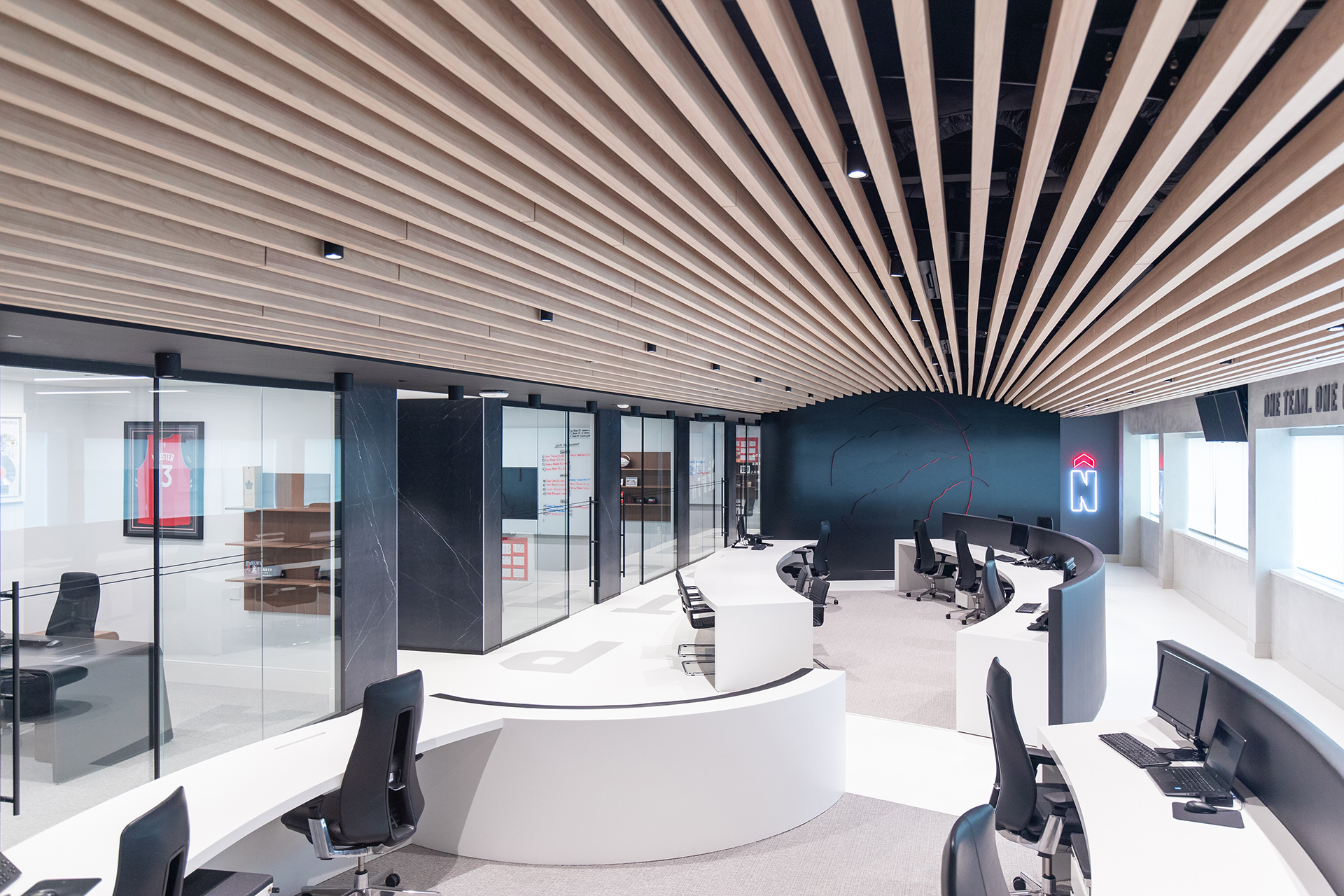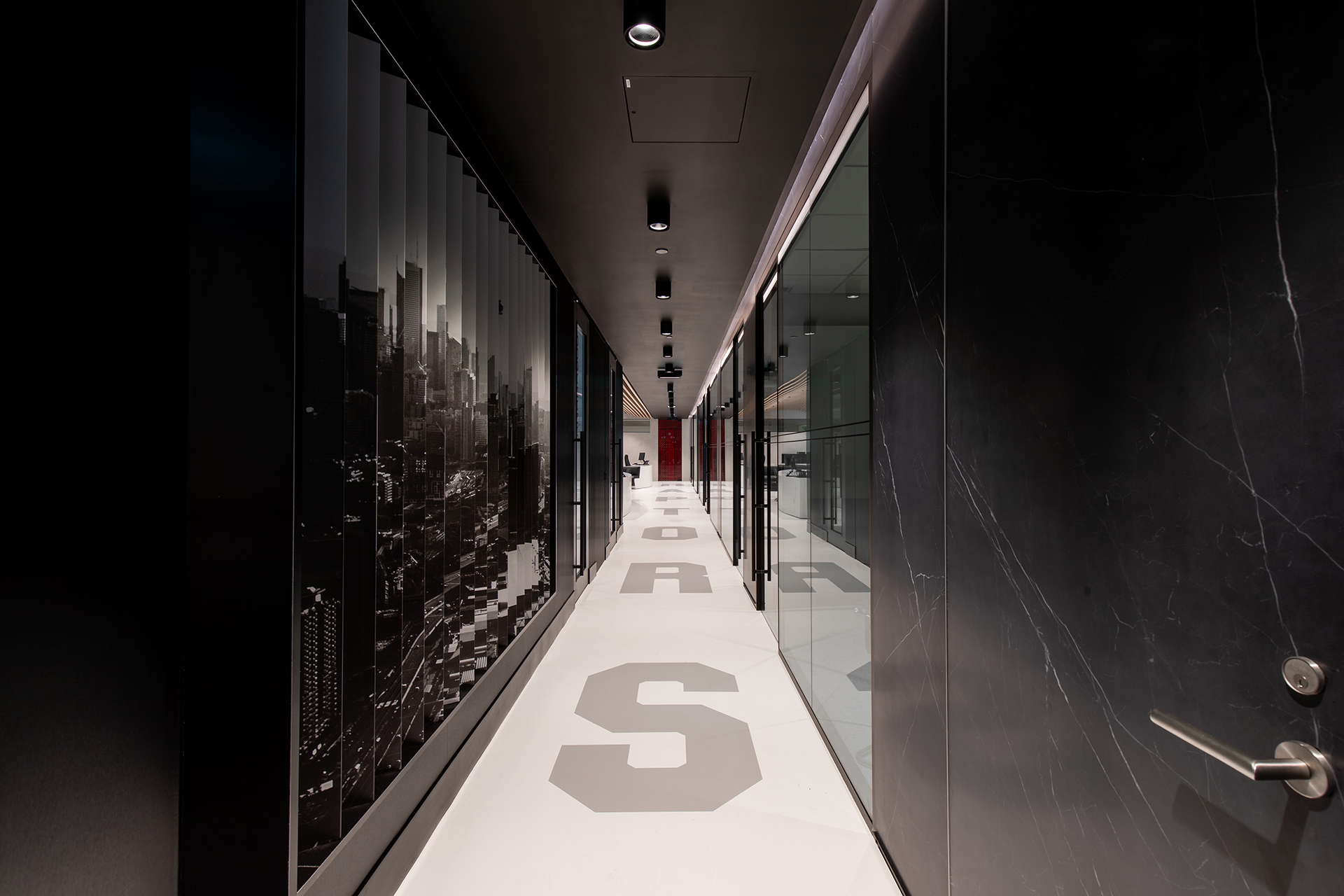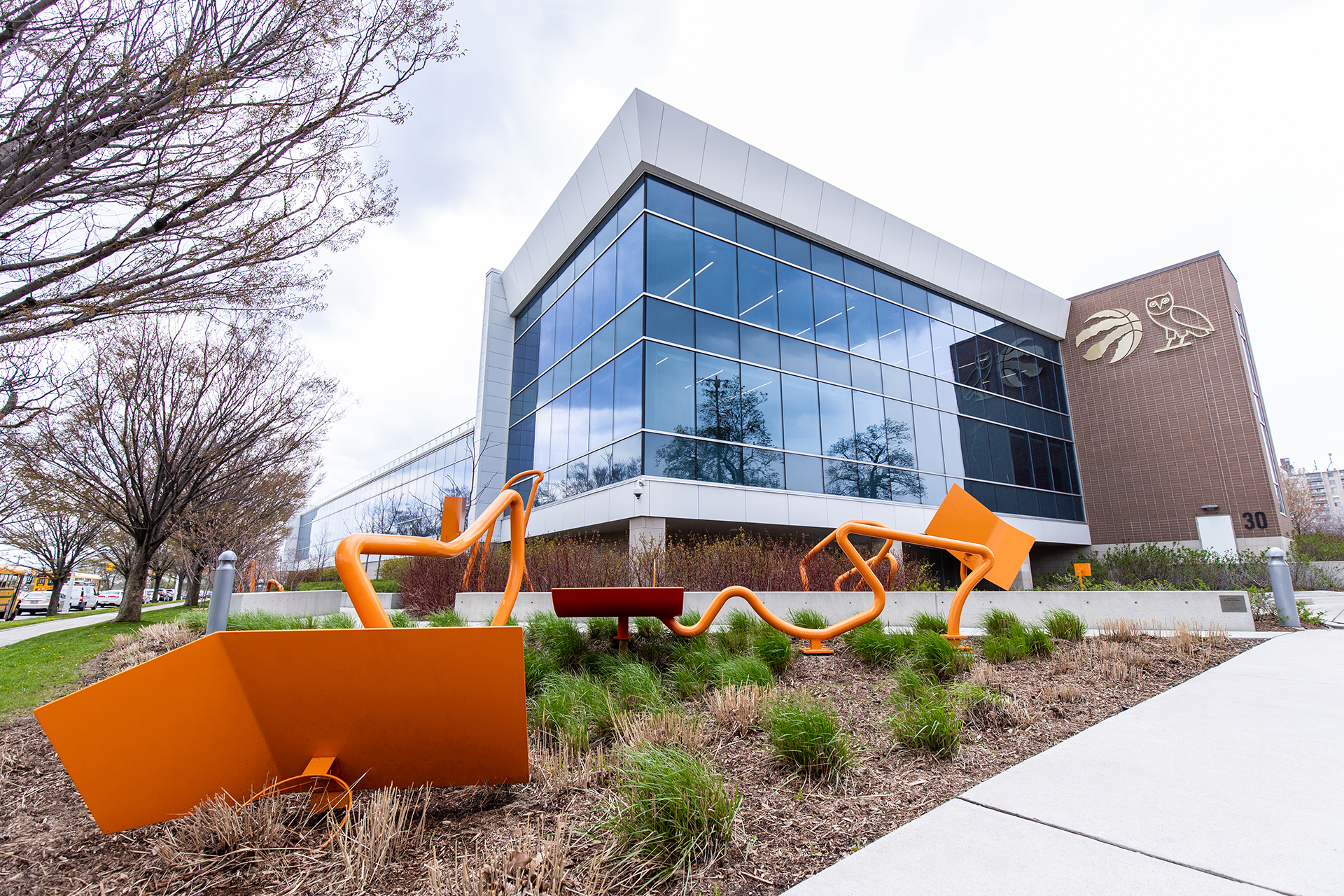 PROJECT OVO ATHLETIC CENTRE, TORONTO, ON
DESIGN STRATICOM PLANNING ASSOCIATES INC.
DEVELOPER RIOCAN
GENERAL CONTRACTOR  EBS CONSTRUCTION MANAGEMENT
BUILT BY EVENTSCAPE OCTOBER, 2018
A new branded office space was designed by Straticom for the Toronto Raptors basketball team's training facility (formerly The Biosteel Centre). Eventscape engineered, fabricated and installed the custom solid surface workstations and the custom baffle ceiling for this clean, modern design. The four alternating concave and convex curved seamless solid-surface desks have integrated cable management and curved acoustic privacy panels built of metal frame and fabric. An upholstered seating bench was also integrated. The ceiling baffles, built of dye-sublimated wood grain 2" x 6" aluminum beams, create an evenly arrayed long linear grid, spaced in a gentle S-Curve above the desks.
Unique Characteristics & Project Challenges:
To support the ceiling beams, Eventscape engineered a custom metal "comb-rib" connected to a modular strut system which fastened to the base building structure. Covering approximately 1,500 square feet, the comb-rib spacing allowed for fastening the beams with concealed fasteners while maintaining the geometric integrity of the linear beam array. Each of the connections of the 60-foot long beams were staggered to create a continuous linear effect.
Each curvilinear workstation shell was built of CNC-cut fire-rated plywood and flex-ply substrate waffle frames and were finished with a 1/2" thick heat-formed pure white solid surface skin. Where required for additional support, an internal steel frame ladder was incorporated. An aluminum kick plate base was laminated to the plywood substrate. Workstations were bolted to the floor with custom roll-form plates and corresponding anchors in the floor.
Two of the workstations incorporate integrated curved privacy acoustic panels constructed from custom laser-cut, brake-formed powder-coated aluminum framing. Custom bent batt insulation and a faux leather covering finish the panels. One of the workstations incorporates a curved bench built with a waffle frame and heat-formed solid surface finish. Faux leather was used for the upholstery finish.
The installation was challenging as this was a renovation of an existing office space. Some engineering adjustments were needed to accommodate unexpected HVAC placements/barriers in the ceiling. Eventscape provided templates in advance for all desk placement so that electrical conduits, carpets and partition walls could be positioned precisely and ensure that all ADA requirements were met. This was also an extremely tight turnaround of only 3 months from concept to completion as everything had to be completed during the Raptors pre-season.