HARBOUR PLAZA CONDOS
TREE SCULPTURES AND CIRCULAR BENCHES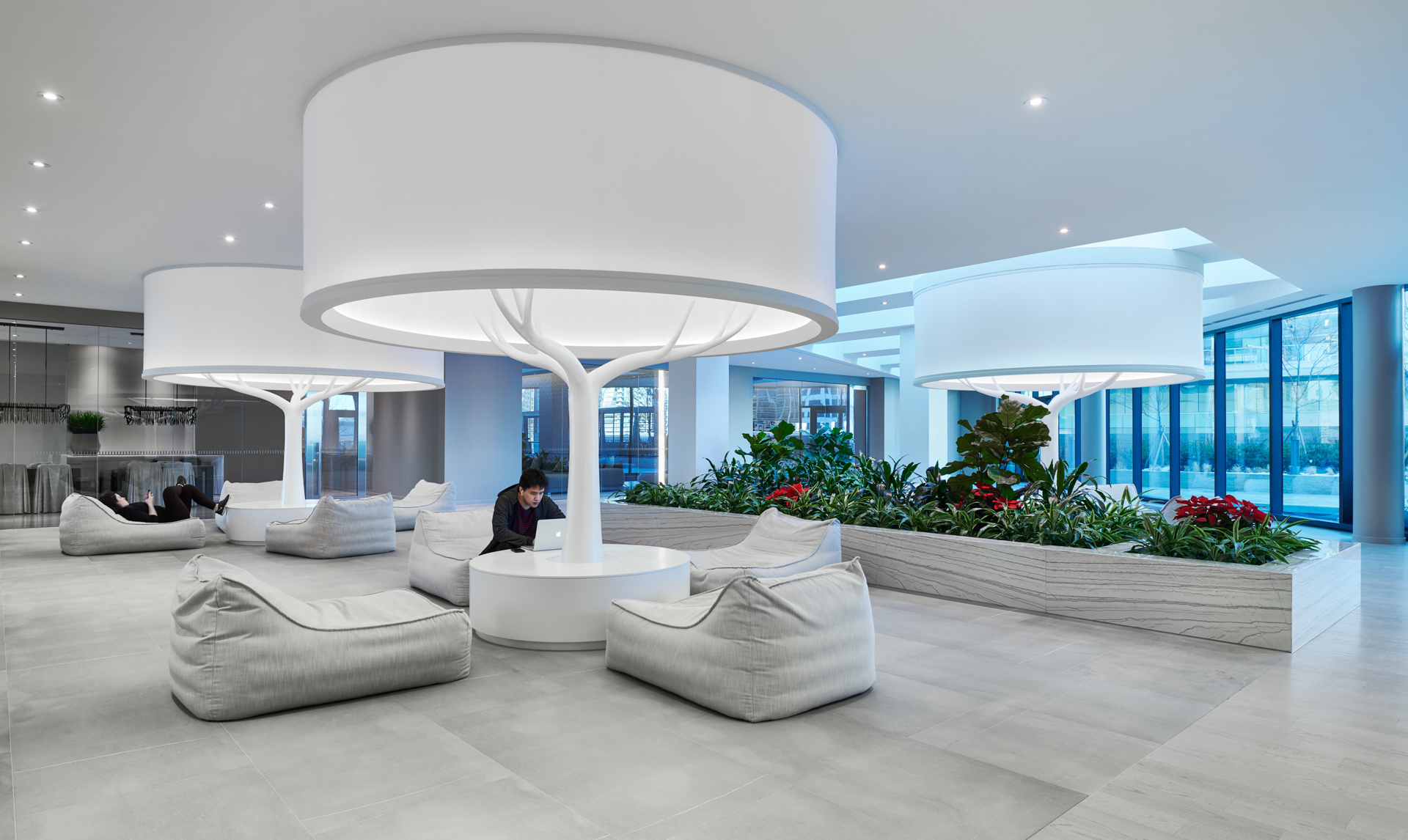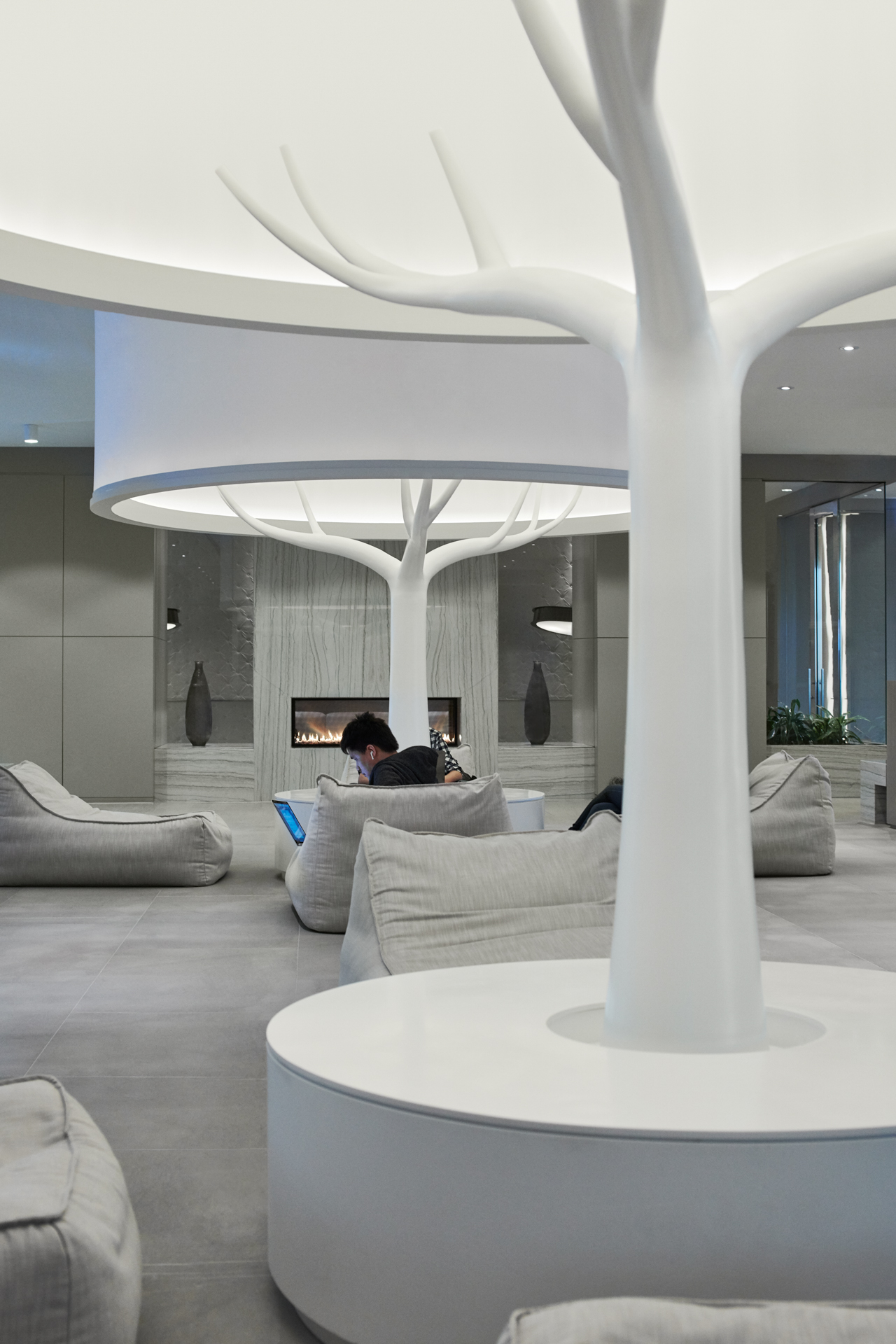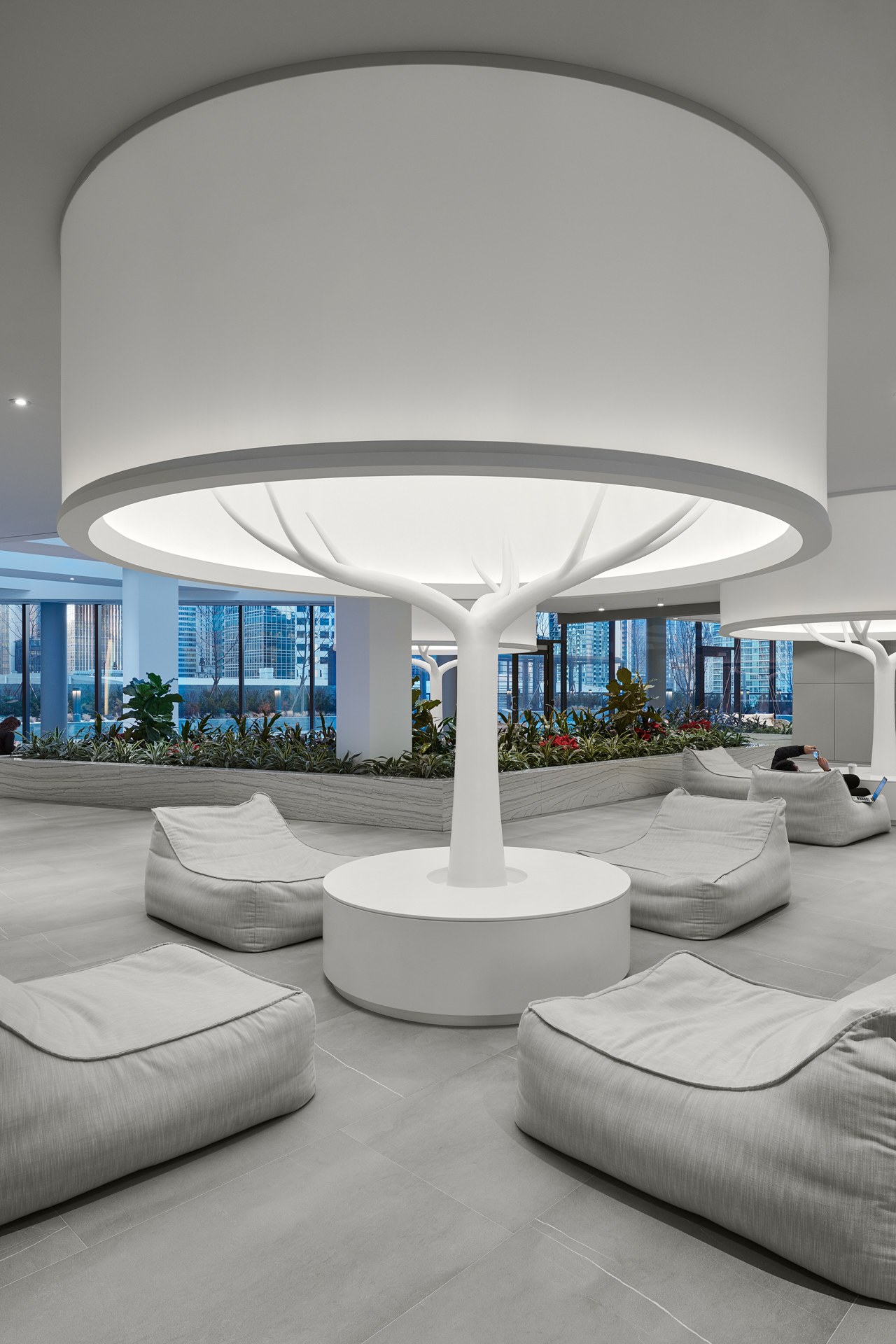 PROJECT HARBOUR PLAZA CONDOS, AMENITIES – TREE SCULPTURES AND CIRCULAR BENCHES, TORONTO, ON
DESIGN CECCONI SIMONE
DEVELOPER MENKES DEVELOPMENTS
PHOTOGRAPHY STEVE TSAI
BUILT BY EVENTSCAPE, OCTOBER, 2017
Cecconi Simone brought the outdoors in with three elegantly sculpted trees, sprouting from circular white benches for this new condo's amenities space located in downtown Toronto. At eight feet tall and ten feet in diameter, plus electrical and USB connections incorporated into the benches, they create a focal point where condo owners can gather and relax. The exterior amenities space is visible through the floor to ceiling glass windows, where lush vegetation and trees continue this comfortable area.
Unique Characteristics & Project Challenges:
During initial development with the client, it was determined that this was to be a figurative rather than a literal tree form. Eventscape researched using CNC-cut MDF, foam as well as fiberglass. Fiberglass was established as the most appropriate material, as there were enough repeatable components and it would give the most durable finish.
Each of the three trees were fabricated from fiberglass in four parts; a trunk with central node and three identical branches. There is a steel structural frame sleeved into each trunk and secured to the concrete slab floor through an anchor plate. Brackets and plates were incorporated inside the fiberglass trunk to secure it to the central steel post.
A mold was created for each element, but in order to make each tree look unique, each of the branches were incrementally rotated in the center node. Each center node had a 30 degree rotation in plan on the trunk.
To create the tightest joins possible, additional fiberglass was added, then pre-assembled, matched and labelled for each tree. Custom hardware was fabricated to assemble these branches and then mechanically secured. The final finish was a catalyzed lacquer matte paint.
The circular bench was built with an internal waffle frame fabricated from CNC-cut plywood. The top and sides were fabricated with formed white solid surface and joined on site to create a seamless finish. Conveniently located in the centre aluminum pan,  three electrical and USB charging stations provide guests easy access for all their mobile devices.