COTY FUME SCENT LOUNGE
COMPLETE INTERACTIVE BRAND ENVIRONMENT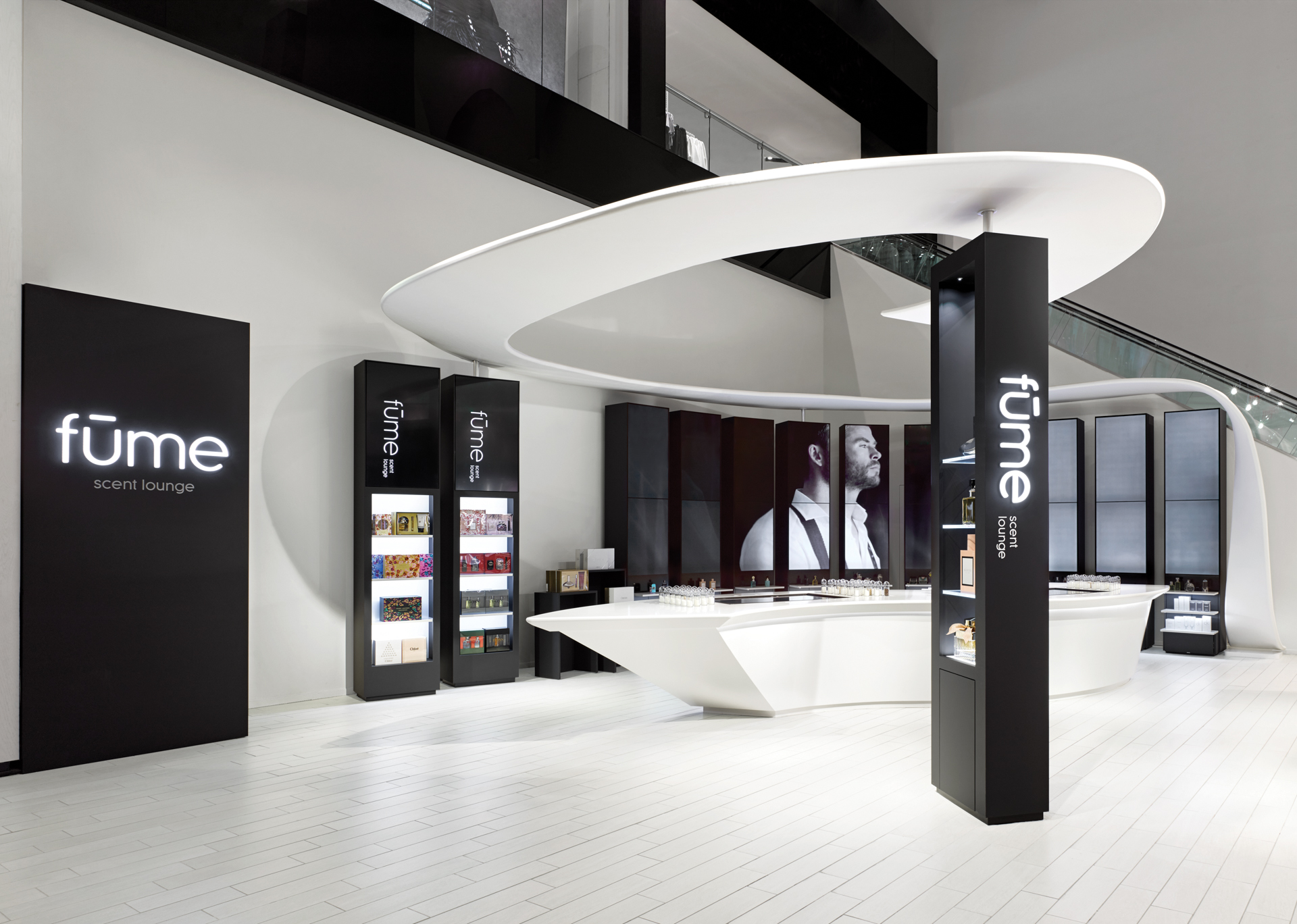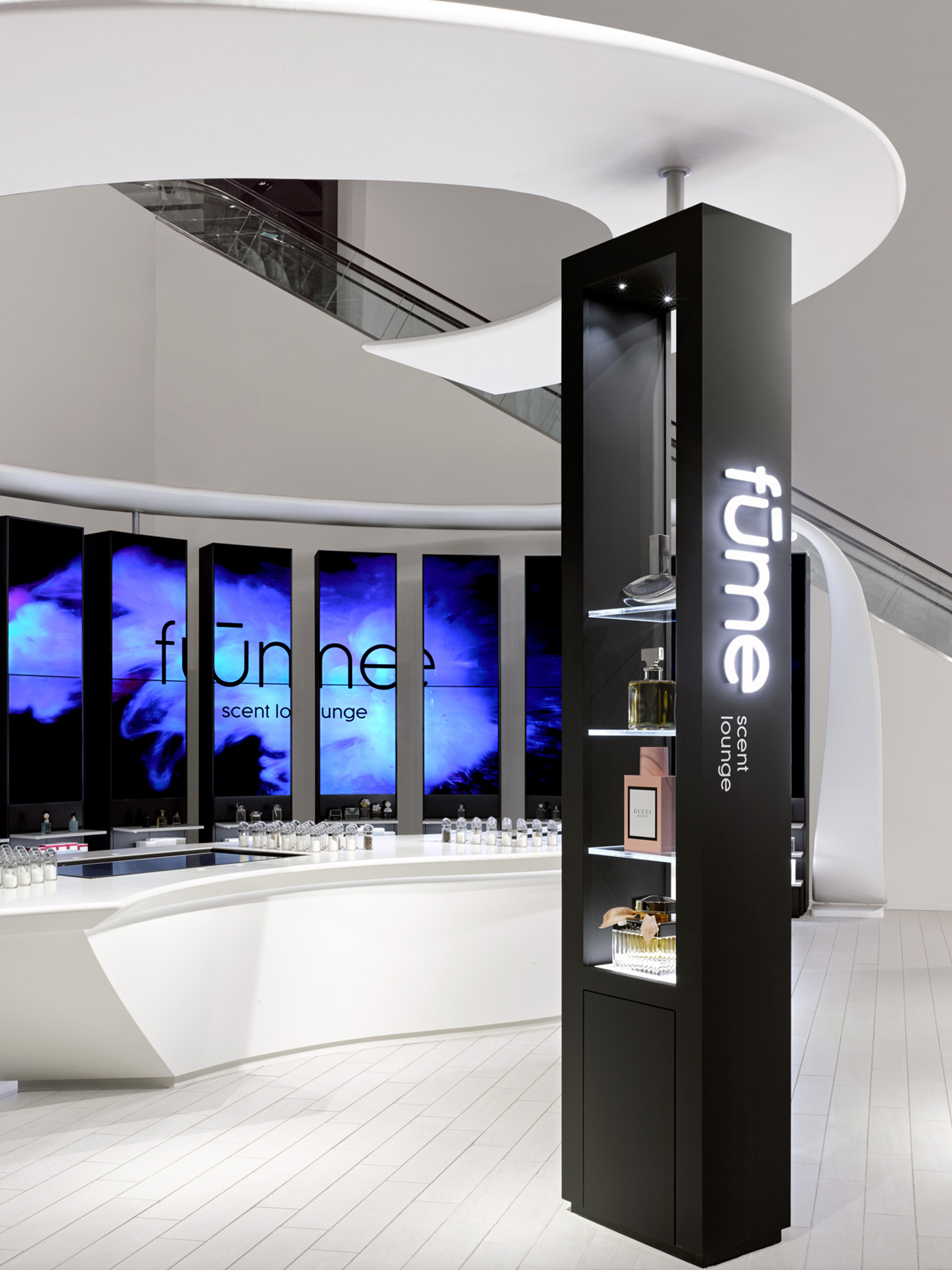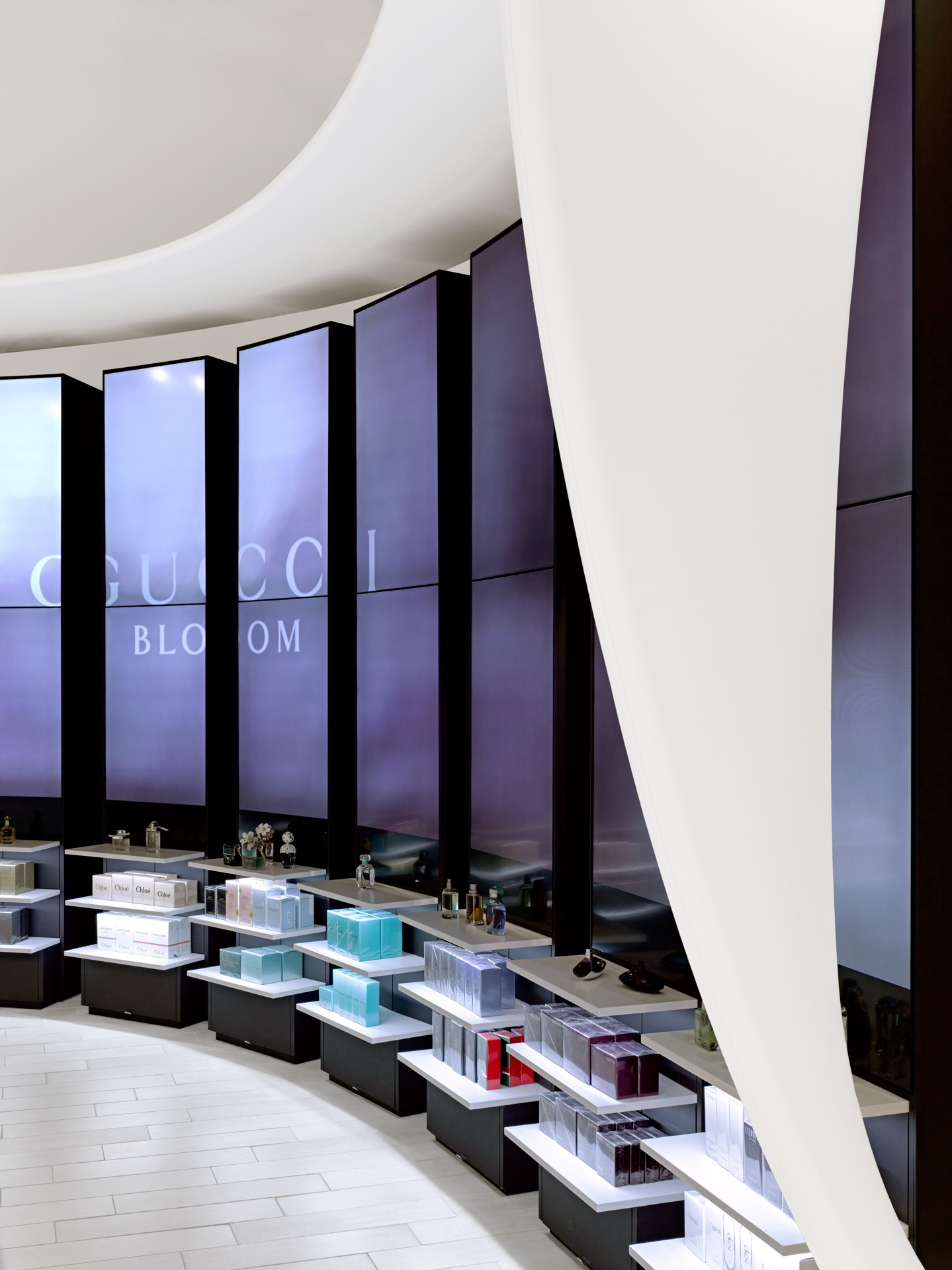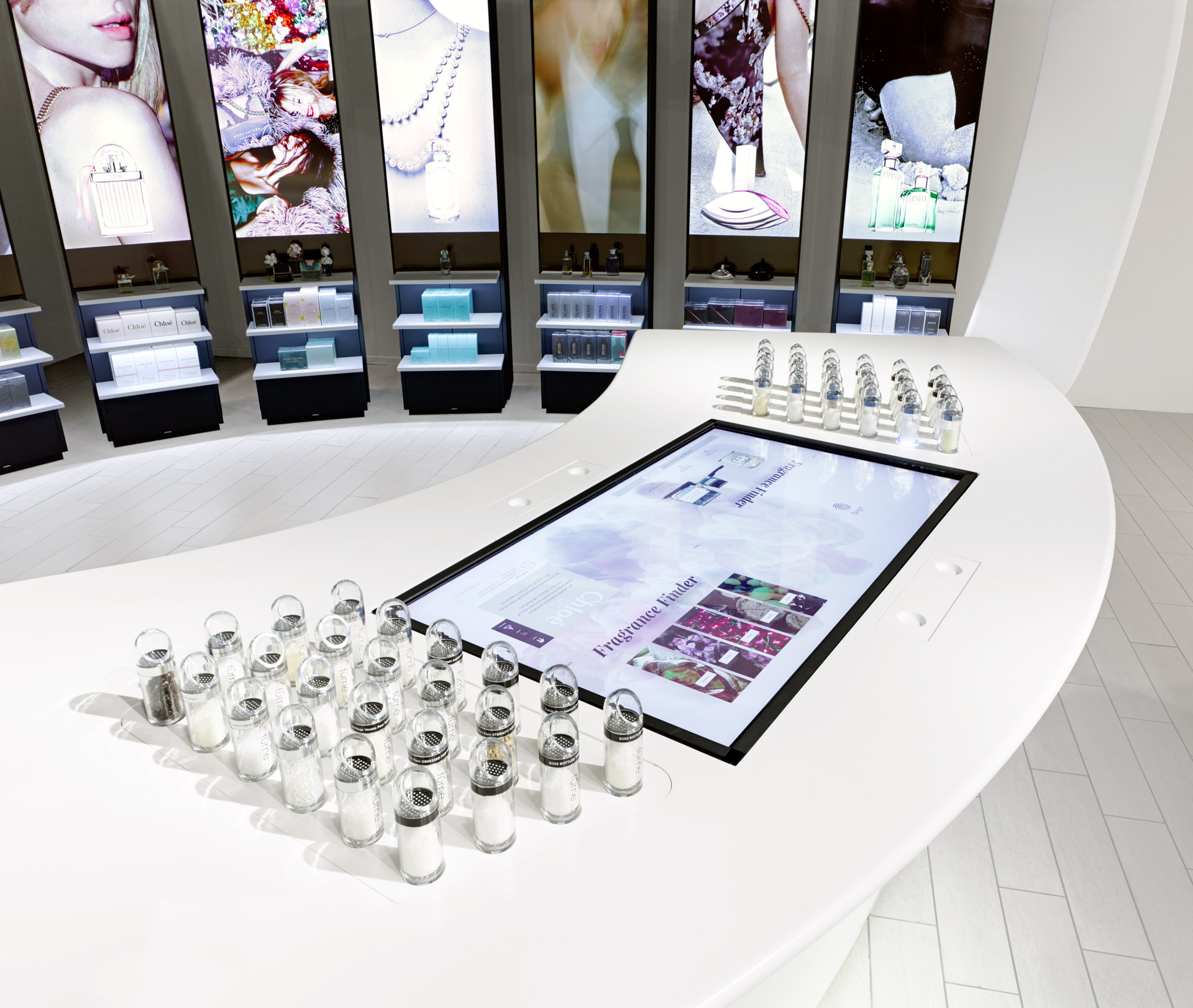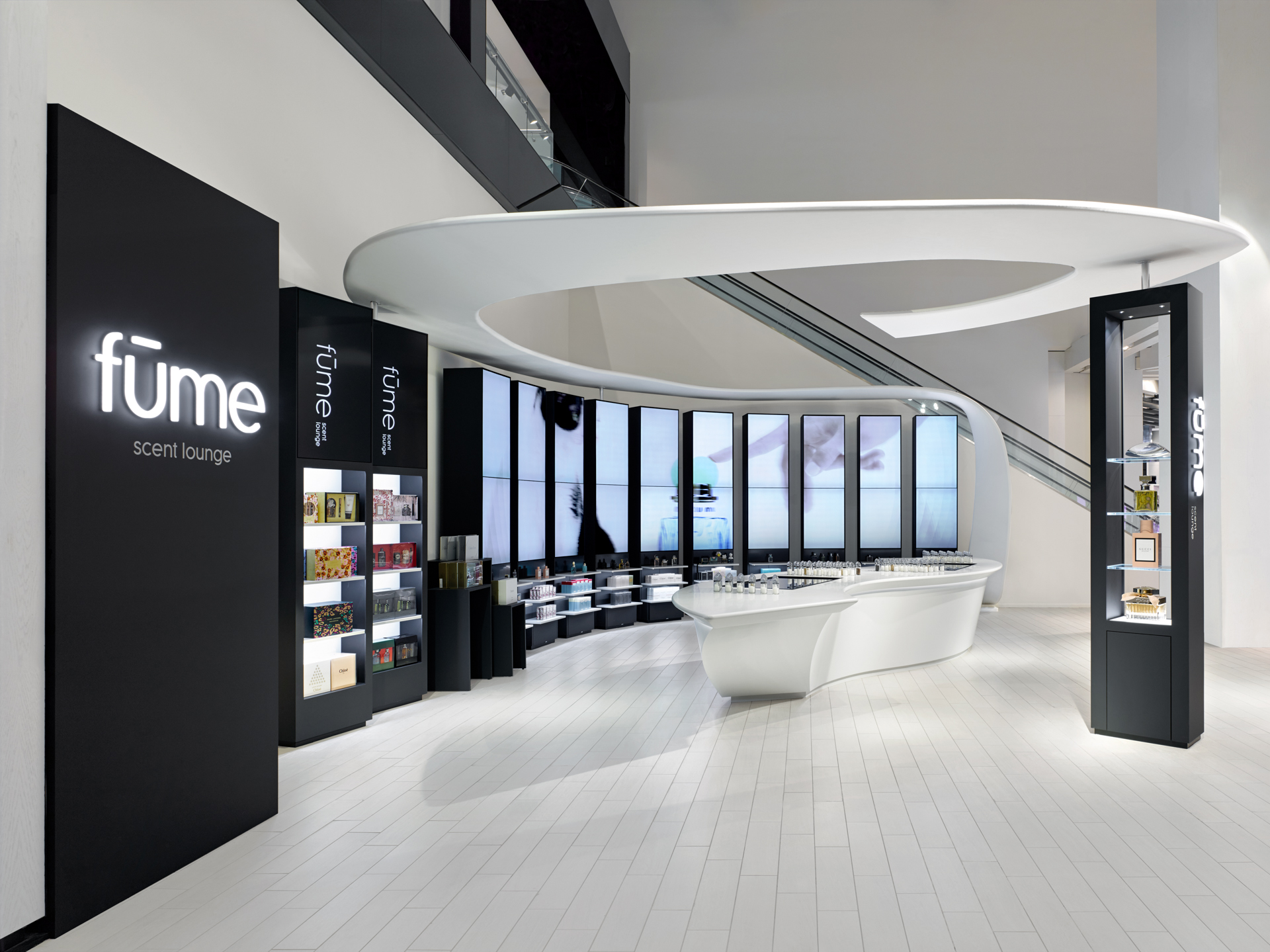 PROJECT COTY FUME SCENT LOUNGE, HUDSON'S BAY, YORKDALE SHOPPING CENTRE, TORONTO, ON
DESIGN DKSTUDIO ARCHITECTS INC.
PHOTOGRAPHY BEN RAHN, A-FRAME STUDIO
BUILT BY EVENTSCAPE, NOVEMBER 2017
Following the successful completion of the fabrication and installation of two store facades designed by DK Studio, the designers approached Eventscape with a new experiential retail concept for Coty, one of the largest beauty companies in the world. Coty's Fume Scent Lounge is the first of its kind in the world and introduces a custom digital scent technology to give customers a new way of experiencing fragrance.
Eventscape was contracted to engineer, fabricate, and install all the elements that make up this unique feature: a complex curved interactive bar with integrated digital screens, a curved fabric canopy, ten stand-alone digital towers with shelving and three additional towers with internally lit product display. With multiple materials, complex curves, integrated media and lighting and a tight timeline, this shop-in-a-shop retail project opened successfully with a major media launch in November providing customers with an exciting new shopping experience.
Unique Characteristics & Project Challenges:
The elements of this environment were produced from various materials including steel, aluminum, solid surface, MDF, plywood, fabric, glass, acrylic, high density boards, and laminates. Each material was used to their strengths and were chosen based on location (ground vs ceiling), function, performance requirements and the form/shape required.
Central Bar
The design of the central curved display bar was an extremely complex geometrical shape with double curves and an exaggerated cantilever. At almost 22-feet long, 5-1/2 feet wide and 3-1/2 feet high, this feature required an internal wood sub-structure which was clad with heat-formed solid surface material. Lockable drawers were integrated into the curved sides. The cantilever was made possible using a specialized high-density material and 5-axis milling. To create the edge curvature on the bar base, nine layers of ½-inch thick solid surface were built up and milled into the smooth contours, using a combination of CNC and hand finishing. The 4-inch thick top, built of solid surface with a beveled edge, required a custom steel lifting jig to install on the base. Inset custom digital screens in the bar top provide immediate customer feedback on selected fragrances by using custom Coty shaker bottles (non-spray inhalers). The innovative technology provides an advanced way to experience fragrances without being overwhelmed by their scent.  The shaker bottles are placed on a backlit solid surface reader, providing all pertinent information on the selected fragrance, digitally displayed on the screen. The customers have a sleek, modern multi-sensory environment to experience perfumes, one that appeals to the new generations of discerning shoppers.
Towers
Surrounding the bar, Eventscape built ten identical towers cleverly engineered with an internal structure that resist lateral loads, while supporting the canopy above. Clad in a premium matte black laminate this durable material was chosen for its resistance to scratch/heat/shock and fingerprints. A cantilevered low profile thin edge detail surrounds each of the integrated digital media screens. This detail minimized the screen borders for a more continuous digital image. Product display shelving was made out of  ¾-inch white solid surface, milled to accommodate custom LED lighting, illuminating the merchandise. Three additional towers were built — two with back-painted glass backers and lit solid surface shelves. The third feature tower was an open millwork unit with side lit glass shelves as well as recessed down lighting above and the brand logo on the black laminate cladding. All towers incorporated discreet lockable storage in the base.
Canopy
The form of the curved canopy was inspired by a "scent fume" mist and built with an aluminum frame and a pillow cased white leatherette fabric covering. The fabric covering incorporates zipper fasteners running along the metal spine which allows it to be removed for transport or repairs in the future. The 54-foot running length of the double-sided textile skin was expertly templated to create a taut, wrinkle-free surface. Despite its scale, the canopy has no hang points, and is cantilevered in three locations from the towers. It was finished with solid surface kick plates at each end for durability.
Installation
All the components were designed with custom engineered lifting solutions, which allowed for a streamlined installation using a 2-ton spider crane. All pieces were manufactured and pre-finished in the Eventscape production facility. In addition to an expedited install, the dust, odor and debris typical of installation processes were eliminated. This was extremely valuable in this project as the integrity of the delicate digital components remained uncompromised, minimal hoarding was required and neighbouring shops were able to continue with business as usual.