KENNEDY UNIVERSITY HOSPITAL
GREETER DESKS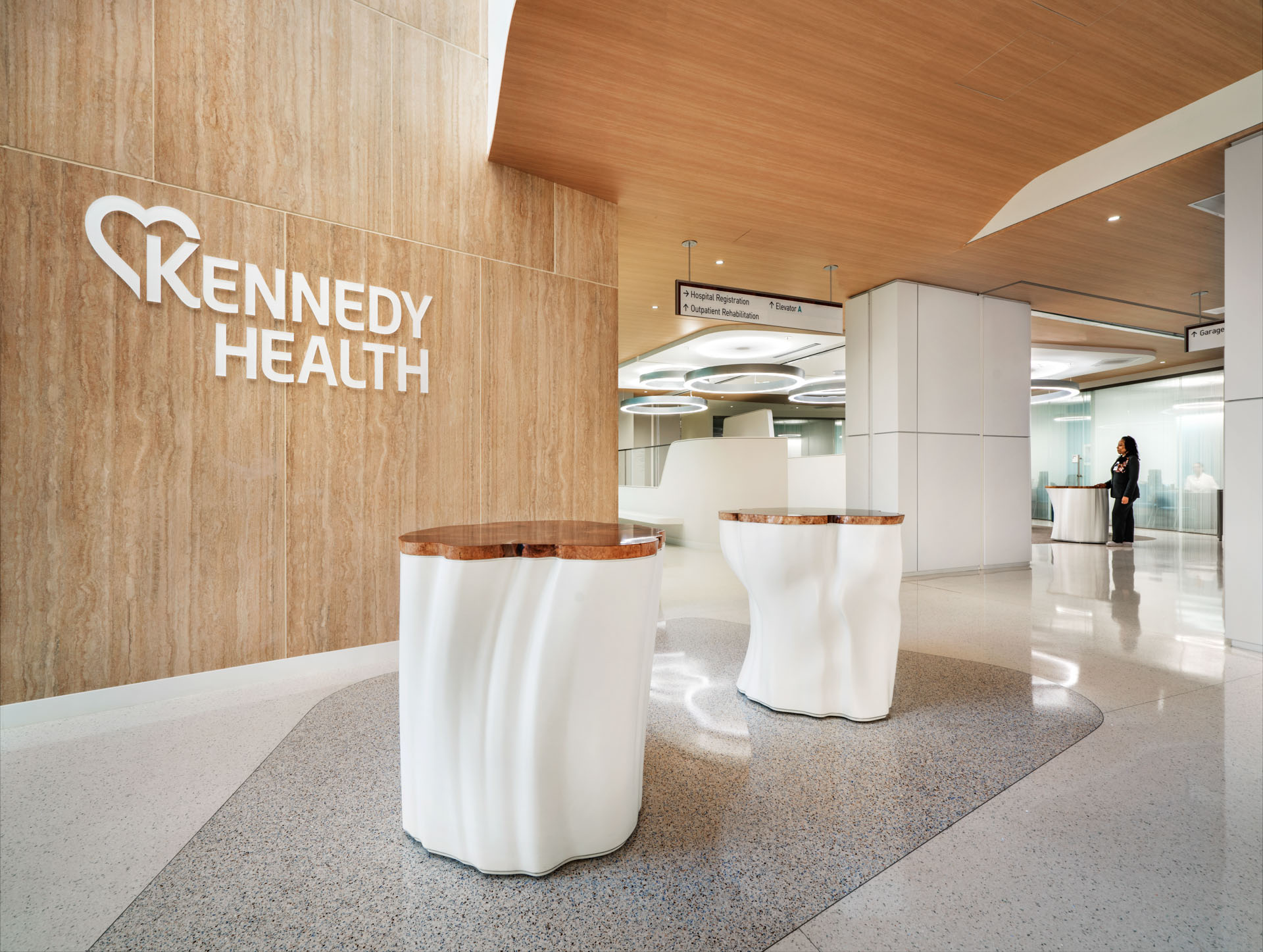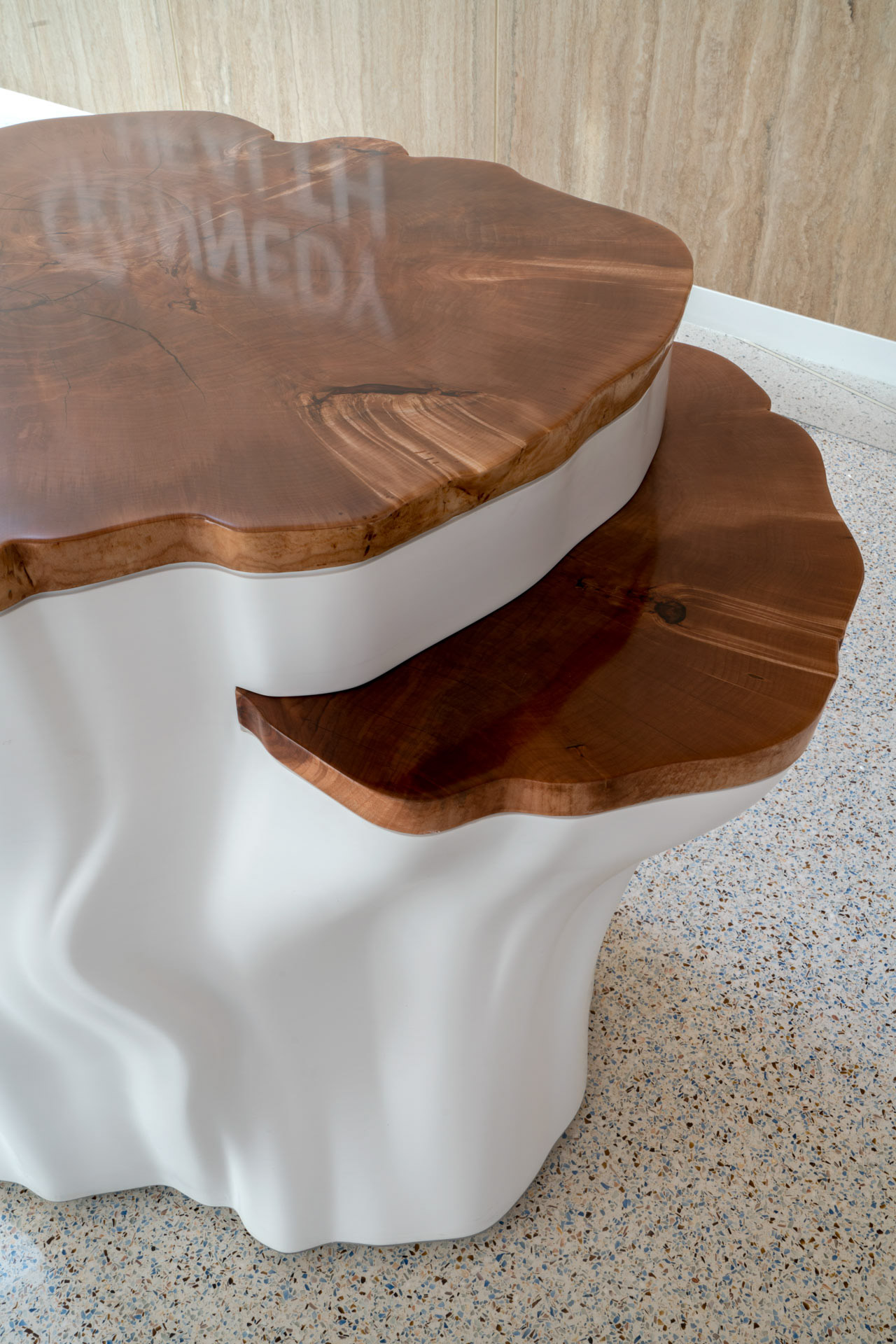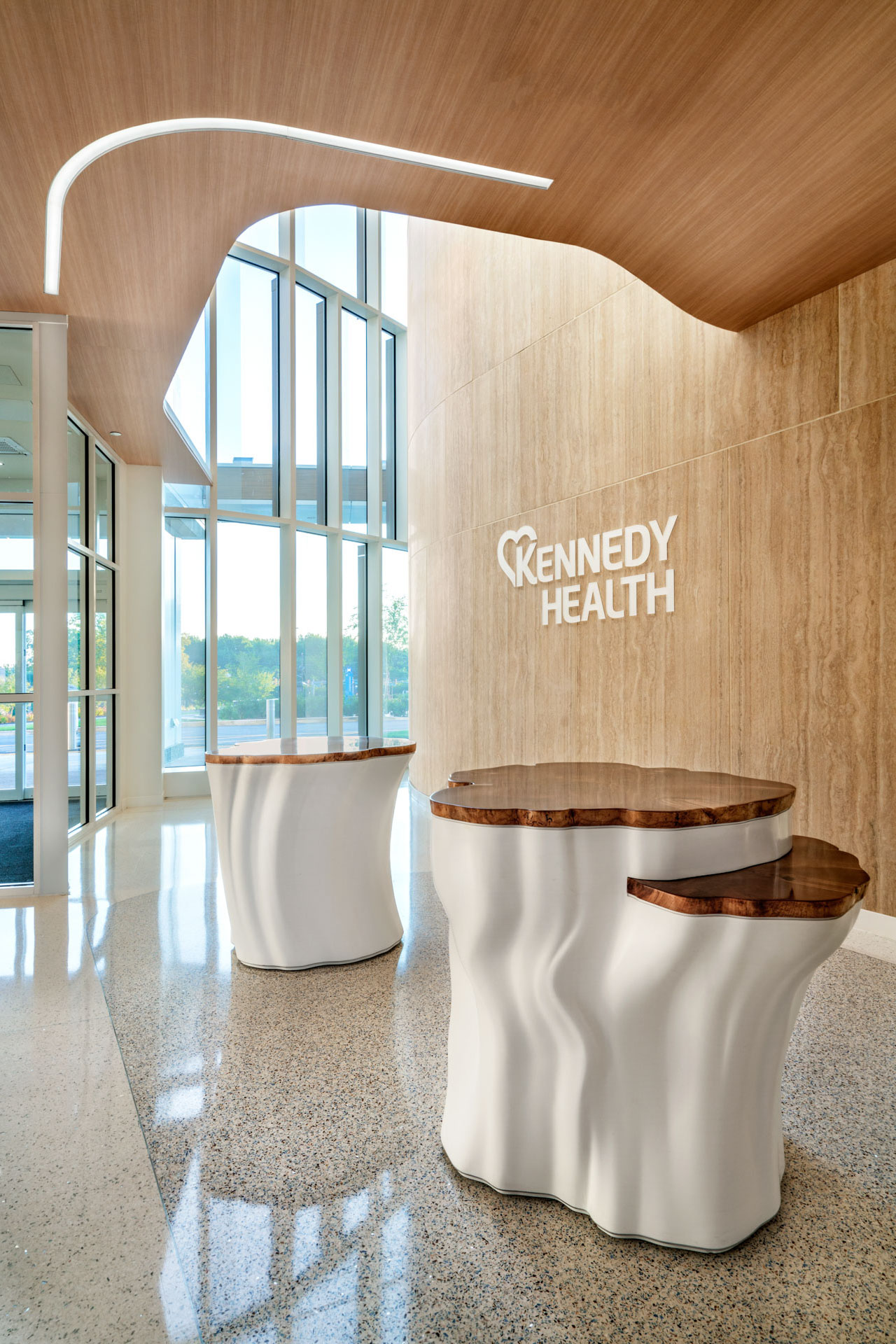 PROJECT KENNEDY HEALTH UNIVERSITY HOSPITAL, CHERRY HILL, NJ
DESIGN EWING COLE
GENERAL CONTRACTOR THE NORWOOD COMPANY
PHOTOGRAPHY TAYLOR PHOTOGRAPHICS
BUILT BY EVENTSCAPE, APRIL 2017
Eventscape was contracted to engineer, fabricate and install three custom millwork greeters' desks at the renovated Kennedy Health Hospital. Designed as a composite representation of tree trunks, the tops were built of actual 3-inch thick by 36-inch diameter solid maple wood medallions. Each of the desk designs were unique, based on the natural curves of the tree medallions which were then translated into a CNC milled solid surface base. One of the desks had a two-tiered top to create a service transaction top. Eventscape's challenge was to engineer a natural-looking form using a CNC machine and solid surface material.
Unique Characteristics & Project Challenges:
The large wood maple medallions – each from 100-year-old trees- were a challenge to source. After discovering several pieces; all dried for a minimum of 25 years, the next task was to narrow down the options to medallions that did not have too many deep contours on its perimeter since that would have made fabrication of the base impossible. Several medallions were stripped of their outer bark and milled flat on both sides. Each piece was 3D scanned entirely creating a perfect digital representation of the medallion top. Eventscape designers used this scan to model the piece in 3D to show how the contours would appear when translated down the base.
The three chosen medallions were sent out to be kiln-dried to extract any remaining moisture. Since maple is a natural wood, additional expansion or contraction could happen in the future. To accommodate this, a CNC milled "bow-tie" wood expansion joint was embedded in the medallions and the rest of the opening filled with epoxy resin. Multiple layers of epoxy resin were used to finish the tops, sanded to a matte finish and attached to the base with custom mechanical fasteners which could accommodate movement.
Creating the base was a labor-intensive process. Each base was built with over 30 layers of 1/2-inch-thick solid surface. This was done to create a graduated shape and facilitate the final milling. Each layer was first digitally modeled and cut on the 3-axis machine. All pieces had a designation number and a dowel system for registration; alternating seam placement to prevent a visible join line. Once each section was assembled, the five-axis machine was used to further mill down the shape. After the sections were combined, hand-sanding was used to give a final smooth finish.
The bases were finished with a thin profile CNC cut aluminum kick and adjustable feet for leveling on site. The desks provided a unique modern update on reception counters – sure to be memorable when visiting this hospital.