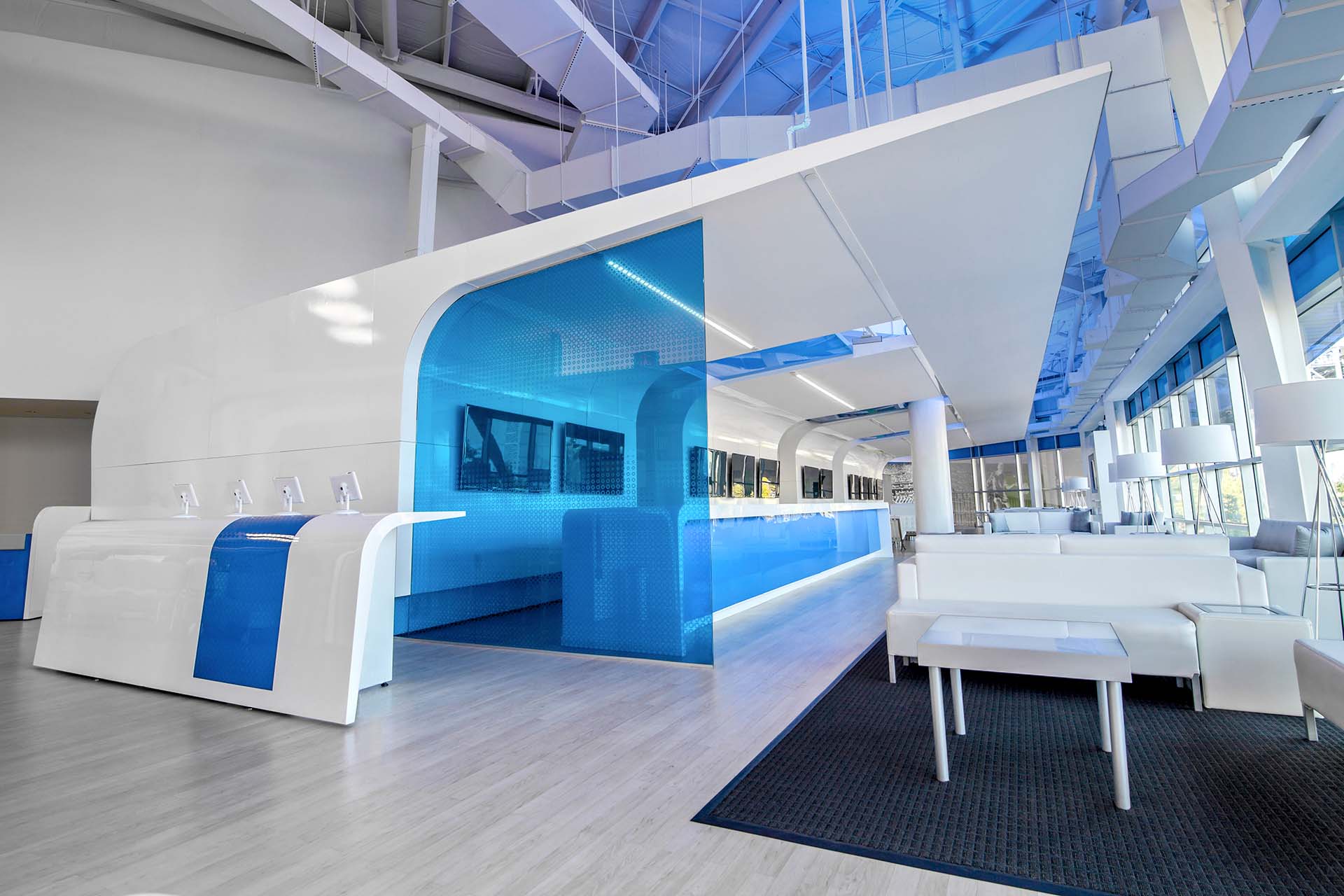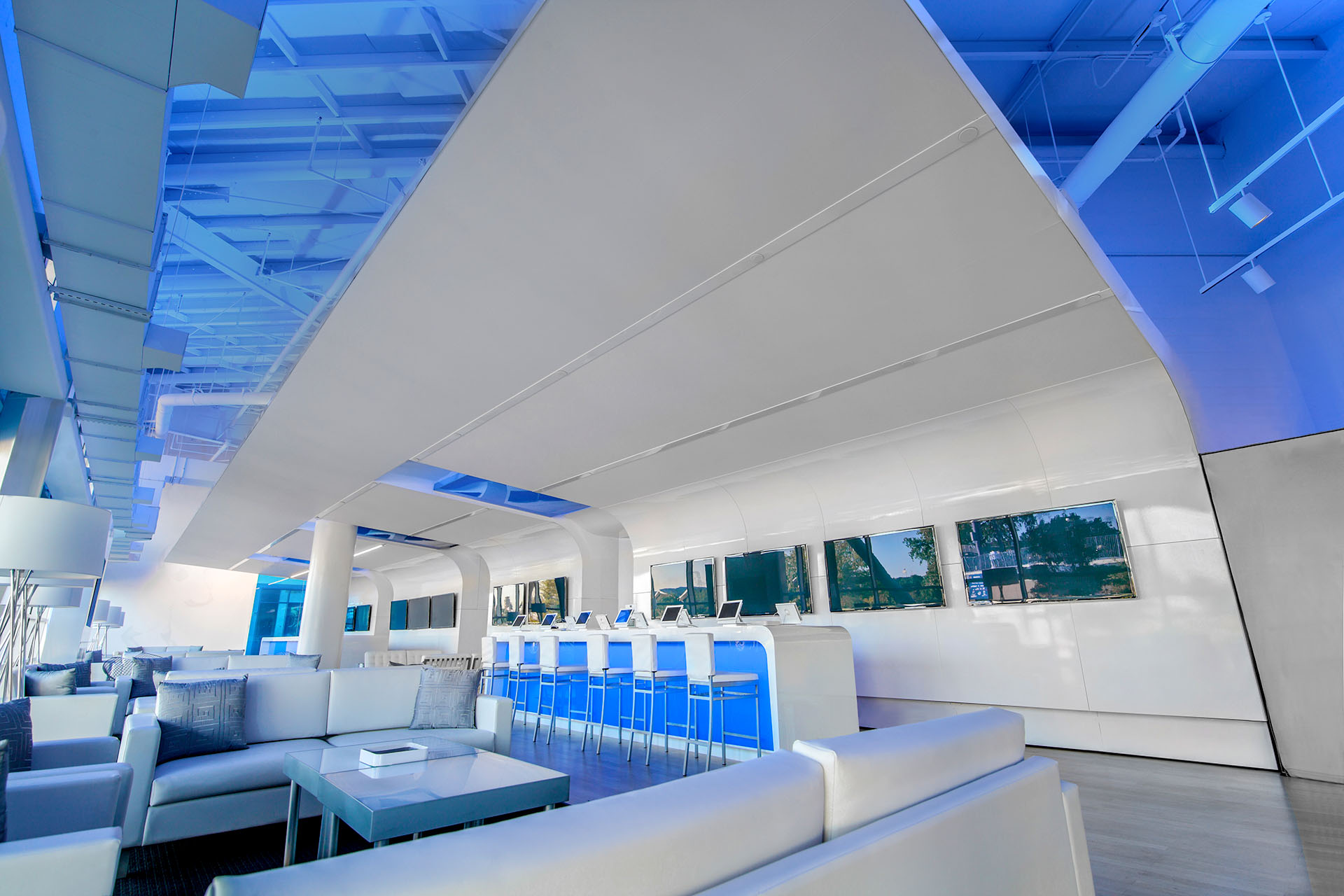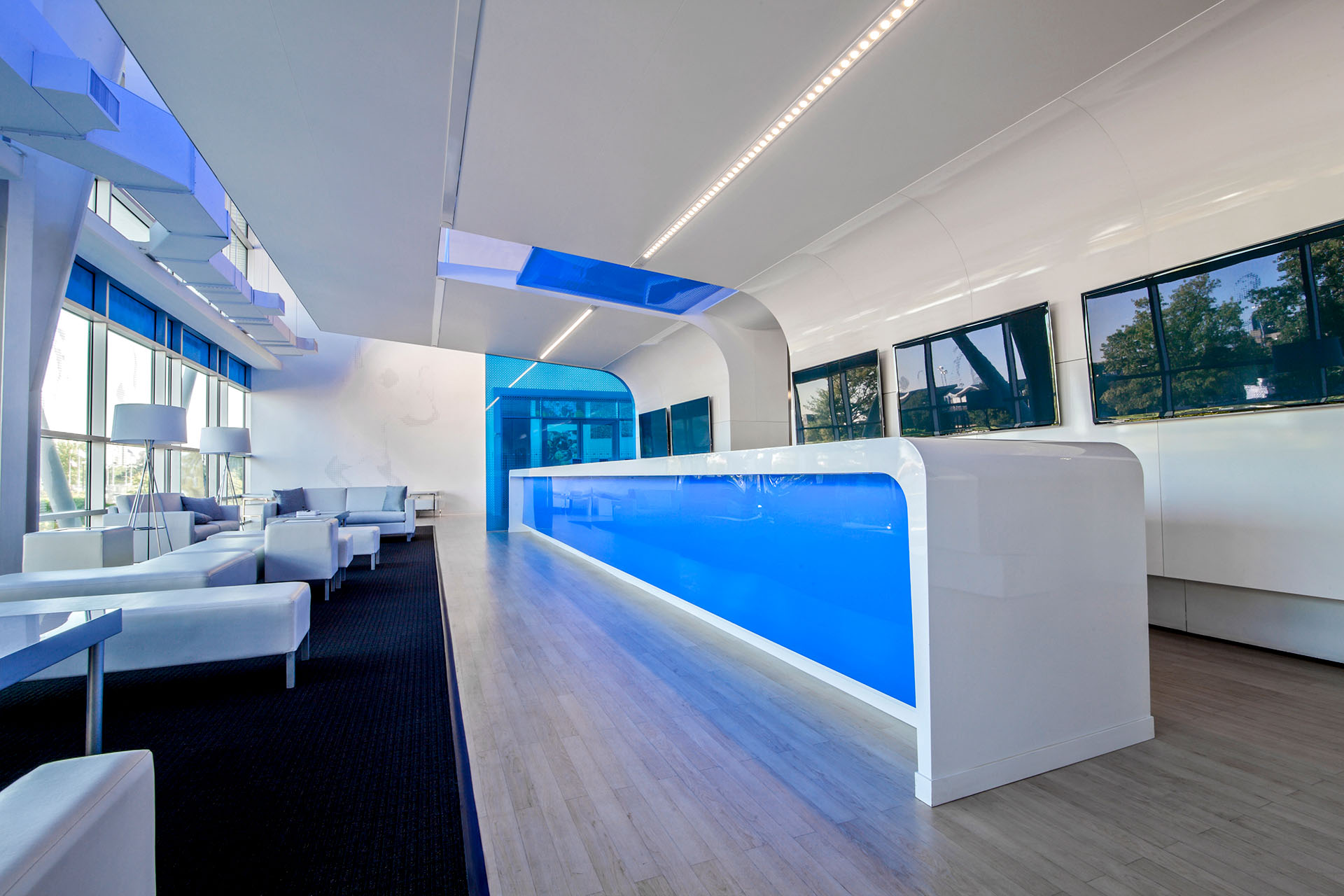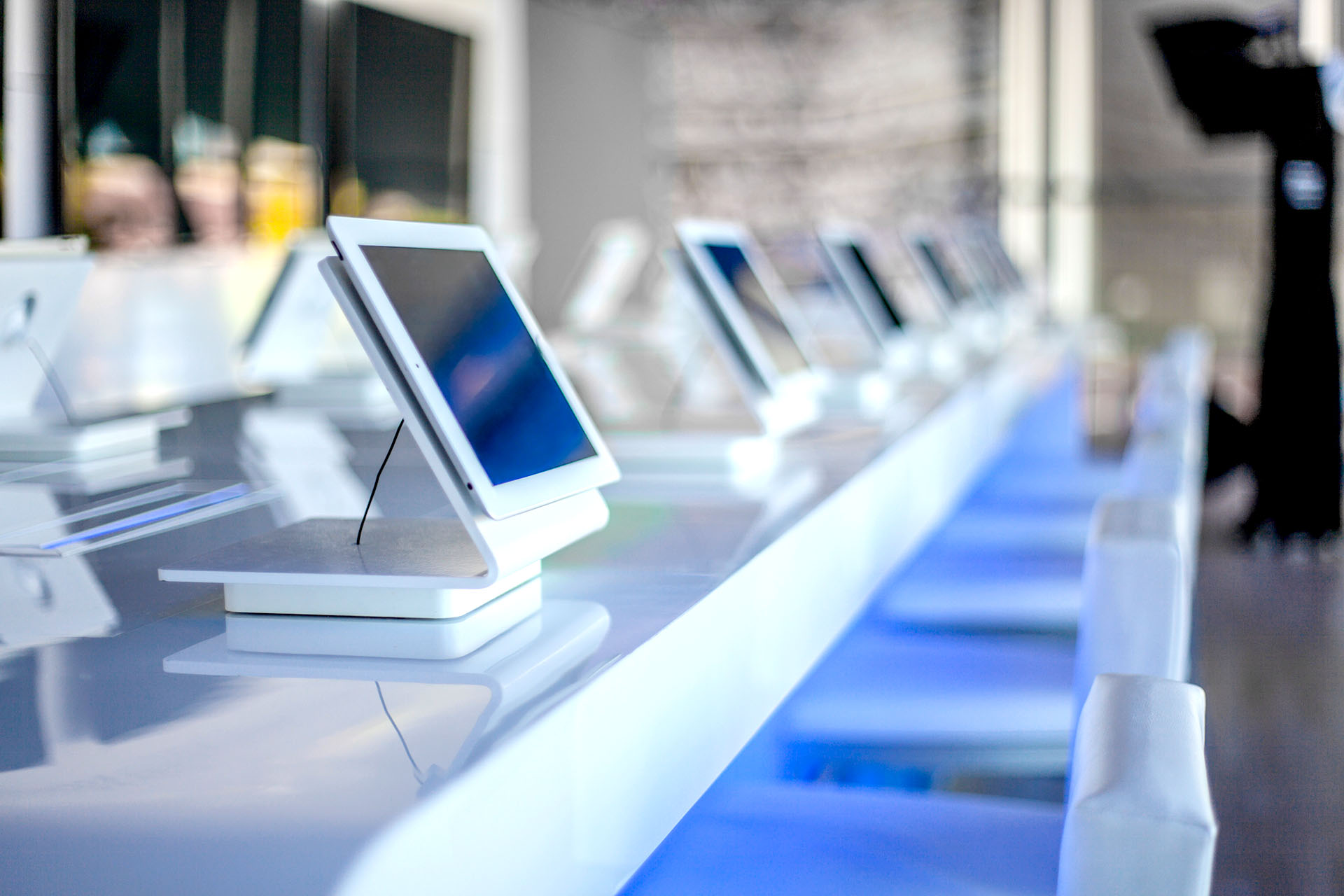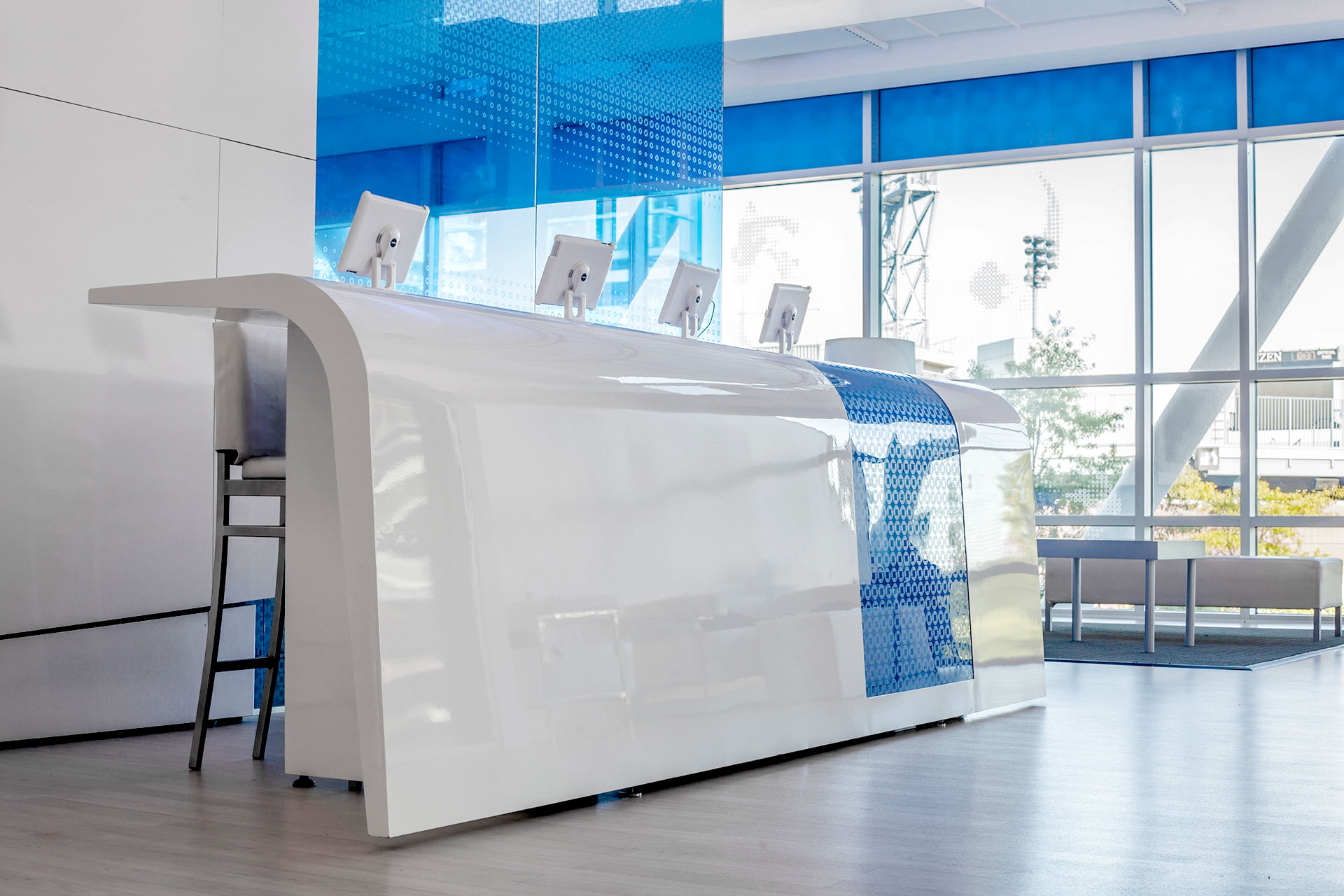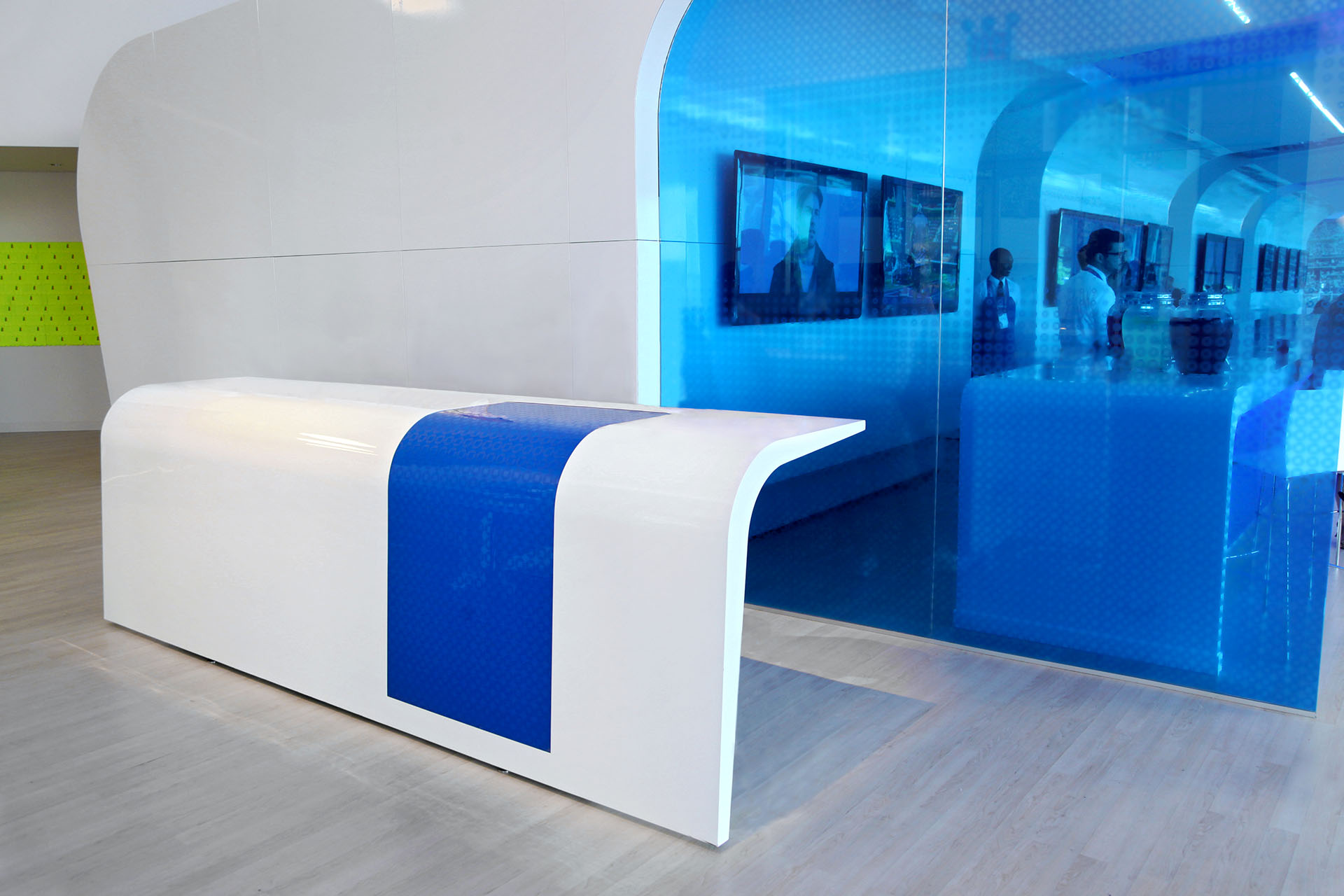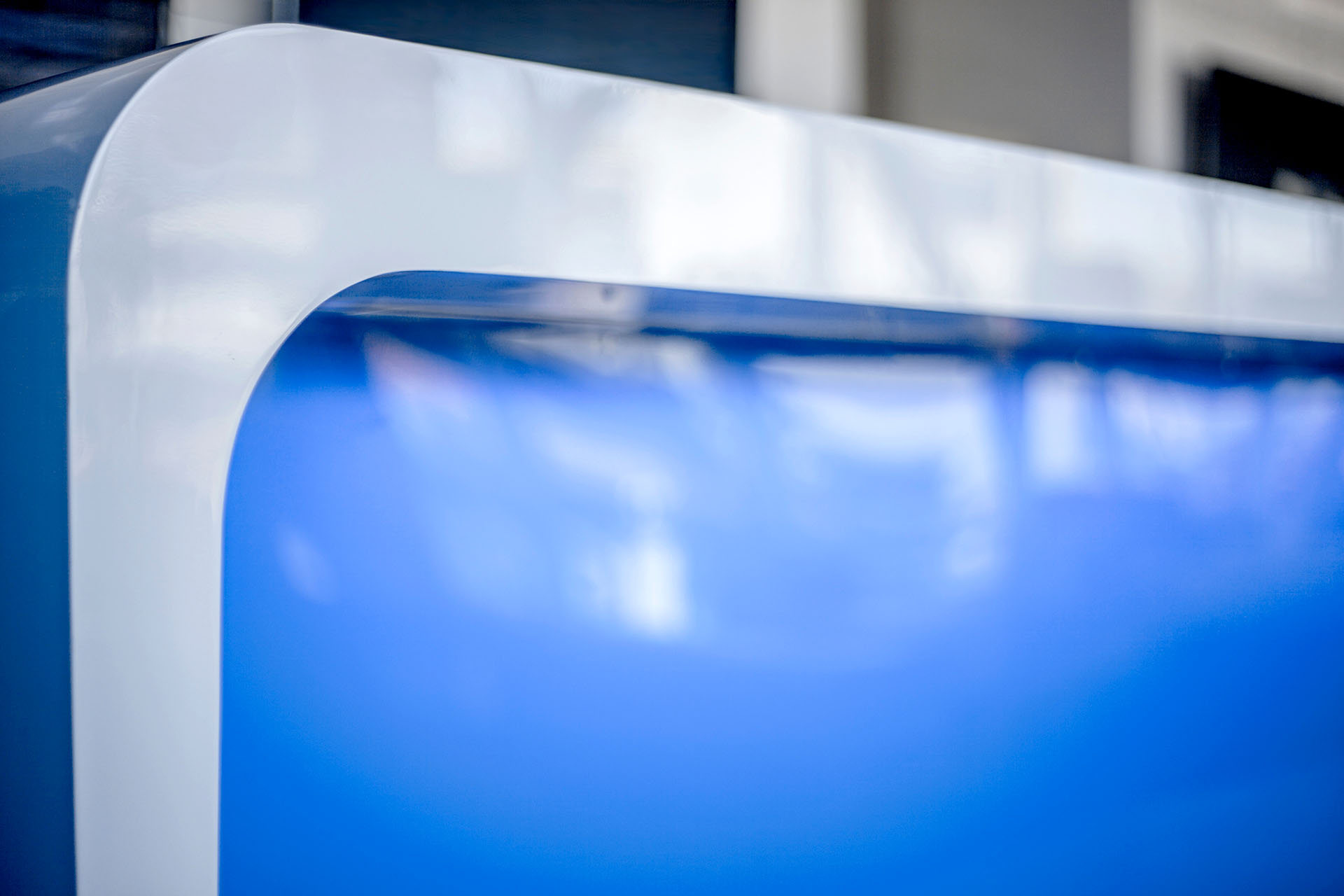 PROJECT US OPEN VIP LOUNGE, FLUSHING, NY, USA
DESIGN GENSLER
GENERAL CONTRACTOR CAPITAL IMPROVEMENT SERVICES
BUILT BY EVENTSCAPE, AUGUST, 2011
A VIP lounge area was required to support both the annual US Open tournament and ongoing functions at the National Tennis Centre. The cantilevered-styled canopy structure is a total of 82 ft. long and 20 ft. deep, built of rolled and CNC cut aluminum ribbed frame, clad with powder coated aluminum panels. The bars and tables are of a similar construction with additional backlit acrylic inserts. Clean curved lines, sleek finishes and a minimal color palette, produced an impressive contemporary styled entrance feature, visible from the exterior.
Unique Characteristics & Project Challenges:
Multiple materials were incorporated into this canopy structure; rolled, CNC cut aluminum frame, aluminum panels, faux leather, acrylic and tempered glass. All of these incorporated lighting, audio and media components. A U-channel was built into the canopy structure to support the glass wall. With this solution, the glass was secured without disrupting the fabric clad ceiling surface. By using a flexible textile instead of metal panels we were able to eliminate seams, minimize the weight of the structure and keep costs down while maintaining a monolithic appearance throughout multiple materials. Minimal integrated ceiling lighting provided a club atmosphere while up lights gave the structure a dynamic floating appearance.
The curved aluminum panels needed to maintain a consistent horizontal plane along the entire 82 foot length. To control the radius, a series of aluminum ribs backed the panels within the overall framework. The 1/8" thick aluminum panels were backed with an MDF substrate which facilitated surface continuity, improved acoustics and fastening. Backlit acrylic ceiling panels created a glowing entrance portal to the interior support facilities.
To achieve the designer's intent of an extruded, monolithic structure, all materials required invisible joins. After assembling all elements on site, each aluminum panel had only a 1/16" minimal reveal and incorporated precise electrical and mechanical connections. Transitions into each material were visually uniform and maintained the illusion of a solid, one-piece structure.
The metal canopy structure wrapped around the drywall walls of the interior kitchen and washroom facilities. These were being built concurrently with the Eventscape structure so it was imperative to maintain detailed site coordination. To minimize permanent changes to the existing building, the canopy structure was laterally supported with only seven vertical sections of 2" x 2" H.S.S that attached to the ceiling.
The longer 32 ft. bar, served as the beverage and food service area while the shorter 16 ft. long "interactive" bar included 16 inset iPads with custom software. Both bars had glowing backlit acrylic faces and were finished with an automotive grade, catalyzed, gloss white coating for an extremely durable finish. This same finish was used on the adjacent boomerang shaped concierge desk. On the back wall, monitors displayed live action video feed throughout the event.
With a very tight timeline for fabrication and installation, together with detailed site coordination with all the other trades, Eventscape was able to produce what one visitor called…."the best venue on the US Open grounds by far", and the client described as …."the best thing we've ever done in retail – the best branded site I've seen".