COLUMBUS CONVENTION CENTRE
LINEAR METAL CEILING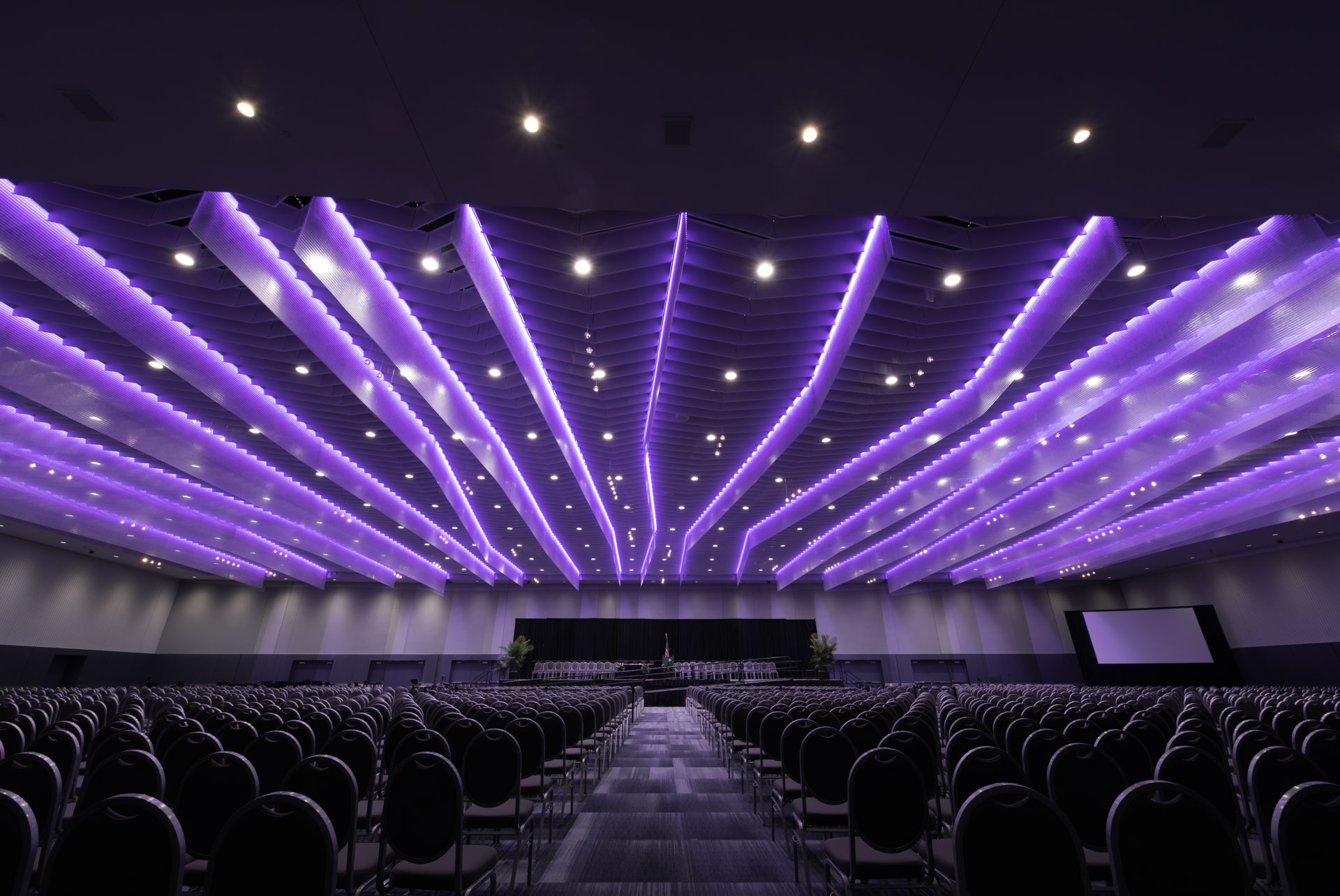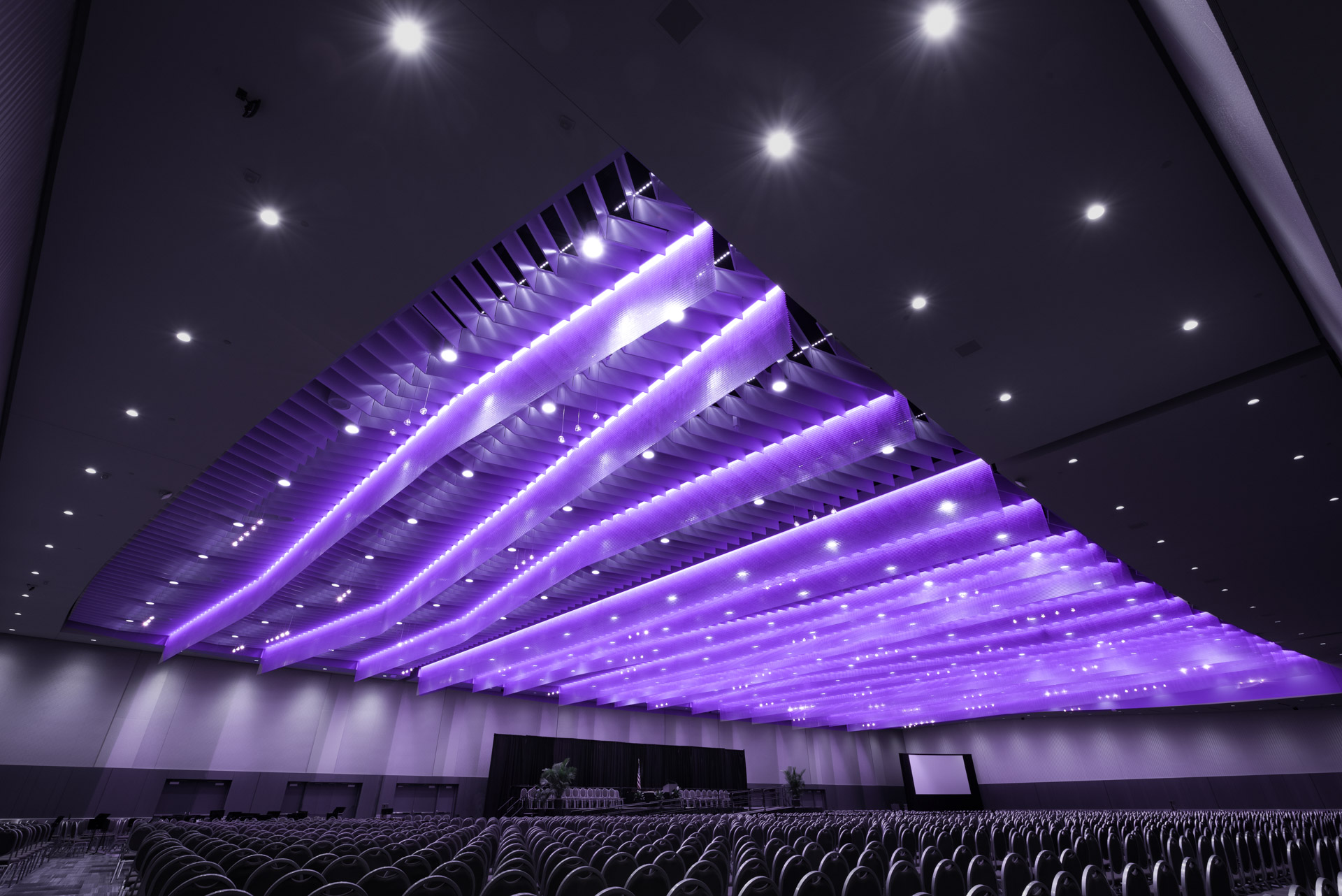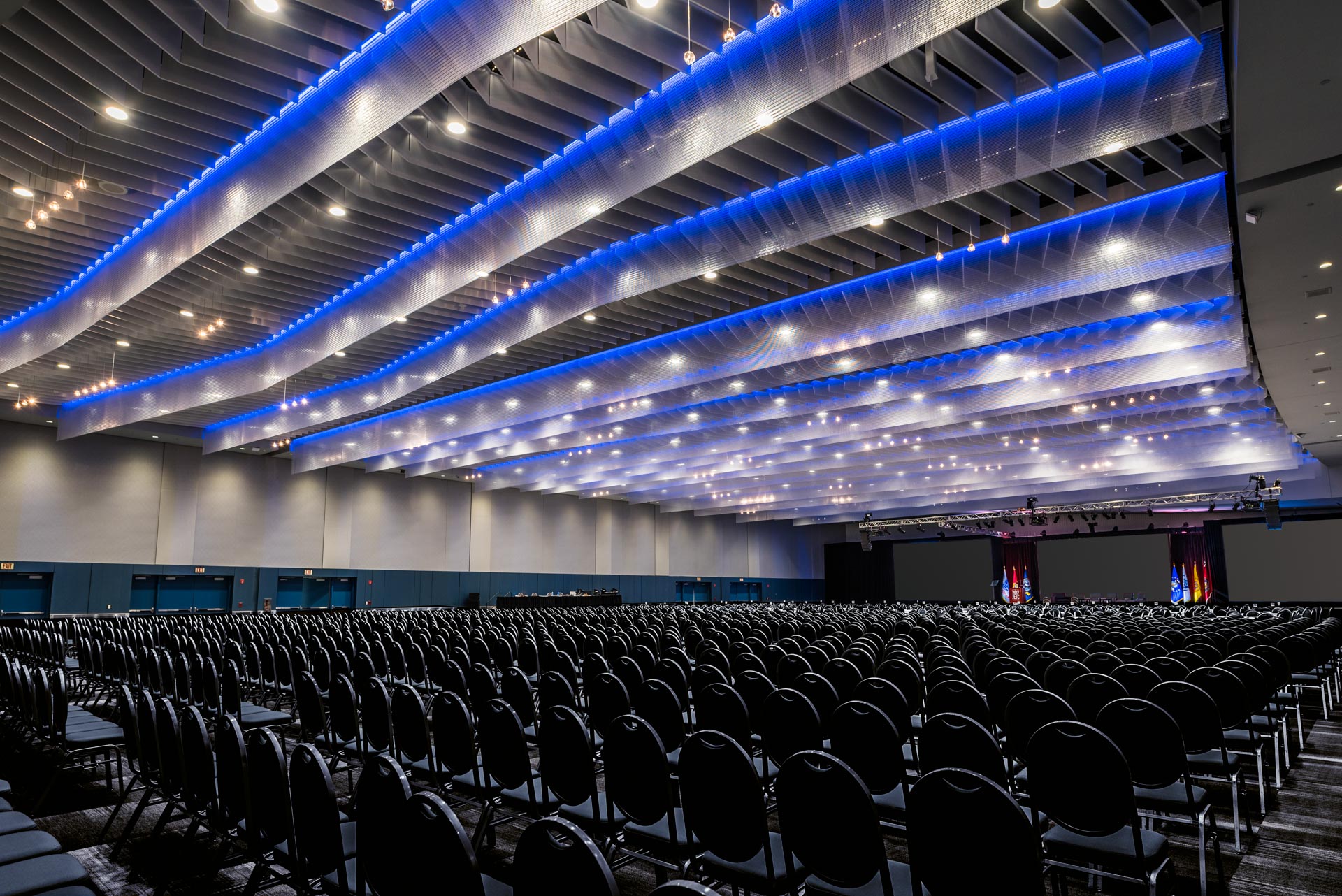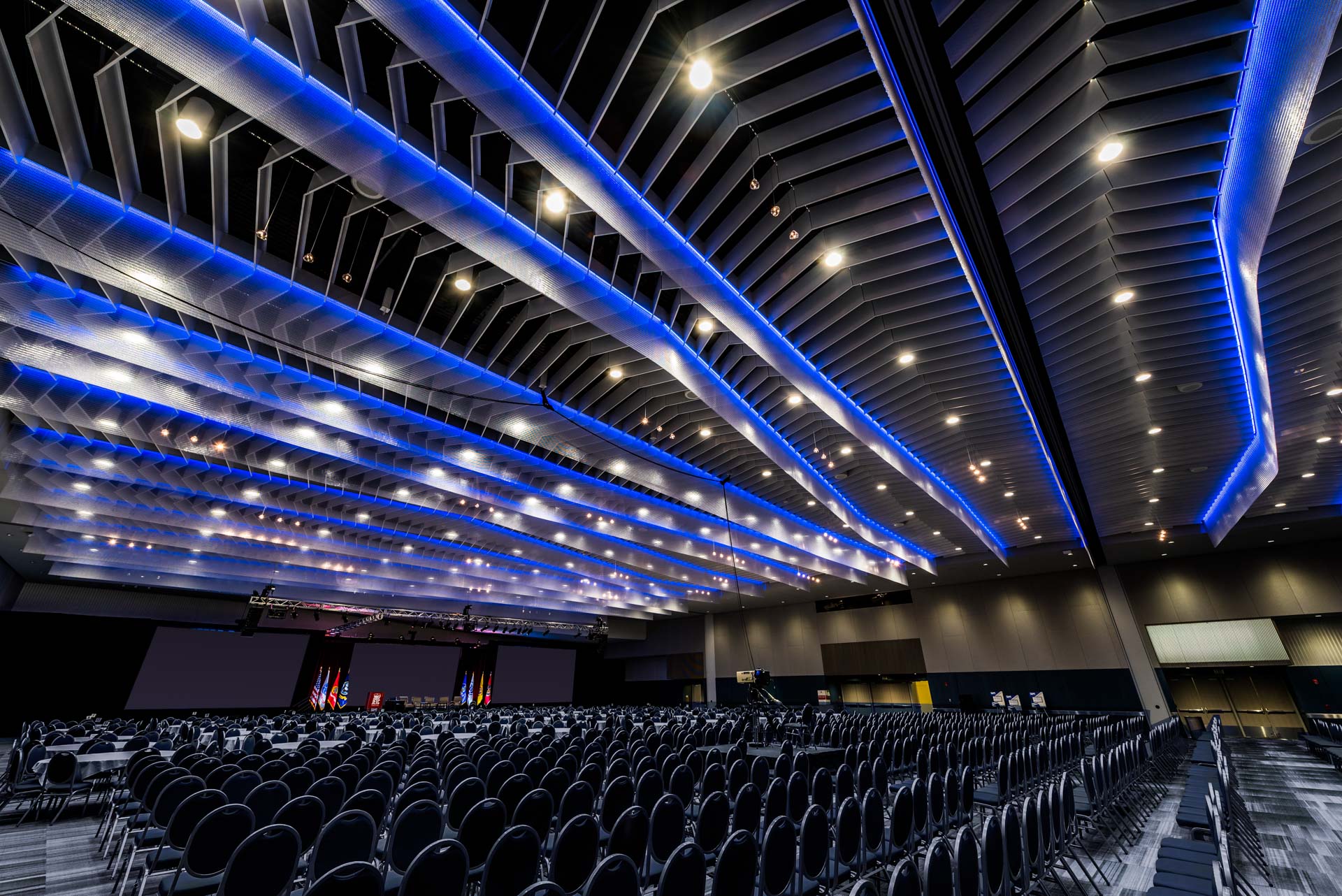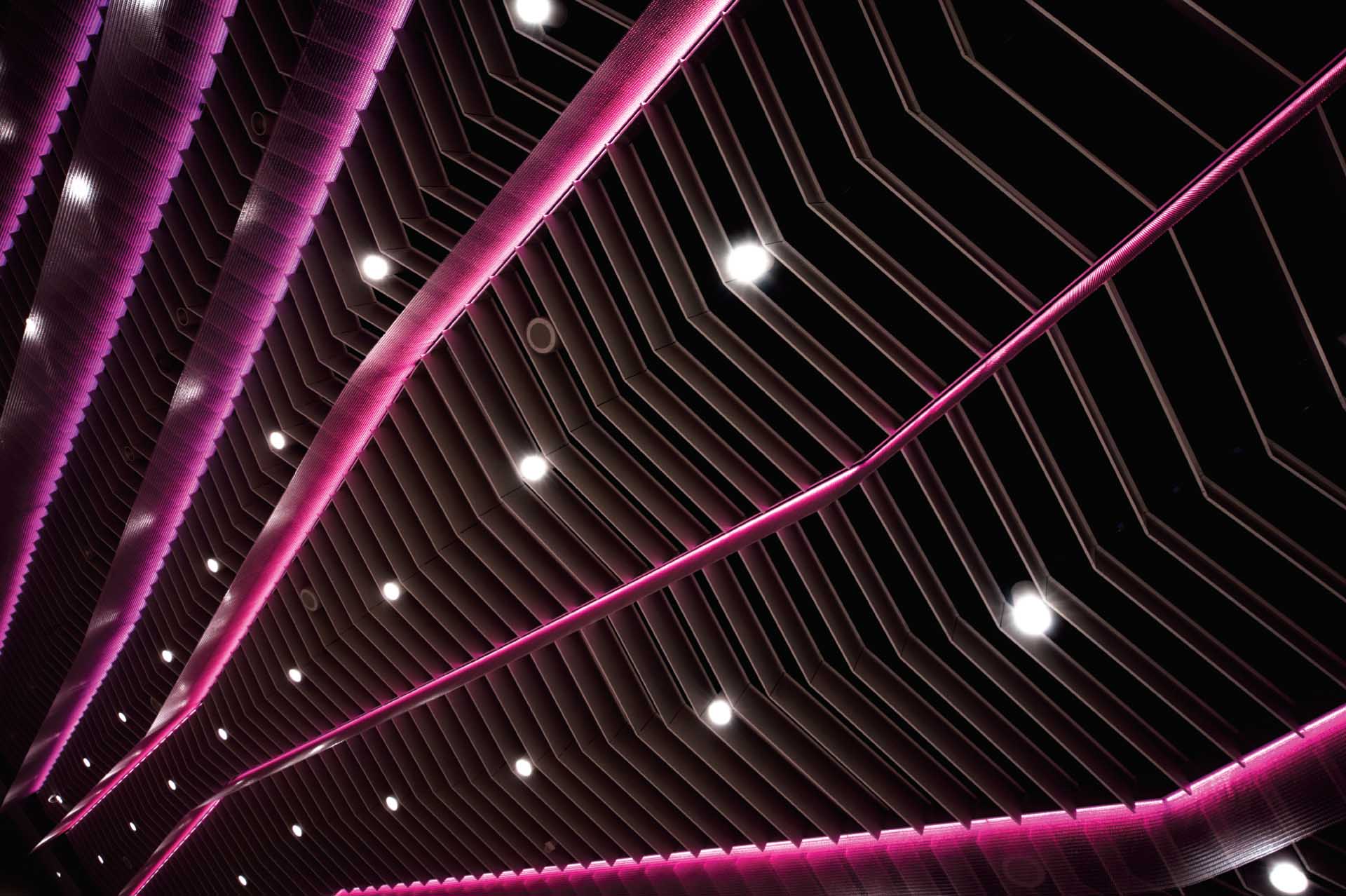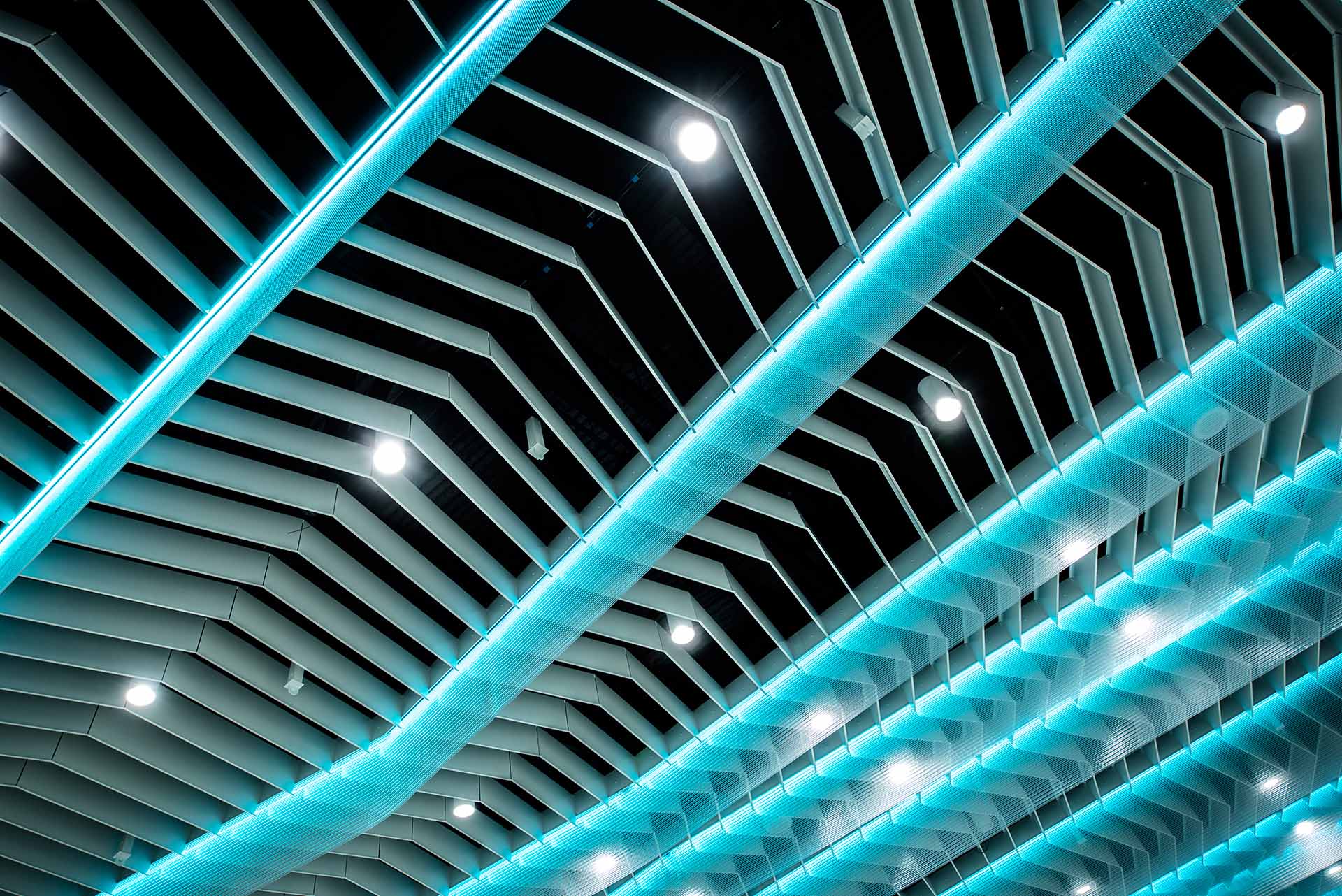 PROJECT GREATER COLUMBUS CONVENTION CENTER, COLUMBUS, OH
DESIGN ARCHITECT, ARCHITECT OF RECORD LMN ARCHITECTS
ASSOCIATE ARCHITECT SCHOOLEY CALDWELL
LIGHTING DESIGNER HLB LIGHTING
GENERAL CONTRACTOR CORNA KOKOSING/ELFORD CONSTRUCTION
PHOTOGRAPHY GEORGE PAXTON
BUILT BY EVENTSCAPE, JULY 2016
Following the successful collaboration with LMN Architects on the Winnipeg Convention Center Ceiling, the designers at LMN approached Eventscape to discuss fabricating a second convention center ceiling in Columbus OH. Eventscape's scope was engineering, fabricating, and installing two custom feature ceilings, the 17,700 square foot Union Ballroom and the 14,400 square foot Short North Ballroom. Both ceilings incorporated a custom design with linear metal dividers, undulating reflective screens and angular fin baffles.  A reflective polycarbonate chain curtain was hung between each baffle with alternating lengths. Color changing RGBW LED lights were incorporated into the dividers to create a sparkling form that can be changed to create numerous effects.
Unique Characteristics & Project Challenges:
This project was divided into two parts, with the larger ballroom completed first to meet a critical event deadline. Six months later Eventscape was brought in to complete the second ballroom. The geometric angled pattern of the dividers acted like the spines of the ceiling, providing support for the zig-zag shaped horizontal fins and curtain. All these parts were supported by a framework of channel struts which were suspended from the ceiling's structural I-Beams. Each of the laser cut parts and brake-formed fins had it's own unique geometry and size, from nine inches long to eight feet. The screen varied in lengths to give an undulating effect. Eventscape's design and engineering team used 3D software to generate the part drawings which included laser cut holes for the connection tabs and a laser cut numbering system to identify each piece.
As there were over 400 dividers, 3,800 individual fins, and 900 brackets that were all unique, combined with over 12,000 square feet of the clear polycarbonate chain mail in the project it was critical to develop a plan to fabricate each piece in the most economical way. The Eventscape team developed an optimum sequence of laser cutting and brake forming to maintain the quality control and efficiently monitor the inventory.
At the start of this project the Eventscape team worked with the designers at LMN  to create three different full size mockups of a ceiling section to verify final profiles of the fins and details of the mounting of both the fins and the lighting. Eventscape engineered three different attachment components for the fins to control orientation and achieve a stiff, secure support and provided a mounting tray to support the LED lights where the electrician could snap in each component. The final ceiling mockup also included a complete section of wall to review the designers' wallpaper options and determine final colors for the LEDs. The architects, lighting designers and representatives from the Convention Center were all able to get a real sense of the completed space many months before it was complete.