APROPOS
TURNKEY RESTAURANT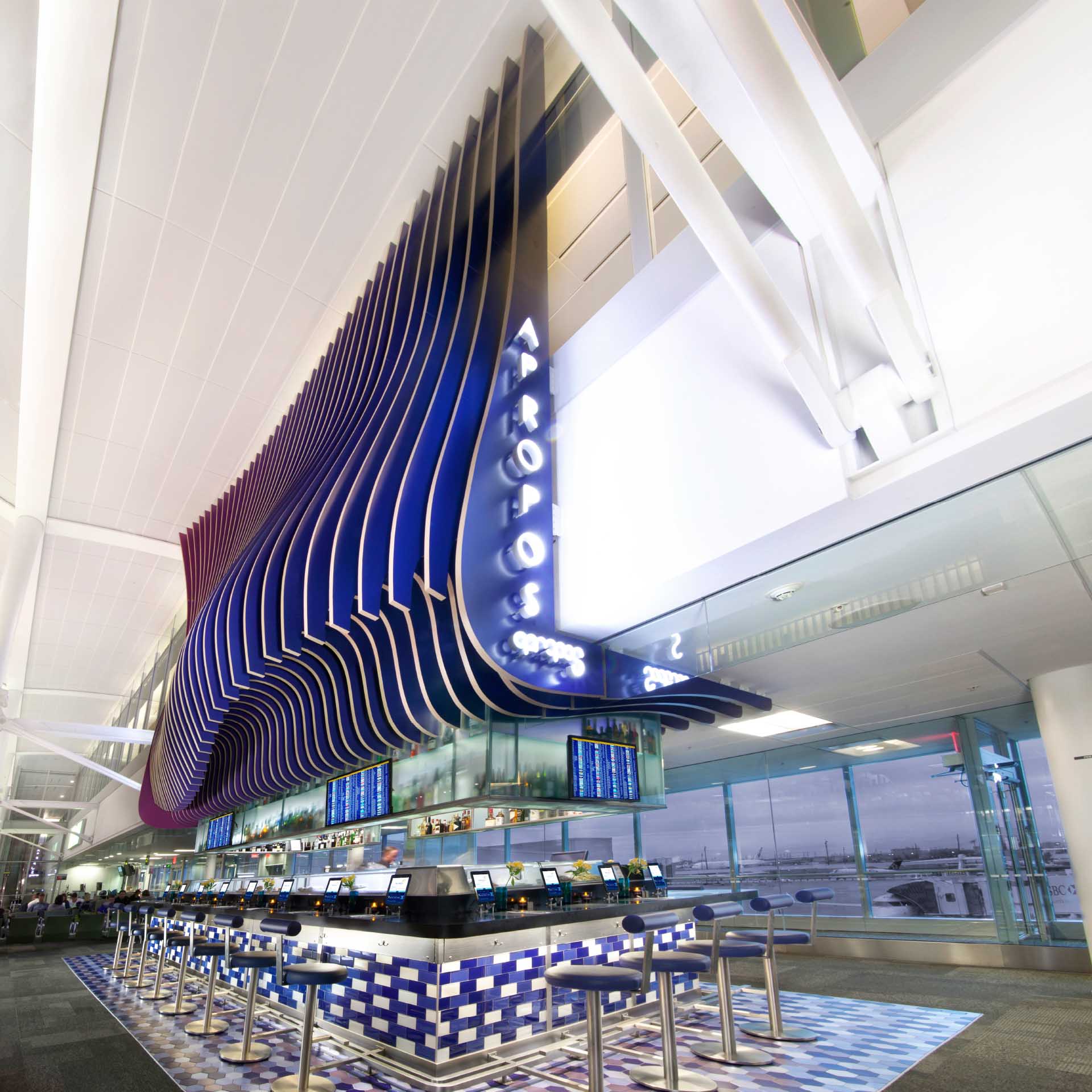 PROJECT APROPOS, TORONTO PEARSON INTERNATIONAL AIRPORT, GTAA, TORONTO, ON
DESIGN ICRAVE
RESTAURATEUR OTG MANAGEMENT INC.
ARCHITECT OF RECORD NORR
GENERAL CONTRACTOR PCL
BUILT BY EVENTSCAPE, JUNE 2013
[expand title="Apropos is the second restaurant Eventscape completed as part of the impressive renovation and upgrade of Toronto Pearson International Airport, one of North America's busiest airports. Designed by ICRAVE with restaurateur OTG's revolutionary new concept for the airport dining experience, they combine  stunning designs and integrated cutting edge technology with delicious food. Located at the entrance to the Terminal 1, ICRAVE's design of wavy fin-like structures on the two mirrored restaurants form a visually striking architectural gate, guiding travelers through the concourse of the main terminal." trigclass="arrowright"]
Unique Characteristics & Project Challenges:
The 74 decorative and unique vertical fins (37 fins ea. restaurant) are each 23 ft. tall, with a 13 foot vertical cantilever that terminates 12 inches from the ceiling of the airport atrium roof. As the airport atrium upper walls are made of 14 foot high glass panels, our structure needed to have a 13 foot vertical cantilever in the upper section with only 6 feet of lower wall space available for our structural connections. Our solution was to design and engineer a rigid triangulated truss system embedded within the ceiling plenum, which facilitated the mounting of all suspended elements, including the wine rack. Co-ordination with the mechanical and electrical trades was required to incorporate ceiling H-VAC, electrical, fire prevention systems, and audio systems.
Each fin had a unique rotationally symmetrical curved profile and distinct Pantone color to create a gradient effect. Detailed numbering and managing was required for the 1000 parts that made up the fins. LED logo signage was incorporated into the end fins of each restaurant. Shipping, moving and installation was carefully planned on custom made carts. Spider lifts were required as Eventscape's offsite fabrication and just in time delivery required suspension of the fins from outside of the GC provided hoarding. This allowed for work to continue during the day behind the hoarding, while the fins were installed at night ( once all passengers had left ) outside of the hoarding.
The overhead wine rack is a stainless steel structure with tempered acid etched glass front faces and shelving. Sleeved over stub down extensions that extended past the finished drywall ceiling, this system made installation quick and easy, requiring only one day each side.
The bar was built of a wood frame with a solid surface counter top and stainless steel drink trough. The exterior of the bar was then tiled to match the floor once the installation of the bar was complete.
The security procedures at the airport required lengthy approvals of each delivery, and a security escort was required at all times. The majority of the work was delivered and installed during evening hours to minimize any interruptions as over 87,000 people pass by daily. As passengers travel along the center moving walkway, the soaring fins on either side create an extraordinary gated entrance – the threshold to their next adventure.
Testimonial:
"I love that when we work with Eventscape they care as much about the final product as we do. I don't have to worry because they have our back. While their engineering and shop drawings are the best we have dealt with, they are designers at heart so they aren't making fabrication decisions based solely on data or numbers. They help us make our projects better which is invaluable."
Gregory Merkel, ICRAVE
[/expand]