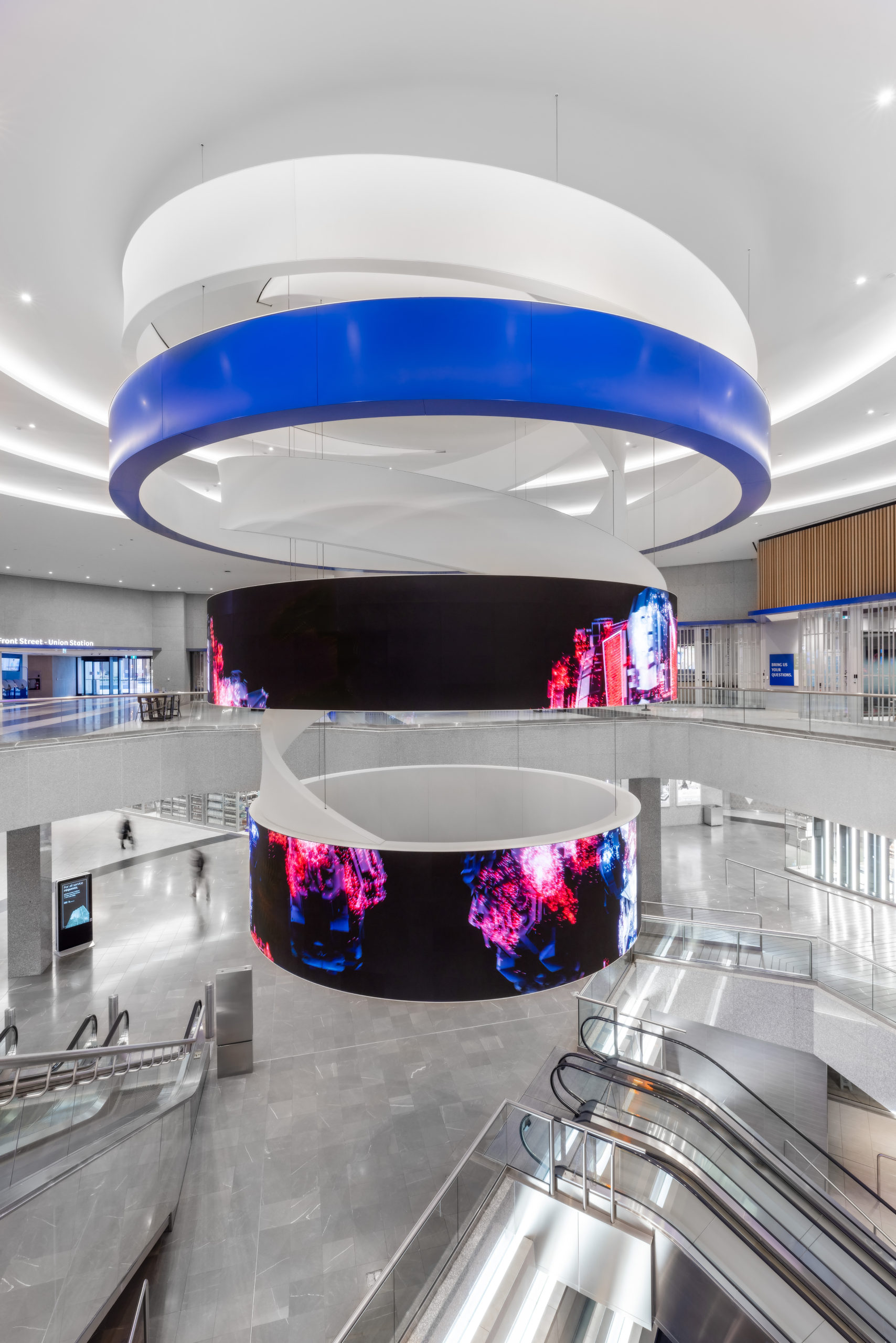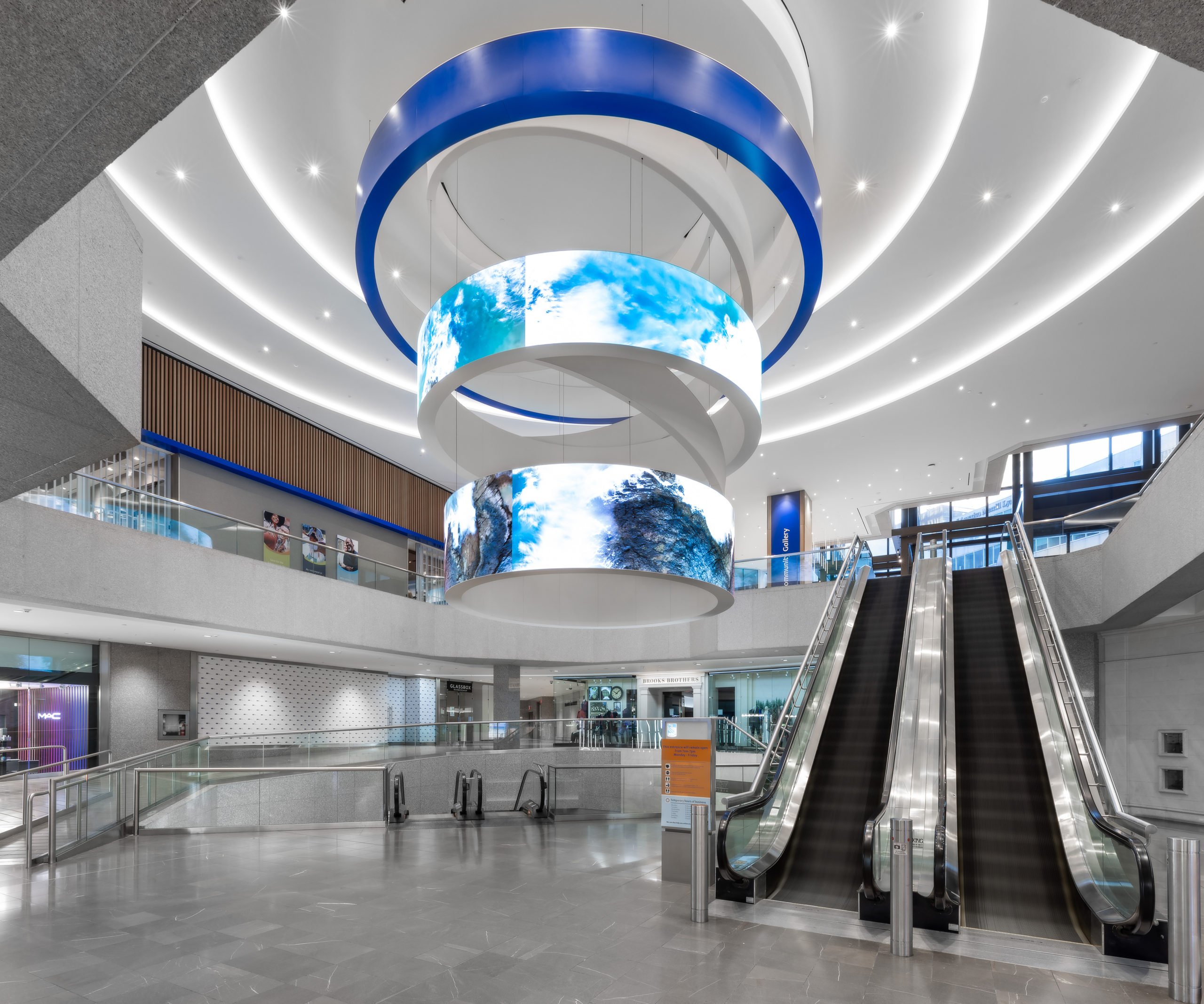 SUSPENDED DIGITAL SCULPTURES
‎
PROJECT SUSPENDED DIGITAL SCULPTURES, TORONTO, ON
CLIENT RBC, JLL
ARCHITECT WZMH
GENERAL CONTRACTOR PRODIGY CONSTRUCTION
BUILT BY EVENTSCAPE, MAY 2022
Project Description
Spanning two levels within the high-traffic atrium of Toronto's iconic, gold-bronze Royal Bank Plaza, this 26-ft-tall suspended digital media sculpture features two unique custom circular LED screens and a third 26-ft-diameter accent ring finished in RBC's signature blue color. The curved digital displays are made up of flexible LED tiles, allowing for seamless content to span across both rings. The displays can be further extended with audio and interactive functionality during live activation events to create memorable, eye-catching experiences for both passers-by and RBC's clientele. Adding to the sculptural composition and functional capabilities are three intertwined helical ribbons, upholstered front and back, whose complex metal frames provide a convenient and organized wire chase.  Eventscape's expertise in integrating digital media and physical builds provided tremendous value and helped expedite this dramatic installation.
Eventscape is thrilled to have partnered with RBC, JLL, WZMH and Prodigy Construction to develop, engineer, fabricate and install this unique branded digital experience, which will animate and enliven RBC's corporate flagship for years to come.
Unique Characteristics & Project Challenges
The curved digital displays are made up of flexible 1.9mm pitch HDR direct-view LED tiles, allowing for seamless content to span across both rings.  Each cabinet sits within a custom-built steel frame for LED screen panels and is attached to the frames with magnets. An advanced LED processor allows for matrix switching and multiple layers. Live inputs from broadcast cameras, or live TV feeds can be easily displayed.

 

The LED screens include:

 

13,238,272 total pixels; 543 sq. ft; 1,515kg (just the LED portion); 808 Modules; 68 Cabinets.
Adding to the sculptural composition are three intertwined helical ribbons, whose complex metal frames were upholstered front and back with a tailored architectural grade textile that can be removed as required for servicing the digital ring's network of electrical and data cables concealed within the helices.  The helices were also clad top and bottom with curved aluminum plates, custom painted to match the color of the textile on the adjacent faces.
Despite the challenge of geometrically tricky floor configuration that couldn't take the weight of most lift equipment, Eventscape was able to devise an installation approach that allowed the public atrium to remain in use during the dramatic transformation.
With a total weight of over 13,000 lbs., the digital sculpture's three rings were each suspended from only four lengths of stainless-steel wire rope, in turn anchored to a fully engineered structural armature concealed above the finished ceiling.  
Each of the ribbons are aluminum tube structures. Due to complexity of the twisting ribbons and circular structures, our designers built a series of templates using SolidWorks for welders to accurately fabricate to ensure precise fit.

 

One of the challenges with the circular structure was achieving the consistency of gaps between each of the panels and the consistency of the hand rolling in the inner panels (digital rings) and both inner and outer panels for the non-digital blue ring above. Hand-welding, hand tube bending and hand rolling techniques were used to create the circular metal components.
All painted surfaces are powder coated aluminum – in RBC's corporate blue color approved by client and a matte white Sandtex finish on other surfaces to minimize reflections. Eventscape helped the project team in selecting the appropriate textiles (large width, pliable, durable, wipeable, flame retardent etc.)
Both digital rings were fully assembled in Eventscape's facility and suspended for over a month to enable both RBC and Eventscape to develop and test content. This was helpful in ensuring content was tested and ready at the same time the installation of the structure was complete.
Eventscape built a representative full-scale mockup (1/8 section of one of the digital rings) and also a section of the blue non-digital ring and a section of ribbon for client review and approval of design and finishes prior to full-scale fabrication.
The fabrication process was completed within one year and included three different mobilizations to site for installation. Since the entire scope was performed with in-house resources (engineering/fabrication/media/install), Eventscape was able ensure on-time delivery of the project with no change orders or additional cost.
Eventscape's expertise in integrating digital media and physical builds provided tremendous value to the project team.