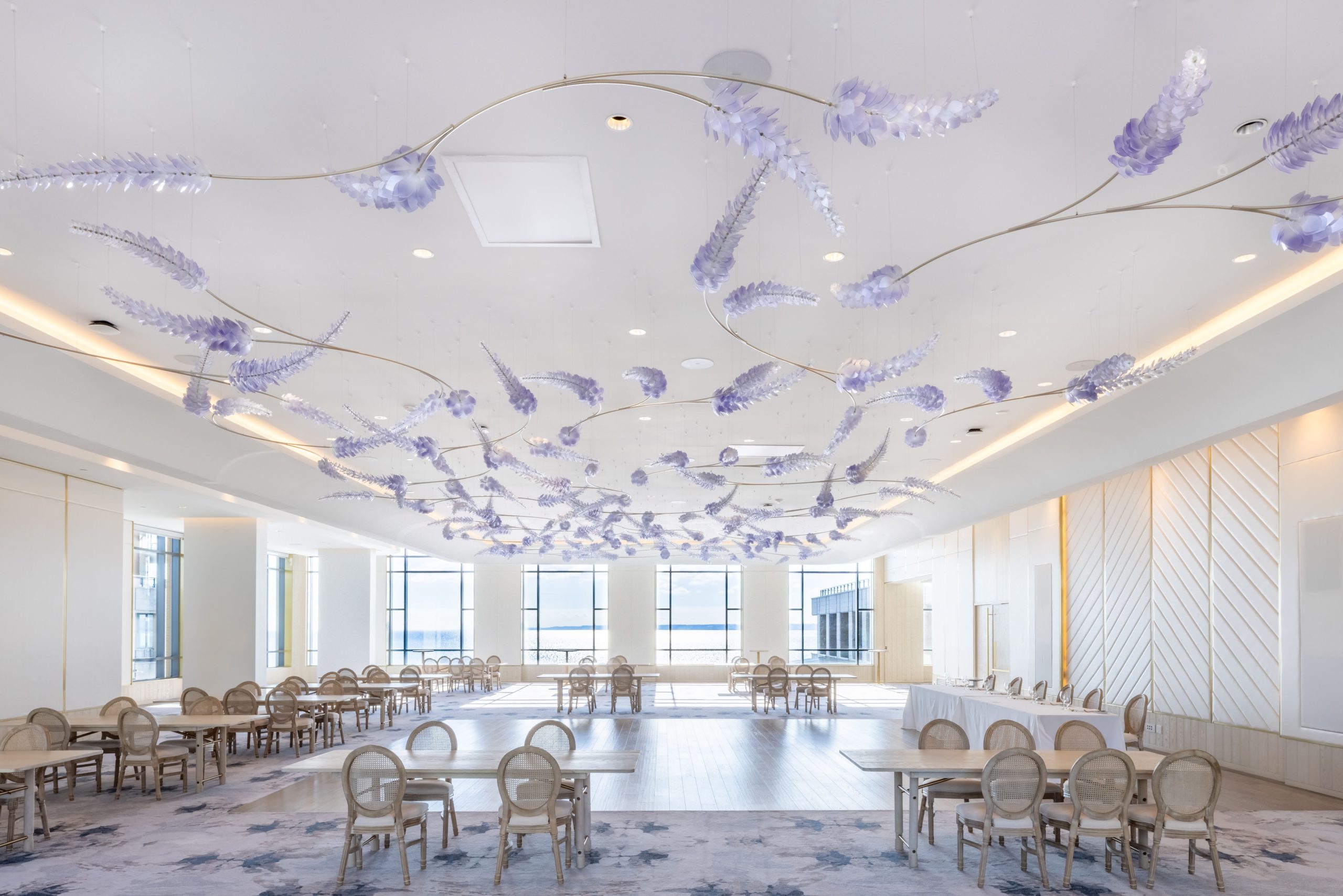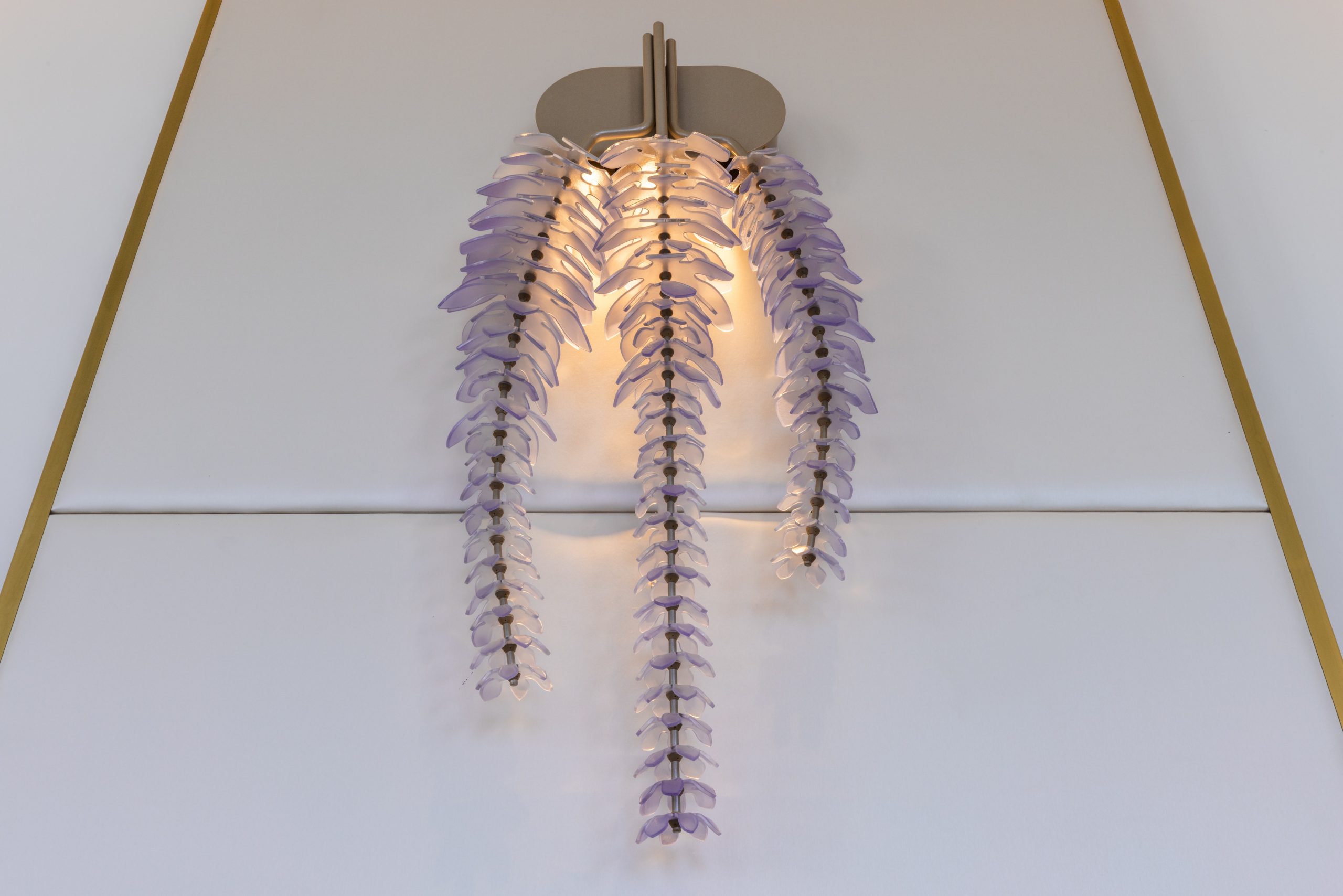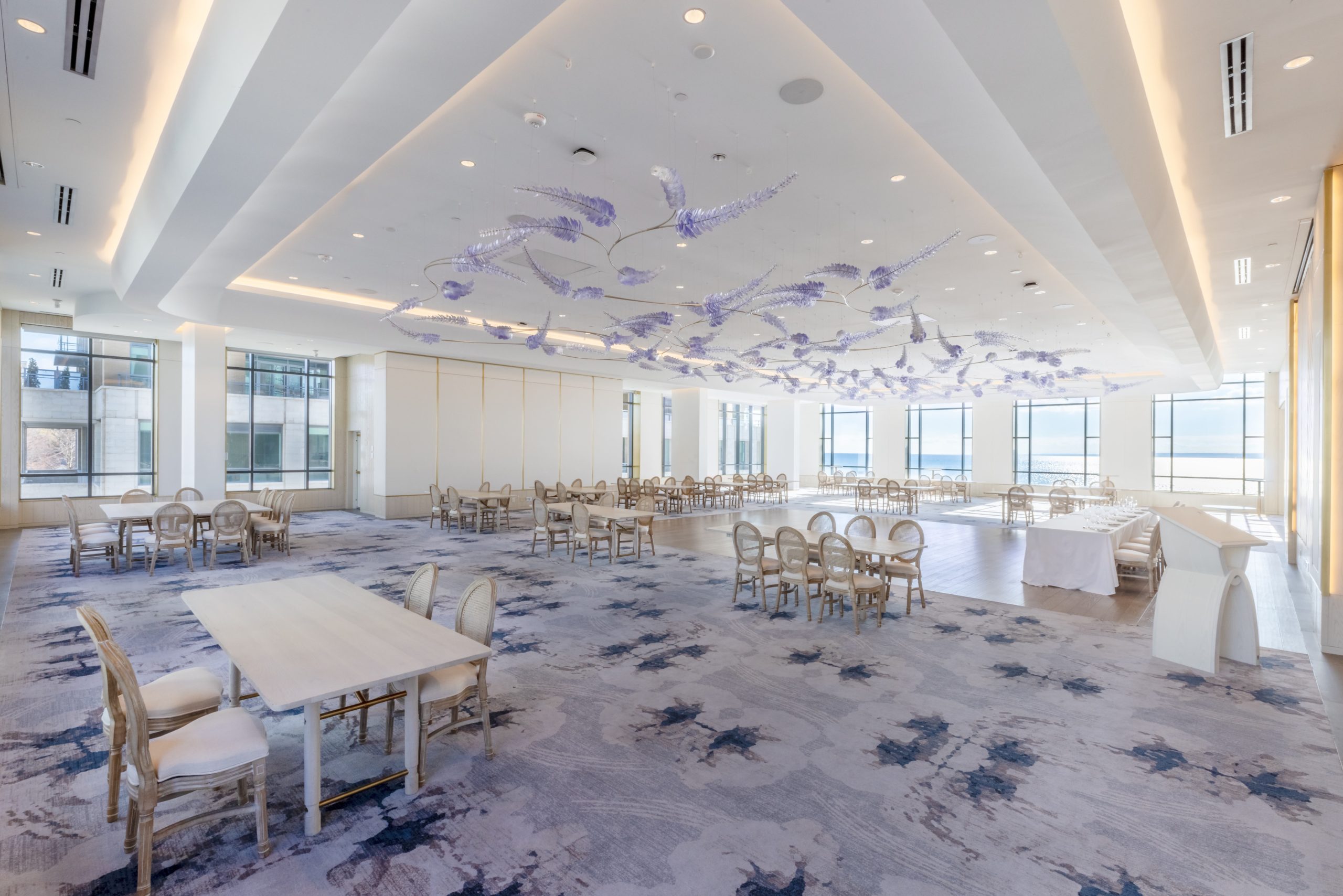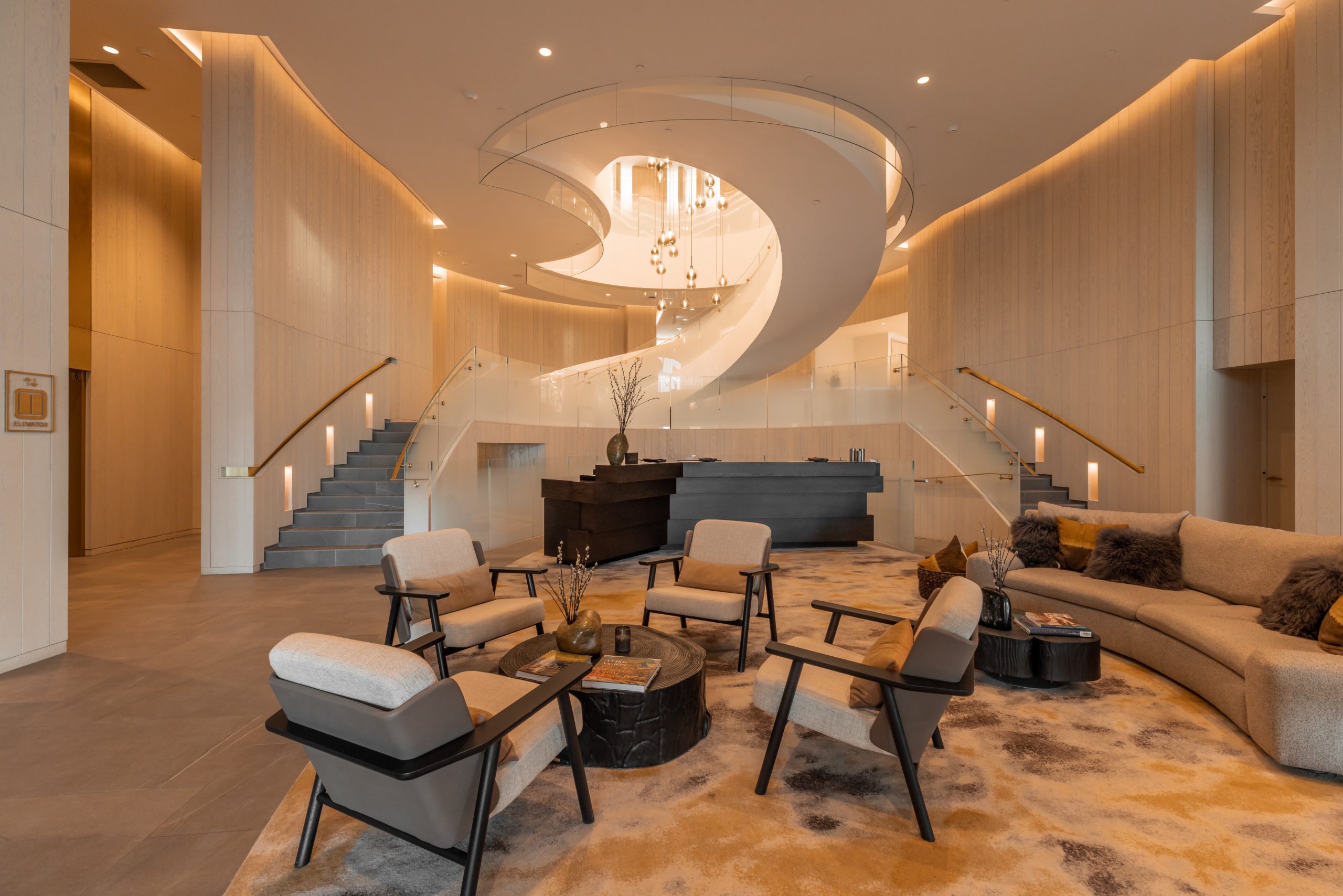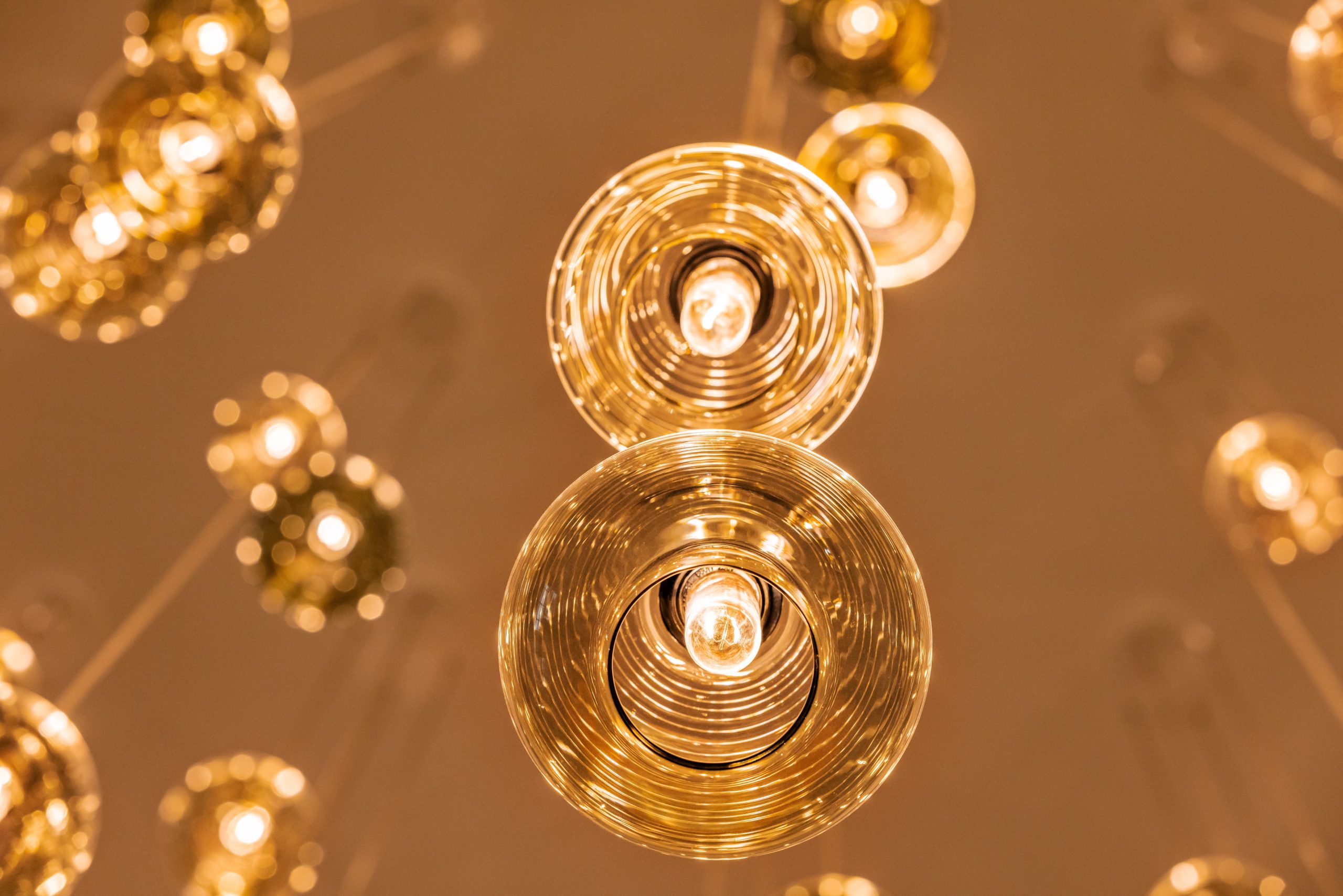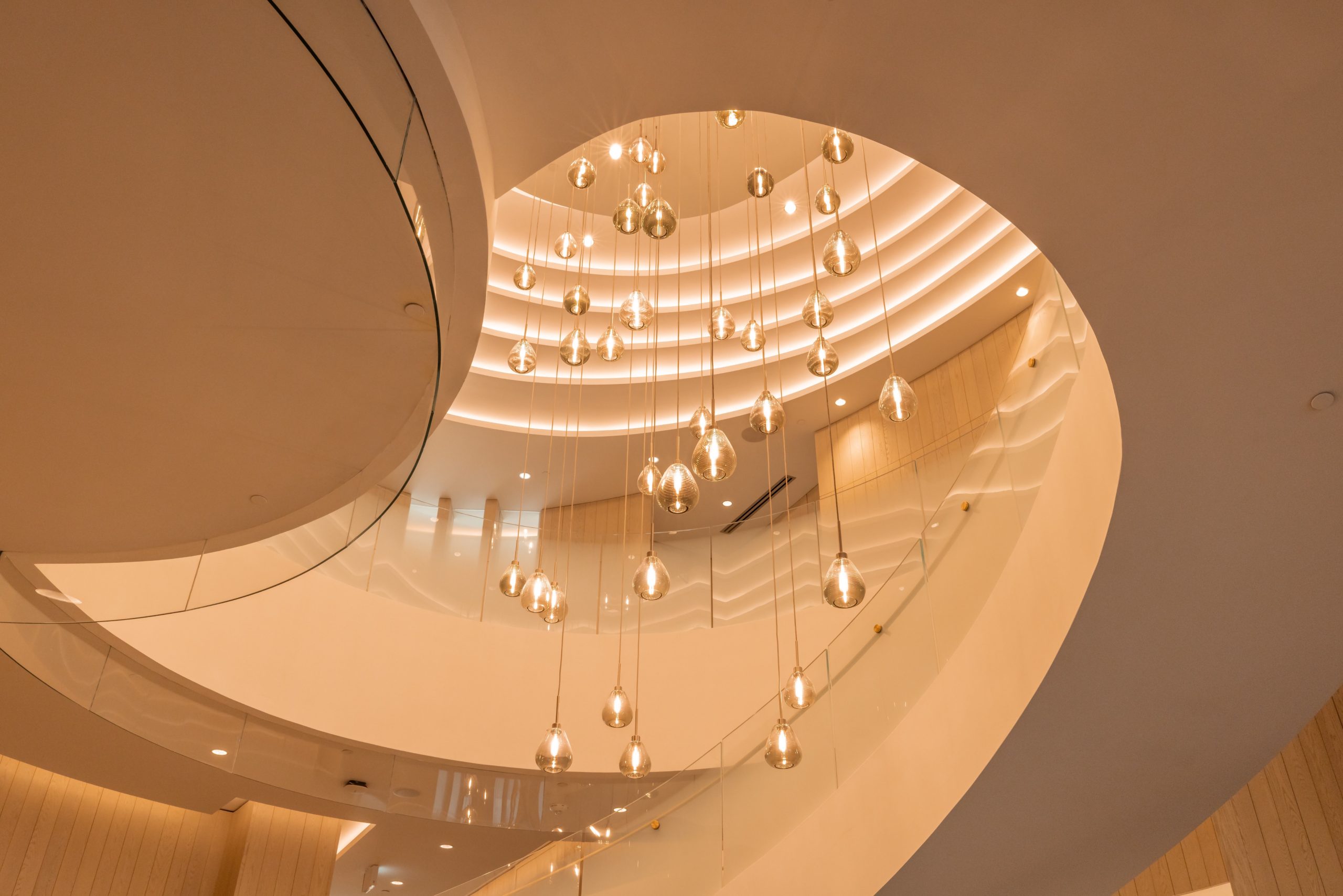 PROJECT PEARLE HOTEL AND SPA
DESIGN STUDIO MUNGE
GENERAL CONTRACTOR CSL
OWNER PEARLE HOSPITALITY
BUILT BY EVENTSCAPE, OCTOBER 2021
Project Description
This elegant new hotel and spa designed by Studio Munge creates an elevated experience along the vibrant waterfront of Lake Ontario. Eventscape was contracted to engineer, fabricate, and install the custom glass floral sculptural feature in the main ballroom. Combining specialized hand craftsmanship and advanced manufacturing tools, each petal of the sculptural feature is custom molded and hand-painted. The sculptural ceiling piece provides an elegant and striking backdrop to events in the space. Eventscape also fabricated and installed custom sconce lights in the chapel, drop light pendants in the lobby, as well as the decorative metal trellis ceiling feature in the restaurant.
Unique Characteristics & Project Challenges
Studio Munge based the design of the ceiling features on the lupin flower. Lupines are tall, lush, conical- shaped perennial flowers that come in a multitude of colors. The design development team at Eventscape explored many different materials and flower designs. The final design, done with delicate metal rod and glass, was chosen after many iterations and experiments.
Production:
The stems were designed as modular units that could be arranged into an organic canopy. The petals were water-jet cut from flat clear glass, then heated and placed in a collection of custom slump molds for shaping. Five different shapes and sizes and 25 different profiles formed all the 6000 unique flowers. The flowers were individually airbrushed by hand with a specialized artist's glass paint. The colour for the paint was mixed from three products to make a subtle blue with purple shading. Each petal size had a different color intensity, based on size and position. Custom 3D printed bushings are used to hold the individual flowers on the stem, and each flower was hand positioned for an organic look.
The manufacturing process was extremely delicate and required careful handling each step of the way. Eventscape assembled over 140 lupins into 34 branches with minimal breakage. Eventscape protected the pieces every step of the way and packaged the glass flowers immediately after production. Each flower had designated hang points and were installed using a full-scale template with stainless steel cables.
In the main grand staircase leading up to the ballroom areas are 45 suspended glass water droplet lights made of  glass that was custom blown, tinted, rippled. Eventscape 3D modeled the lighting layout for optimum dispersion, within the boundaries of the staircase opening. Three different sizes of glass drop were used from 6"-9" long. These were suspended using stainless steel cable and positioned using a full- sized template during installation.
In the restaurant, metal trellis ceiling feature with white powder-coat covers the three rooms totaling 1,300 square feet. Cove lighting on the perimeter gives subtle up lighting to the space. The Pearle Hotel & Spa; reminiscent of the local lake houses of the past is sure to become a standard for elegance and luxury with this unforgettable design.