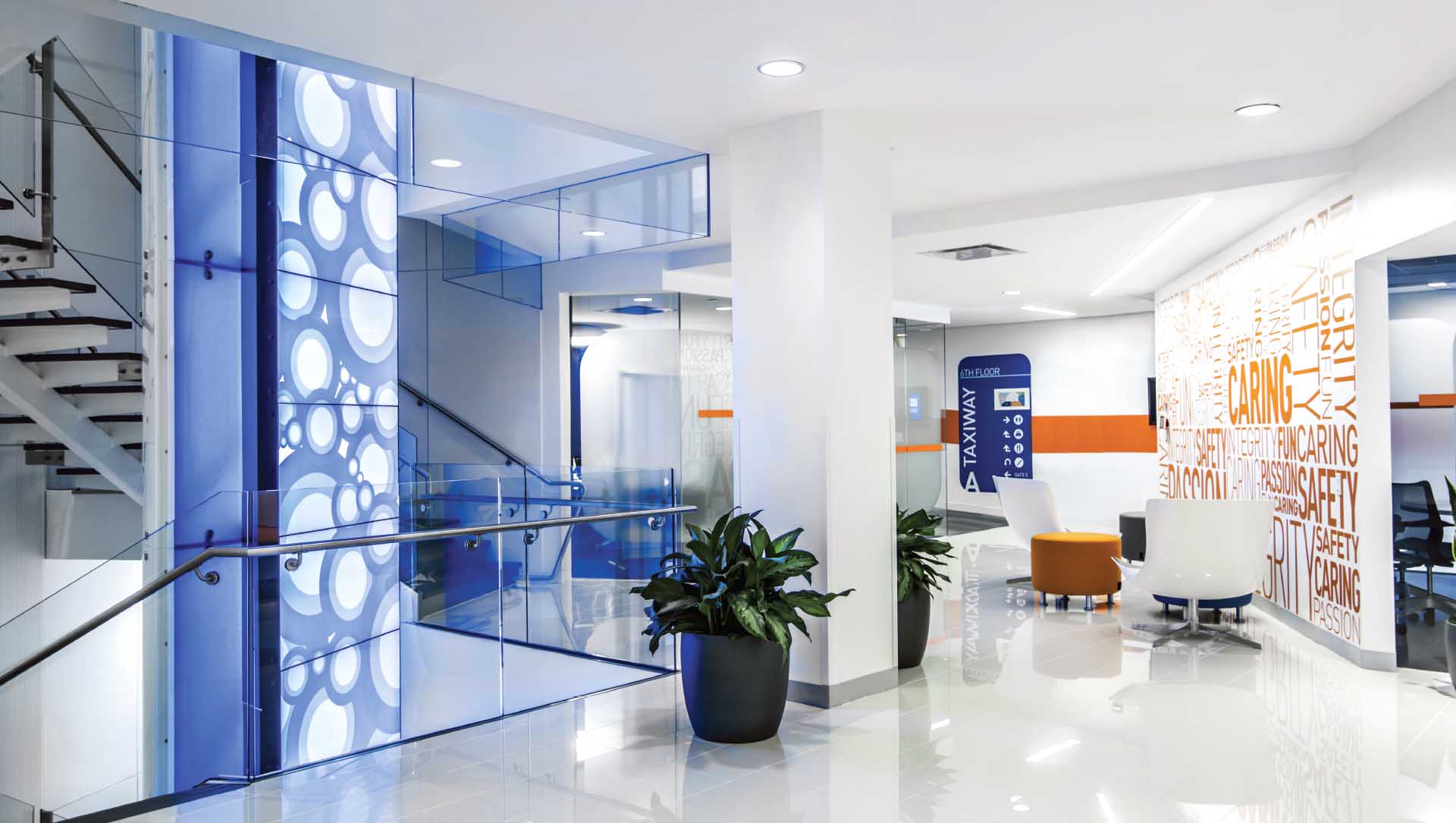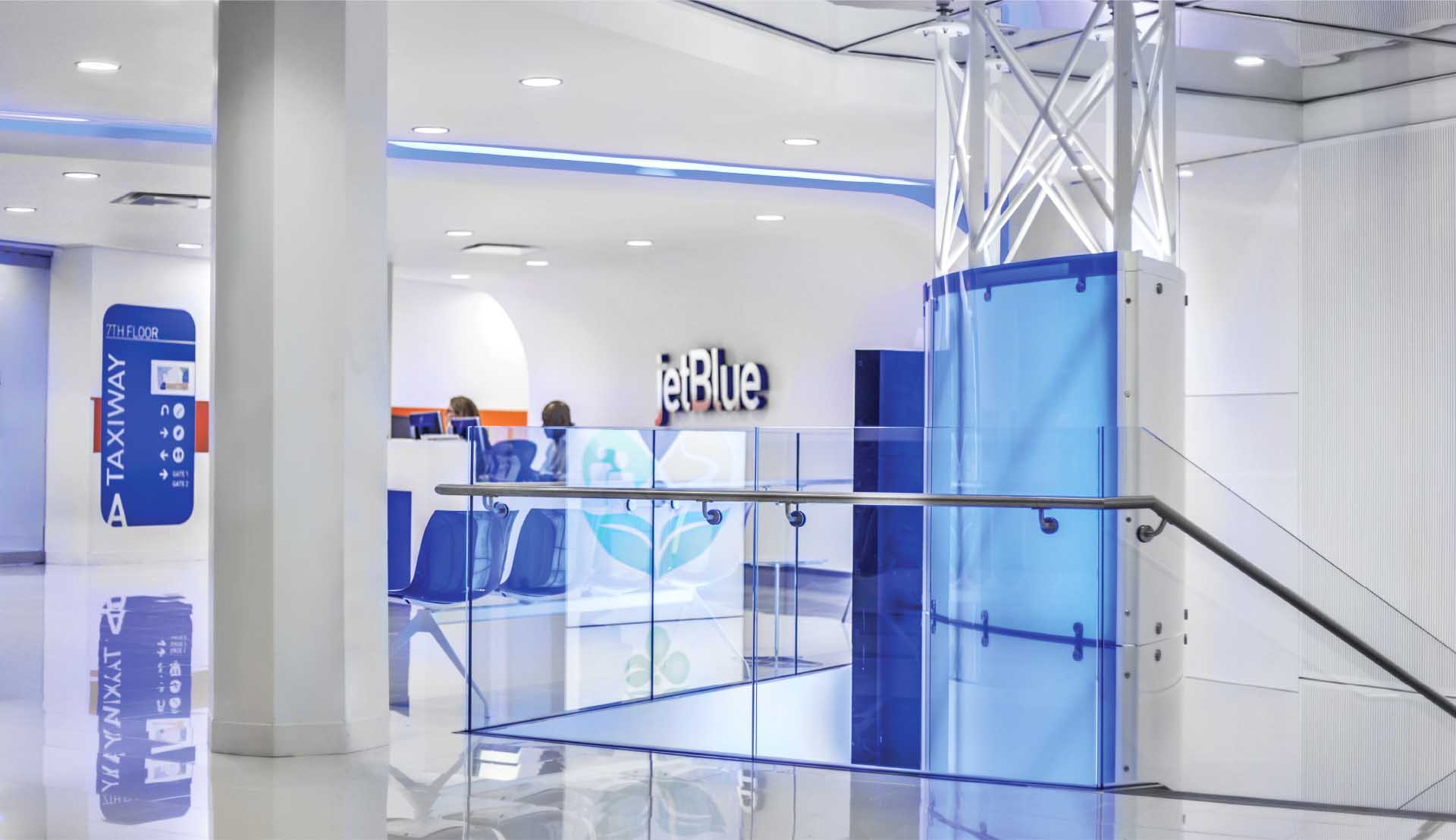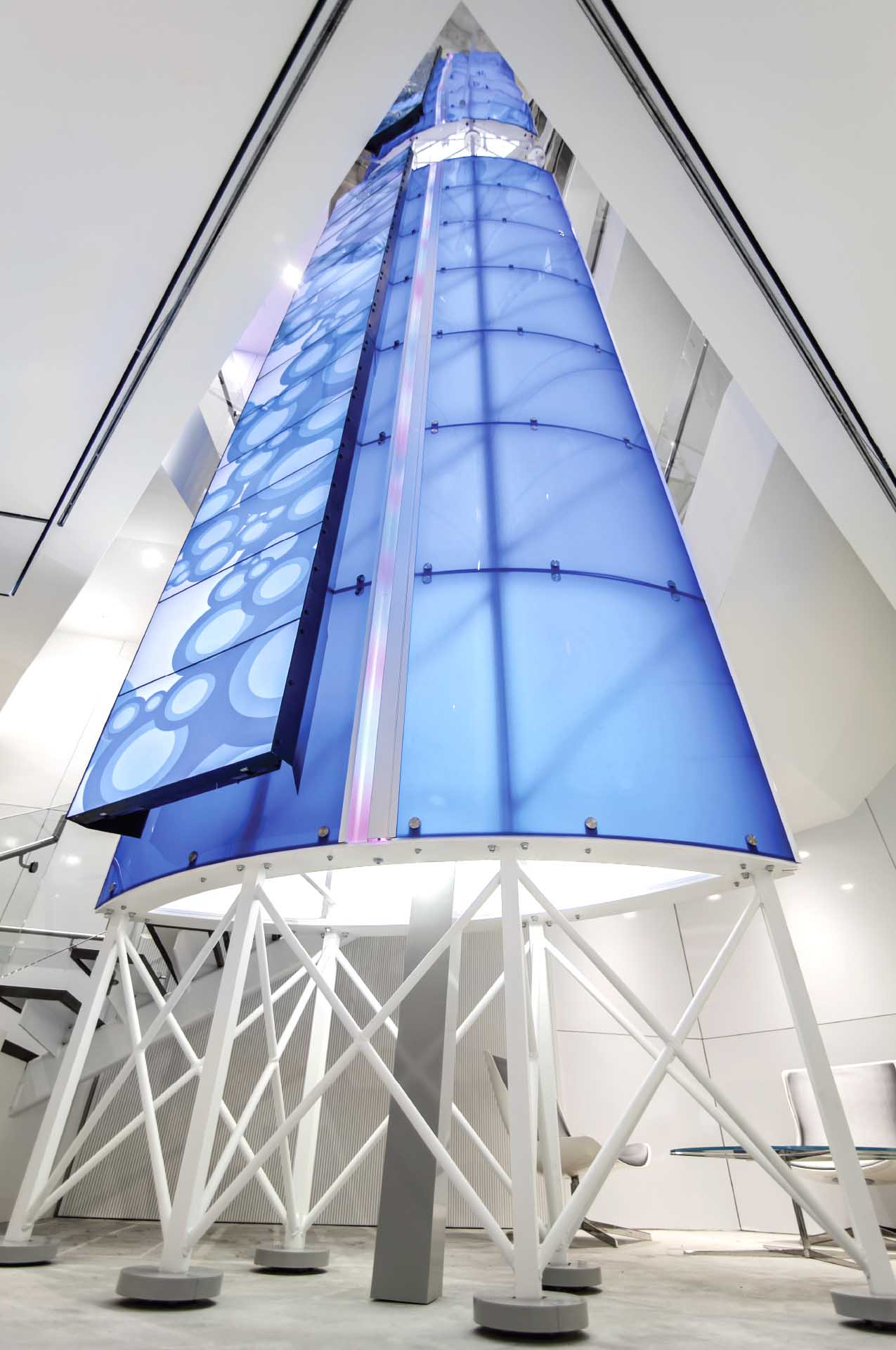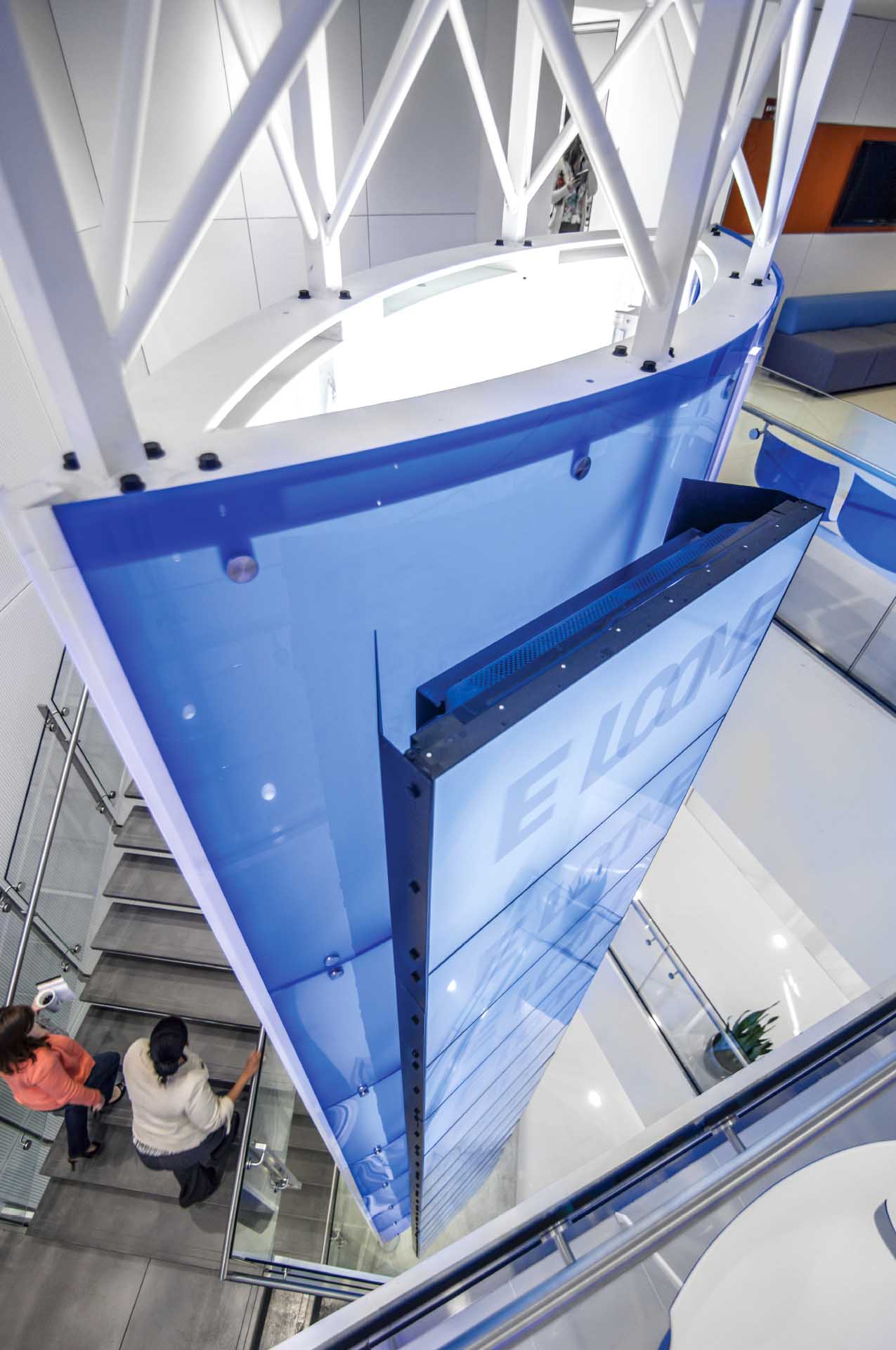 PROJECT JETBLUE CORPORATE OFFICE, LONG ISLAND CITY, NY
DESIGN HLW ARCHITECTS
GENERAL CONTRACTOR TURNER INTERIORS
BUILT BY EVENTSCAPE, FEBRUARY 2012
Eventscape's role with the Jet Blue project involved engineering, fabrication and installation of two custom tower structures. These sculptural elements extend three floors through the open staircases creating identical glowing features at either end of this corporate headquarters. Built of curved aluminum and custom blue polymer, each tower includes 14 LCD monitors with ongoing corporate branding, backlighting and inset light changing LED lights. The structures' frame is built like a truss with exposed fasteners to create an industrial look and along with the curved shape, resemble airplane wings.
Unique Characteristics & Project Challenges:
The internal framework of each tower sculpture was built in 4 ft high sections, with water-jet cut 1/2" aluminum plate oval ribs defining the profile of the wing-shaped structure. After researching aviation wing construction, Eventscape's designers incorporated the form into the engineered bracing. Exposed fasteners, caps, and a visible internal structure contributed to the industrial look desired by HLW Architects. A workable prototype was built of several tower sections which was then able to be incorporated into the finished structure.
The back of the towers were finished with rolled CNC cut 1/8" aluminum sheet panels, powder-coated gloss white. The front faces were divided in half by a light cove, with a programmable LED chase light. One side of the towers were finished with custom blue acrylic panels with LED backlighting. The acrylic sheets were cut flat for shipping efficiencies and the water-jet cut frame created a support rail to form the curved shape of the acrylic panels.
Custom steel "ladder" frames with high-load industrial hinges were fabricated to support the 14 LCD monitors and allow easy access for servicing. Engineered to stack, the low profile monitors each have a bevelled edge that gives the monitor wall a seamless appearance. Behind the monitors a series of vents were laser cut in the acrylic to accommodate cable management and heat distribution.
At over 35 feet high, 9 ft wide and 3 ft deep, the tower structures were installed in the center of the stairways at both ends of the newly renovated Jet Blue headquarters. A base plate template was sent to site for the contractor to position the poured cement pad footing required for each tower. The base template also acted as a plumb laser locator for the top pin supports, mounted in a hidden steel sub-structure installed above the mirrored ceiling. As New York City is in an earthquake zone, engineering to allow for potential seismic activity was required. The machined top posts with grease fittings allow for significant deflection of the floor and ceiling.