FACADE OF LAGO
BACKLIT GLASS FACADE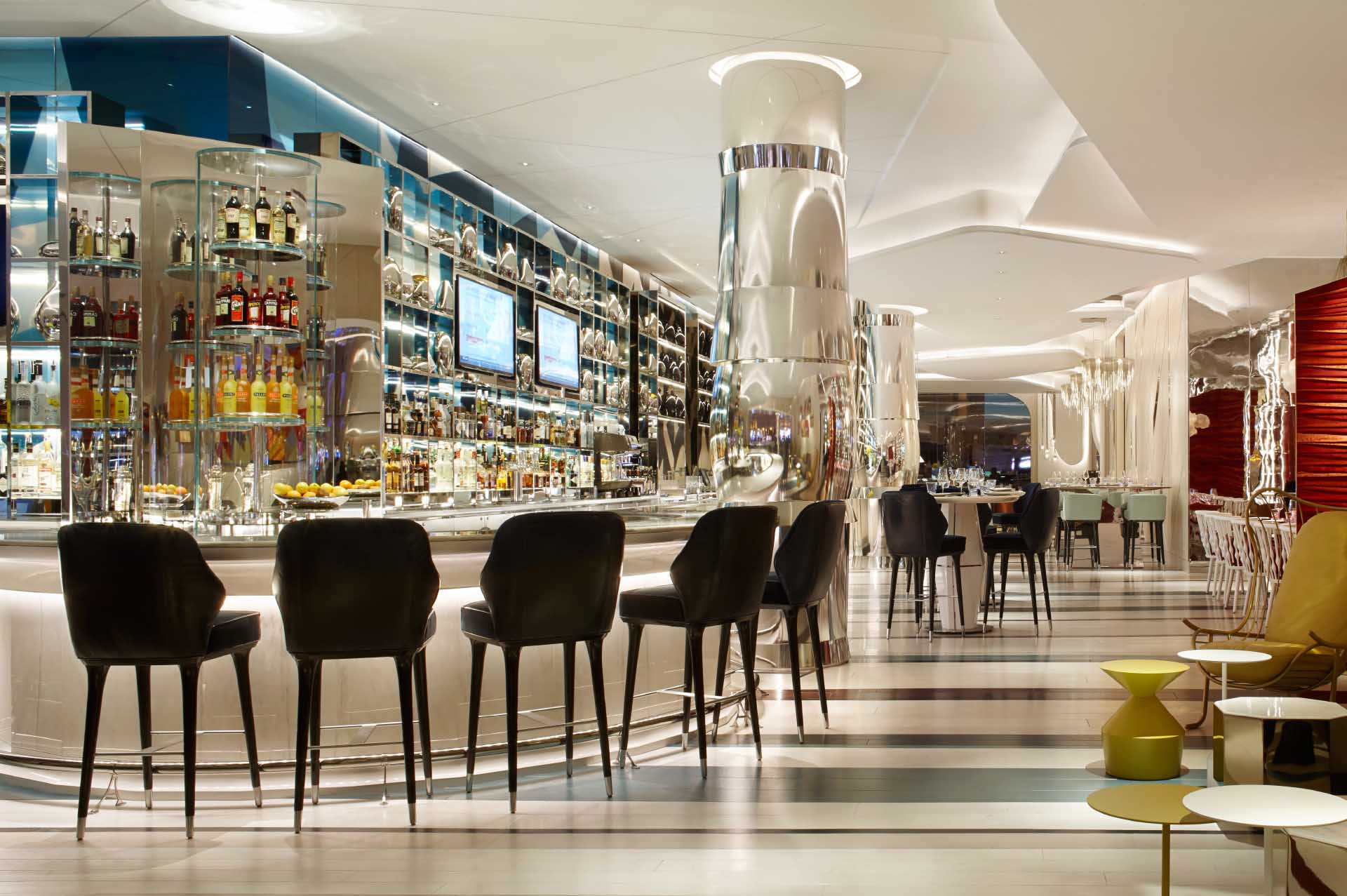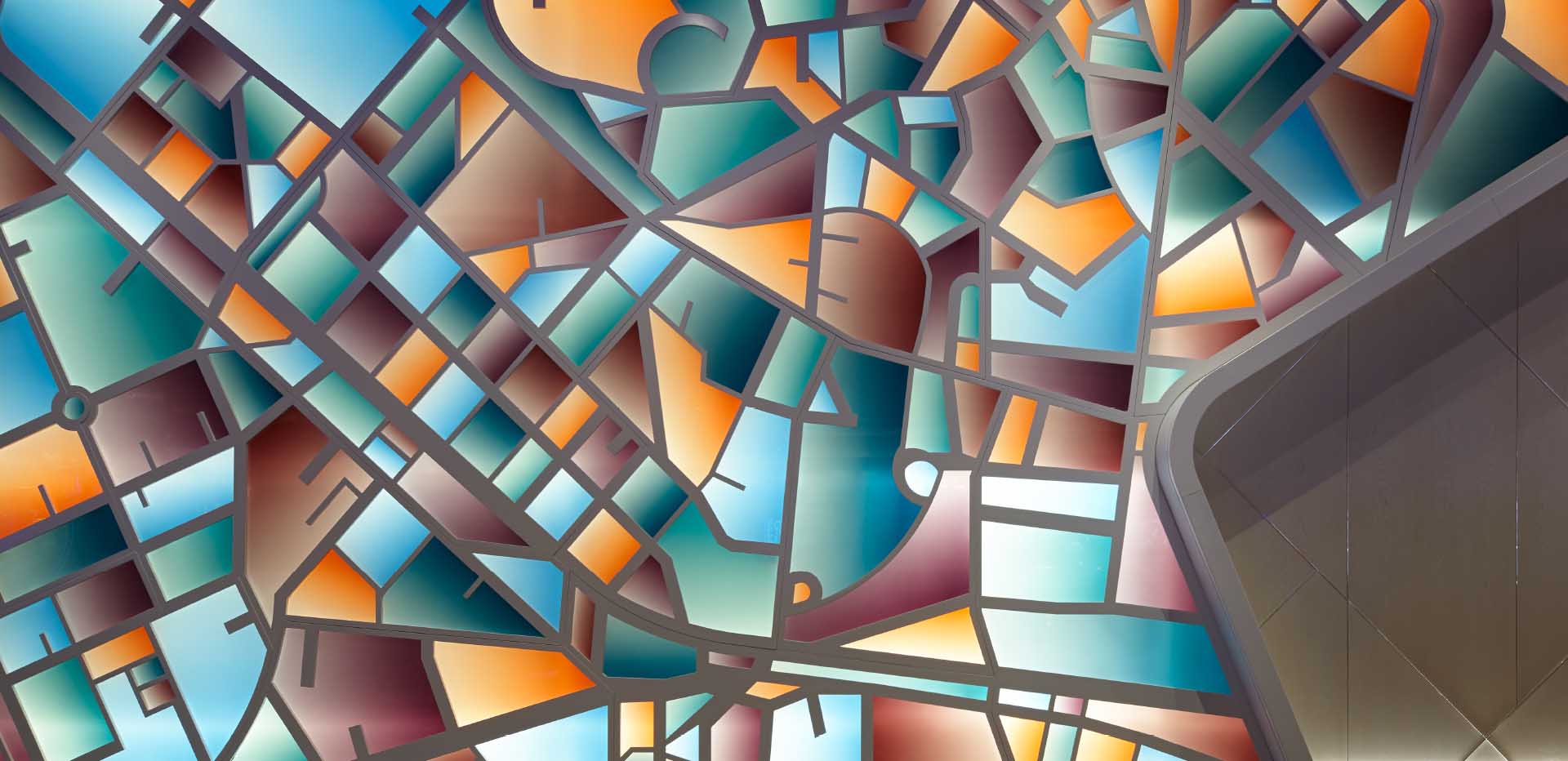 PROJECT FACADE OF LAGO BY JULIAN SERRANO, BELLAGIO RESORT & CASINO, LAS VEGAS, NV, US
DESIGN STUDIO MUNGE
ARCHITECT NOVUS ARCHITECTURE
GENERAL CONTRACTOR TRÉ BUILDERS
AWARDS 2016 INTERNATIONAL INTERIOR DESIGN ASSOCIATION, INNOVATION IN DESIGN; 2016 ARE DESIGN AWARDS, STOREFRONT/EXTERIOR AWARD, ABSTRACT ENTRANCE FACADE; 2016 ARE DESIGN AWARDS, SILVER, RESTAURANT/FINE DINING
PHOTOGRAPHY EVAN DION
BUILT BY EVENTSCAPE, APRIL 2015
In April 2015, LAGO by Julian Serrano debuted at the Bellagio Resort & Casino in Las Vegas. This Milan-inspired, 6,650 square foot restaurant was designed by the internationally-acclaimed interior design firm Studio Munge (with architecture by NOVUS) and takes its cues from Italian Futurism – the sweeping artistic and cultural movement of early 20th century Italy. Eventscape was contracted to produce the stunning 95 foot long x 13 foot high multi-layered entrance facade, a colorful interpretation of an aerial map of Milan. Inspired by the artwork of Paul Klee, it is comprised of backlit, colored glass panels with an overlay of CNC cut white powder coated metal that represent Milan's streets.
Unique Characteristics & Project Challenges:
Eventscape created several glass samples and a full 4-foot x 8-foot prototype for approval prior to full fabrication. To achieve the best color, a gradient color scheme ranging from 30% – 100% was devised, digitally printed on vinyl film and applied to the CNC cut 3/8" thick tempered glass panel sections. Placement of the panels corresponded to Studio Munge's color rendering. Dimmable controls were used for the LED light pad panels for an adjustable light intensity.
Since the casino continued to be open during construction, a hoarding wall was built to block off the new area. Two – 10 foot x 10 foot openings were created in the parking garage ceiling below so that equipment and products for the full renovation of the restaurant could be lifted into place. Eventscape's panels could be no larger than 4 feet x 8 feet so they could easily fit through the openings.
Eventscape provided one layer of plywood substrate with holes CNC cut for the stainless steel glass standoffs. Holes were also CNC cut in the LED light pad panels. After the glass panels were attached, the aluminum "road" panels were attached. The panels were engineered so that all hardware was hidden by the final gloss white aluminum panel, but easily removed for maintenance. A combination of steel and aluminum was used for the trims, with steel on the lower areas for durability.
The 40-foot wide portal entrance was framed with 20 gauge steel, welded and formed in sections to create the complex curved interior perimeter trim caps. The interior wall surface inside the portal was finished with custom wood panelling by others which butt up against the perimeter trim.