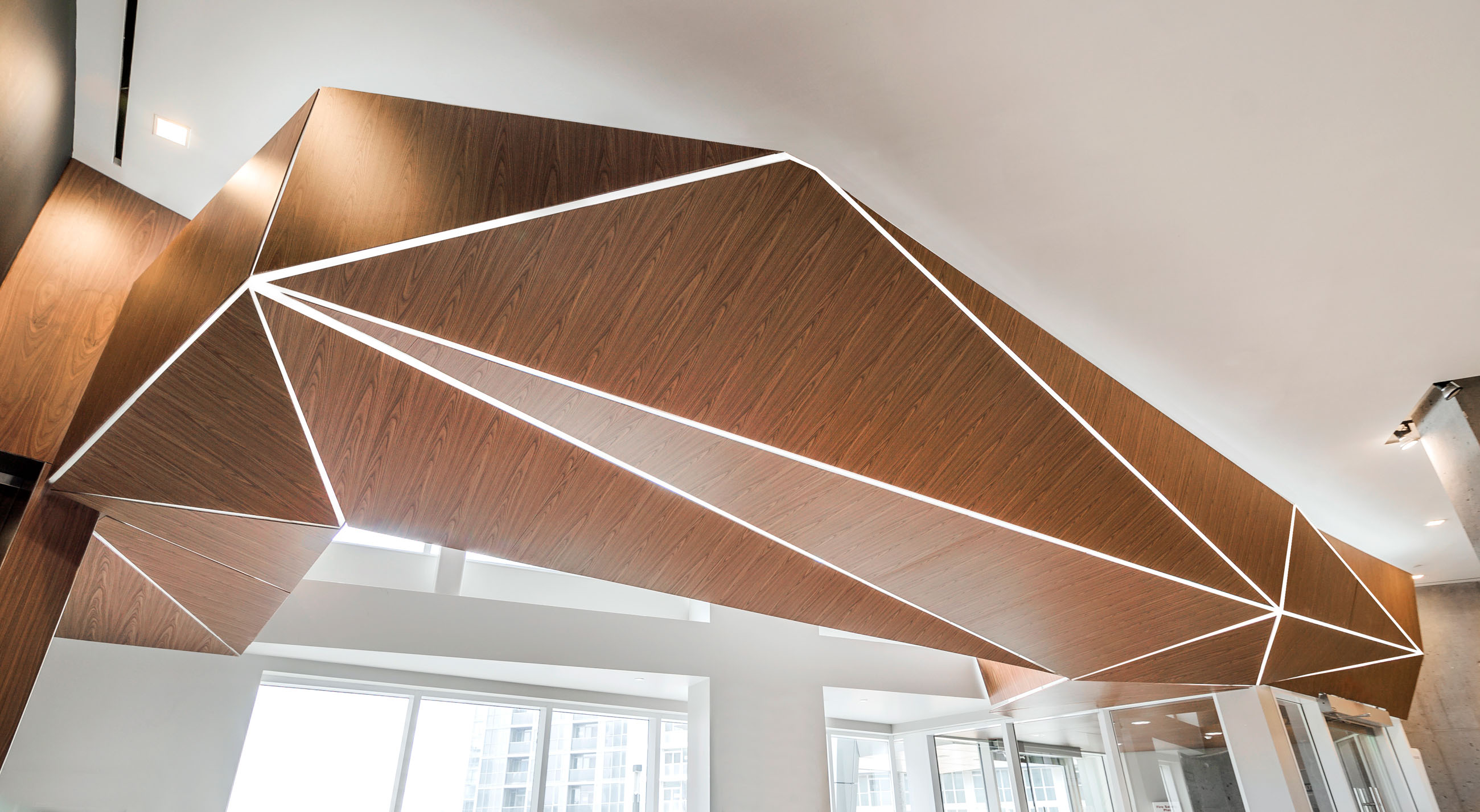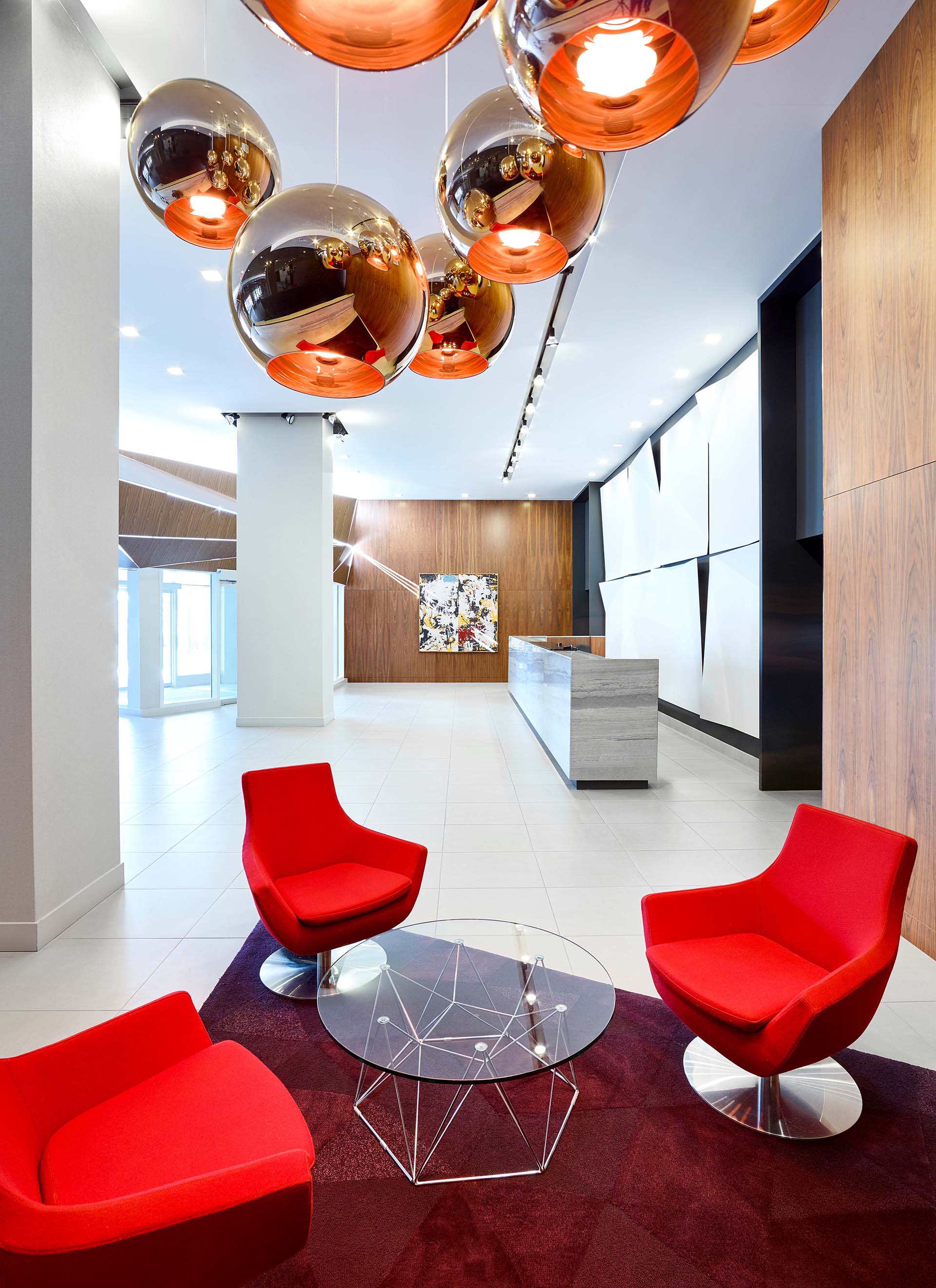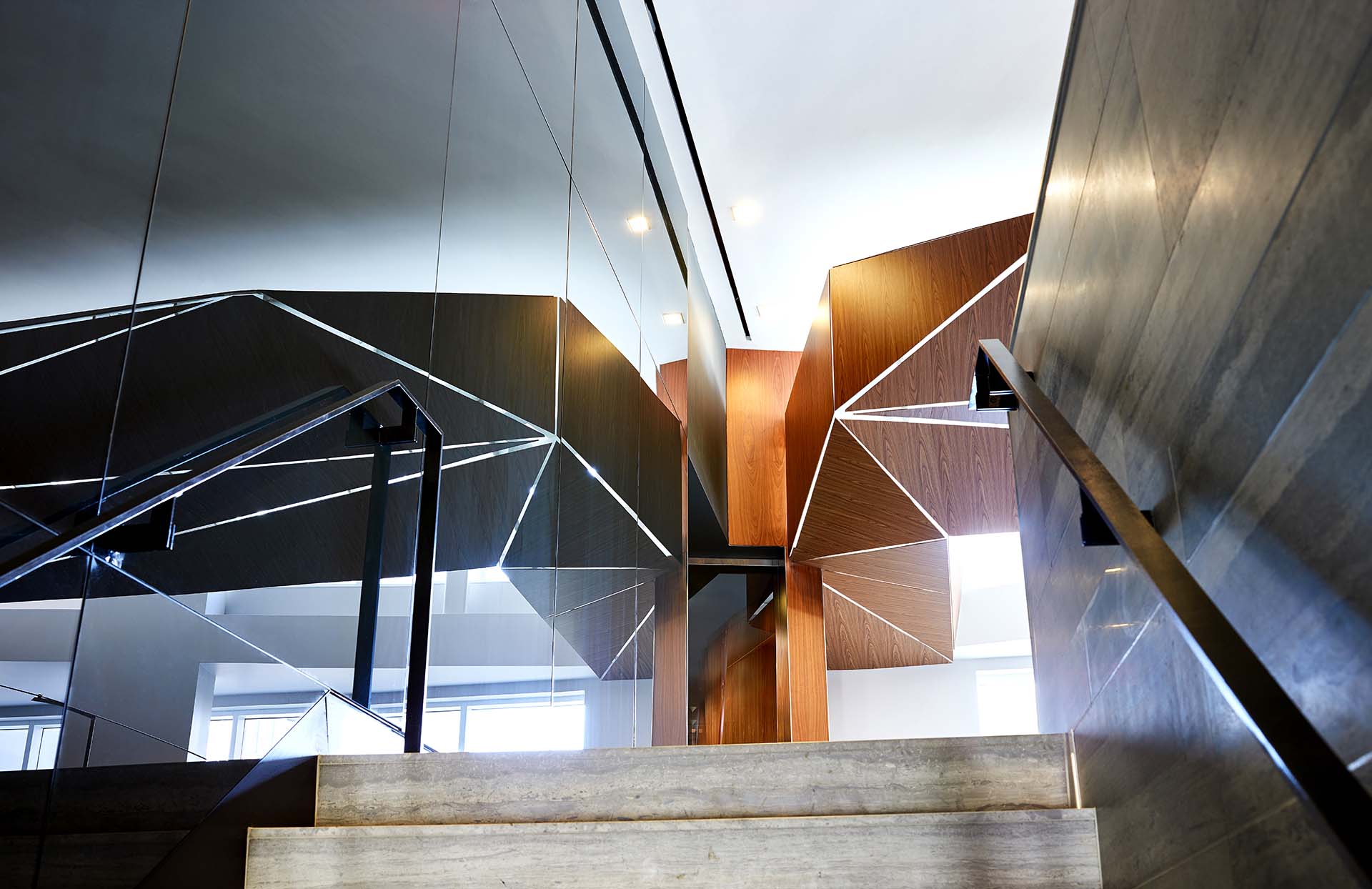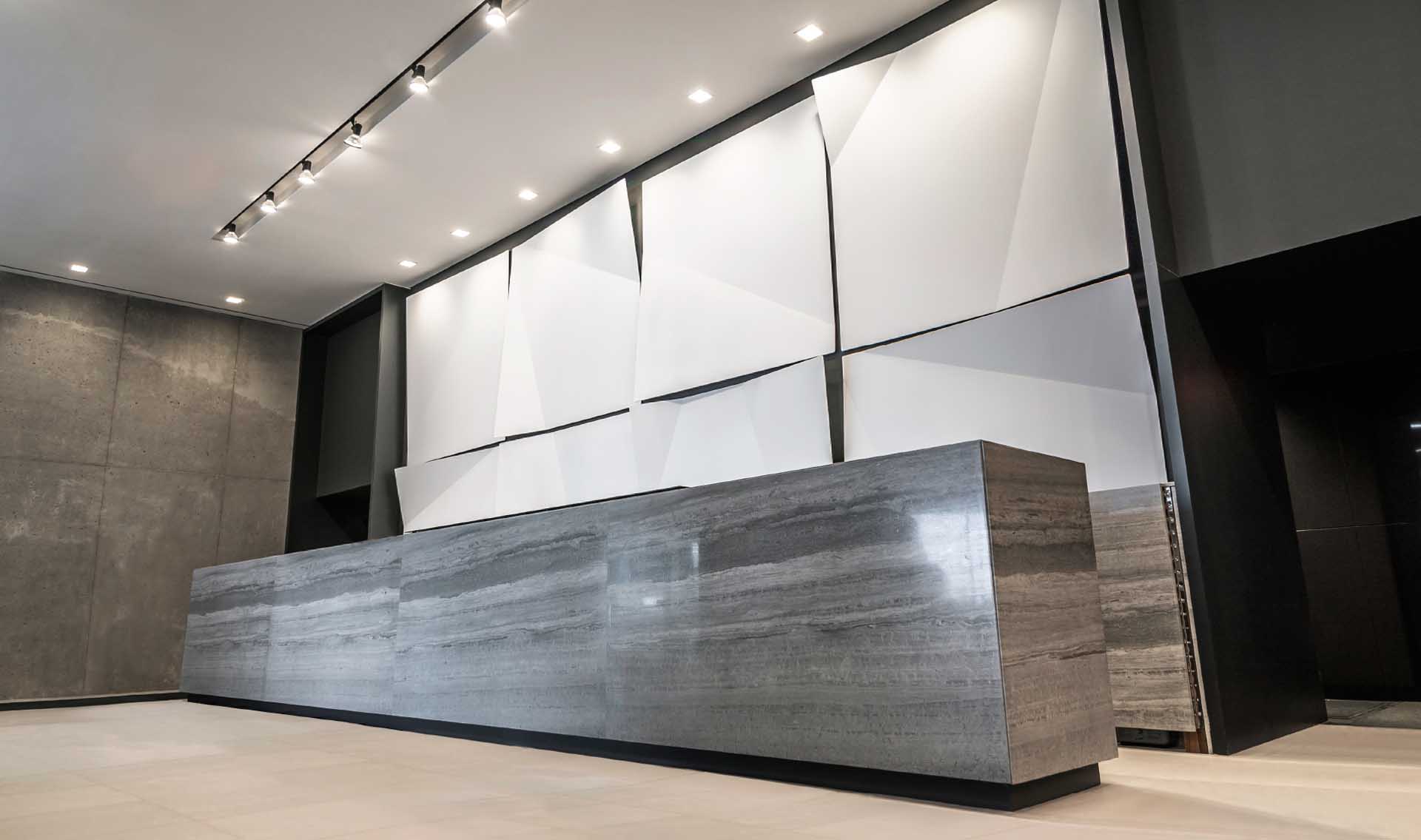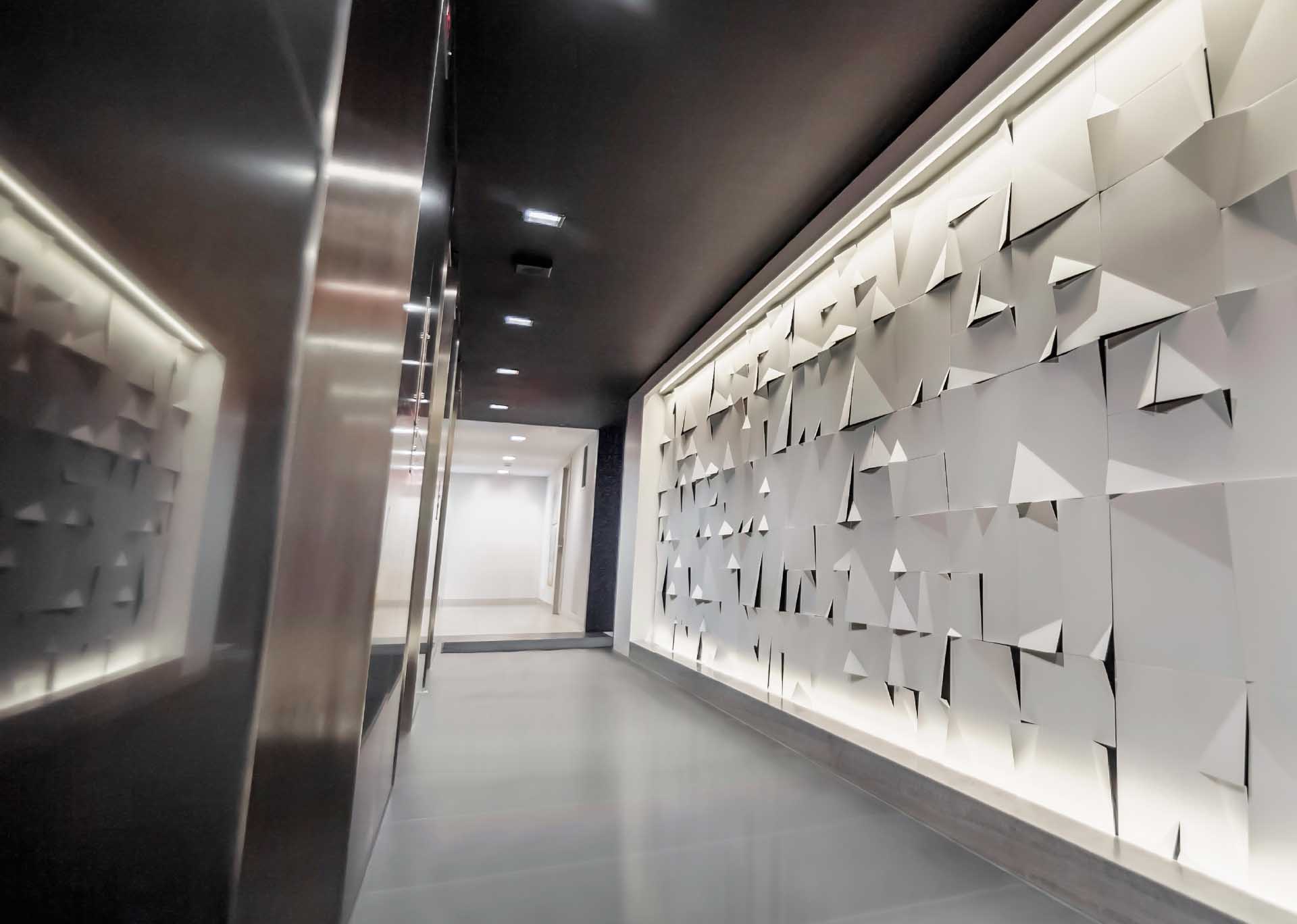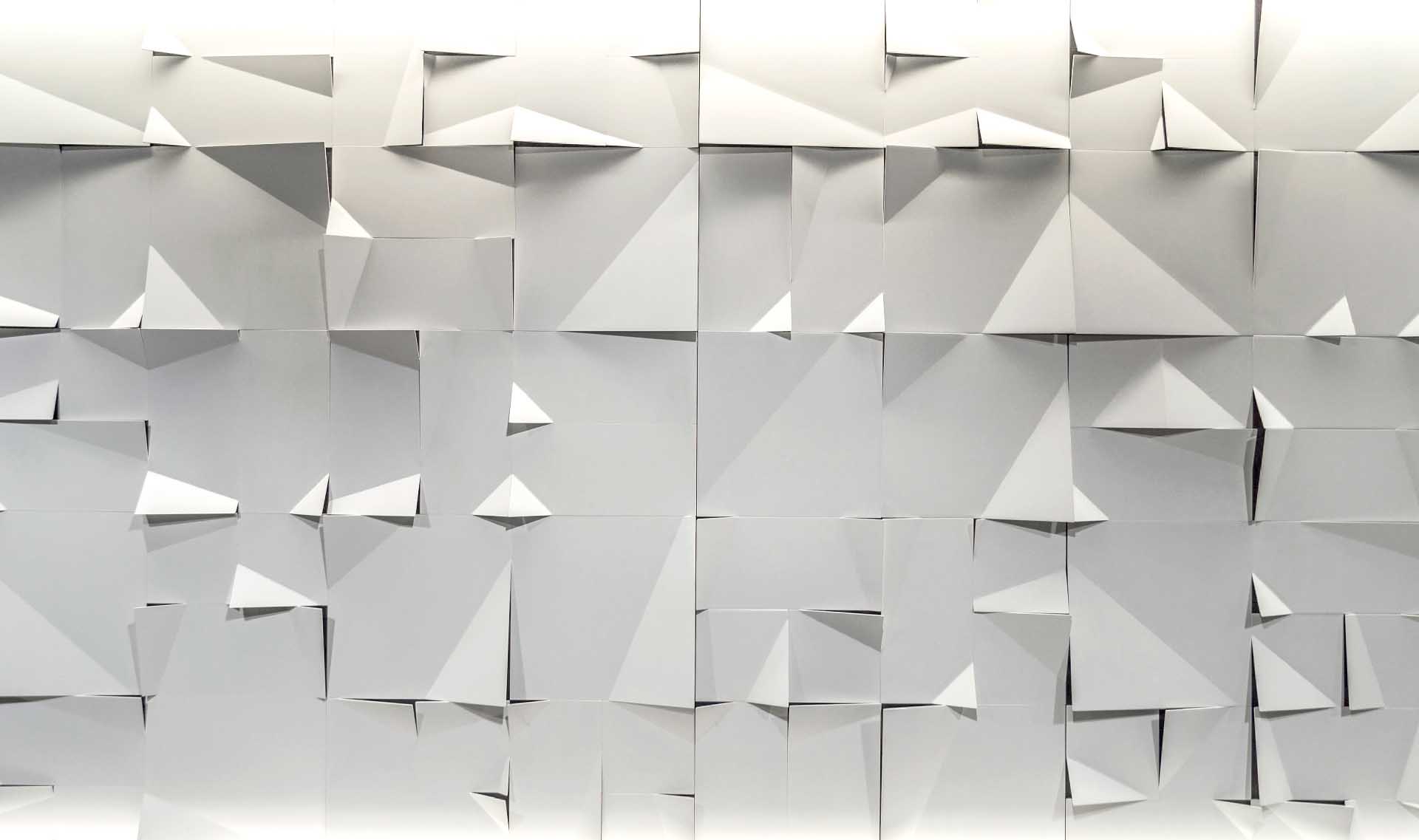 PROJECT BLOCK 33 LOBBY, CONCORD CITY SQUARE, TORONTO, ON
DESIGN FIGURE 3
DESIGN ARCHITECT RAW ARCHITECTS
PROJECT ARCHITECT PAGE + STEELE & RAW ARCHITECTS
DEVELOPER CONCORD ADEX
GENERAL CONTRACTOR ELLIS DON
PHOTOGRAPHER STEVE TSAI
BUILT BY EVENTSCAPE, JANUARY 2015
The essence of modern interior design is expressed in this new condo project with basic geometric shapes, functional lines, curves and clean finishes. Designed by Figure 3, Eventscape was contracted to engineer, fabricate and install 3 feature elements in the lobby and reception area.
The metal paneled feature elevator wall consisted of 153 panels in 3 different sizes. Each sized panel had 3 different brake formed patterns arranged in a random sequence on the 21 ft. long x 6 ft. high wall. These panels were grouped into 16 larger panel backers and then mounted onto a plywood location panel. Due to the tight tolerances on site, the panels were attached with concealed push in fasteners into the 6" deep niche.
At the reception area, 8 panels with 3 different brake formed patterns were rotated and arranged in a random placement to form a 25 foot long x 12 foot high feature. These were hung from the steel studded drywall on z-clips. All panels were built of 1/4" aluminum with a flat white powder coat finish. With an economy of forms and quantities, two unique sculptural wall features were created.
The custom ceiling canopy was a 1200 square foot faceted feature that appeared to float above the entrance. The substructure was a CNC cut interlocking plywood frame which gave the basis for the faceted geometry of the surface. Fire rated MDF panels were fitted to this frame and finished with a final layer of 1/4" MDF with a woodgrain film.
The entire structure was mocked up and staged at Eventscape. The substructure and ribs were designed to come apart in manageable sections; as large as possible but still small enough to ship and fit through the doors on site. To install the canopy, aircraft cable was used to suspend the center portion while the ends were supported and captured by the adjacent walls, creating a floating bridge.