CORPORATE OFFICE
CORIAN WALL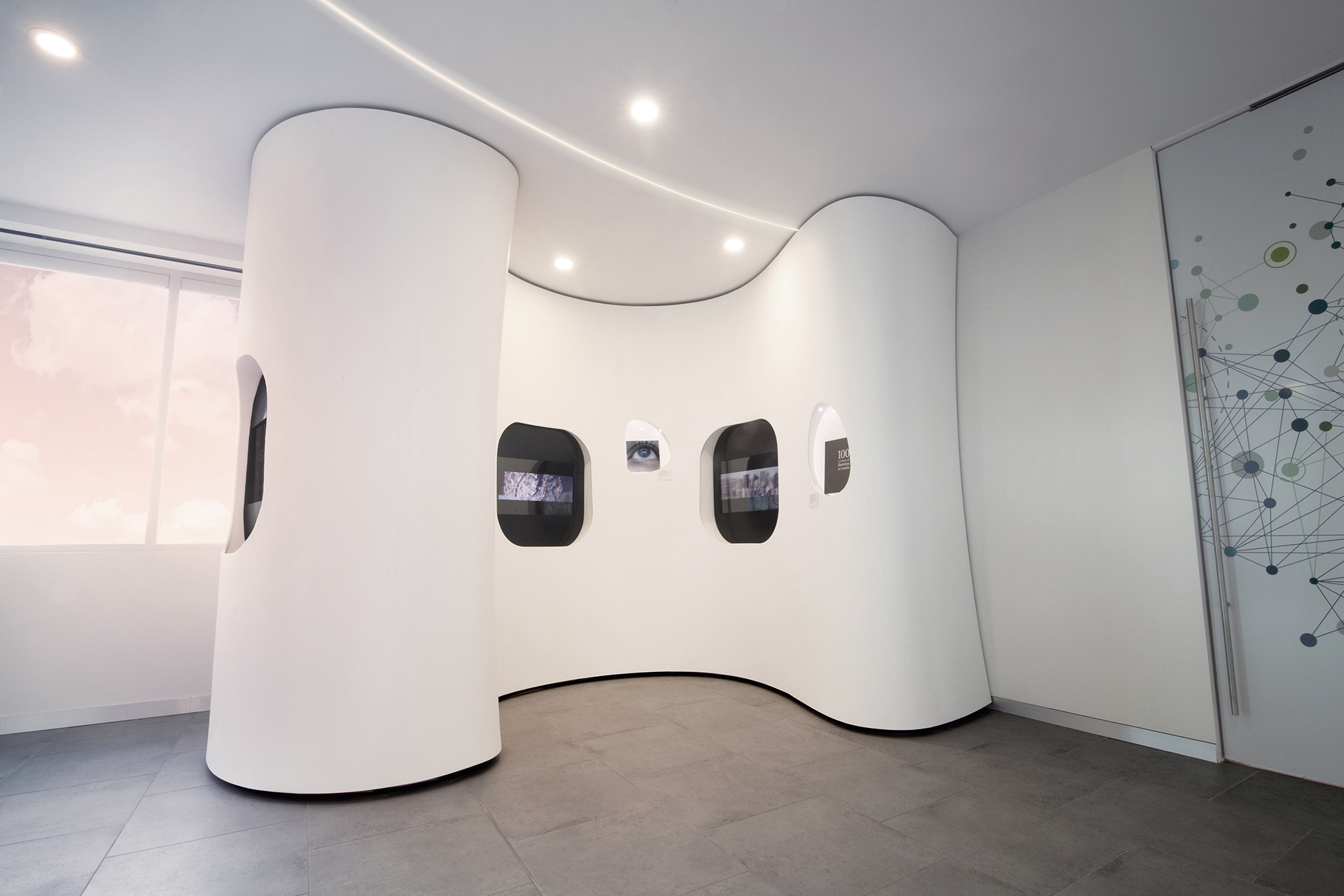 PROJECT CONFIDENTIAL CORPORATE OFFICE, OAKVILLE, ON
GENERAL CONTRACTOR DPI CONSTRUCTION
BUILT BY EVENTSCAPE, SEPTEMBER, 2013
ZAS Interiors designed a luminous white showroom with seamless organic walls for this innovative worldwide corporation; showcasing the products in a stylish contemporary space. Eventscape engineered, fabricated and installed a complex curved Corian feature wall and 3 acrylic display cabinets for this corporate showroom. The thermoformed and sculpted feature wall meanders across a corner of the showroom providing 32 feet of smooth curving wall surface within a 12 foot wide area.
Unique Characteristics & Project Challenges:
Eventscape was brought in to review and present material and costing options to achieve the designer's desired clean, organic, seamless feature. Corian was selected as the leading option due to it's unique combination of formability and durability. The challenge in using Corian as a double curving surface is in the design and implementation of the molding and forming process, to ensure consistency of surface tangency and edge contact across the 16 individual panels that resulted from Corian's 30″ sheet width.
Lightweight but rigid multi-body plywood molds were designed to both form and support the individual panels while simultaneously providing tooling guides for preparing the edges for seamless bonding. A unique combination of digital tools, material knowledge, fabrication expertise, and artistic skill needed to come together in order to achieve the seamless feature wall as designed.
The 1/2″ thick Corian sheets were  pre-cut on one of our CNC routers based on compensated digitally generated templates, prior to forming. Particular care needed to be taken in the design of the shape and placement of the irregularly shaped display niche and monitor openings which needed to align accurately once formed, to the recesses and support locations within the wall structure.
The 16 unique waffle shell plywood molds used to form the Corian were designed to become the wall framing and support for the finish surface in the final installation. All of the sections were fitted together on a master template in our facility over the course of the 12 week project in order to ensure all possible finishing and testing that could be completed prior to installation was done, thereby minimizing the time and work needed on site. The final number of individual panels shipped to site was reduced to 7 by shop finishing selective panel joints based on a 3D analysis of clearance and erection sequence of the now 5′ wide wall sections.
Once on site, the panels were placed, secured, and joined by our installation team while the required electrical service was run to the pre-located junctions within our support framing.  The recessed plinth was finished with a stainless steel kick plate. Interactive touch screens and other media were installed within the backlit acrylic openings. A minimal profile lighting surface was developed by Eventscape and incorporated into the niches to accentuate the artifacts on display and conform to the organic shape.
The finished feature wall successfully retains the complexity and grace of the initial design in an apparently effortless seamless surface.