REBEL
MULTIPLE FEATURE ELEMENTS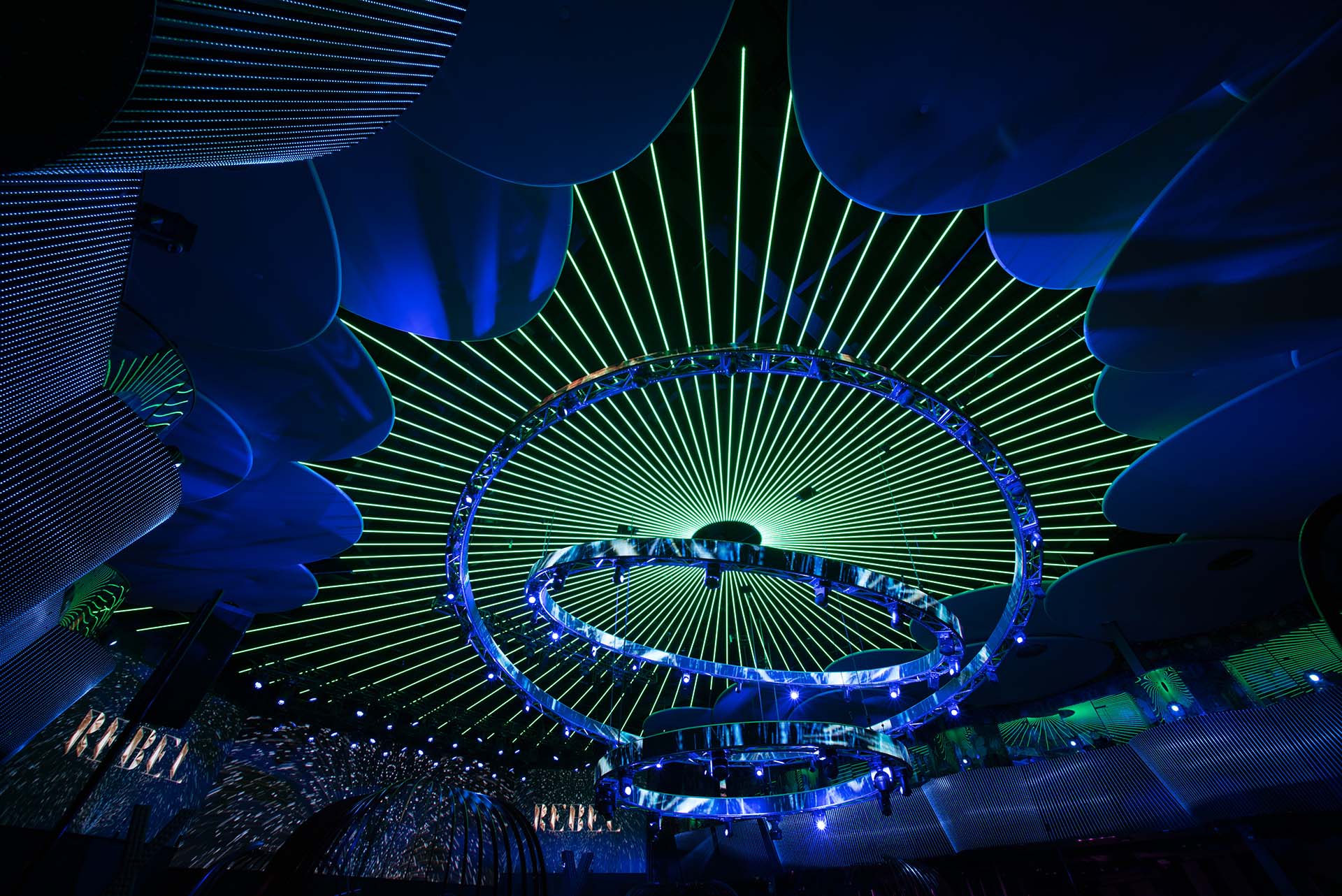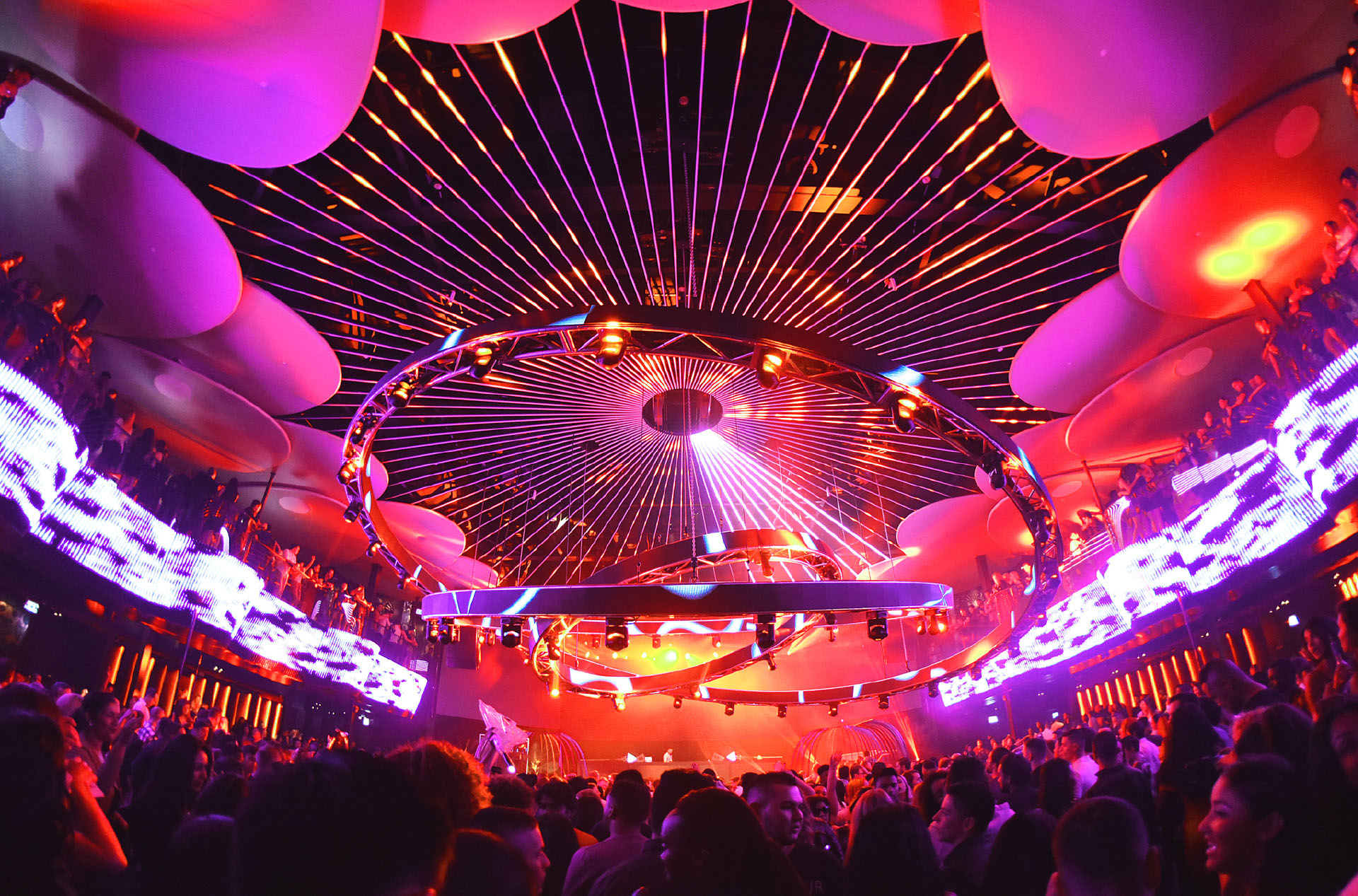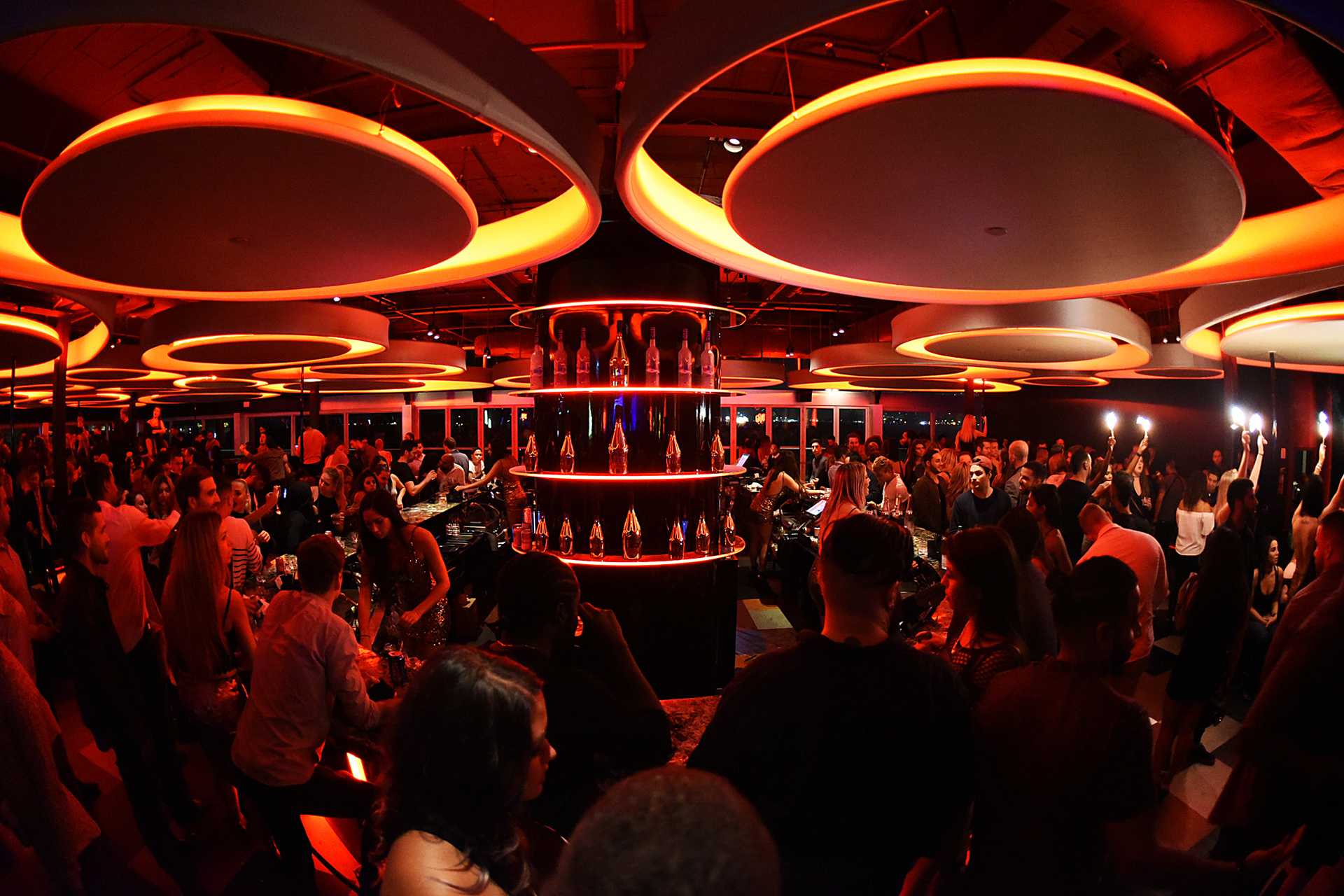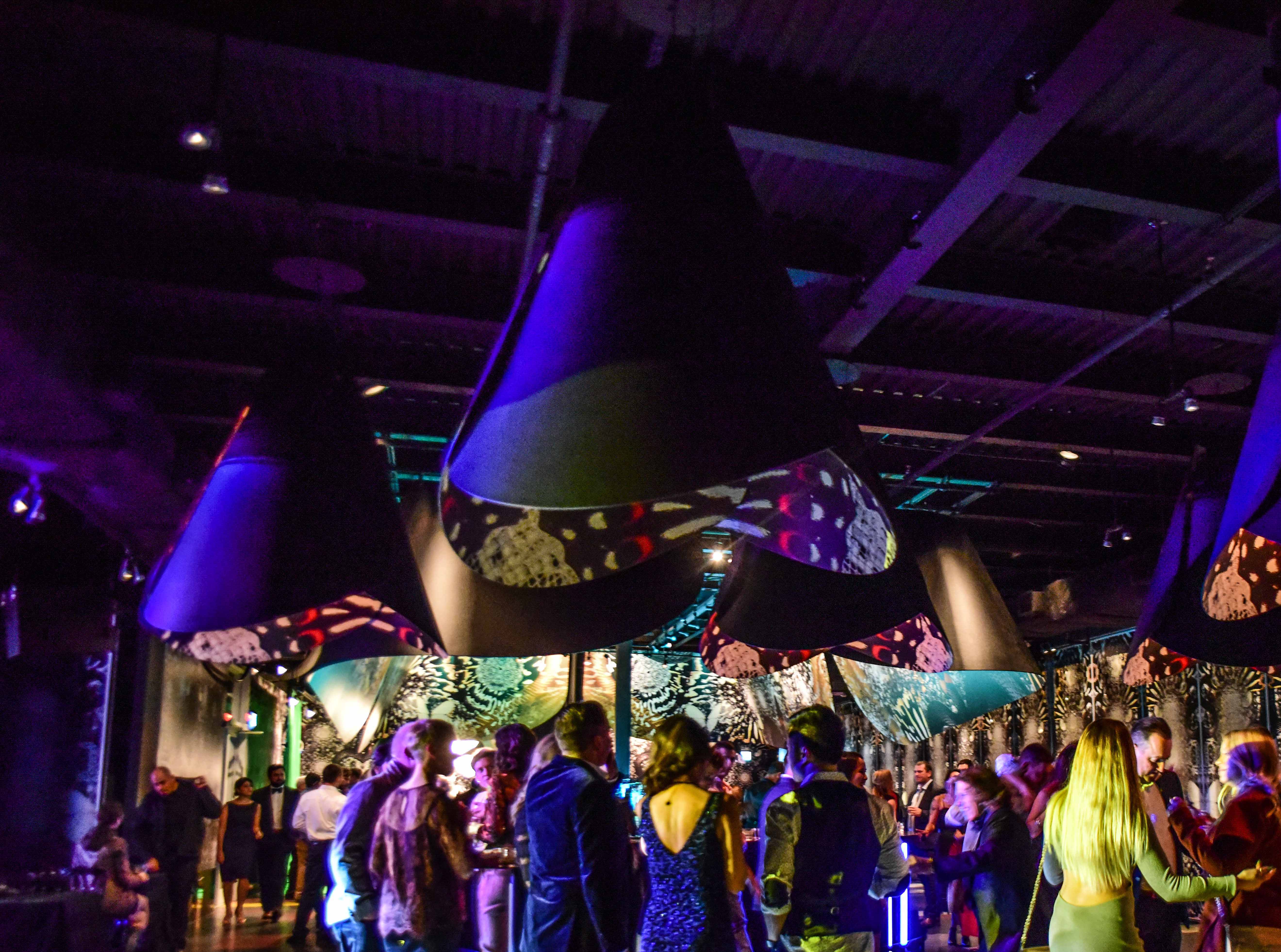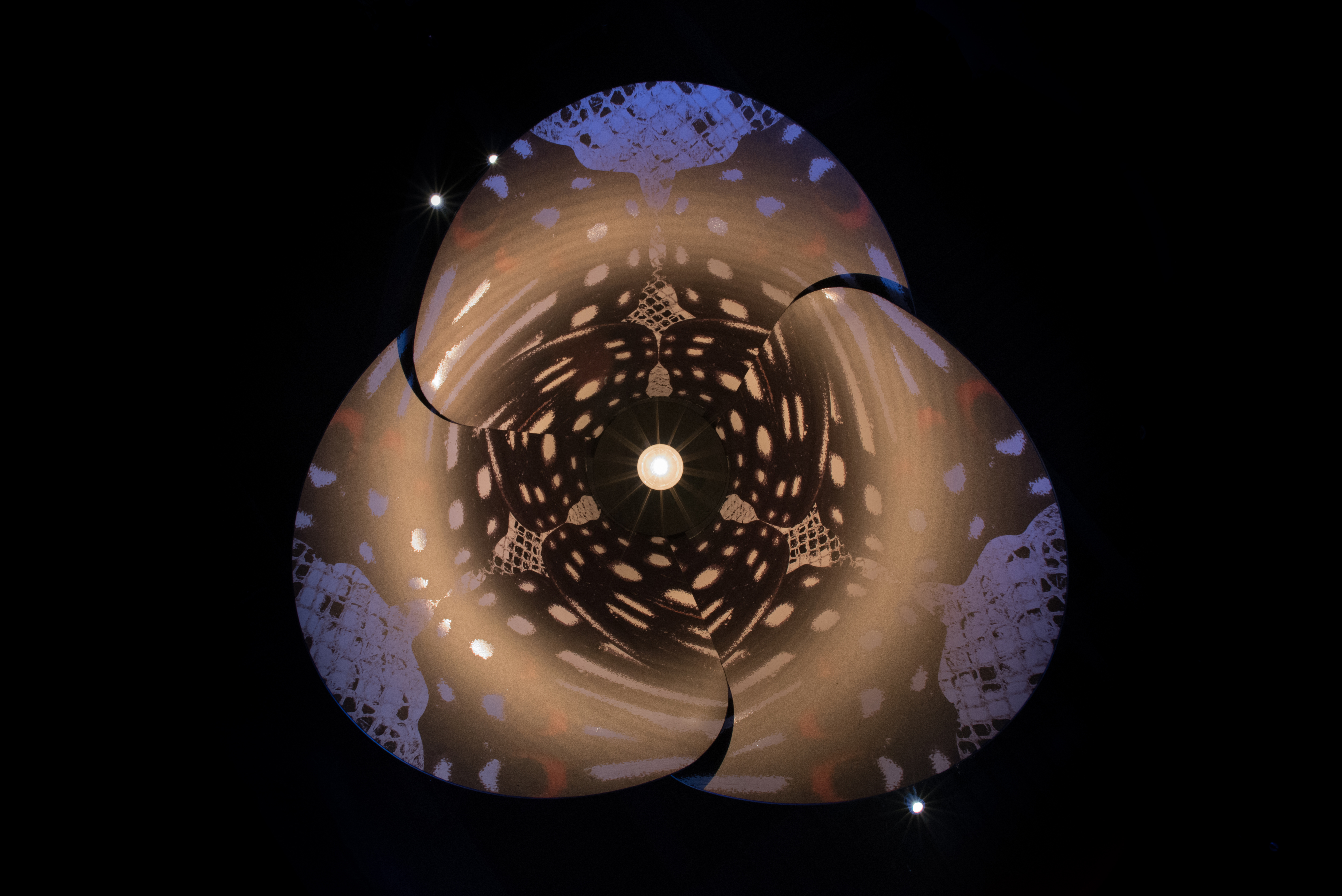 PROJECT REBEL NIGHTCLUB, TORONTO, ON
DESIGN STUDIO MUNGE
GENERAL CONTRACTOR INK DEVELOPMENT
PHOTOGRAPHY ROBERT YOUNG, KURTIS HOOPER
BUILT BY EVENTSCAPE, OCTOBER 2016
This was a complete renovation of a 45,000 square foot popular nightclub on the waterfront in Toronto, transforming it into a stunning 2-storey space with multiple levels of VIP luxury and dynamic lighting. Eventscape provided multiple custom features over both floors: a curved printed metal canopy over the bar, numerous framed textile ceiling panels with integrated uplighting, and steel cocktail and lounge tables. Studio Munge's use of color and sensual patterns in multiple layers throughout the space created a distinctive, changing environment to make this the hottest new destination in Toronto.
Unique Characteristics & Project Challenges:
Bar Canopy & Light shades at 2nd Floor "Encore" Bar: The original concept for the conical shaped light shades was a metal frame with a printed textile skin. However achieving a tight inside curve was not possible with the textile. Eventscape's solution was to fabricate the shades in curved aluminum with a black powder coated back and printed vinyl applied to the interior. There were 10 small shades in the VIP washrooms and 9 larger light shades surrounding the bar.
To continue the same aesthetic as the light shades, the canopy shade above the Encore Bar was also fabricated with 4 sections of curved metal with powder coated black outside and a printed snakeskin-like pattern vinyl applied to the inside. Each curved section was made up of 3 segments of metal, welded together and finished seamlessly. Final size of the suspended canopy was 36 feet long by 20 feet wide.
Ceiling Panels & Tables at Main Level "City" Bar: Each of the 26 ceiling light features on the main floor consisted of two components and 3 different sizes, from 5 feet to 17 feet diameter. The flat circular metal framed textile disks had integrated light channels for the color changing LED's. Eventscape worked closely with the lighting designer and fabricated several mockups to determine the best position and optimal light placement to both uplight and provide an even balance on the 26 surrounding framed textile oval panels.
In addition to the ceiling features, Eventscape also fabricated 28 steel cocktail tables and 89 oval lounge/coffee tables with Italian marble tops in four different powder coat finish colors that matched the various themed areas.
Ceiling Panels at Mezzanine Ceiling: The 23 oversized "petal" framed textile oval ceiling panels encircle the mezzanine ceiling. At 21 feet long x 17 feet wide and installed in 3 different layers and angles they create a wave pattern that reflect the color changing lights. On the eight petals at the lowest level, light channels were incorporated for additional uplighting. Installing these oversized panels was challenging as several of the panels needed to accommodate perforations of structural columns and stringers. Precise site measurements were taken for these cutouts and transferred to the skin templates for a perfect fit.
The tight deadline of this project meant multiple staged installations to ensure everything was complete for the amazing grand opening on October 1st.