OAKVILLE PLACE
LIGHT FEATURES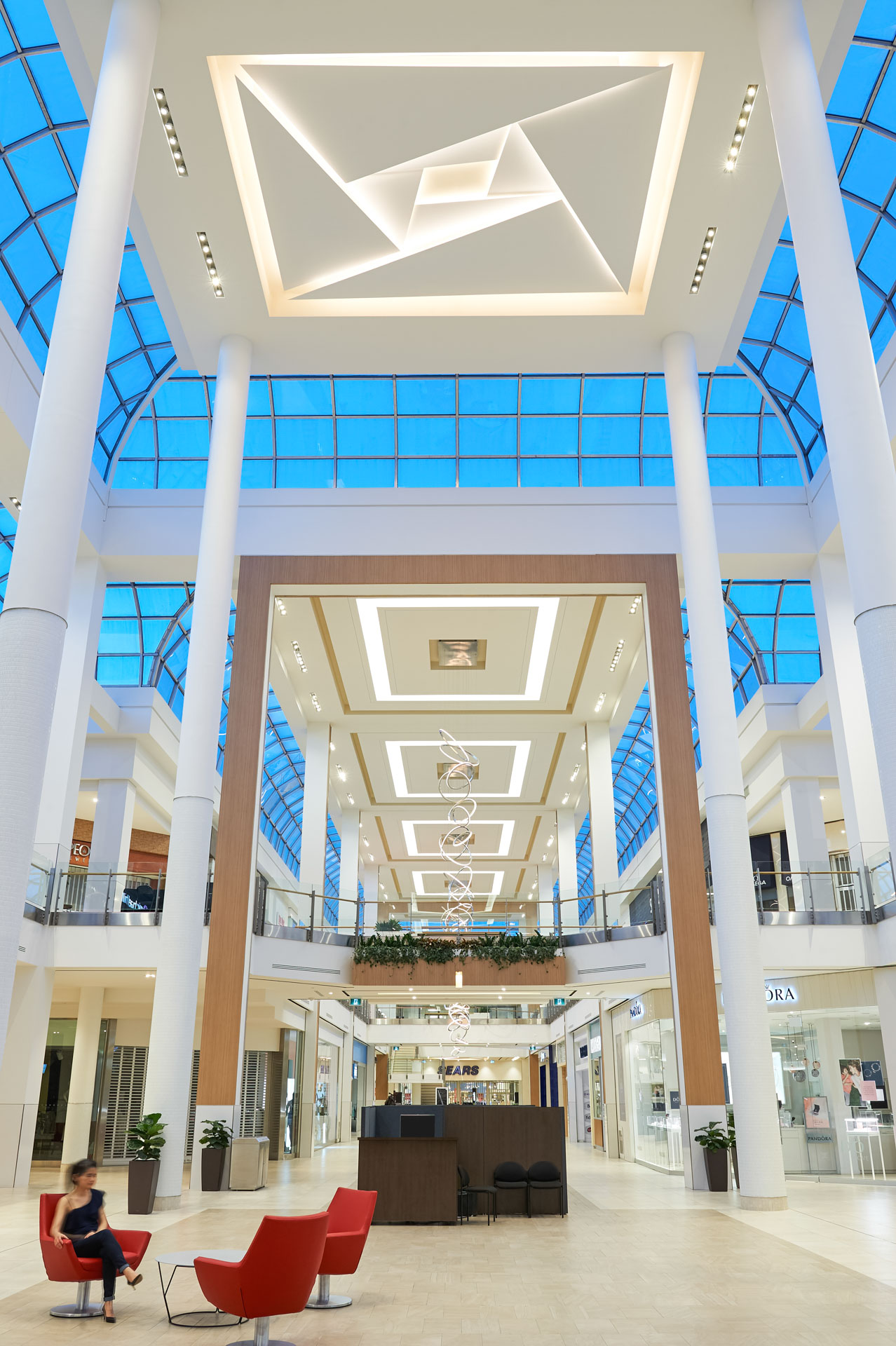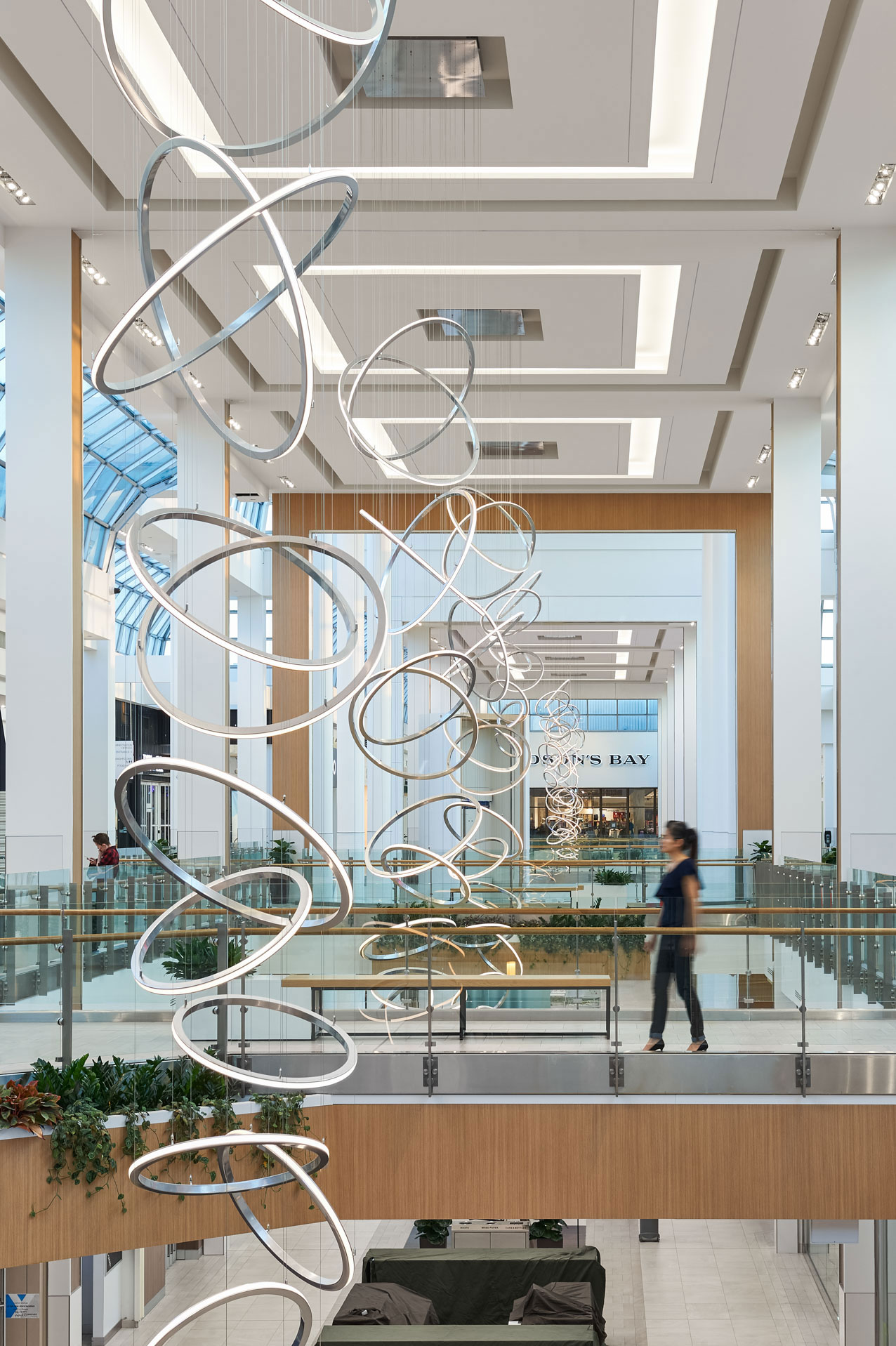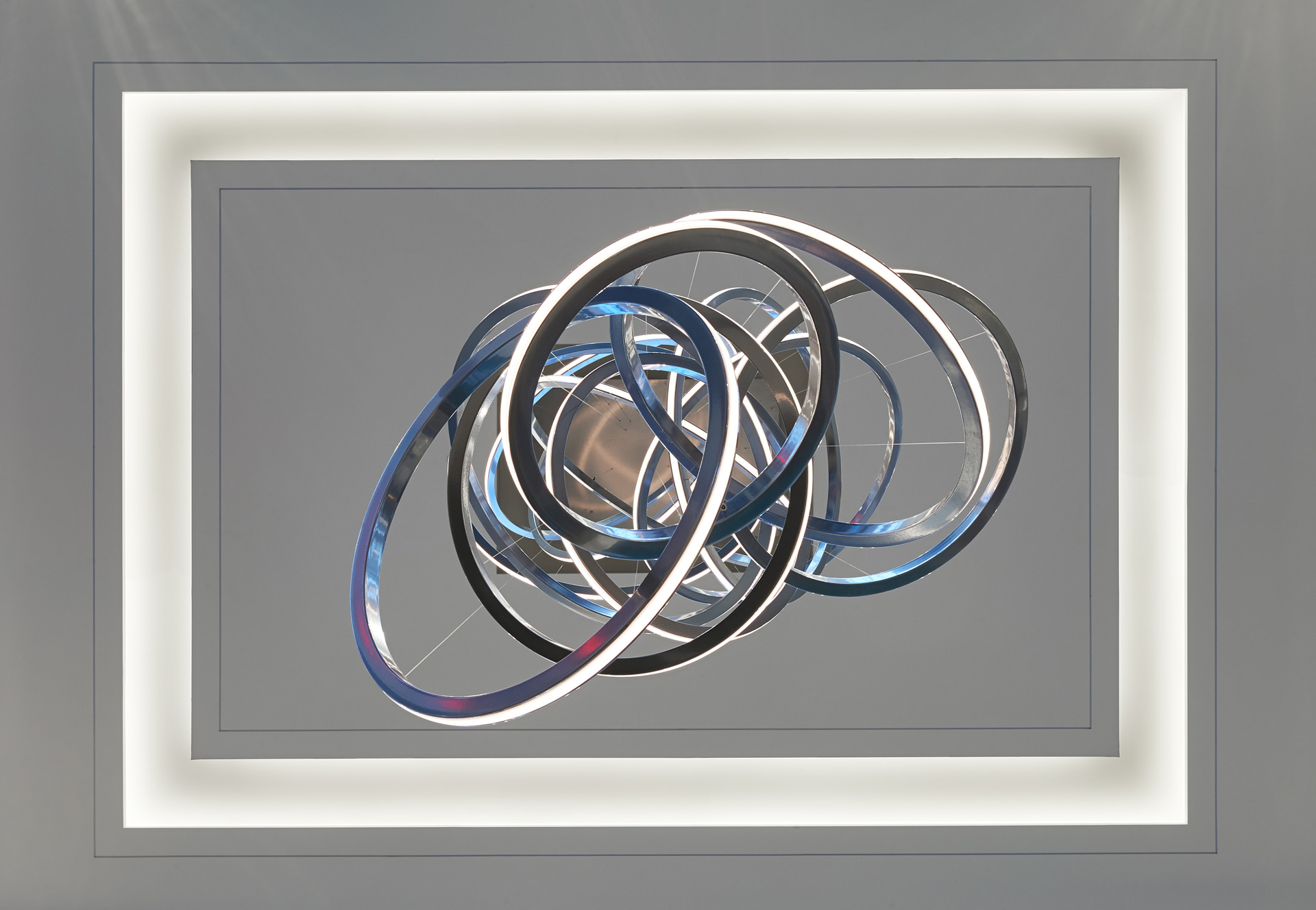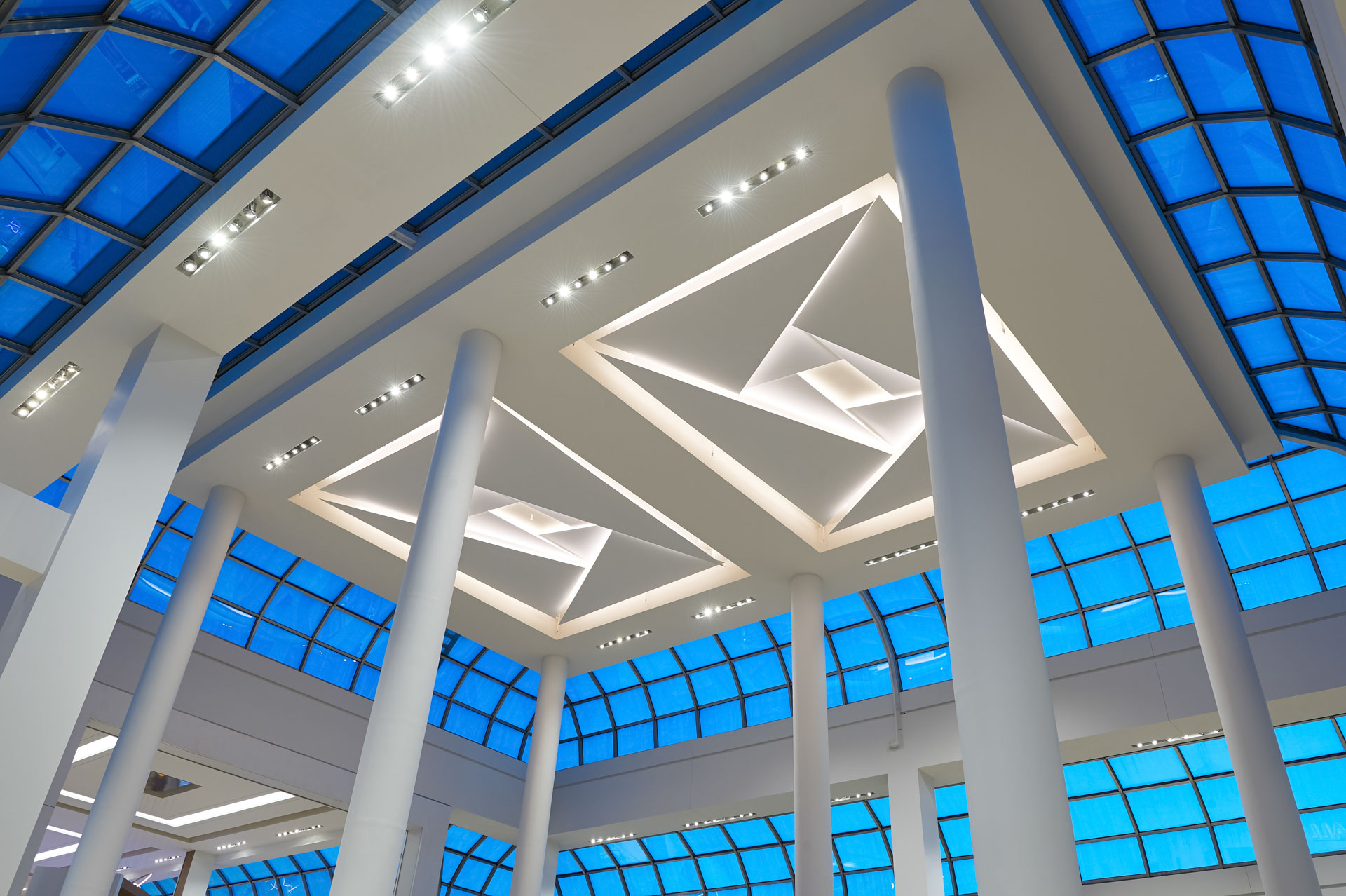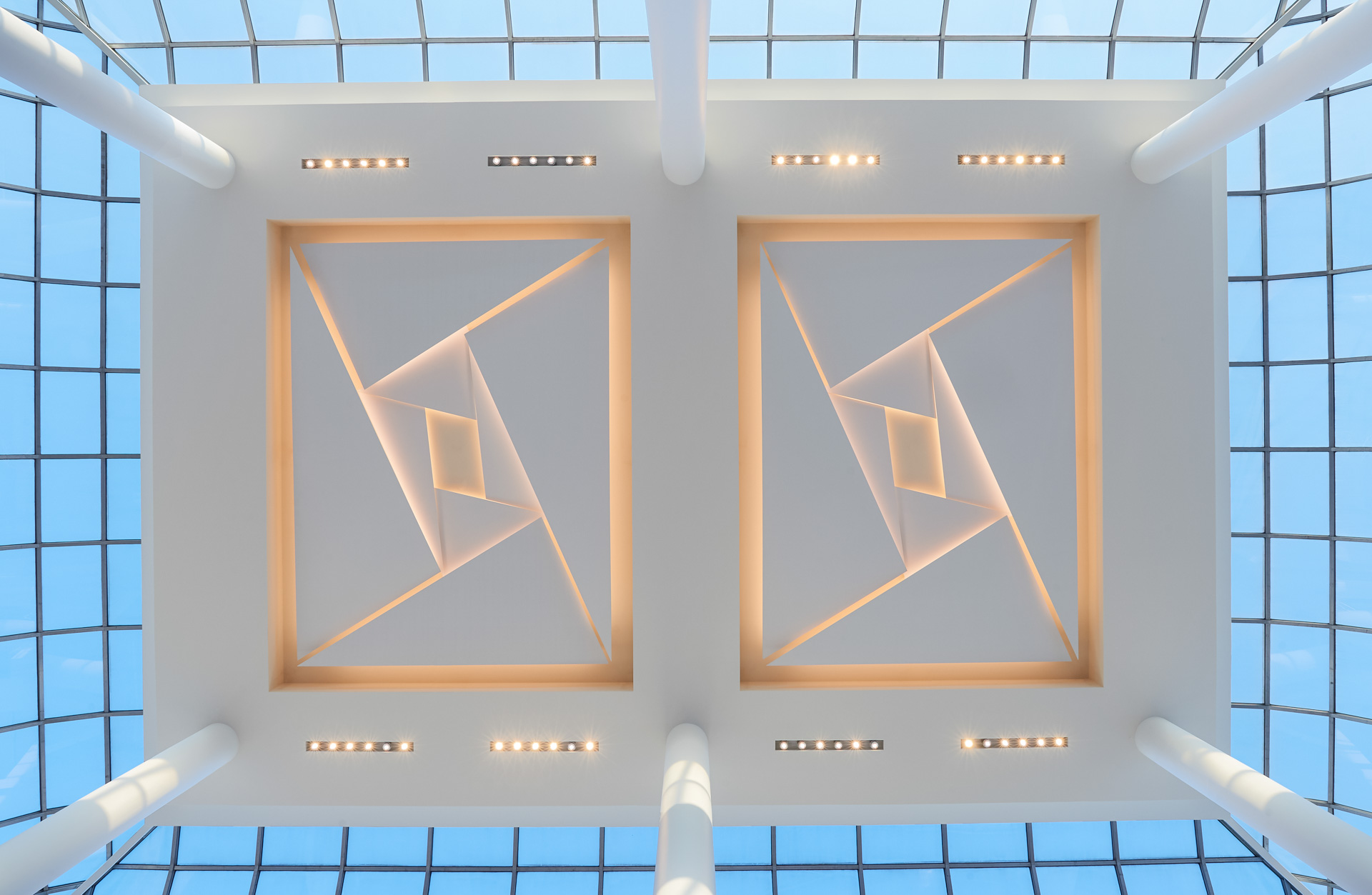 PROJECT OAKVILLE PLACE SHOPPING CENTRE, OAKVILLE, ON
DESIGN PAPPAS DESIGN
CLIENT RIOCAN
GENERAL CONTRACTOR TORQUE BUILDERS
PHOTOGRAPHY STEVE TSAI
BUILT BY EVENTSCAPE, APRIL 2017
[expand title="Eventscape was contracted to engineer, fabricate and install a total of 17 origami shaped and 8 multiple-ringed metal LCD light features as part of this mall renovation. The two different sizes of origami shaped opaque panels had sloped triangular sections to allow a controlled light spill, highlighting the knife edges. Designed by Pappas Design Studio, the $30 million re-development transformed the shopping center into a "concierge fashion experience"." trigclass="arrowright"]
Unique Characteristics and Project Challenges:
Folded paper patterns inspired the design of two large light features at 24' x 18' in the center atrium of the shopping centre and 15 smaller light features at 18 ' x 18' installed in the second floor ceiling. To achieve the look of folded paper with knife-edge folds, the designers specified an opaque smooth textile.
Each of the triangles were built with a custom extruded edge that allowed for both LED placement and wrapping and securing of textile to the frame. An additional laser-cut tapered skirt welded to each extrusion concealed all mounting hardware, electrical components and provided the slope.
Eventscape offered 4 different LED placements and slopes during the mockup stage for the designer to determine the maximum light diffusion spill onto the adjacent panel. A dramatic silhouetted shape was achieved with the lighting behind each opaque, textile-skinned triangle. The positioning of the slope was also determined by the maximum cove depth and clearance required for mounting hardware and textile installation. The smaller features had four inches and nine inches slope from the ceiling and the two large features had slopes ranging from four inches to nineteen inches from the finished ceiling.
Installation was conducted in the evenings as the shopping centre remained completely open throughout the renovations. The light fixtures were installed in stages with the frame installed first. The electrical components were then connected with the textile skin going on last.
The suspended ring LED fixtures were the second portion of Eventscape's scope. With a total of 92 rings in 4 different diameters, (six features with 13 rings each and 2 features with 7 rings each) and 3 suspension cables per rings each ring and cable was individually labelled.
Eventscape's metal fabrication facility rolled thin gauge aluminum frames to create the various-sized rings. Custom LED's were developed to create the best diffusion, power consumption and light color. An acrylic lens was formed to each frame to diffuse the LED lights.
A powered suspension cable system was the most efficient way to install the lights and minimize the amount of cables required. Eventscape worked with the manufacturer to create a custom ball point cable grip connection to allow for the various angles of each ring position and to transfer the low voltage power. All fixtures were ESA certified. Eventscape worked with the electrical engineer to create custom power supplies. Each of the light fixtures required a base structure installed in the ceiling. These enclosed the junction boxes and pre-mounted and pre-wired, powered cables, all cut to size and individually labelled.
Visitors to the shopping centre are appreciative of the new light-filled design. [/expand]