NICKLAUS CHILDREN'S HOSPITAL
LIGHTING FEATURE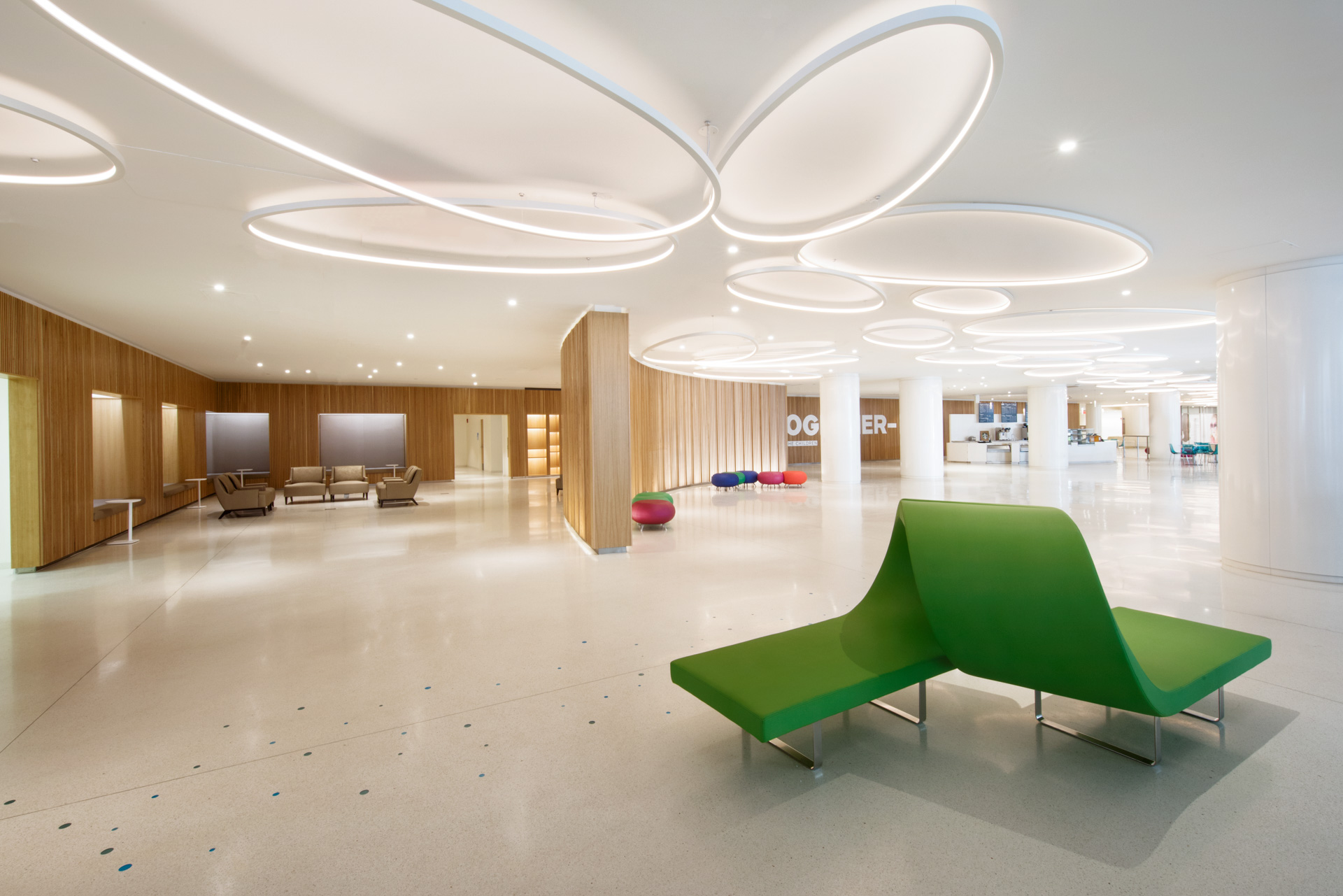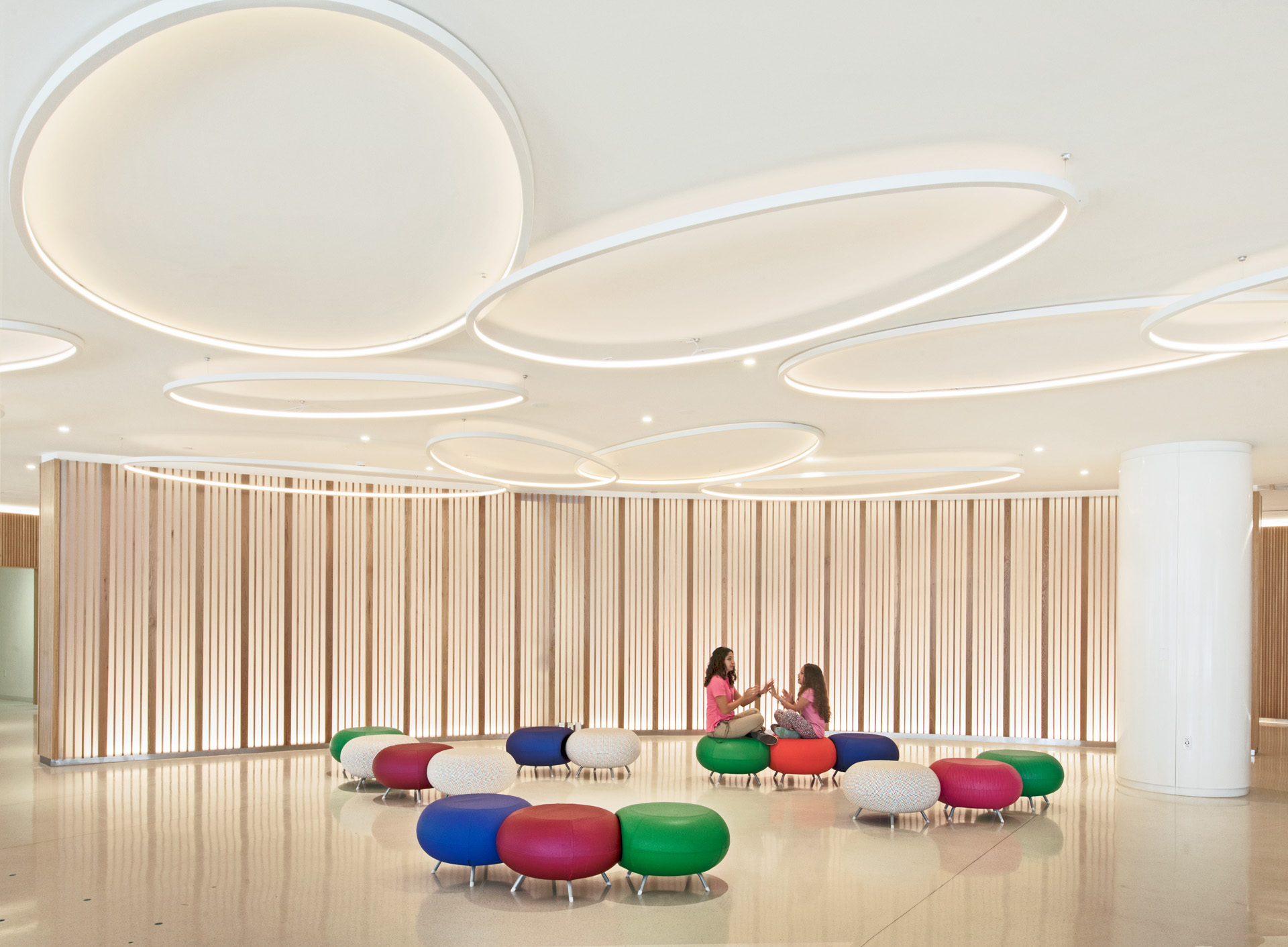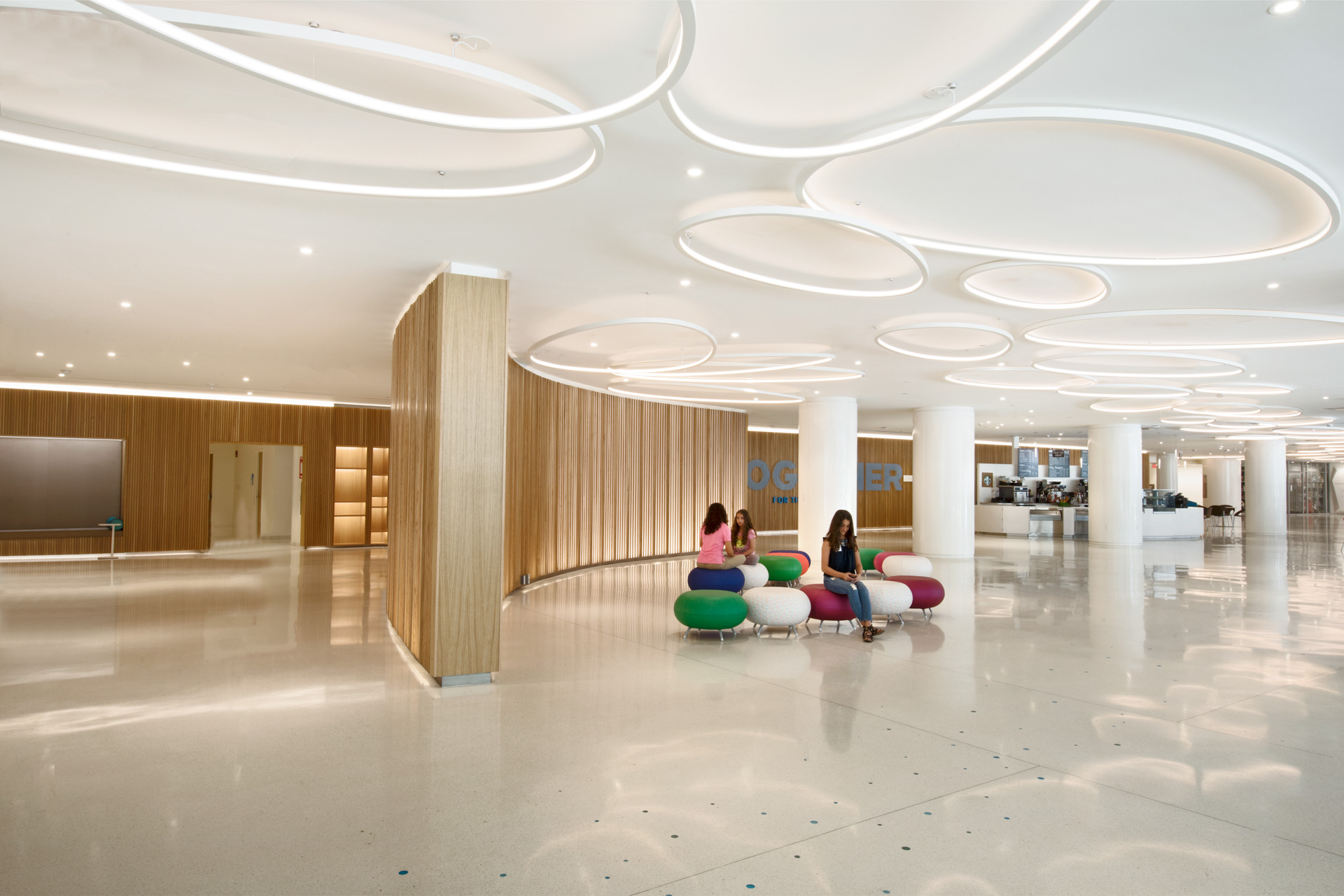 PROJECT NICKLAUS CHILDREN'S HOSPITAL, MIAMI, FL
DESIGN PERKINS + WILL
GENERAL CONTRACTOR  ROBINS & MORTON
PHOTOGRAPHY MIAMI IN FOCUS
BUILT BY EVENTSCAPE, SEPTEMBER 2016
Sixty-five custom metal "glow" ceiling rings are suspended throughout this new hospital lobby for a beautiful sculptural artistic display of light and shadows. Each frame was made of aluminum strut channel that was stretch formed, welded to scale and finished with white powder-coating for a light, fresh appearance. Acrylic lens diffusers were cut to the exact length and press fit. LED lights were adhered to the inside channel of the frame to create the appearance of an effortless floating light.
Unique Characteristics & Project Challenges:
Initial prototypes were built by Eventscape from CNC-cut MDF since these could mimic the aluminum profile but be built quickly with minimal cost. The prototypes were used to ascertain which LED placements would give the best glow and allow the designer to determine the optimal suspension height. Eventscape also researched various LED options to achieve the right color temperature specified by the architect and also consume the lowest amount of power.
Coordination of the electrical requirements of this installation was crucial since the transformers for the light rings were all located 40 to 50 feet away from the lobby in air-conditioned rooms. Detailed drawings with locations of the junction boxes were provided to the general contractor for installing inside the ceilings so that all areas would be pre-wired. Eventscape provided the custom plate covers.
Four different sizes of elliptical "petals" at six, eight, ten and twelve feet diameter were used in this design. The "random" placement of the petals along the length of the lobby was purposeful to allow for small adjustments to avoid sprinklers, air returns and other ceiling obstructions during installation. Eventscape installed each of the petals with three hang points of stainless steel aircraft cable to custom milled aluminum ceiling anchor bolts. The designer specified three different placement elevations to give a combination of light reflection and shadows on the ceiling. A subtle pattern embedded in the terrazzo floor provides a way finding path through the lobby to the rest of the hospital which is echoed in the clusters of petals above.