FLY CONDOS
FACETED MIRRORED GLASS COLUMNS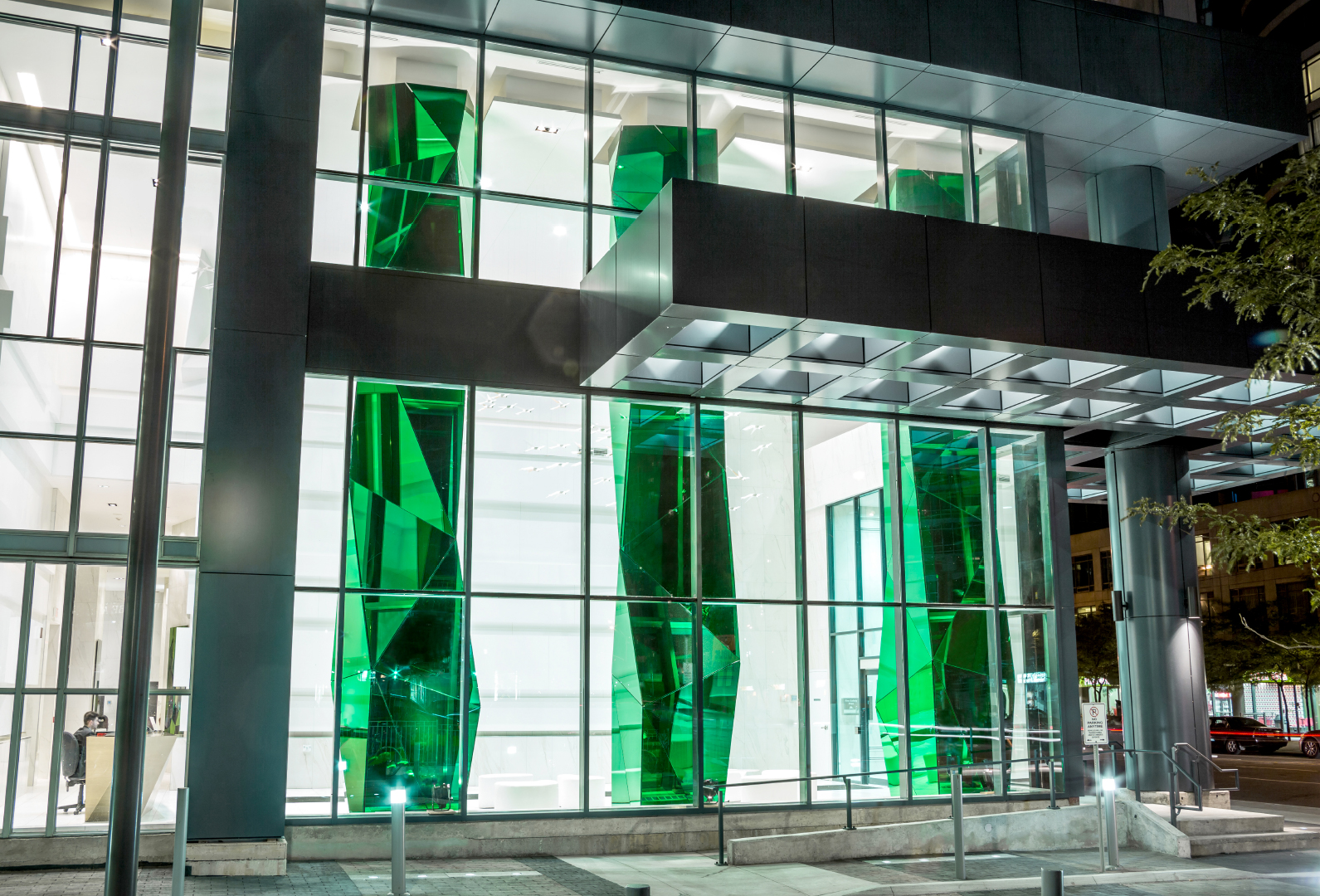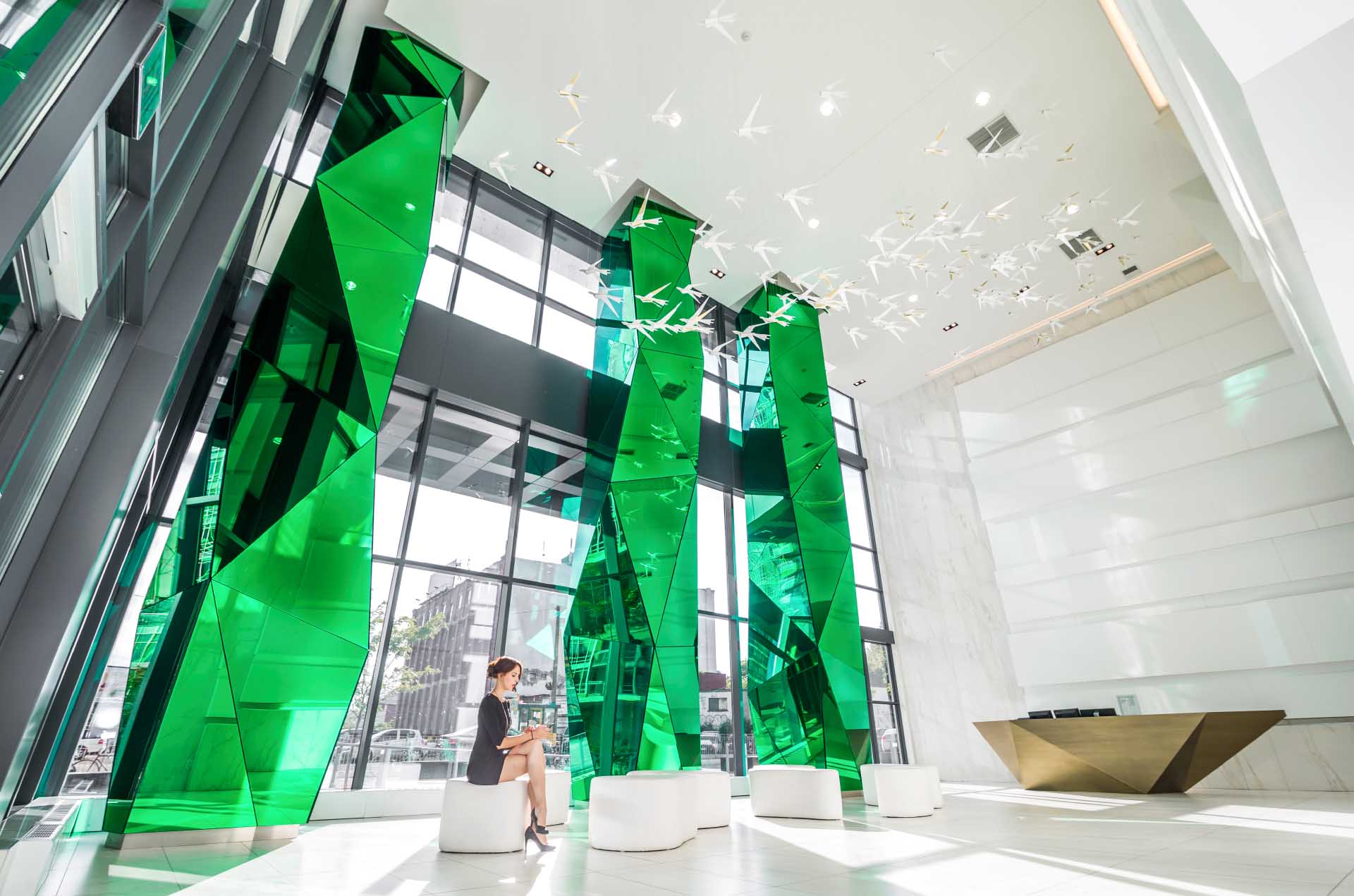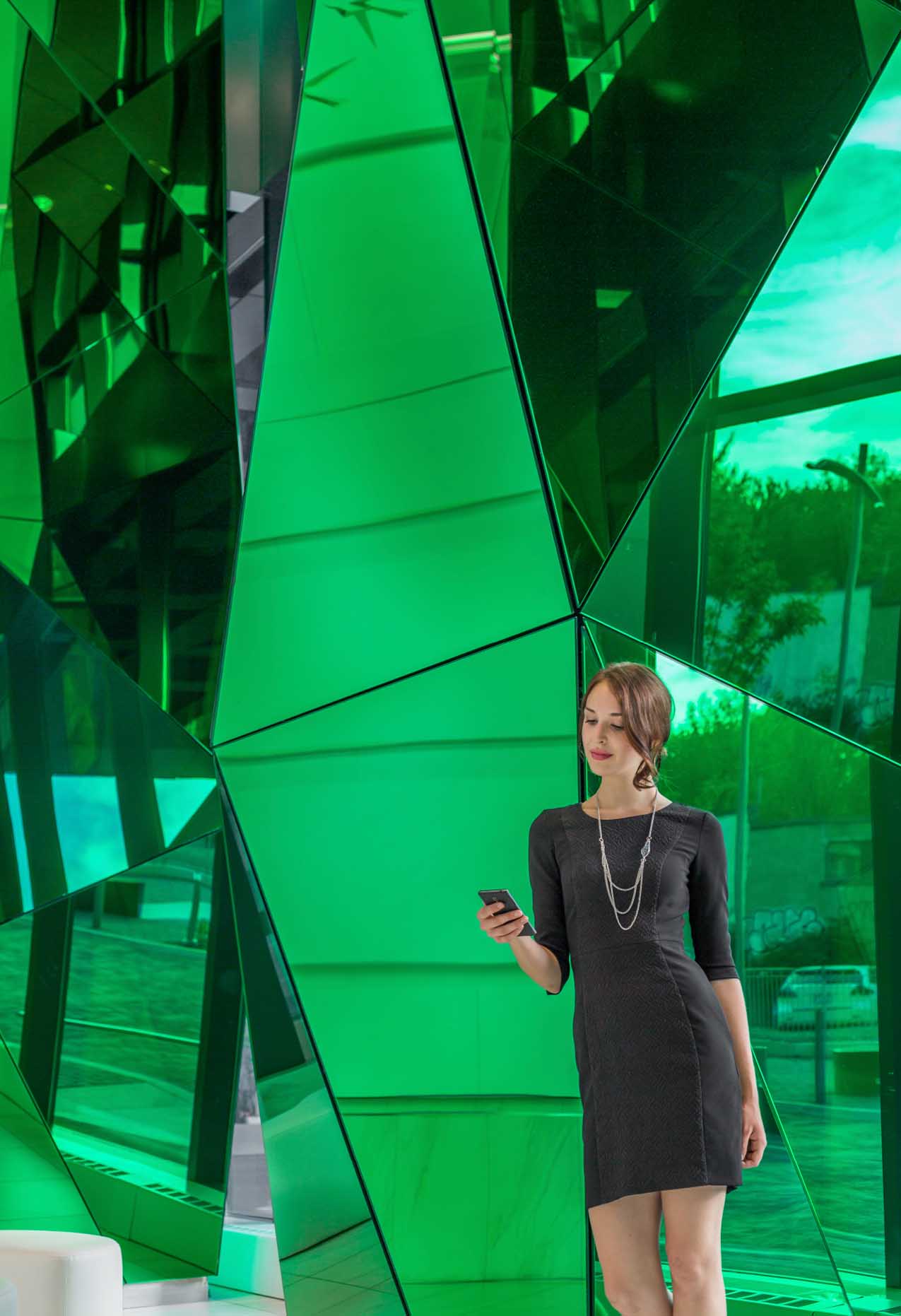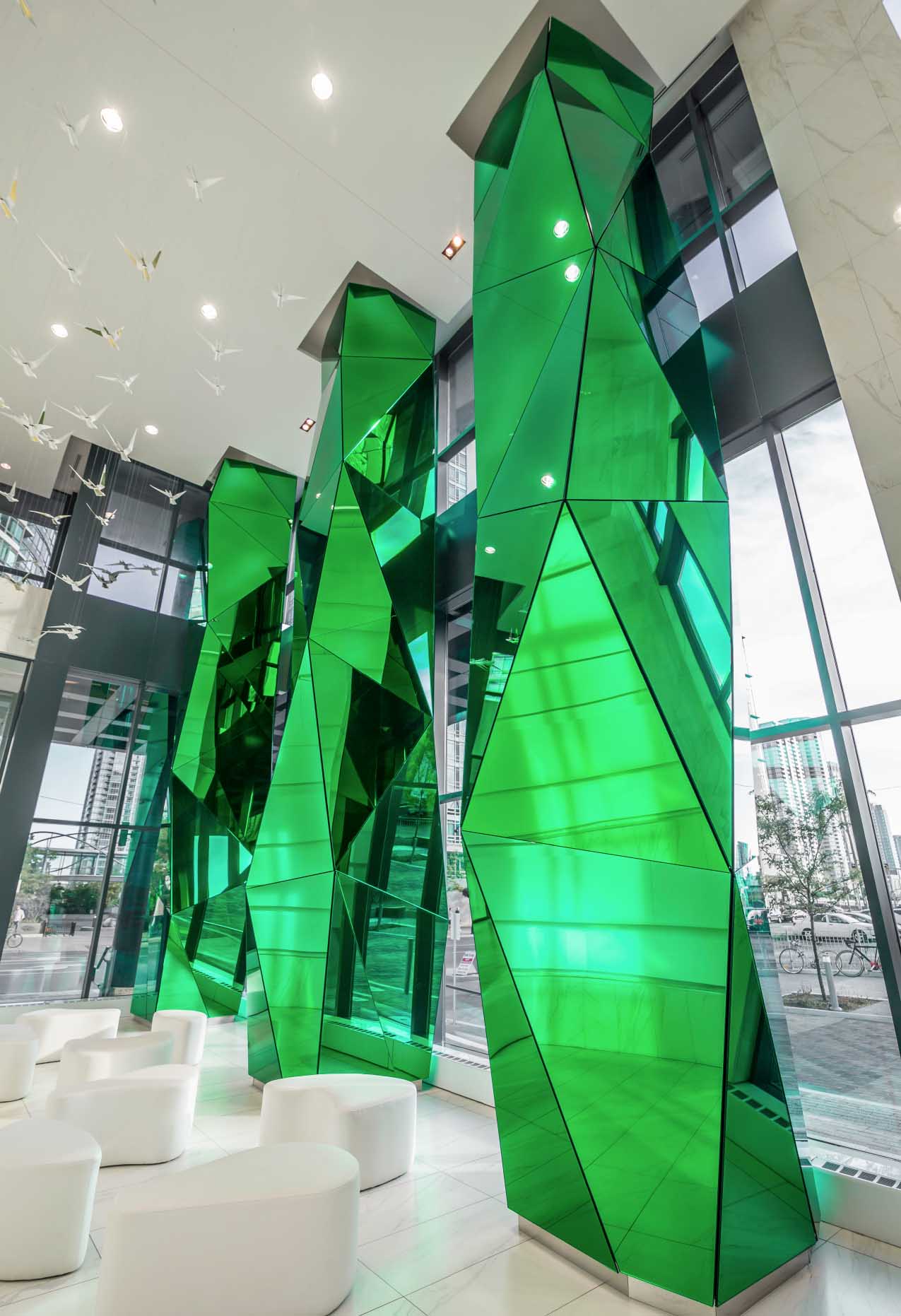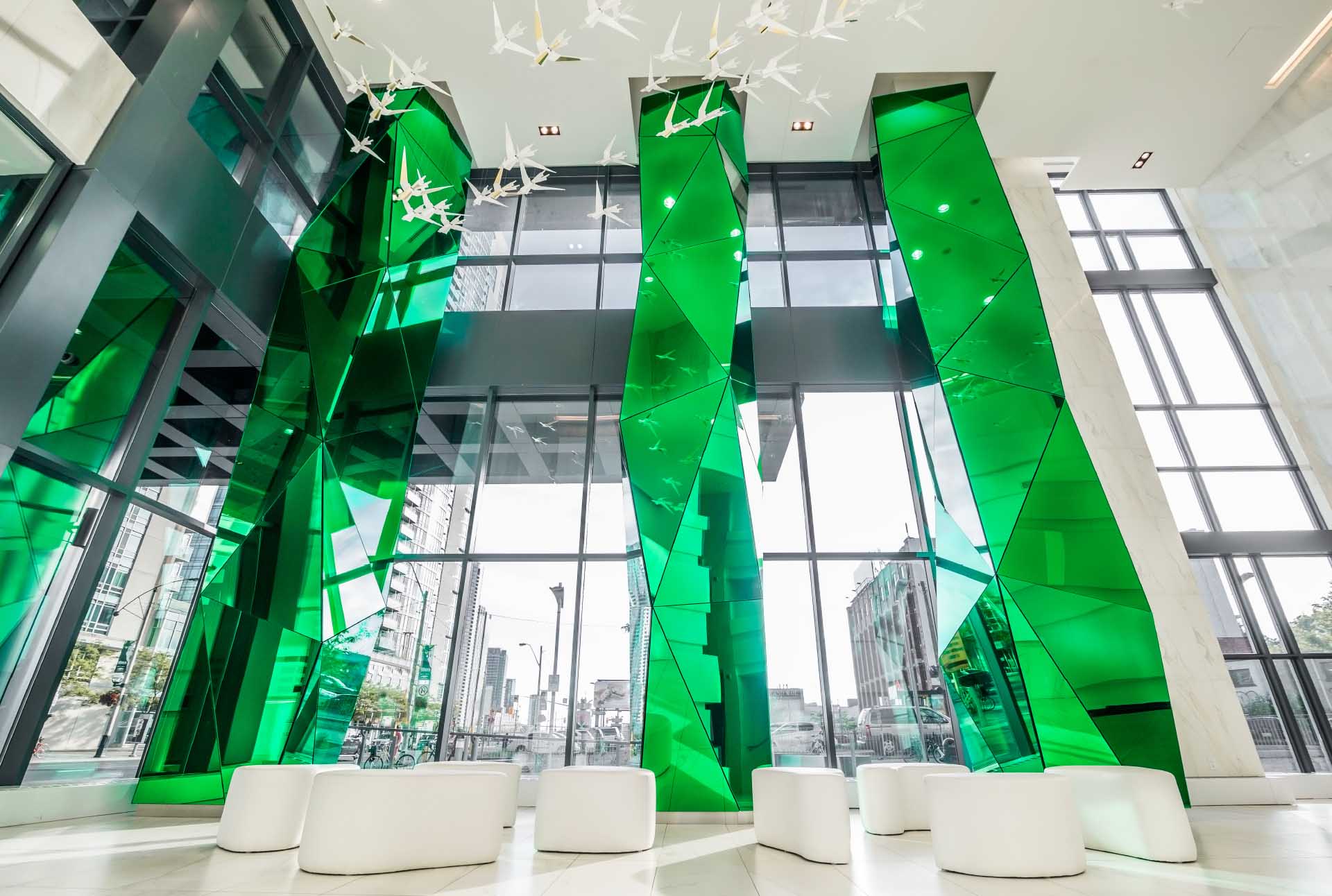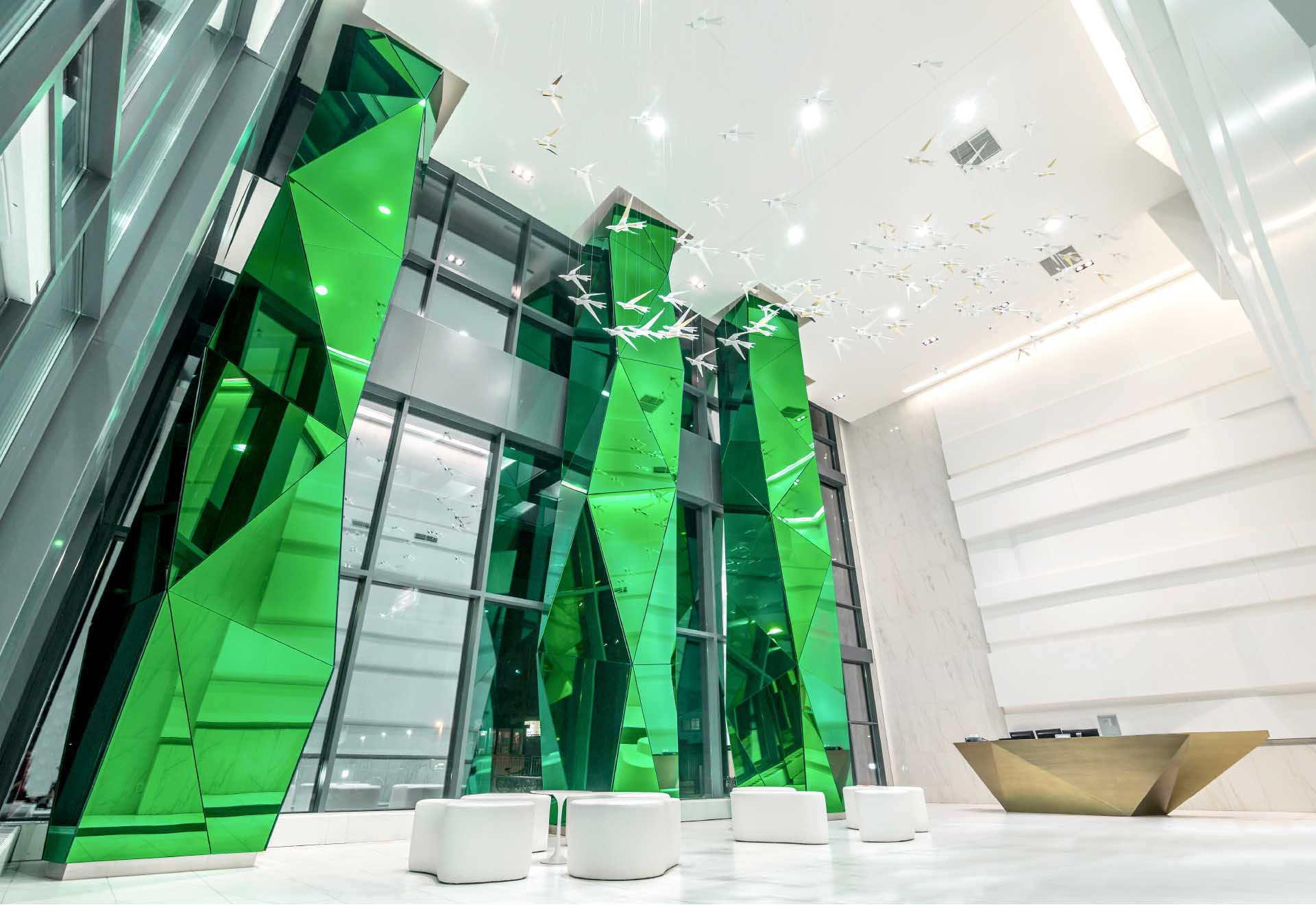 PROJECT FLY CONDOS, TORONTO, ON
DESIGN STUDIO MUNGE
ARCHITECTS GRAZIANI + CORAZZA ARCHITECTS

DEVELOPER/GENERAL CONTRACTOR EMPIRE COMMUNITIES

BUILT BY EVENTSCAPE, NOVEMBER, 2013
The Fly Condos project is a new 24-storey building set in the downtown waterfront area of Toronto. This glass and stone tower features an impressive triple-height lobby supported by three custom engineered columns clad with vibrant green, multi-faceted glass. The columns are a dynamic accent adding life and vibrancy to the clean, sophisticated, modern space. Eventscape engineered, fabricated and installed these dramatic columns that are visible from the street.
The three 10 meter high (33 feet) structural concrete columns are each clad with 40 faceted glass panels.  Each glass panel consists of two pieces of glass; one with a mirrored back and one clear, bonded with a tinted green translucent epoxy. The design/engineering drawings of the facets were based on Studio Munge's 3D model but restricted by the maximum available glass sizes.
Unique Characteristics & Project Challenges:
Cladding the columns was a four-layer process. A steel ladder frame encased the columns first, to provide a base for mounting the glass panels. This allowed all the load to be tied back to the structural column. To establish the angles, a unique CNC-cut plywood substructure fastened to the metal frame. Faceted plywood templates attached to this substructure. These could be adjusted on site to maintain a consistent reveal around all the the glass facets.
The glass panels were secured to identical plywood panels with engineer-specified high-bond adhesive. The glue required 3 days to cure, with a consistent pressure of 15 lbs. per square inch. The glass assembly was then secured to the plywood template on the column with aluminum brackets so that there were no exposed fasteners. For added support at all 4 sides, metal L-channels were installed the full height of the the columns. This also protected the exposed back edge of the glass. A stainless steel kick plate finished the base of each column.
Installing glass of this specification and dimensions provided a range of challenges. Since the columns were very close to the exterior glass curtain wall, devices were made to carefully lift, maneuver, and located the glass assembly in place.