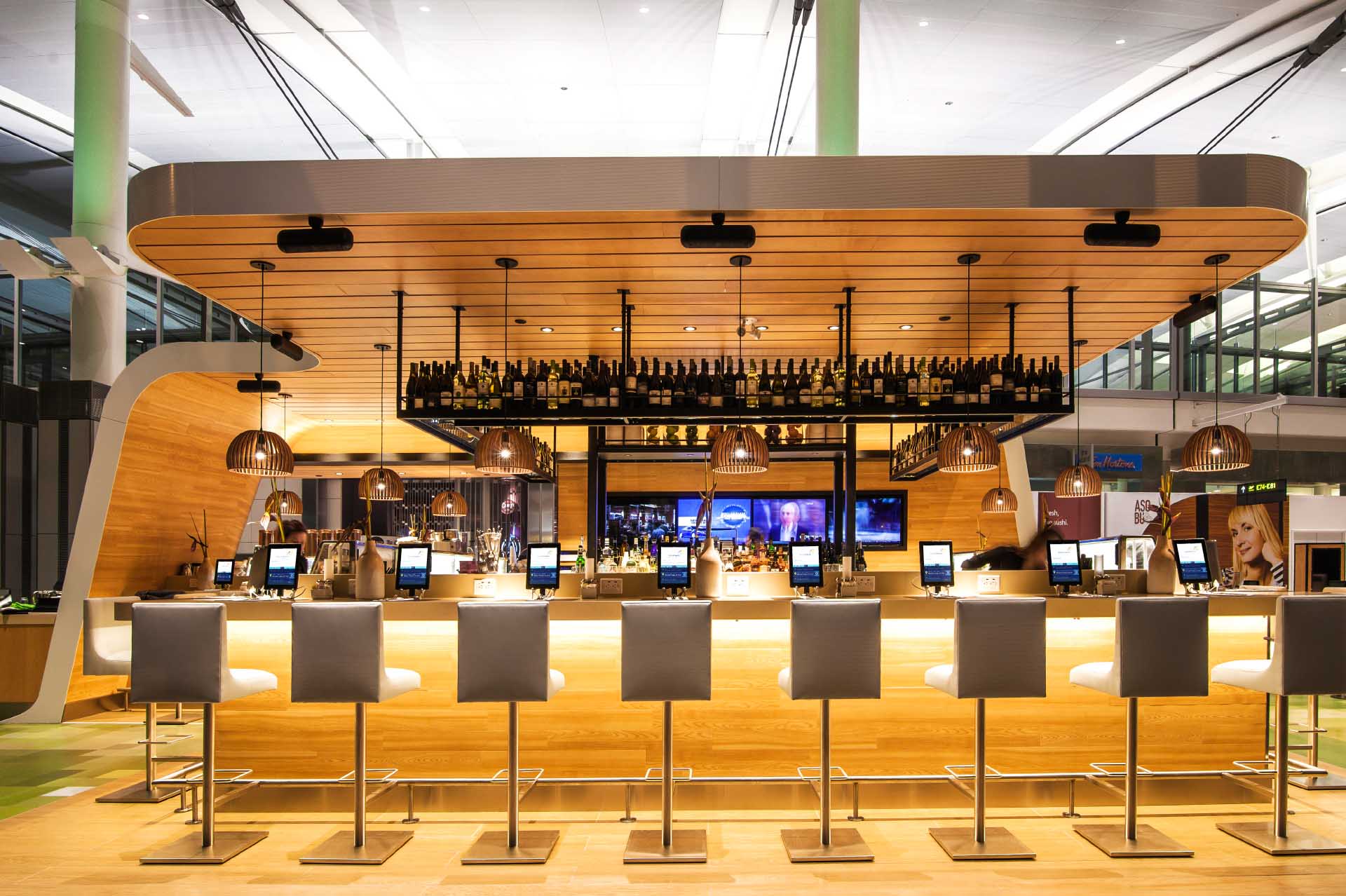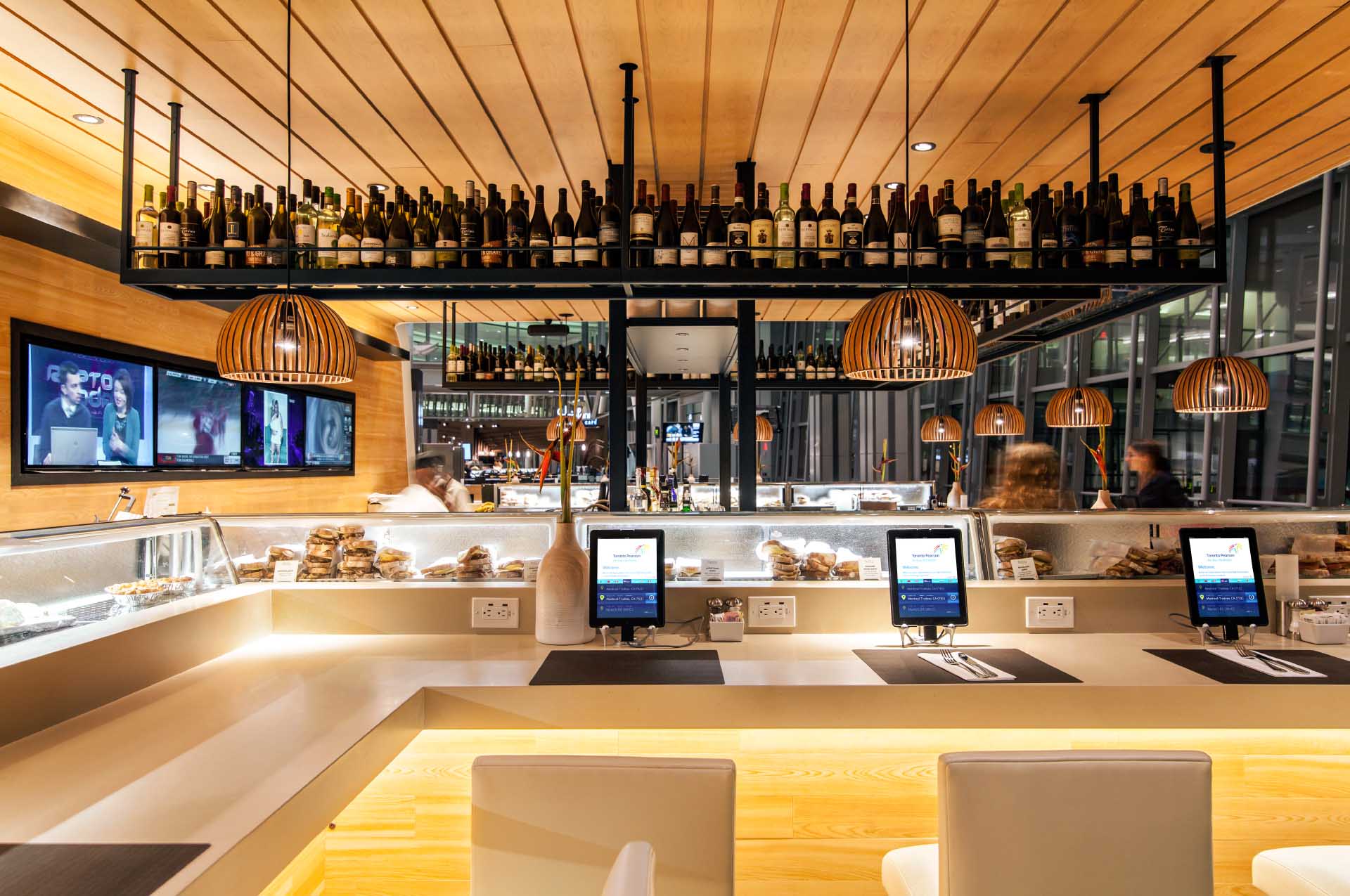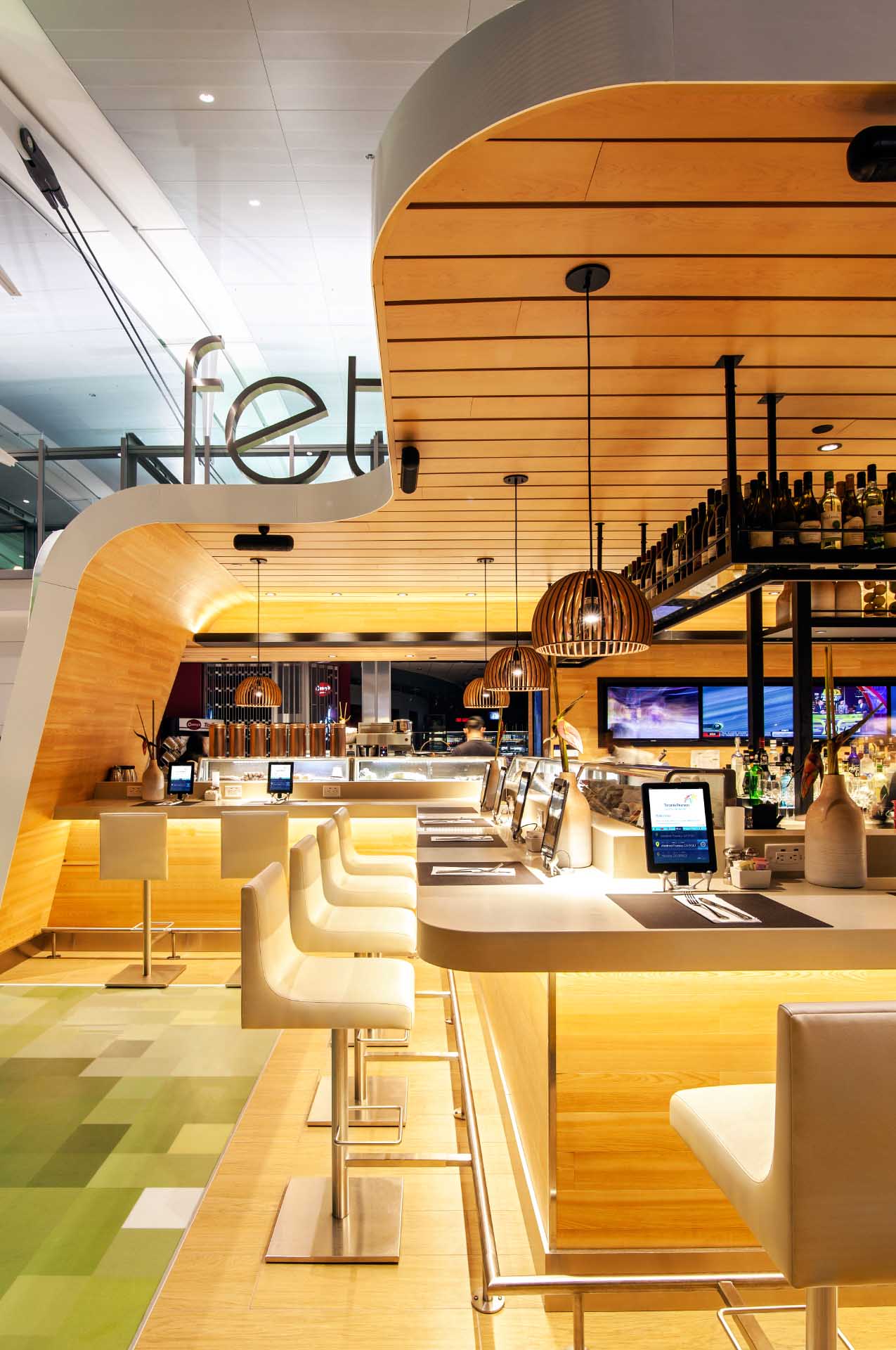 PROJECT FETTA PANINI BAR, TORONTO PEARSON INTERNATIONAL AIRPORT, GTAA, TORONTO, ON
DESIGN ICRAVE
DEVELOPER OTG MANAGEMENT INC.
GENERAL CONTRACTOR PCL
ARCHITECT OF RECORD NORR
AWARDS 2014 ARE DESIGN AWARDS, GRAND PRIZE, RESTAURANT/CASUAL DINING
BUILT BY EVENTSCAPE, FEBRUARY 2013
With over 35 million yearly passengers, Toronto Pearson International Airport is one of North America's busiest airports. Eleven new restaurants slated for 2013 and 2014 openings showcase restaurateur OTG's revolutionary and unique concept for a new airport dining experience; redefining what it means to travel in comfort and style. The restaurants combine striking designs, integrated cutting edge technology with Toronto celebrity chef menus of delicious food offerings in a full service stand-alone structure.
Award winning New York designers ICRAVE, and visionary restaurateurs OTG Management, contracted Toronto-based Eventscape to engineer, fabricate and install one of the first restaurants, the Fetta Panini Bar, a 36 foot long x 23 foot deep, compound curved canopy structure, built of wood and steel with integrated mechanical and electrical functions.
Unique Characteristics & Project Challenges:
One of the main challenges for this structure was to integrate all the functional requirements while remaining faithful to the original design and dimensions. Detailed coordination was required with local general contractor giant, PCL, to integrate all plumbing, lighting, and visual media with their electrical and mechanical trades.
The canopy construction was conceived and refined in a fully parametric modeling environment that allowed for rapid analysis of multiple designs at a high level of detail. Wood and minimal compact structural steel were combined into the canopy structure and engineered to include all mechanical and electrical functions into a mere 9 inch thick by 9 foot deep cantilever. As the restaurant is visible from upper airport levels, a graphic vinyl was used to finish the top surface.
The complex organic shape of the canopy required a surface deflection analysis to optimize the design and reduce the amount of complex curves. Flat and single curved surfaces were formed by laying flexible plywood panels over a waffle frame of CNC cut ribs. These ribs also acted as a guideline for the compound curved surfaces to be hand-shaped and finished by artisans.
Using a commercial grade vinyl flooring product as a wall surface was an economical way to produce an extremely durable, high impact surface with the appearance of a high-end wood finish. The tile sections on the interior of the canopy were CNC cut to maintain a consistent horizontal datum line on the complex curve.
Suspended from the canopy, the steel shelving was engineered to hold up to 1500 lbs. of wine bottles. The wrap around wood-framed counter was finished with wood patterned vinyl strip flooring, stainless steel kick plate and foot rail, with a seamless white Corian countertop. Individual iPads at each seat allow customers to view the restaurant menu, and browse the Internet on the free Wi-Fi service.
Eventscape's prefabricated offsite build approach provided an opportunity for PCL's trades to review and measure the structure prior to being realized on site, and allowed for a quiet, clean and fast installation in the busiest terminal in Canada. The wooden canopy & walls were pre-assembled into sections sized to fit through rigorous airport checks and limited freight elevator size. As airport security is paramount, the install schedule had to account for lengthy approvals of each delivery, and a security escort was required at all times.
This sleek, self contained, full function restaurant makes the wait at the airport so convenient and enjoyable; Fetta is sure to become a favorite new destination!