BANKUNITED
CEILING + WALLS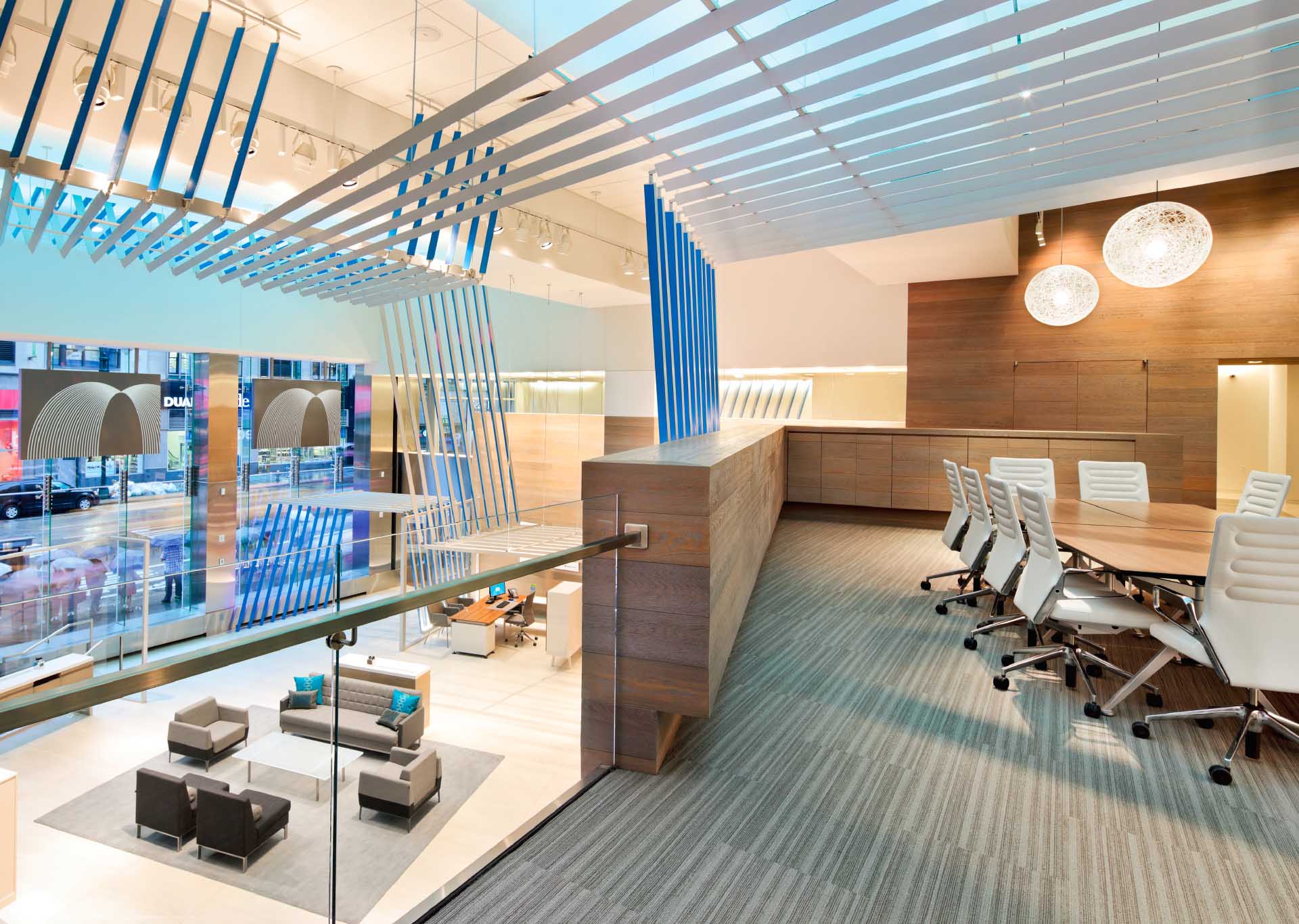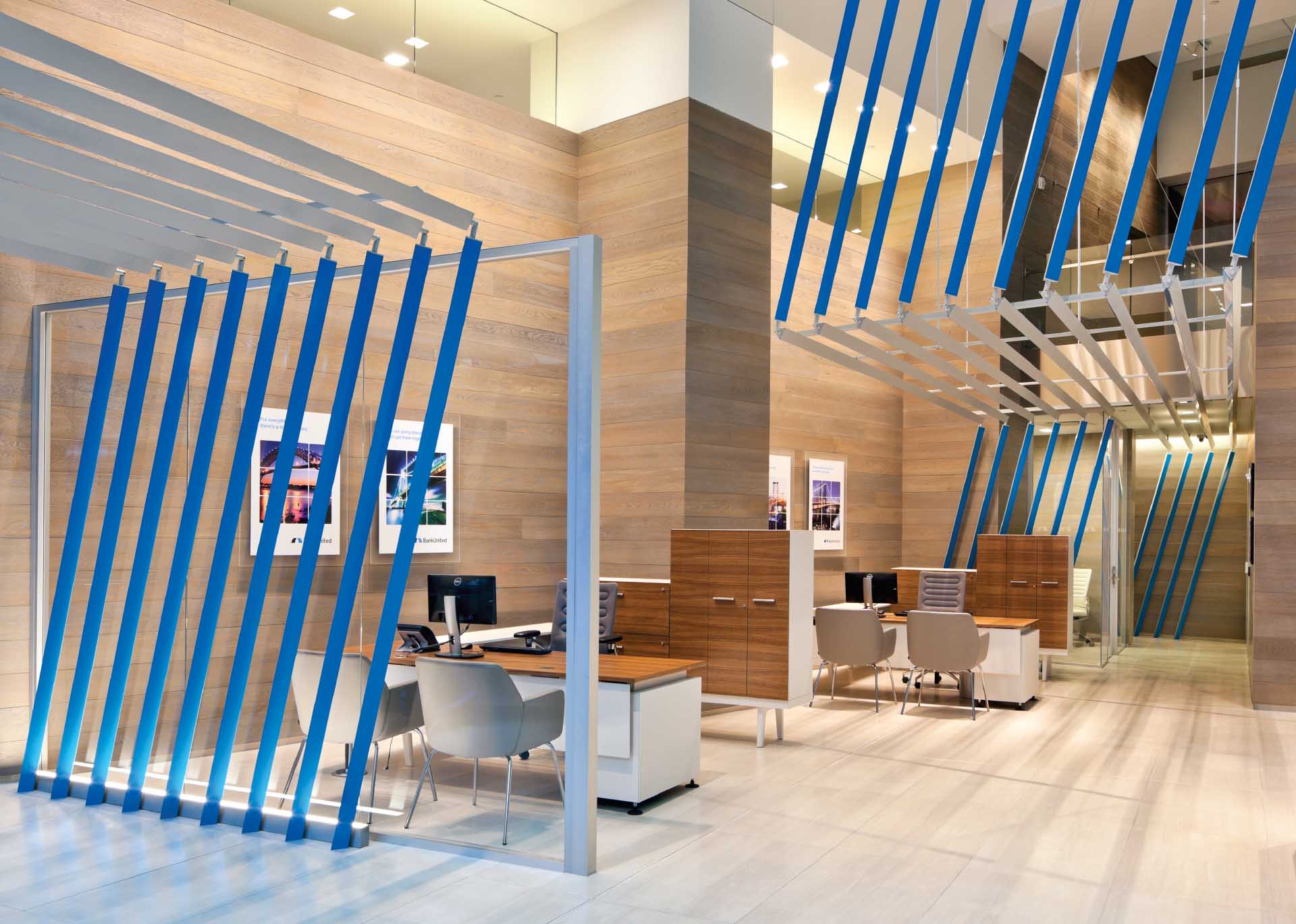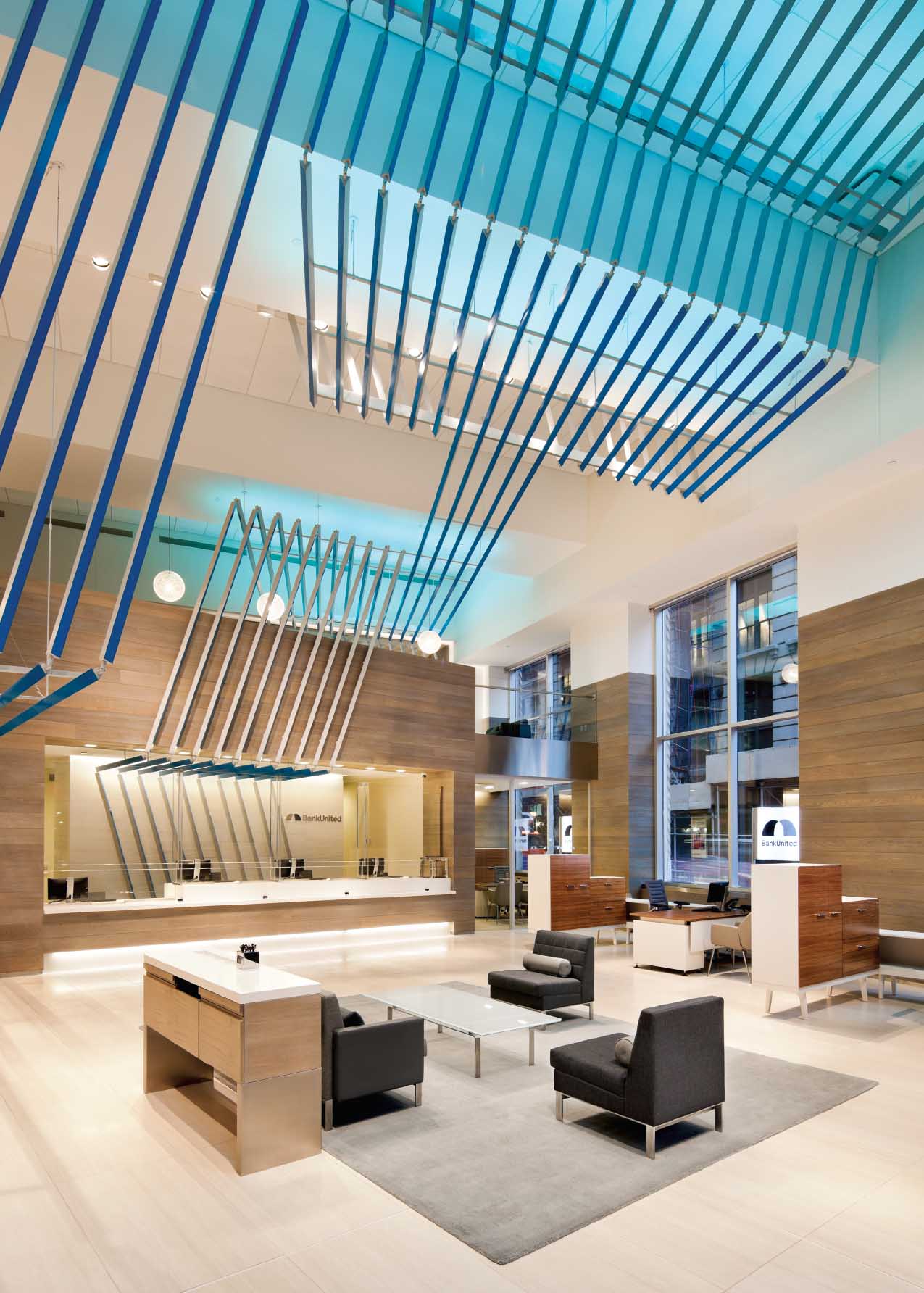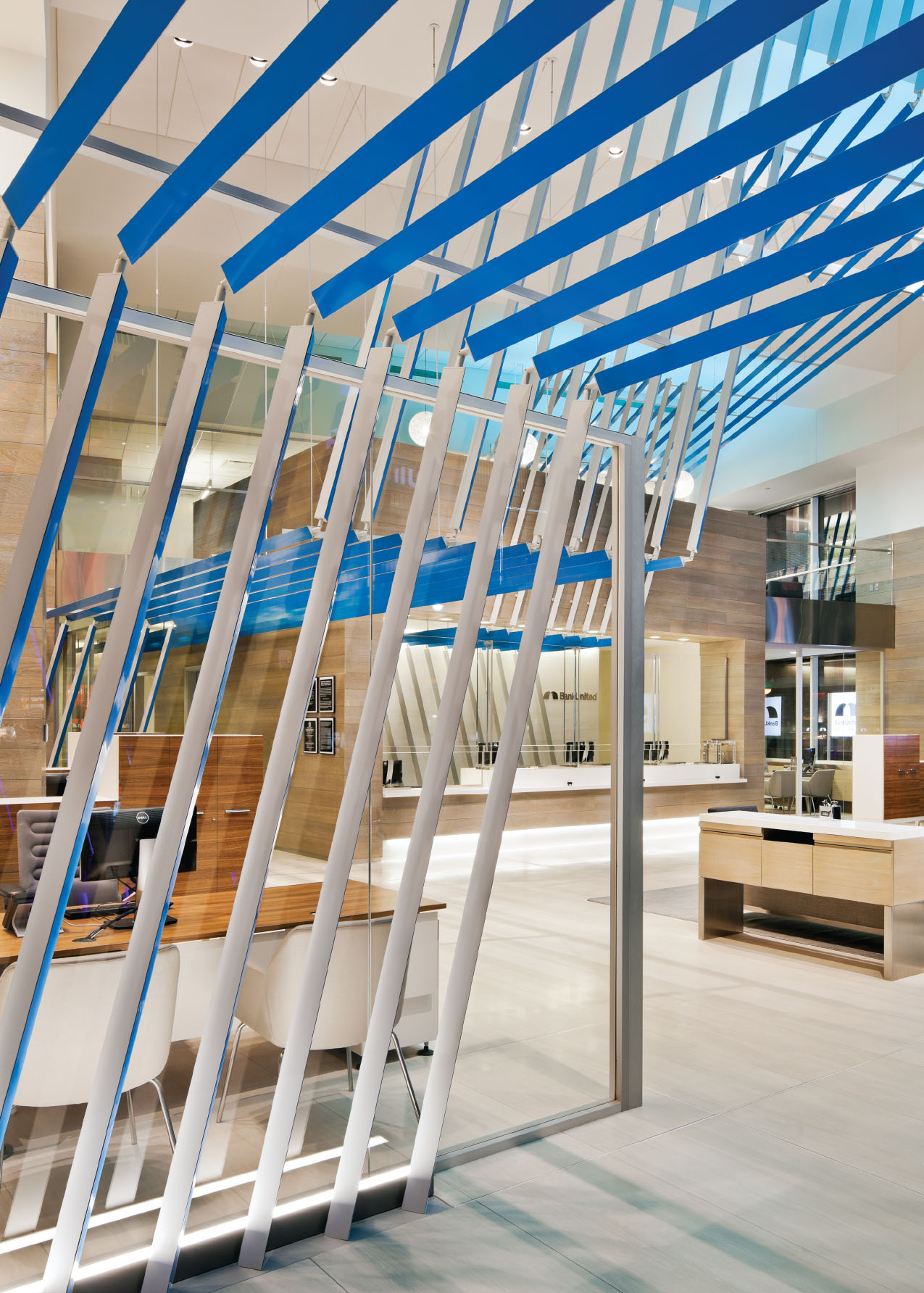 PROJECT BANKUNITED, FLAGSHIP 6TH AVE, NY, NY
DESIGN GENSLER
GENERAL CONTRACTOR PETROCELLI CONTRACTING INC, PLAZA CONSTRUCTION
PHOTOGRAPHY CHRISTOPHER PAYNE
BUILT BY EVENTSCAPE, BUILT 2013
Custom aluminum profile extrusions total almost 4,000 linear feet in this bank project, the flagship and largest location of three in downtown New York City. Engineered, fabricated and installed by Eventscape in all three locations, the custom extrusion folds create a signature feature for walls and ceilings, incorporating the brand color and LED lighting.
A prototype extrusion was 3D printed to verify the profile design and the tolerances required for fastening details, the snap-in face and integrated LED lighting. Exterior grade custom powder coating was used to match the brand pantone blue for the custom face, which snapped into place on the silver, powder coated extrusion. This provided a constant sharp paint line between the two different finishes.
Unique Characteristics & Project Challenges:
This was a unique application for extrusion. Typically used as frames, these custom profile extrusions were designed as a signature brand element, for potential further use. Gensler's design team requested 3 different functional requirements. Eventscape's design engineering team was able to incorporate all 3 functions into one extrusion which had three profiles that fit together.
The main profile was used closed and milled in the 35% of extrusions that incorporated lighting. These were located at the ceiling with an uplight wash, the exterior canopy with a white acrylic lens over the uplight and in this flagship store at the glass exterior wall using a blue LED facing the street. The size of the 3-sided, 3" x 3" extrusions was determined by the size of the integrated lighting.
The insert connection was used when the extrusions needed to connect to each other, or the wall or floor with a base plate. The connections were welded to the base at a precise 33 degree angle and the plate was imbedded into the concrete floor and tiled over. The extrusions sleeved over the inserts.
The third element was the cap which snapped into place on the outside of one side of the triangular extrusion. This was powder coated the bank's blue brand color, providing a sharp paint line between the silver and the blue finishes and concealment for the attachment fix points.
The triangular shape of the extrusion was a result of the designer's desire for a lenticular visual effect. Eventscape engineered a custom milled rotational aluminum joint to use at each angle connection. These allowed for adjustability to pivot, rotate and accept any angle for the complex geometry of the overall shape. Each of the extrusions could be positioned for optimum visual effect of color and profile.
Detailed coordination with the general contractor was required to make sure the custom extrusions fit perfectly to the complex geometry of the renovated building. Custom jigs were used to maintain a constant datum line at 3" off the finished wall and ceiling. A metal sub-structure was installed just above the finished ceiling to support the extrusion sections with seismic cabling for structural stability.