DREAM REALTY
RECEPTION DESK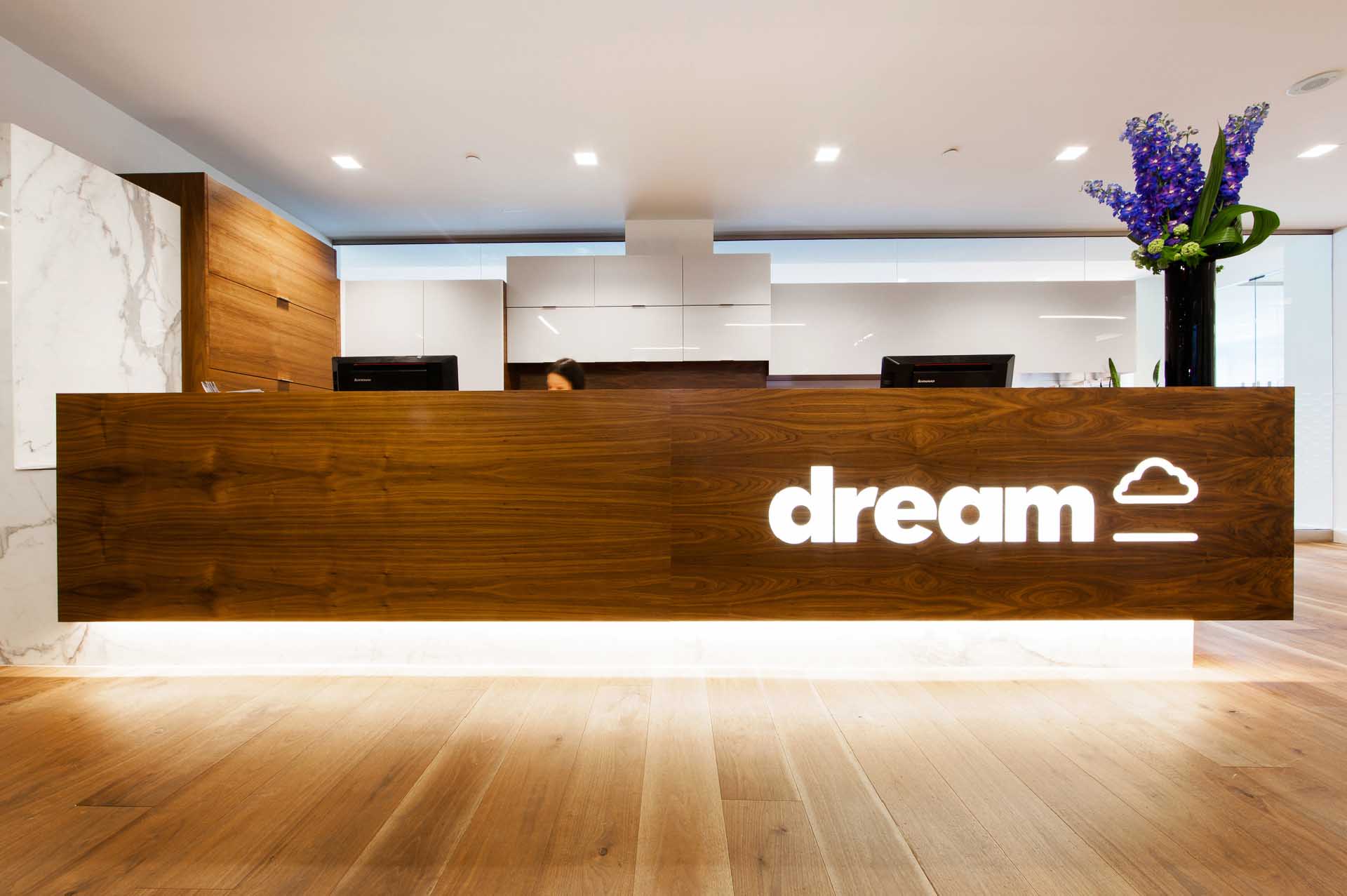 PROJECT DUNDEE REALTY, REGINA, SK AND TORONTO, ON
INTERIOR DESIGN THE DESIGN AGENCY
REBRANDING DESIGN BRUCE MAU DESIGN
PHOTOGRAPHY HARRY CHOI
BUILT BY EVENTSCAPE, MAY 2014
As part of the re-branding of this realty company, new desk facades were required for the branch offices. The team at Bruce Mau Design designed a sleek rich walnut finished desk with laser cut acrylic backlit graphic logo.
Unique Characteristics & Project Challenges:
The designers required a very shallow desk front of only 4 inches to include the steel supports, plywood frame, walnut faces, lighting and air-gap. Using an effective and uniform lighting system while keeping this shallow profile was a challenge. Instead of using a typical light lattice which would need to be a minimum distance of 2.25″ away from the acrylic, Eventscape used a custom LED light pad at 8mm thick which could be put right against the acrylic.
In keeping with the aim of having a shallow profile, Eventscape routered out the wood panels. This allowed the acrylic and the wood panel to be flush at the back, and the acrylic proud of the wood by 1/8" on the front. Since a friction fit alone would have resulted in light leaks around the letters, Eventscape used a special white adhesive (matching the acrylic colour) to reduce light leakage and adhere the acrylic to the wood. Because of the translucency of the acrylic, testing was done to ensure the light was uniform with the additional adhesive.
Both flat-cut and quarter-cut walnut veneer was used on the desks. These were stained, lacquered and custom matched to the client's sample.
In Regina, at the first retro-fit location, the desk had not been built but Eventscape coordinated with the GC and worked from shop drawings to make sure the desk front fit perfectly. The desk was engineered to be unloaded, unwrapped and installed in under 90 minutes and shipped in a custom crate to protect the finish and fragile lighting.
In Toronto, there was a desk currently in use. Eventscape engineered additional tolerances into the new unit to accommodate any unknown conditions under this existing desk.