YONGE EGLINTON
MULTIPLE CEILING FEATURES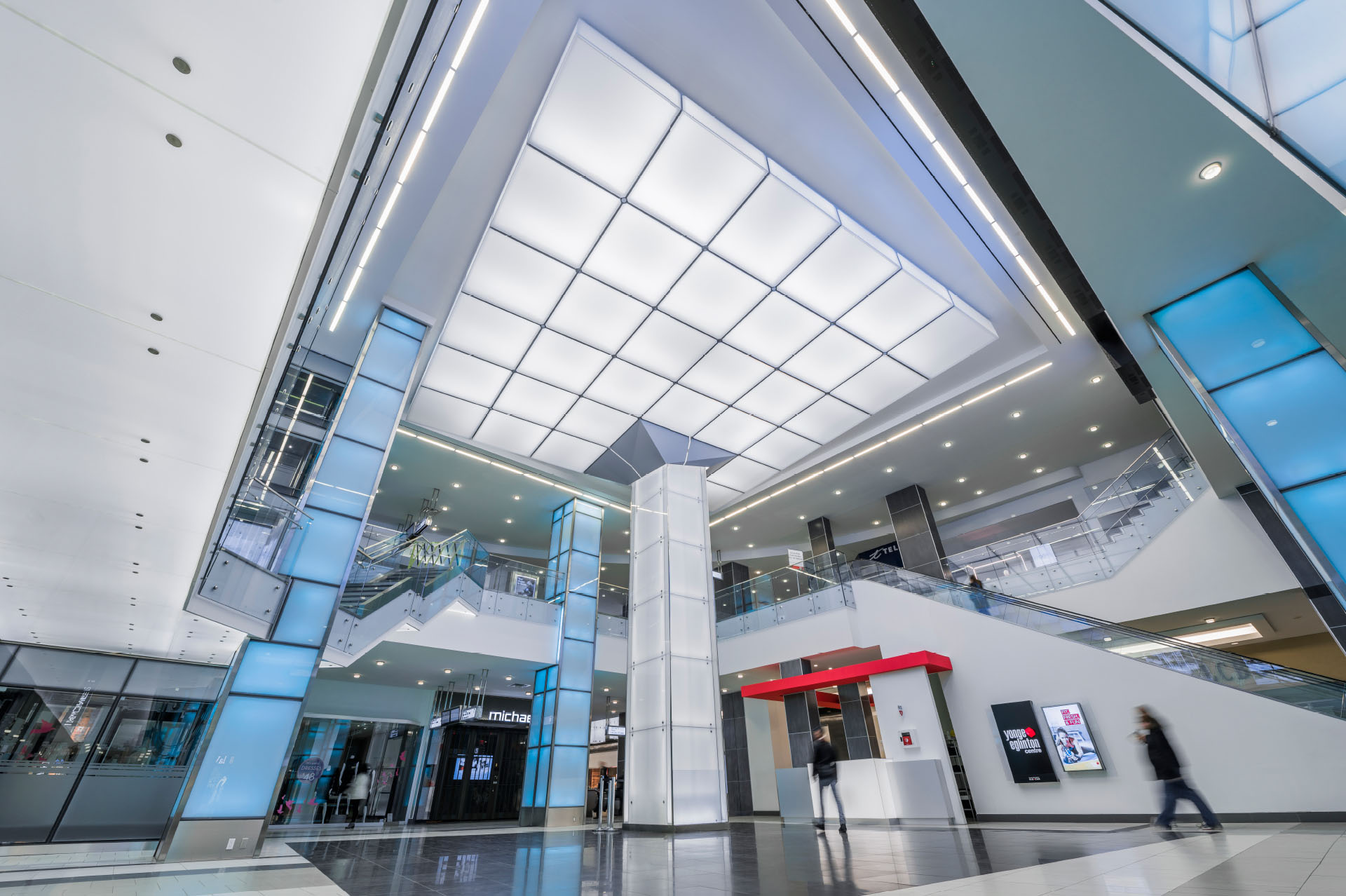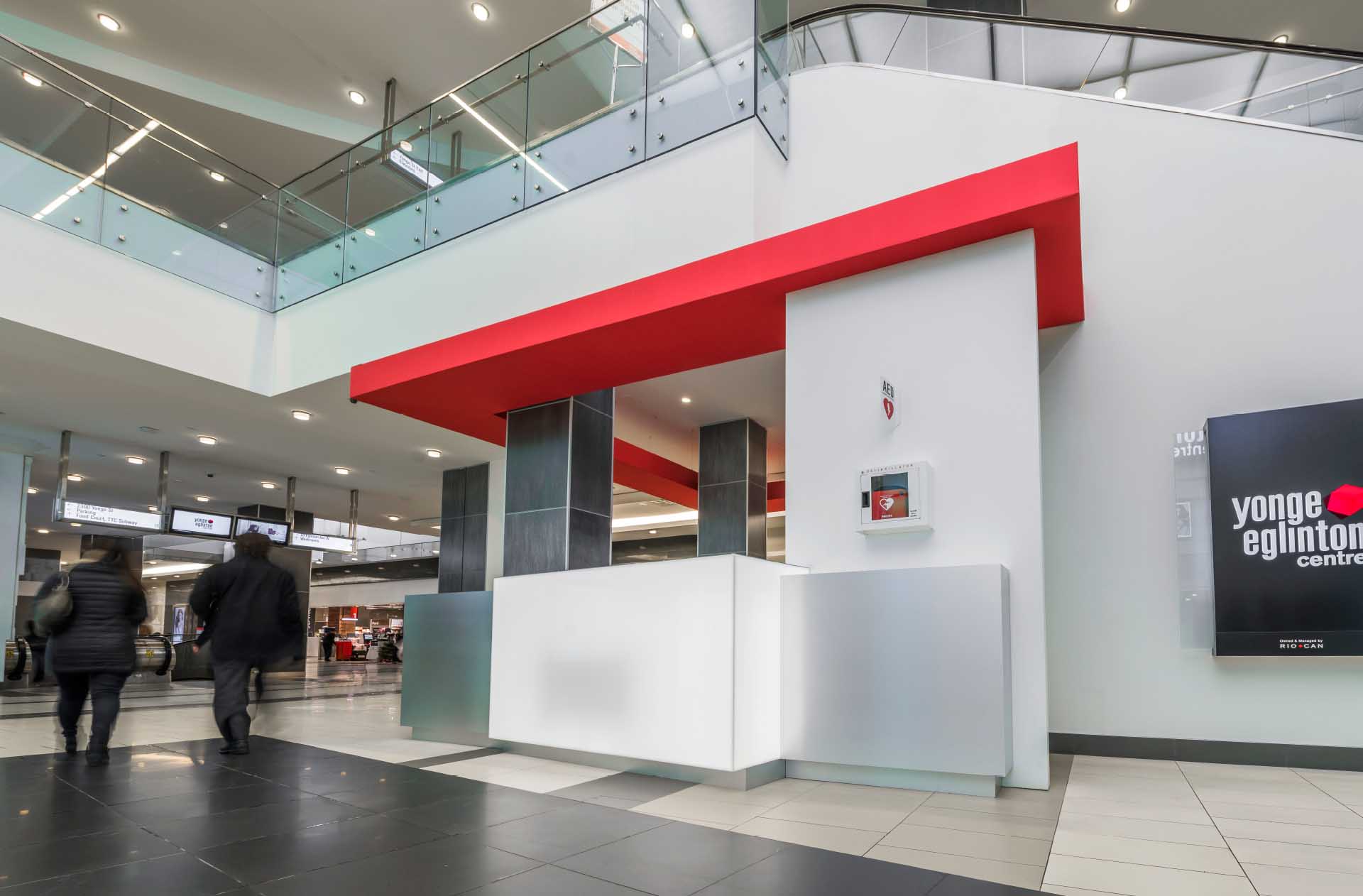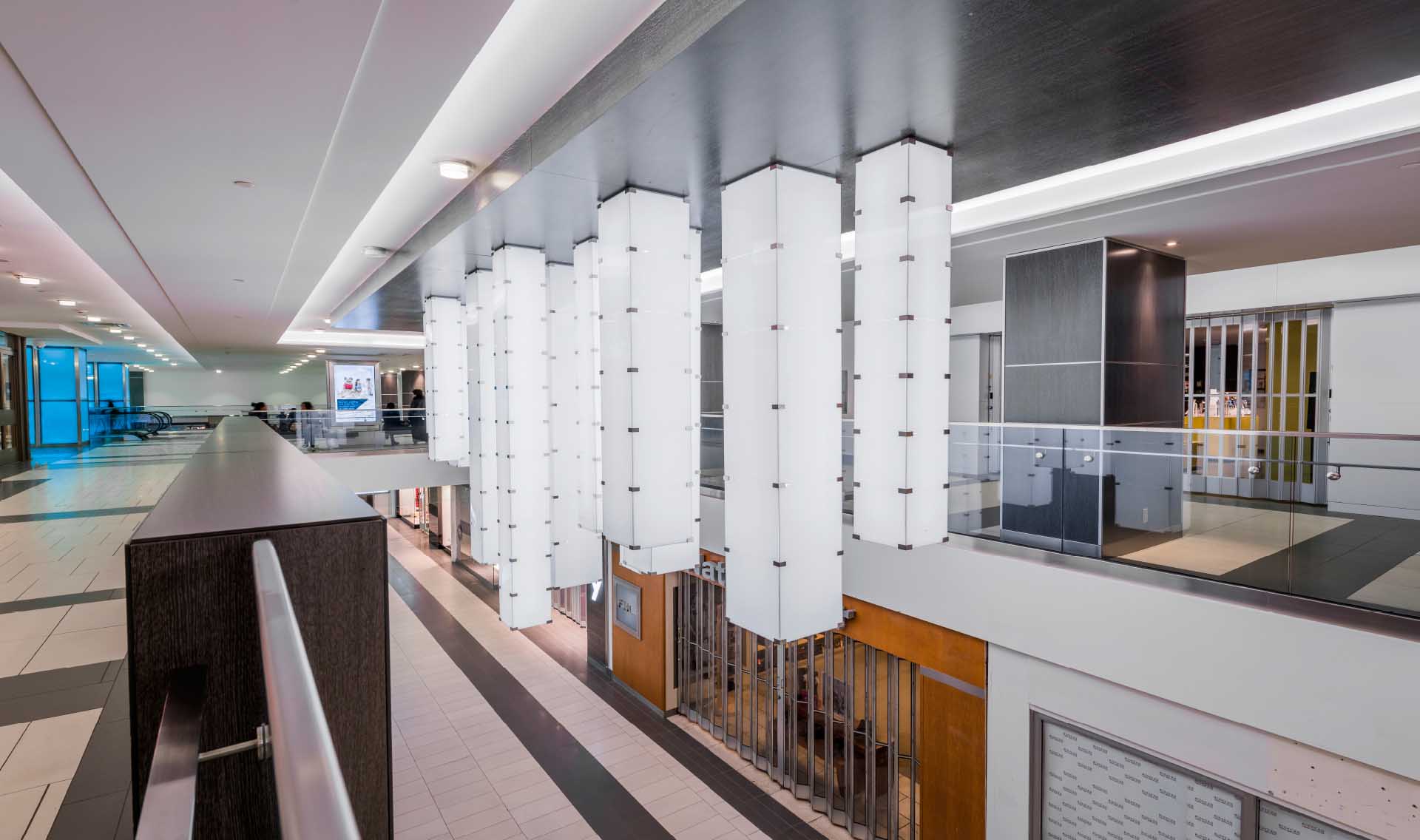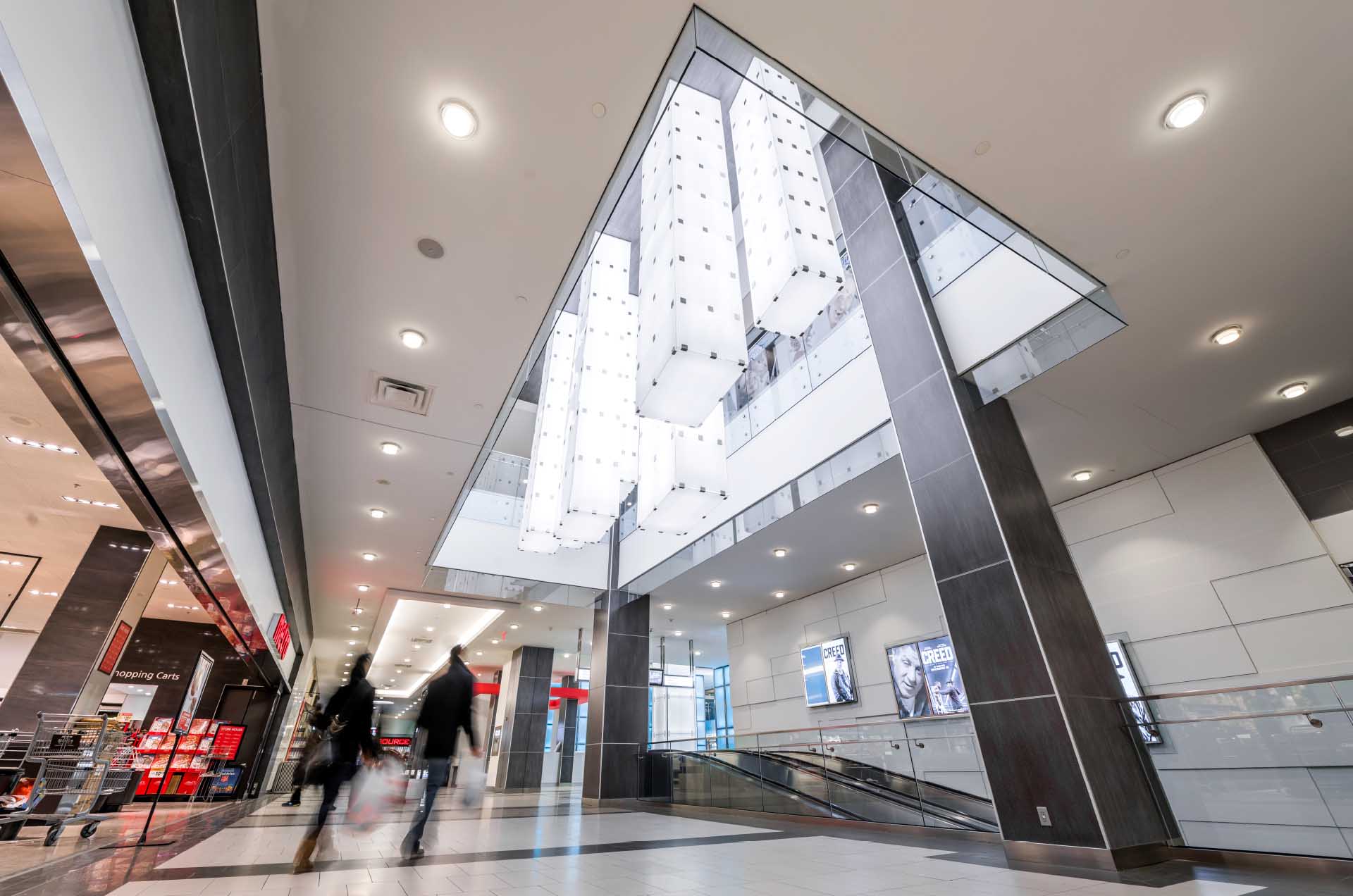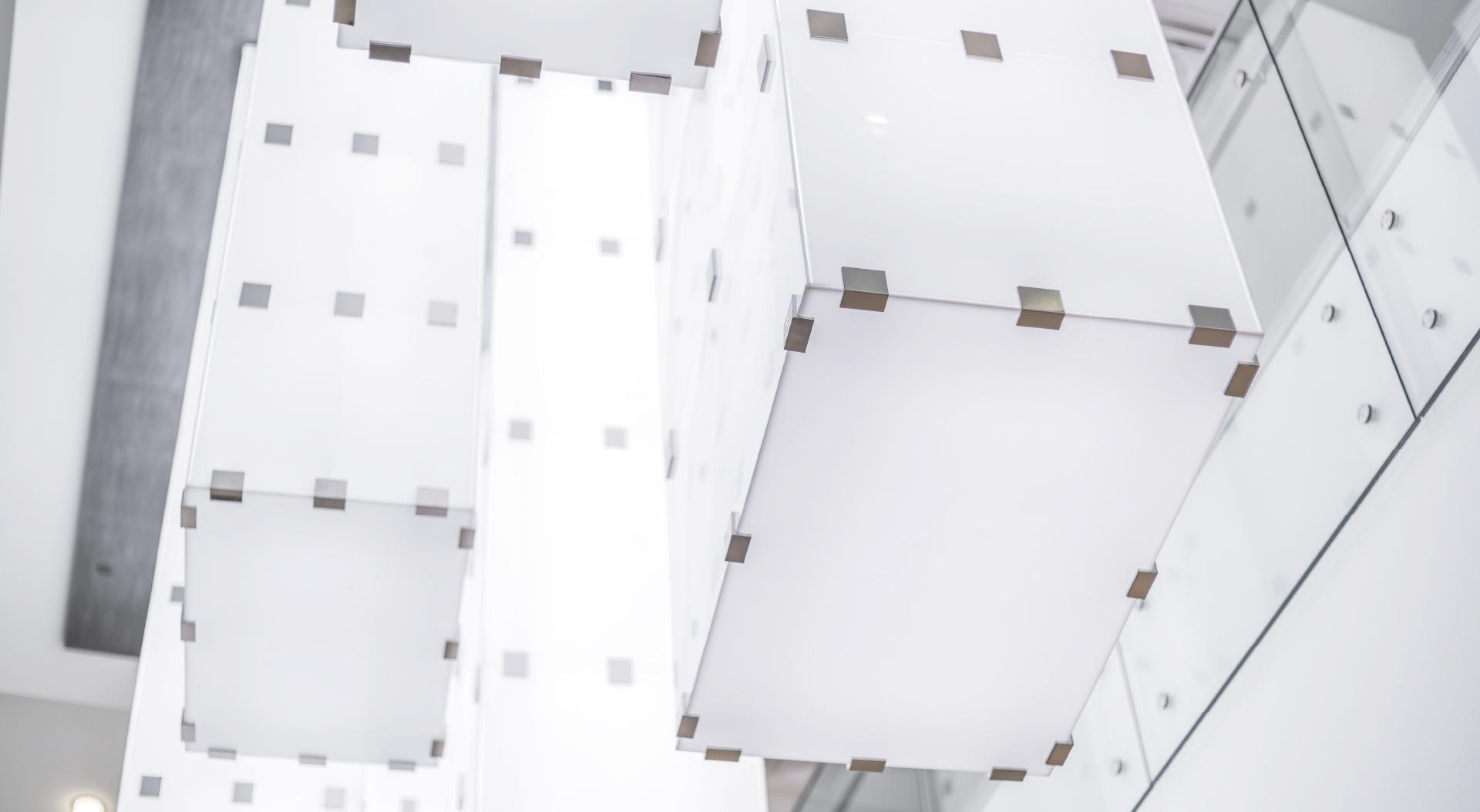 PROJECT YONGE EGLINTON CENTRE, TORONTO, ON
DESIGN PAGE + STEELE ARCHITECTS – IBI GROUP
GENERAL CONTRACTOR PCL GROUP

OWNER RIOCAN
AWARDS 2016 IFAI INTERNATIONAL ACHIEVEMENT AWARDS, OUTSTANDING ACHIEVEMENT, COMMERCIAL INTERIORS, FABRIC ENVIRONMENTS
BUILT BY EVENTSCAPE, NOVEMBER 2015
The 40,000 square foot renovation and expansion at Toronto's Yonge Eglinton Centre is complete. The "Great Hall" has been transformed to serve as an iconic destination point and hub. The remodeling featured large-scale installations, multimedia displays, a water feature, and streamlined glass balconies. For this renovation Eventscape provided 4 different feature elements in multiple materials.
Unique Characteristics & Project Challenges:
Eventscape's original scope involved creating a 1500 square foot glowing, backlit, custom ceiling system in the hall. This was an engineered design of a large-scale system with hinged access for maintenance of the integrated lighting. A steel substructure was built to provide a 2 foot deep grid framework for mounting the 32 panels and an active tensioning technique was used for the PTFE architectural textile skin. To provide an even distribution of light, the LED lighting mounted to the frame and reflected off the ceiling and vertical baffles were used to control light dispersion.  Around the custom water feature column (by others) Eventscape built 4 custom faceted metal panels with a feature grey color powder coated finish.
In addition to the initial scope, Eventscape was to engineer, fabricate and install 24 large and small suspended "stalactite" light features built with steel frames, acrylic panels and internal LED lighting. All panels were CNC cut for high accuracy with polished edges. Each of the acrylic panels were detailed with strategic reveals to allow the sparkle of the LED lighting to peek through. The stalactites range in height from 14  to 21 feet and extend from the mezzanine ceiling through the floor openings to provide light on both levels.
Eventscape was also requested to build a new guest services desk, fitting tightly within existing columns. The main feature was a glowing acrylic light box, angled 7 degrees to align parallel with the floor tile. The majority of the millwork was stainless steel laminate, with a durable contrasting stone top and face at the counter with clean and minimal seams throughout. The sleek canopy design cantilevered above the glowing acrylic light box and had minimal supports at the walls and 5 ceiling anchor locations.  Matched to the Rio-Can brand red, the canopy aligned precisely with the surrounding walls.