Meridian Arts Centre
BACKLIT ACOUSTIC WALL SYSTEM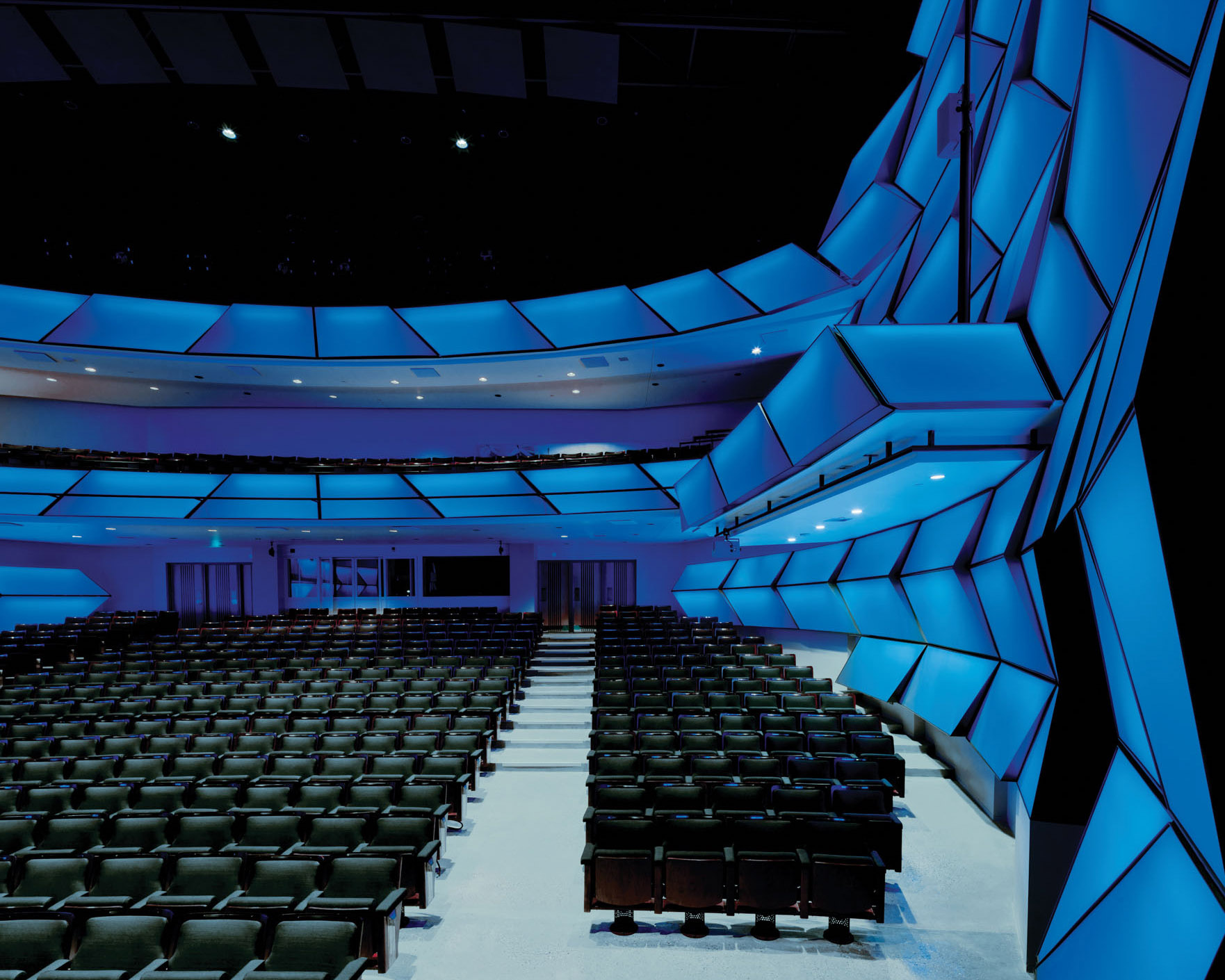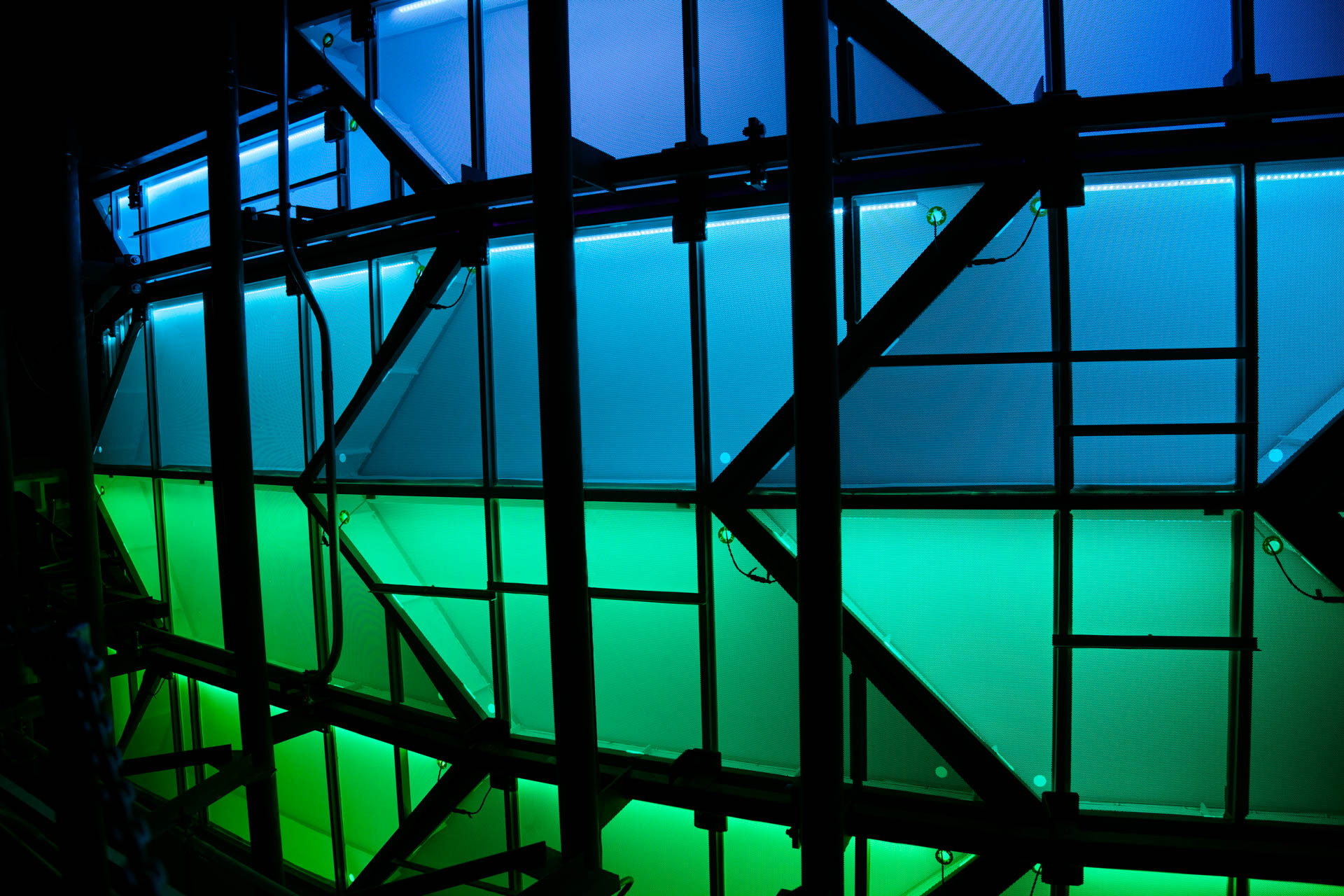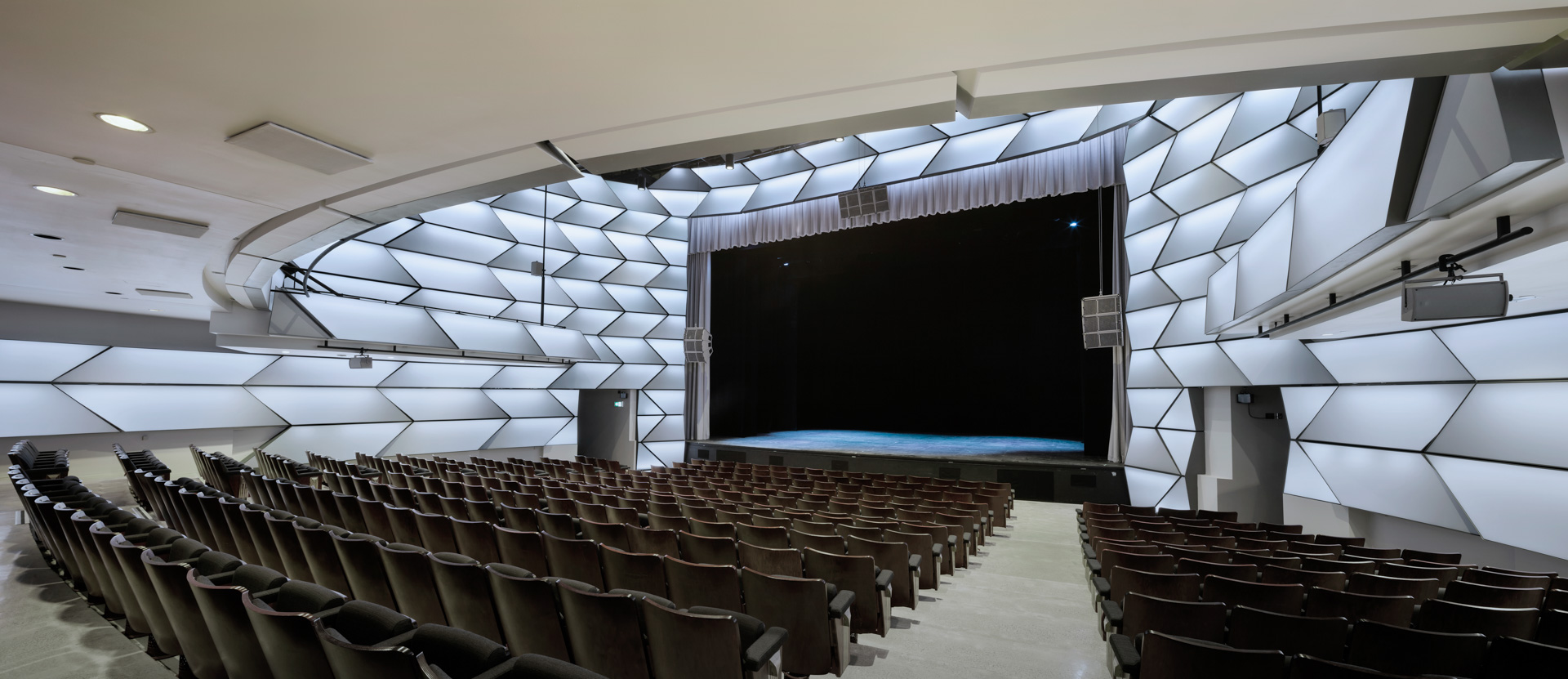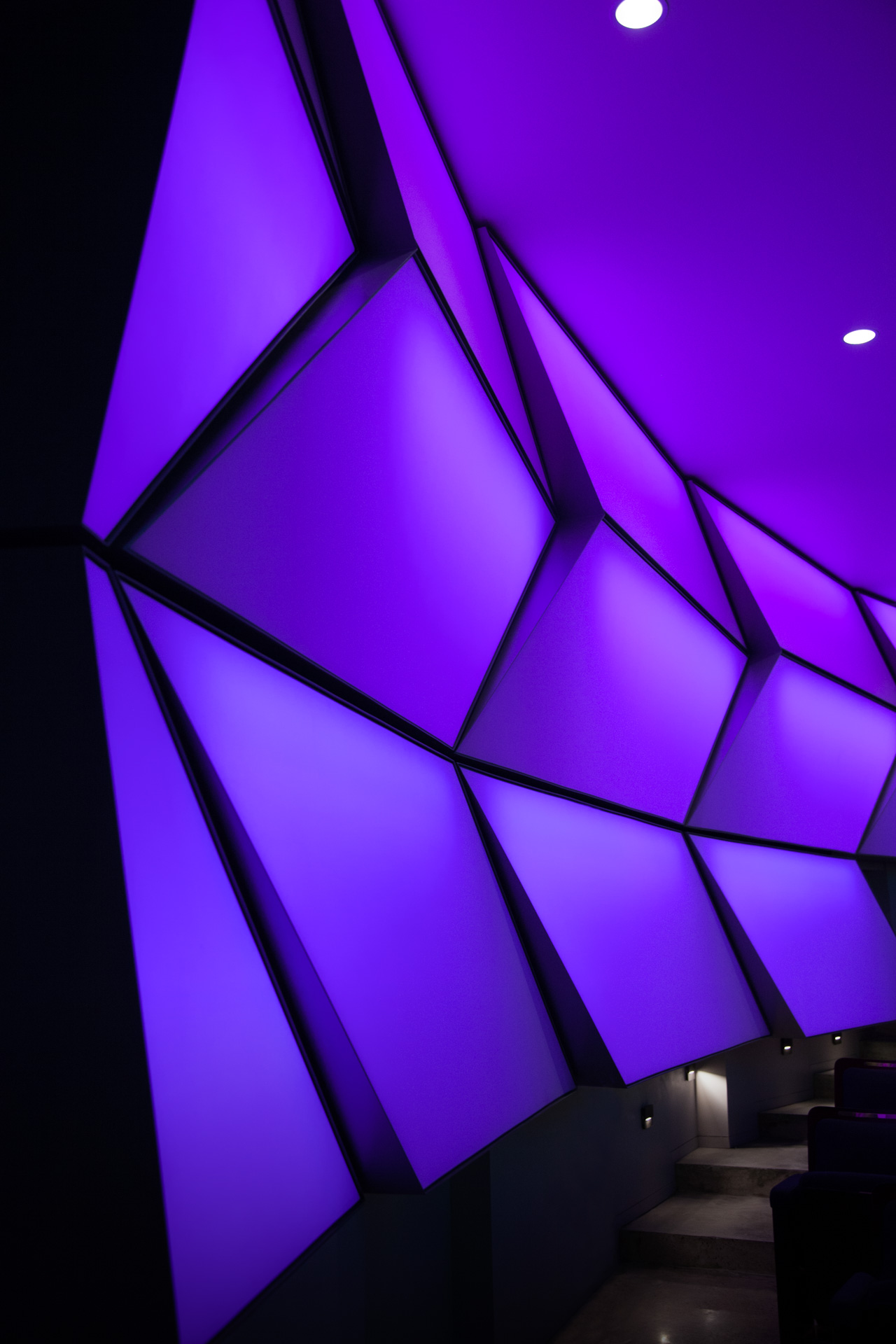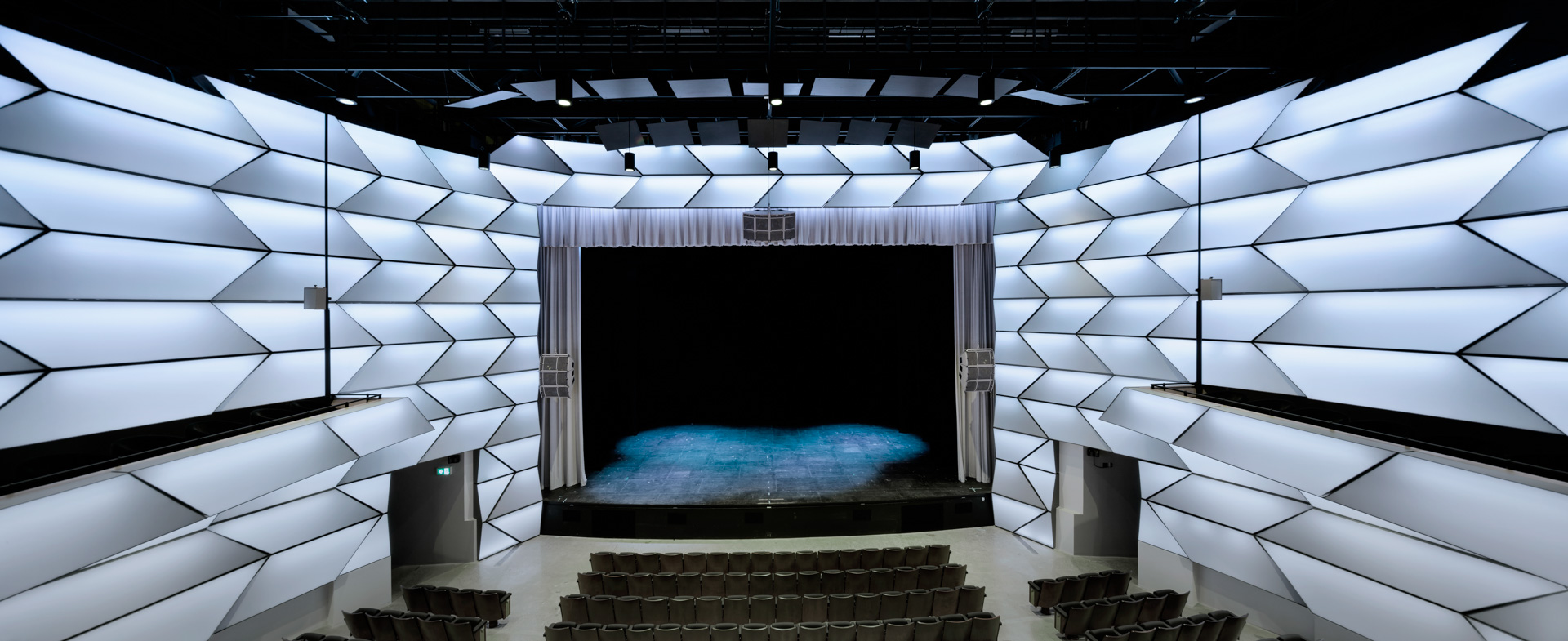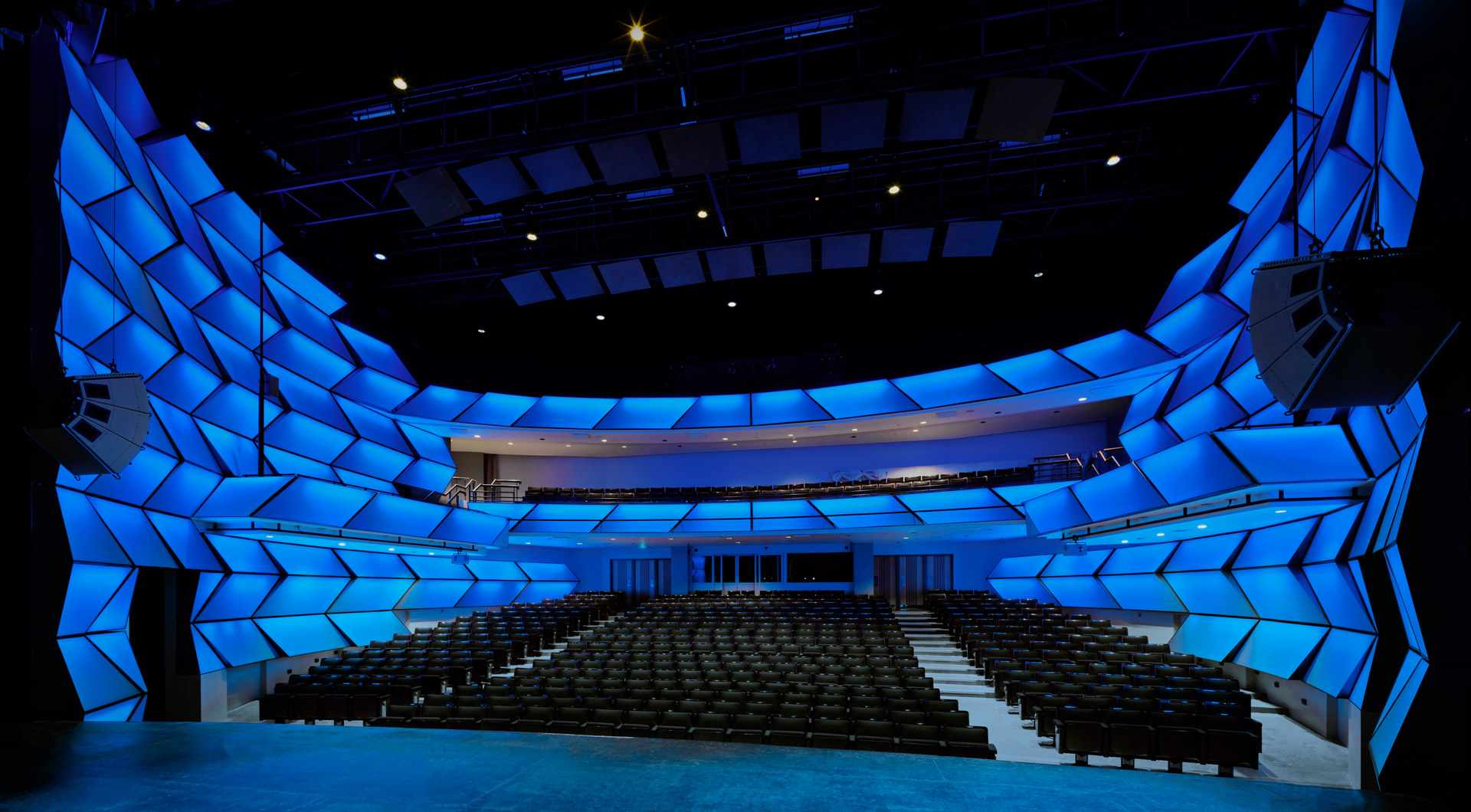 PROJECT LYRIC THEATRE AT MERIDIAN ARTS CENTRE, TORONTO, ON (Formerly Toronto Centre for the Arts)
ARCHITECT DIAMOND SCHMITT ARCHITECTS
GENERAL CONTRACTOR GILLAM GROUP
PHOTOGRAPHY TOM ARBAN
BUILT BY EVENTSCAPE, AUGUST, 2016
Diamond Schmitt provided their extensive expertise in theatre design to the renovation of this arts center. Built over 20 years ago, the underused main theatre was reduced in size and upgraded to create a more efficient facility. Eventscape was contracted to engineer, fabricate and install over 3000 square feet of an acoustical backlit panel solution that wrapped the theatre walls and proscenium. A unique chevron design, alternating diffusing and reflecting backers and integrated lighting provided a custom panel system that solved both acoustic requirements and allowed unlimited possibilities in creating a programmable light show. Eventscape was also contracted to reupholster over 500 theatre seats that fill the theatre.
Unique Characteristics & Project Challenges:
The designers at Diamond Schmitt contacted the Eventscape team with the initial model and concept of the renovated theatre. The general contractor was responsible for providing the structural base building support system of columns and vertical supports. Eventscape conducted an initial site survey to detail all the support structure connection points on the entire theatre space from floor to the 55 ft ceiling height. Eventscape then engineered and designed a coordinating zigzag hanging "rail" system, with an innovative vertical and horizontal adjustment system to accommodate tolerances on site. This rail system would ultimately control the placement of each of the chevron enclosure assemblies so that the overall aesthetic was achieved with perfect configuration.
Each of the enclosure assemblies were built of square aluminum tubing in order to create a rigid box or frame. The sides were made with laser cut and brake formed aluminum sides with a textile skin front and a back that was either acoustically transparent or acoustically reflective, dependant on the exact acoustical requirements of the theatre space.. As the construction of each assembly, its skin and internal light placement was critical to this design, Eventscape provided multiple mockups to test each aspect. The criteria for the textile skin were to be acoustically transparent and allow consistent light diffusion. A custom neutral print color was chosen by the architect as the textile finish. Backs were either solid or had various percentages of patterned perforated steel and precise thickness that would satisfy the acoustic requirements but not allow any light leakage. After several mockups, tests and coordination with the acoustician, lighting designer and architect, Eventscape engineered a design that satisfied all the criteria with multiple solutions including using a two-toned powder coat finish to allow for both light reflection to interior baffles for better sound quality and a custom colour and finish for the exposed skin. As there were many different site conditions on the stage, balcony and proscenium with various acoustical requirements for each, ultimately there were 40 different types of enclosure assemblies.
As the pre-existing site condition of stairs and ramps in the theater space made installation using boom or lift equipment impossible, Eventscape's installation team used standard scaffolding to hand carry each of the enclosure assemblies to its assigned position. A pre-welded plate on the back of each assembly gave the installers the initial engineered position and a simple shim system accommodated any onsite variations. As this custom theatre surround engineered, fabricated and installed by Eventscape touched all other trades involved on the site; drywall, electrical, steel and millwork, it was crucial to have perfect alignment at every point in the process, from initial sketches through to design, fabrication and installation.
The lights incorporated into each of the enclosures are programmable every 12 inches so there can be up to 4 different colors in each enclosure at one time. Completely surrounding the audience seating, the light show at this theatre gives attendees an immersive experience unlike any other.