FIREKEEPERS CASINO
COLUMNS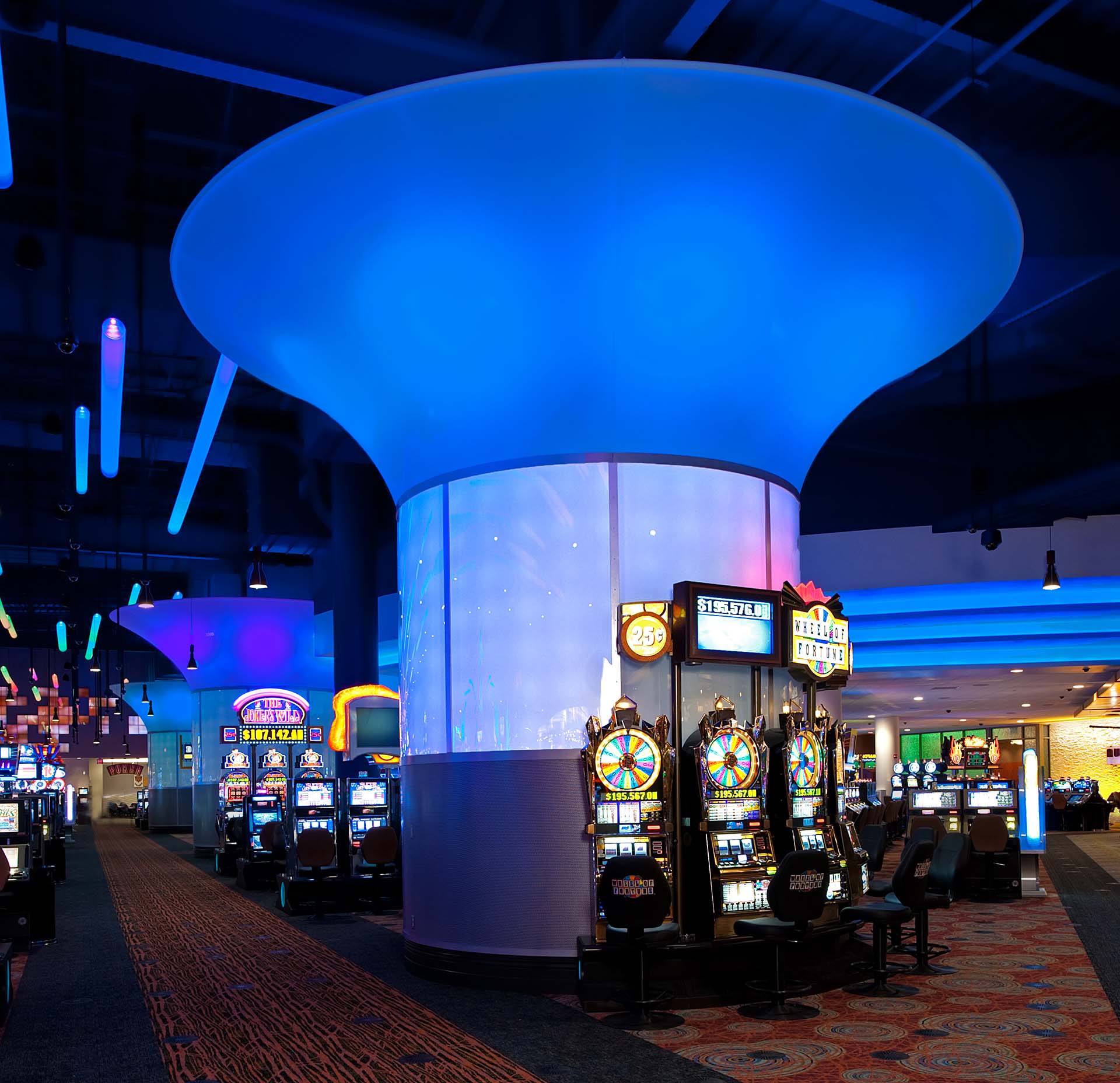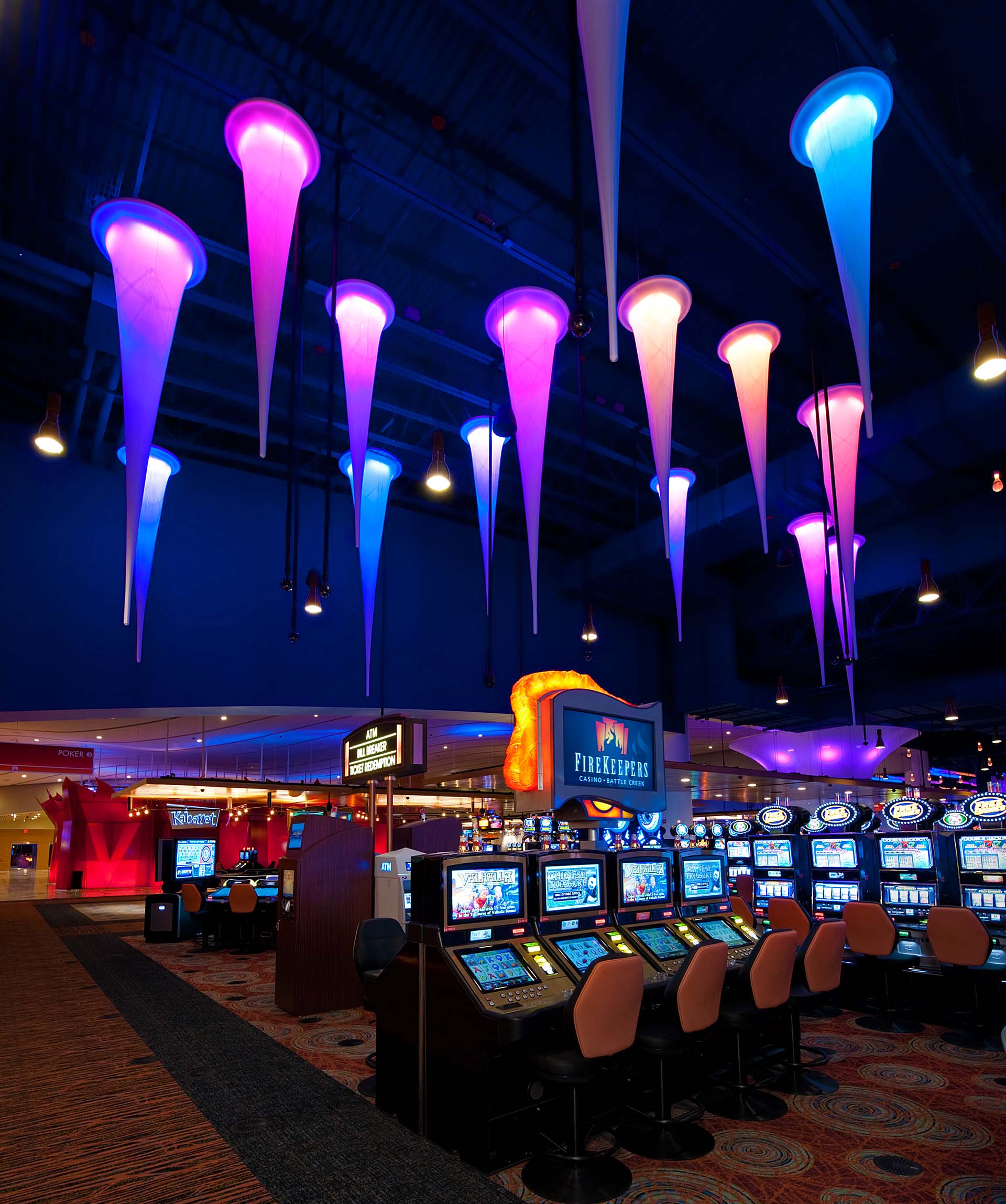 PROJECT FIREKEEPERS CASINO, BATTLECREEK, MI
ARCHITECTURAL DESIGN PEREZ, APC
LIGHTING DESIGN CREATIVE LIGHTING DESIGN & ENGINEERING
GENERAL CONTRACTOR DENN CO.
PHOTOGRAPHY KEVIN BESWICK/PEOPLE PLACES & THINGS PHOTOGRAPHICS
BUILT BY EVENTSCAPE, AUGUST, 2009
A new $300 million lavish entertainment facility is Michigan's newest gaming hotspot. The Firekeepers Casino features 11 column surrounds and a series of 20 custom "stalactite" suspended light features, engineered and fabricated by Eventscape. The 12 ft diam. by 20 ft. high columns utilize a combination of four different materials: acrylic, aluminum, 16 gauge perforated steel panels, and a 24 ft diam. translucent fabric cone top. The columns glow with programmed vibrant internal lighting. The "stalactite" lights feature slim aluminum framing, a translucent membrane covering and integrated changing LED lighting – all guaranteed to keep the excitement level hot on the 107,000 square foot gaming floor. This project showcases Eventscape's one-stop custom fabrication capabilities; easily incorporating multiple materials in one element.

Unique Characteristics & Project Challenges
The column surrounds were designed by the architect to hide the large HVAC equipment. Originally Eventscape was asked to be involved with only the top portion of the columns but after seeing the extent of our capabilities in all materials, the whole scope of the column was awarded to our firm. The majority (8) of the columns were one size, with the remaining column sizes adjusted for the various on site HVAC conditions. All drawings were coordinated with the HVAC contractor to allow for sufficient clearance.
All sections of the columns; aluminum frame, perforated steel base, translucent acrylic center and fabric cone top were pre-assembled, with all CNC cutting completed for precise alignment of finished pieces on the plinth provided by the general contractor. Our team worked with the architect to suggest economical and clean solutions to solve various issues. To allow access to the column interior for maintenance, all acrylic panels are removable. To hide the interior frame a simple backer for the perforated metal was devised. The top fabric covering is removable for cleaning. As a very late request we were also able to incorporate an interior frame for mounting the light fixtures behind the acrylic panels.
This project was completed within a very tight timeframe. In fact, the scheduled installation date was moved forward and the team was able to accommodate this earlier delivery. All sections of the columns broke down into sections that were easily handled by 2 people and all fit into one fifty-three foot dedicated trailer. Eventscape provided a detailed instruction manual and all columns were installed easily and quickly by on site labor.