E CONDOS
MULTIPLE FEATURES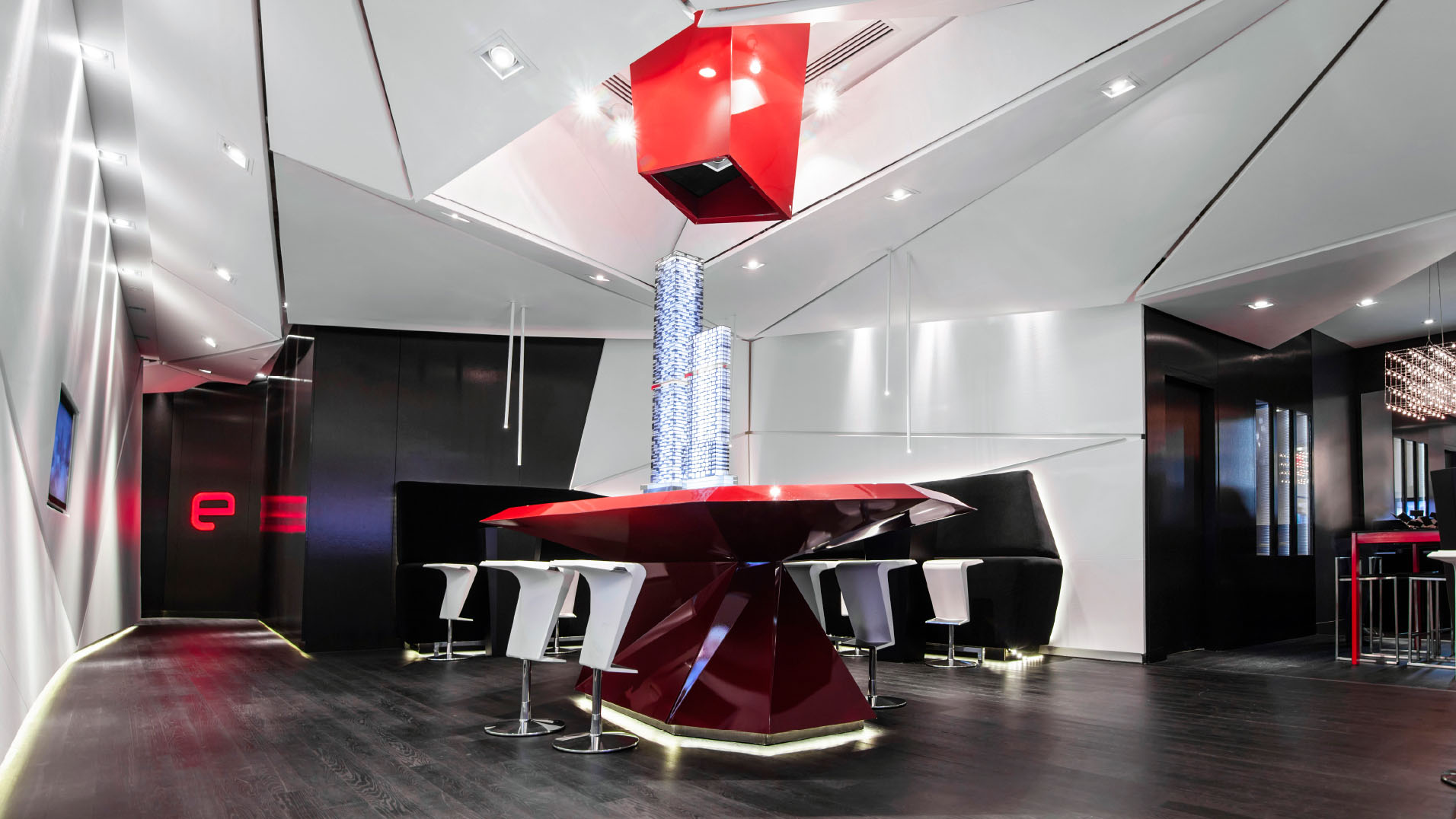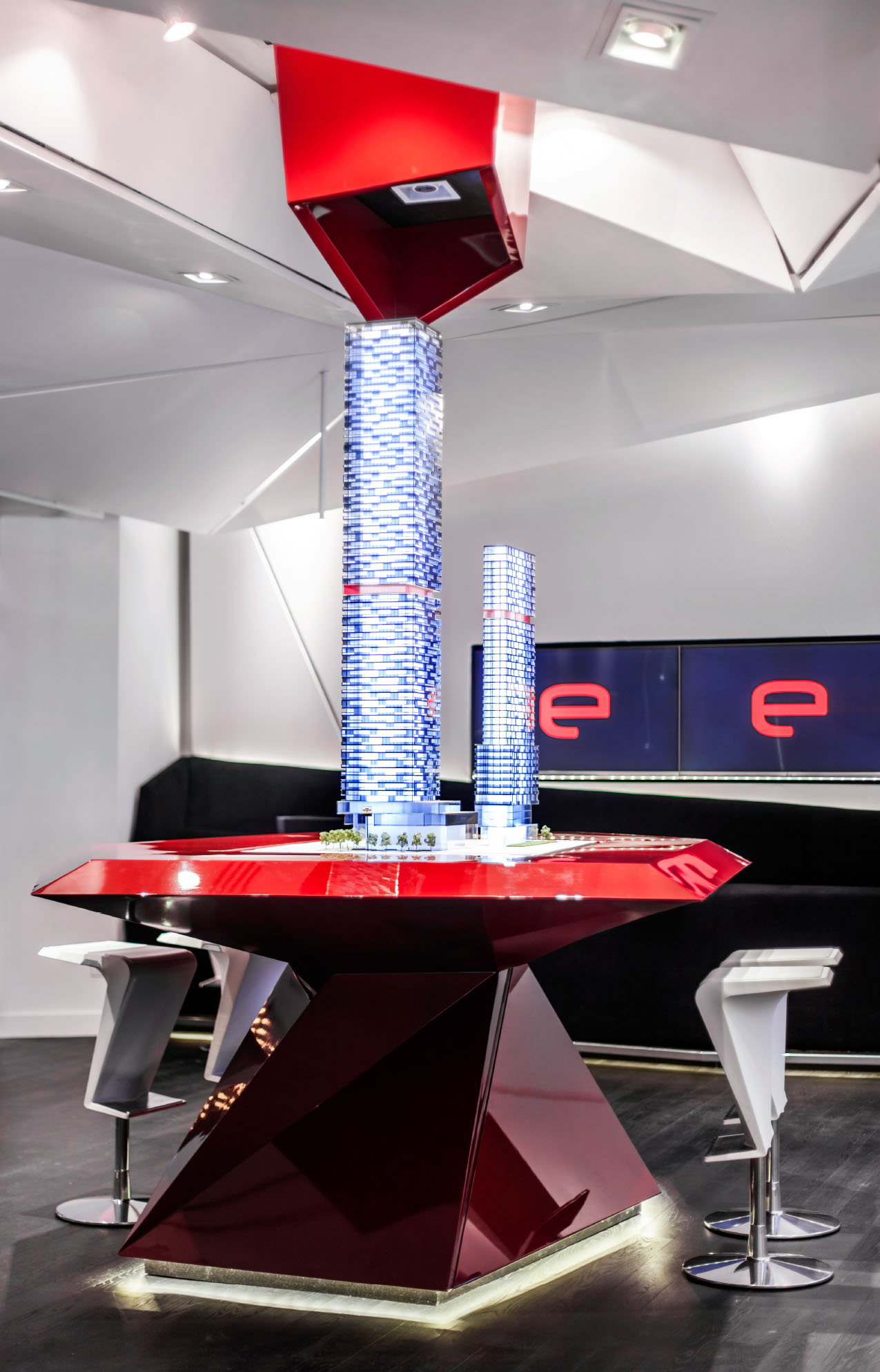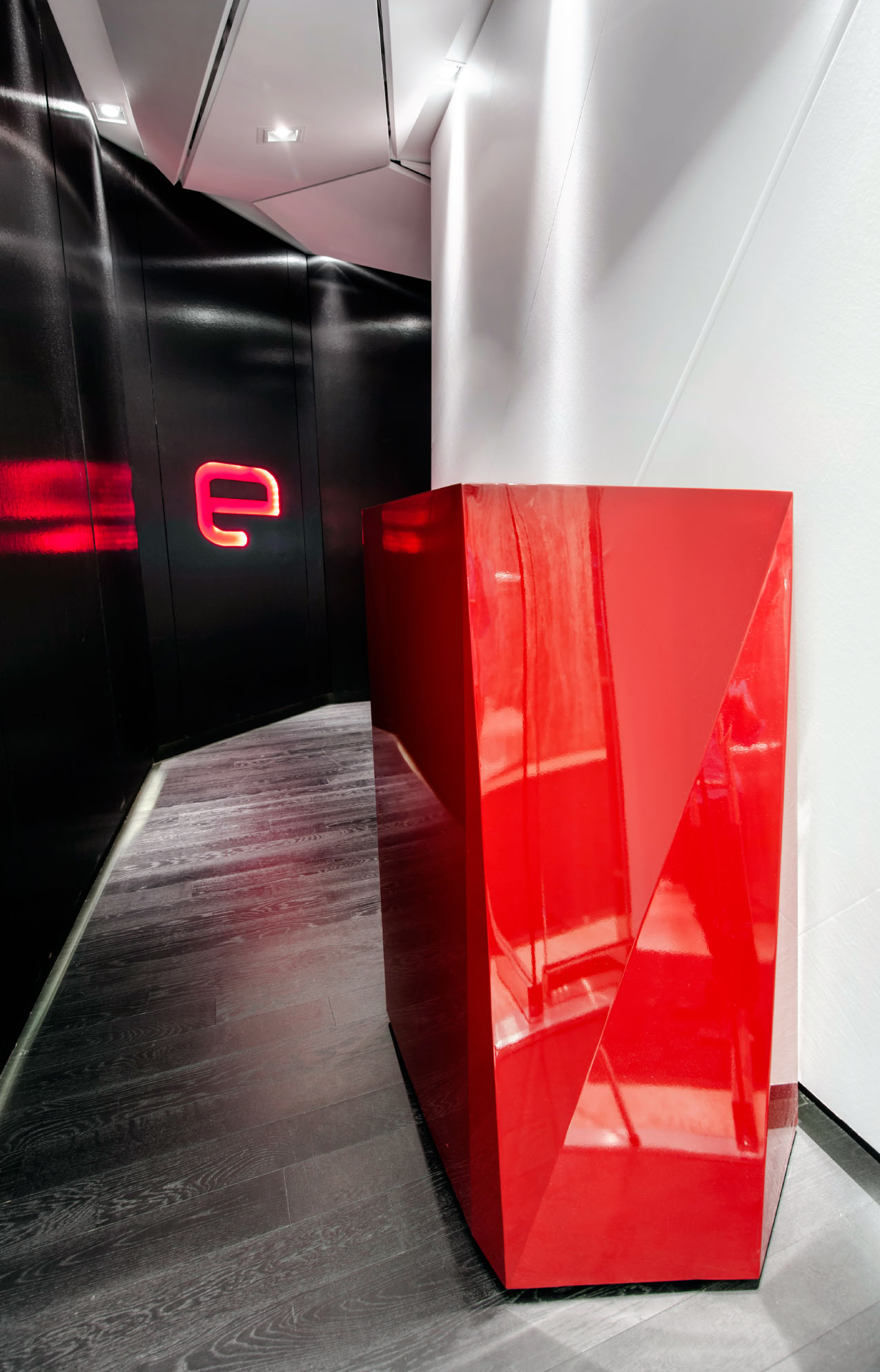 PROJECT E-CONDOS PRESENTATION CENTER, TORONTO, ON
DESIGN MIKE NIVEN INTERIOR DESIGN
DEVELOPERS RIO CAN, BAZIS, METROPIA
GENERAL CONTRACTOR TMG BUILDERS
BUILT BY EVENTSCAPE, NOVEMBER 2012
The black, white and red iconic colors of the new E Condominium Towers are featured prominently in this dramatic new sales center. The multi-faceted custom elements combine a challenging formula of unique forefront design with innovative fabrication.
Unique Characteristics & Project Challenges:
Complex geometrical shapes are used throughout the space in the walls, ceilings, tables, and seating. Eventscape engineered, fabricated and installed all elements within an extremely tight timeframe.
One of the many challenges was to integrate the oblique floating ceiling with operational services hidden within. Each of the 23 fabric covered panels are different in shape and suspended at various angles from the ceiling. The panels were suspended using aircraft cable. To control the panel spacing, clear acrylic spacers were used. Overhead lighting and sprinklers pierce the panels where needed and internal subframes were included to house the pot lights.
Faceted fabric walls allow for the latest touch screen technology to float within the wall, forming around the room and meeting with straight vinyl walls. Each panel was independently mounted using standoffs, and wrapped with a faux white leather.
The two custom banquettes are precisely placed to lead to the focal point of the room – the model display. The corner bench totals 27 ft long while the facing bench is 16' in length and follow the language of the faceted environment. LED light tape is used as a highlight around the edges of the seating, walls and table making them appear to"float" in the space.
The model is on a bespoke custom formed metal table which perfectly displays the E Condo model, highlighted from above by a beautiful custom chandelier. The table was fabricated using brake formed and welded steel with an automotive paint finish, to house the lit architectural model. Access to the electrical connections are made through a removable panel on the table base.
The jewel-like forms in the family of model table, chandelier and podium all feature the same construction techniques and finish, drawing focus and guiding the visitor in to this extraordinary sales center.