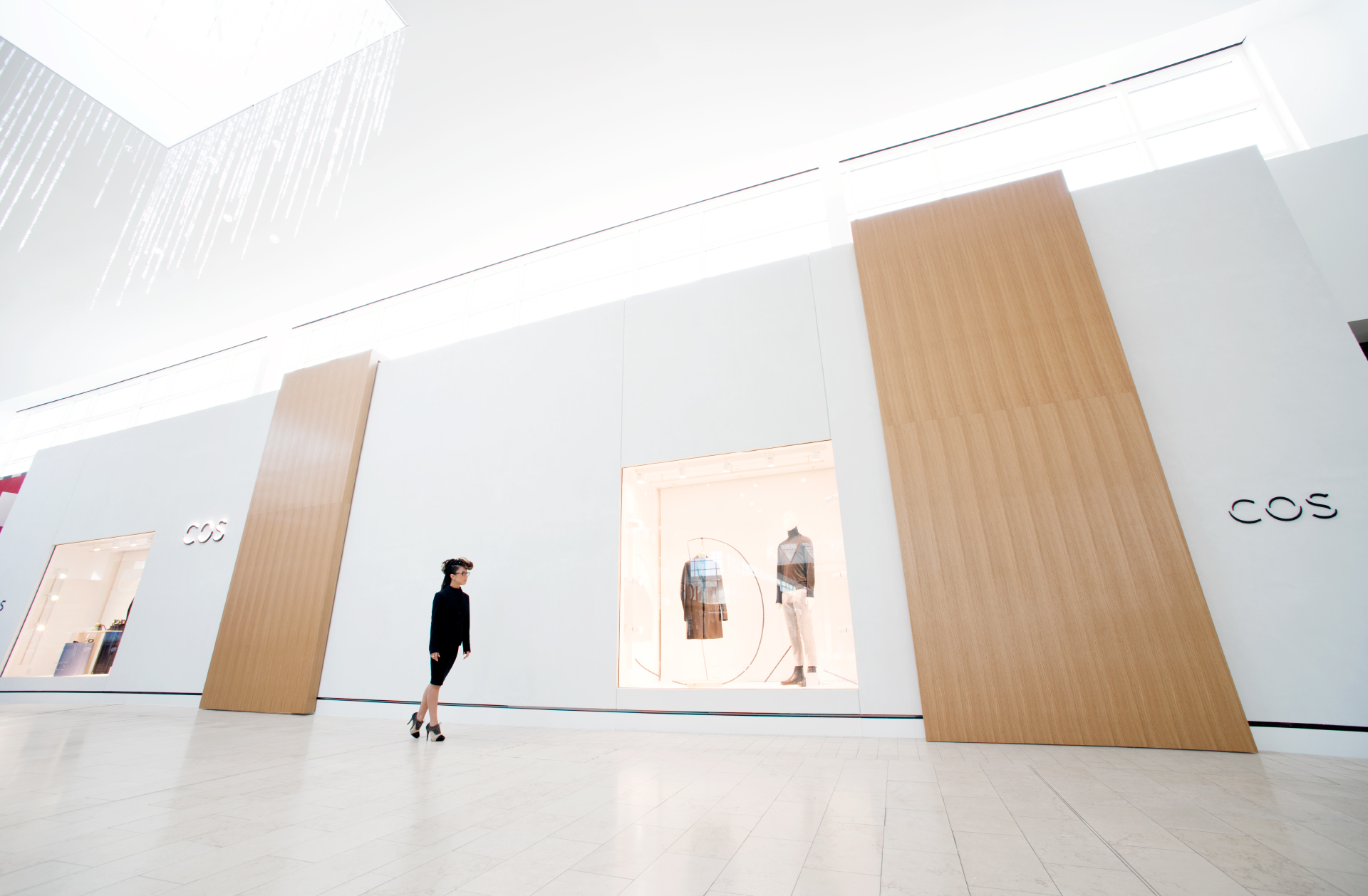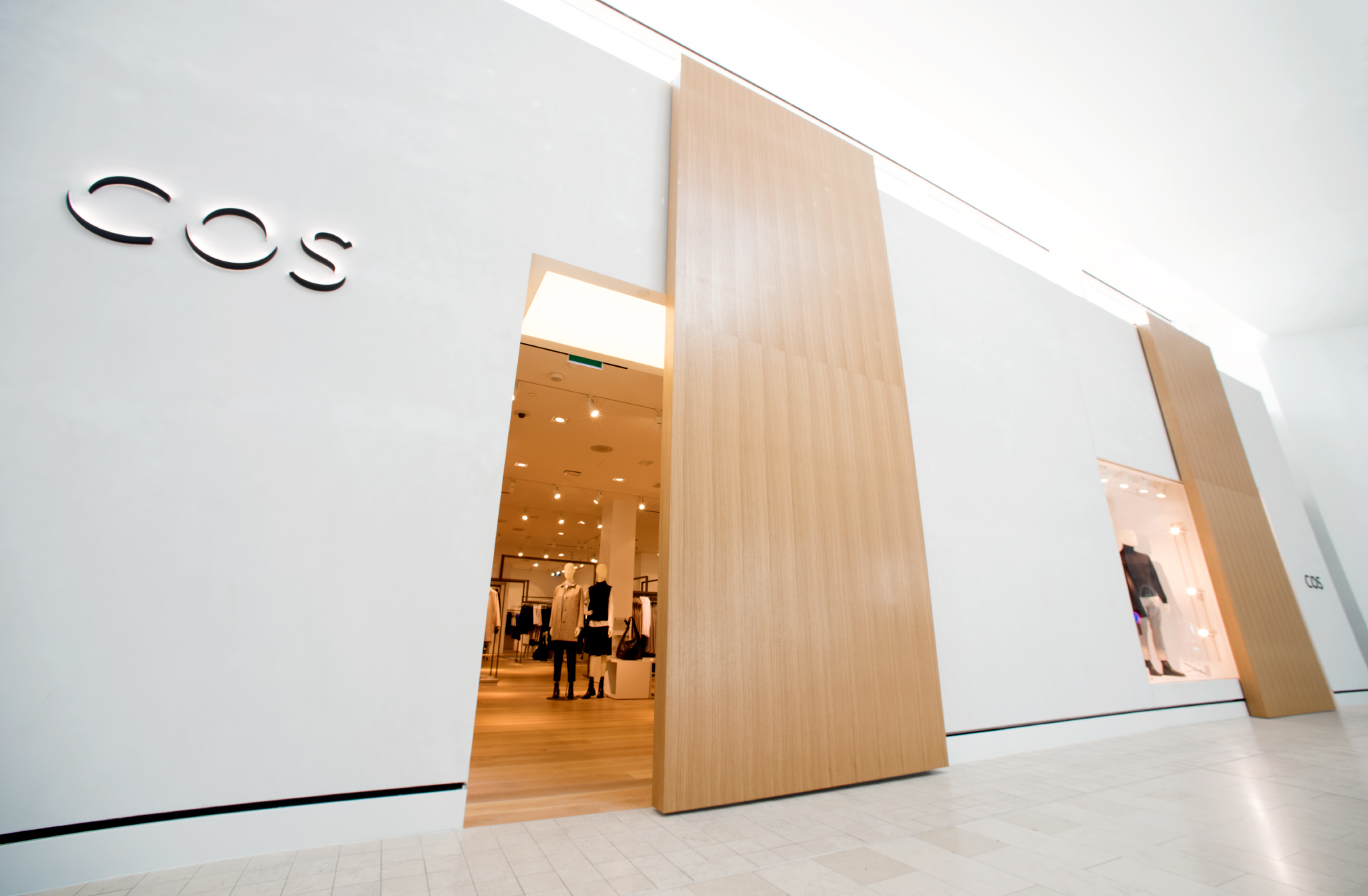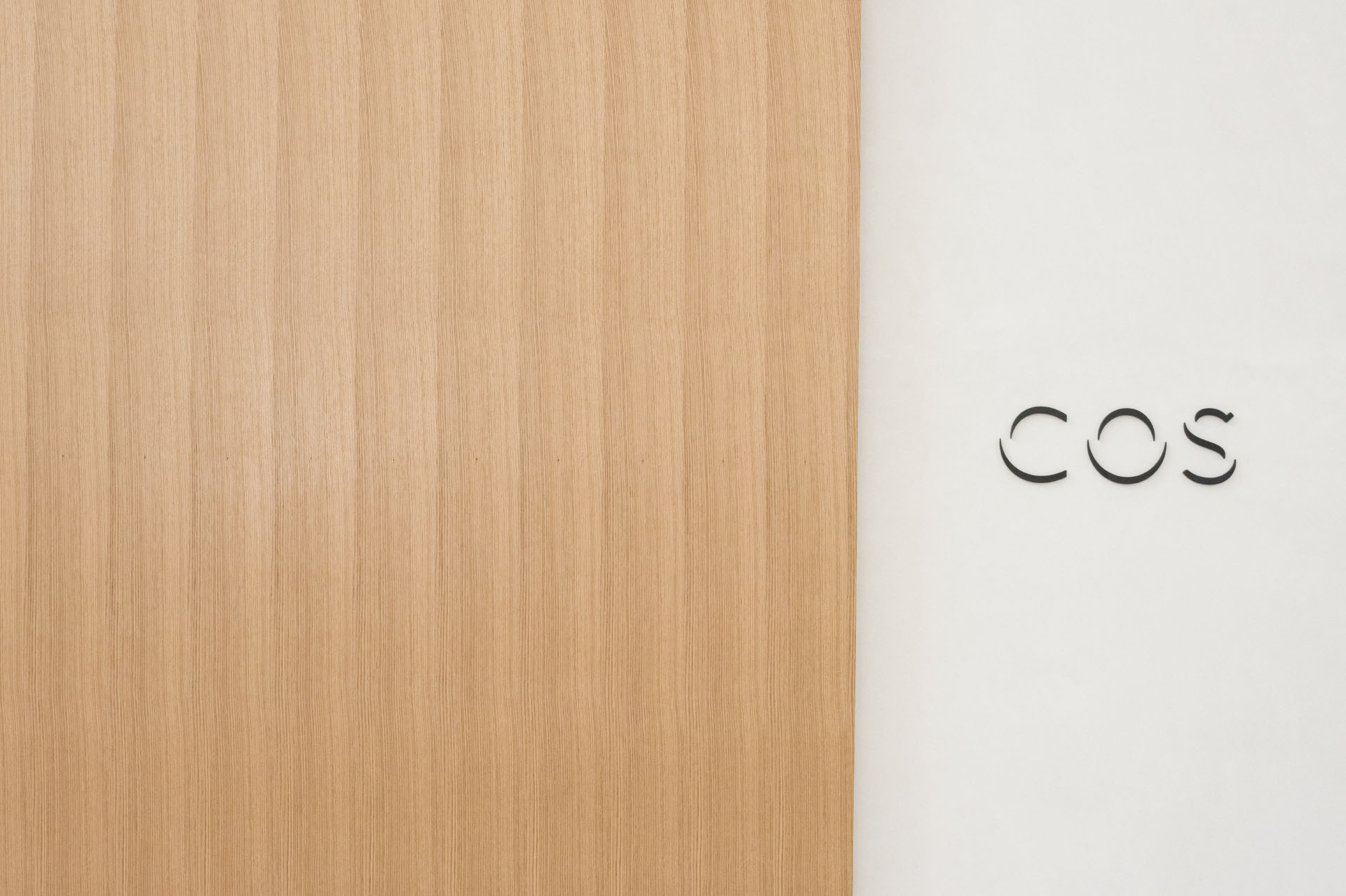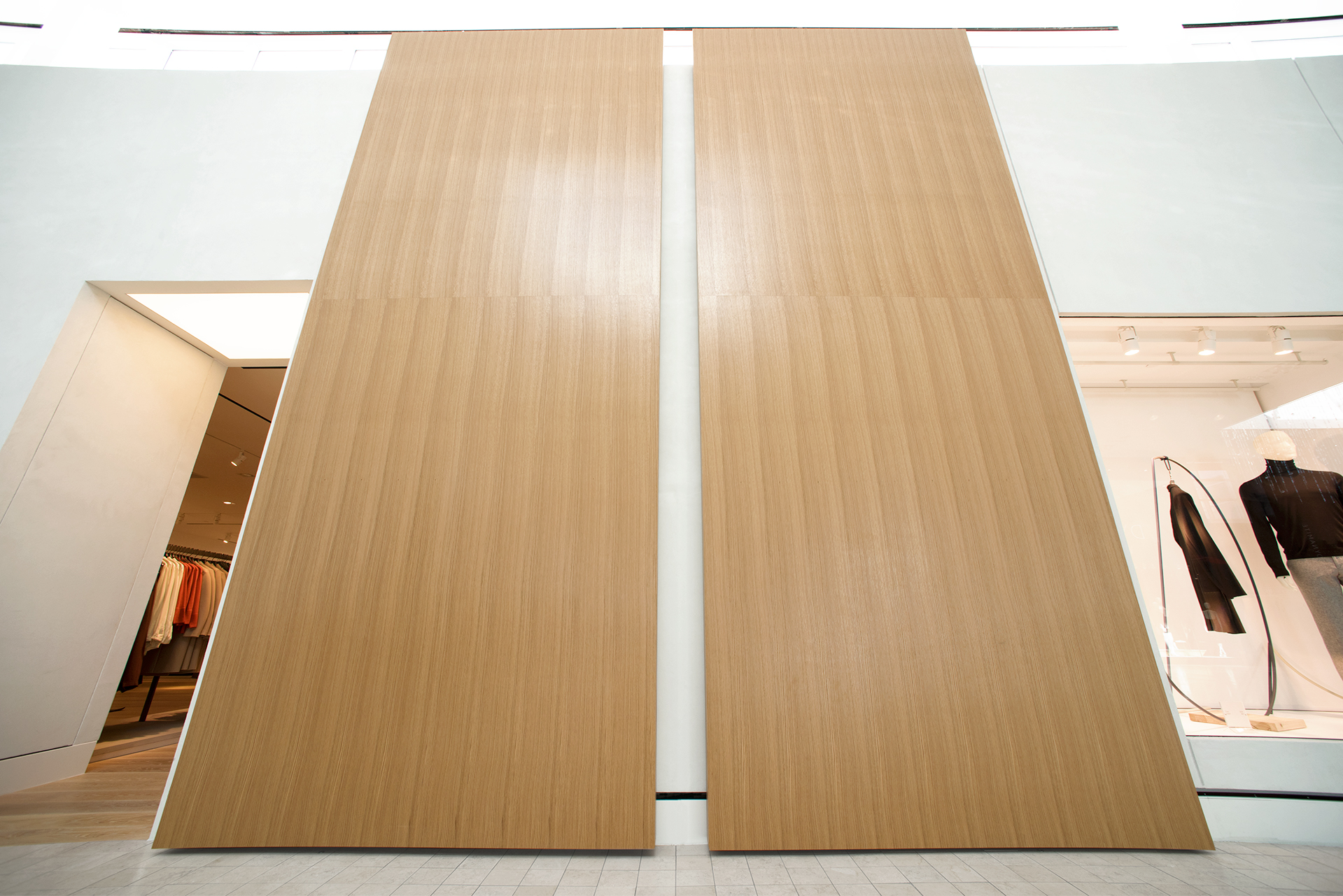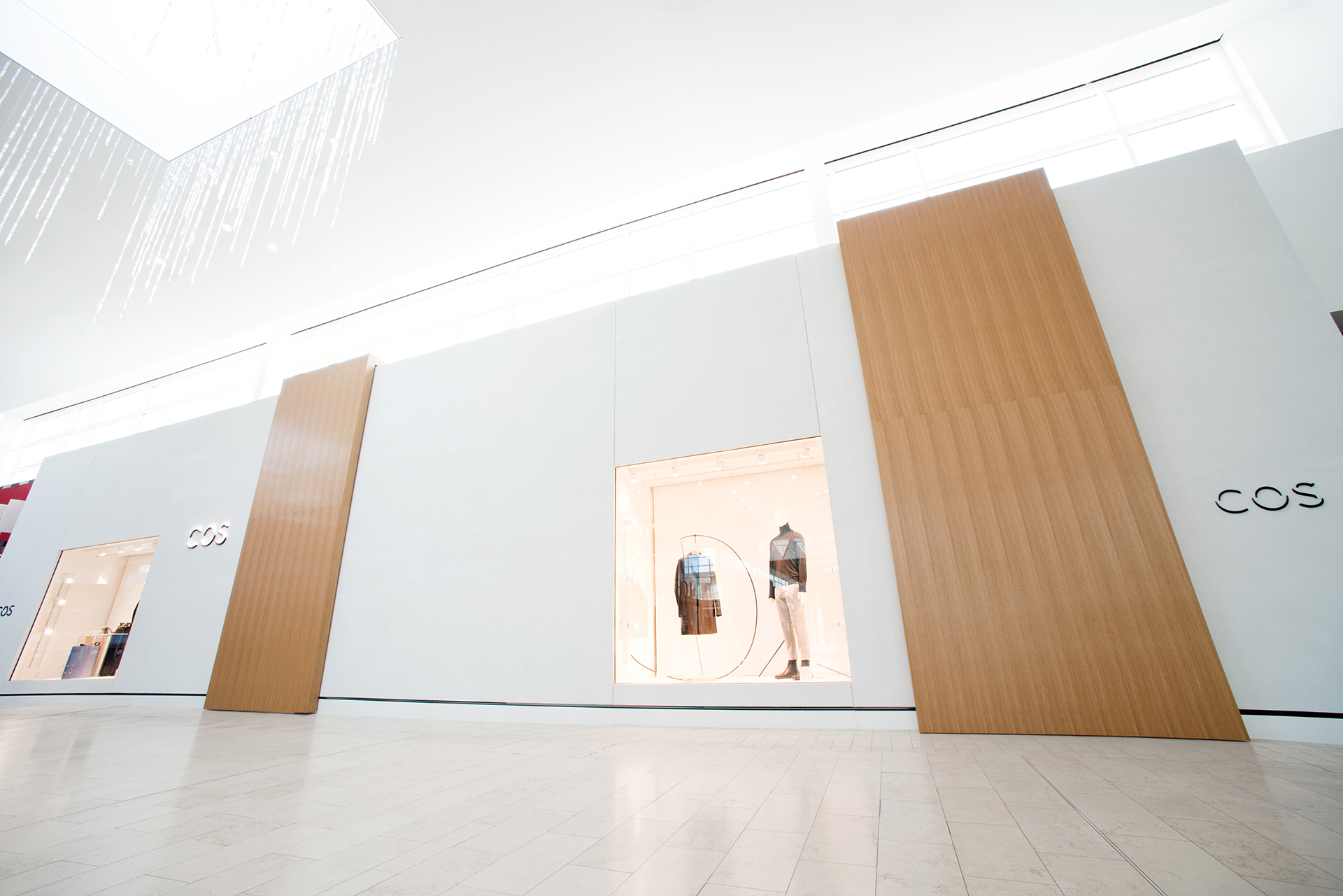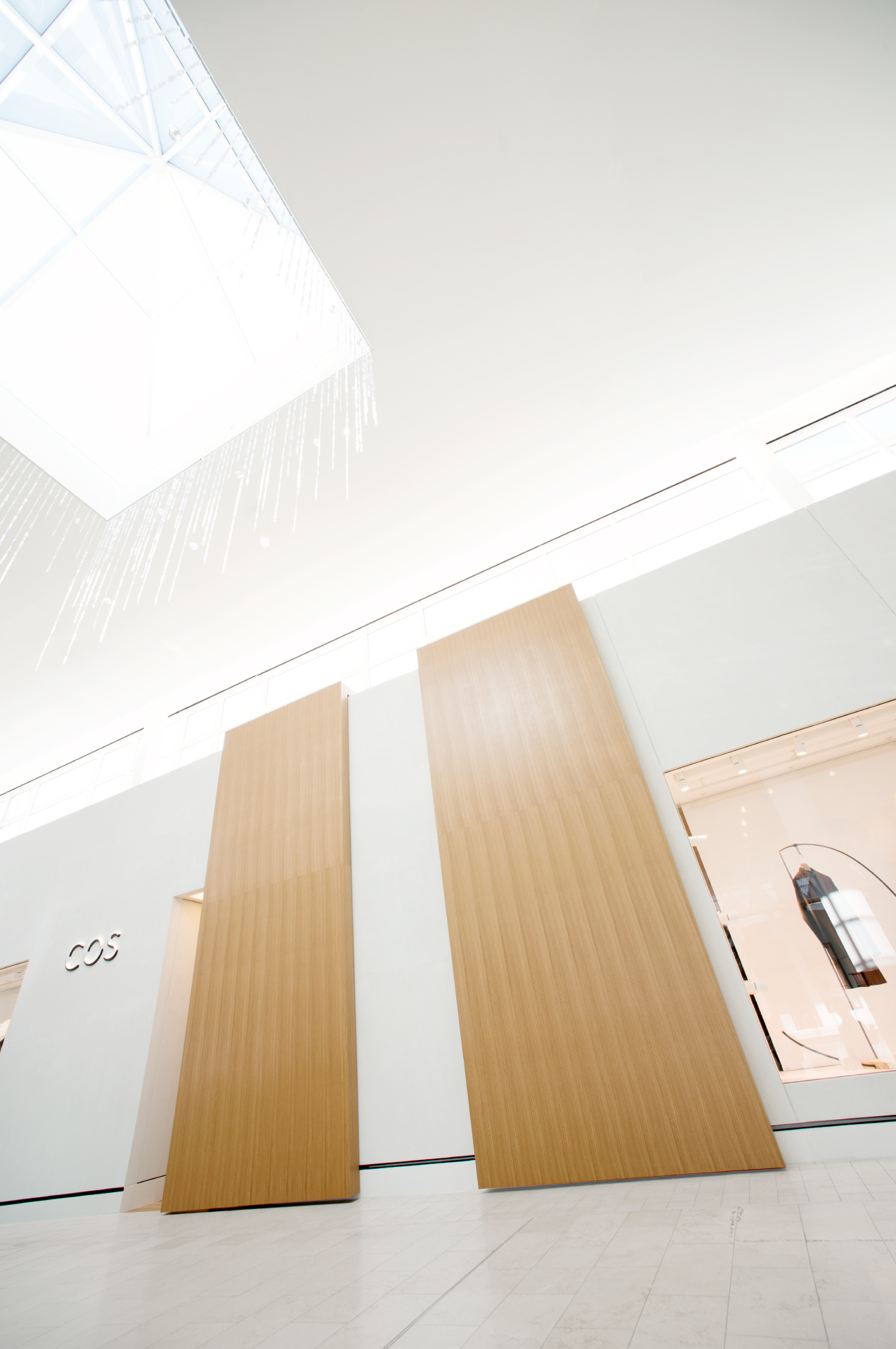 PROJECT COS, YORKDALE SHOPPING CENTRE, TORONTO, ON
DESIGN GH+A
GENERAL CONTRACTOR STRUCTURE CORP
PHOTOGRAPHY ROBERT YOUNG
BUILT BY EVENTSCAPE, OCTOBER 2016
Eventscape was contracted to engineer, fabricate and install the mammoth custom rolling wood entrance doors and track for this new retail store located at the Yorkdale Shopping Centre. Each door is almost 20 feet tall by 7 feet wide with a 3-foot return at the top. Due to their size, managing the overall weight of the doors was crucial to ensure they could be easily operated once installed. The internal structure was constructed with 4" aluminum square tube and clad with a combination of solid wood and lightweight rigid panels, then laminated with quarter sawn white-oak veneer. A custom fabricated, slick, accessible locking system was designed as a standard lock was not available for this specific application. Hydraulic shock absorbers were introduced to the custom assembled steel track and captive linear bearings to allow each of the 850 lb. doors to glide easily along the track, but also safely come to a stop where required.

Unique Characteristics & Project Challenges:
Initial design and engineering of the doors focused on keeping the finished door weight as minimal as possible. Aluminum was used for the framing and the cladding was a lightweight rigid panel with a honeycomb core. Hardware was then chosen to match the load weight requirements of the doors.
A smaller scaled mockup was built to test all the rolling track, shock absorbers and bearings with a weight applied to replicate the weight of the finished doors. The top track hardware carried the majority of the door's weight, with the remainder supported by the wall inset trailing carriage making them completely ADA compliant.
Fabrication and handling of the doors was challenging as each door was built in one piece. Managing the weight and size during production involved using ceiling hoists. During installation, temporary eye bolts were used to strap each door to the fork lift and lift it carefully into place, as there was only four feet of clearance to the ceiling on site. Coordination with the general contractor to build the facade wall to match the storefront and a minor adjustment allowance on the track system assured the rolling doors could accommodate for minor variances on the site floor.
Eventscape wall able to provide a one-stop shop for these rolling doors, and precise coordination with the general contractor produced a streamlined project, finished to exact standards.